courtesy of on.cc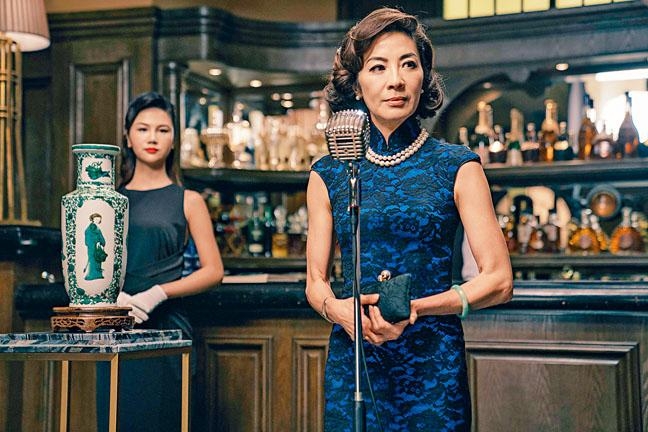 courtesy of singtao.com
Michelle Yeoh (Yeung Chi King) after CROUCHING TIGER HIDDEN DRAGON in 2016 worked with Lord Eight Yuen Woo Ping again on the action film MASTER Z: THE IP MAN LEGACY (IP MAN OI JUEN: CHEUNG TIN CHI). Michelle in the film played the mob's big sister, who began conflict with Max Zhang Jin over her brother Kevin Cheng Ka Wing. The team in order to bring back the 60s style invested heavily on the construction of the Cheung Lok company, as a lot of effort was put into it like interior decoration to be close to the feel of the era. When Michelle stepped onto the set she praised as though she went back in time to the 60s.
After years in film Michelle even appeared in a Chinese dress this time. She revealed that the team spent a lot of time to prepare for this look. "This is my first 60's film. At the time women all wore Chinese dresses and hairstyle like this. If I couldn't appear that way in an era film then this chance would truly be wasted. Luckily everyone liked the result. Lord Eight said, 'OK' because he has never seen me in a Chinese dress either. Lord Eight even said not to wear the Chinese dress for a fight. I said if I had to fight I wouldn't dare to wear it!"
In the film Michelle also had to try calligraphy, which to her was a huge challenge since she did not know Chinese. The team arranged for a calligraphy instructor for her. Michelle listened attentively and wrote stroke by stroke. In the middle she sad, "Luckily I didn't go to a Chinese school, otherwise if I had to write my name for punishment I would be in big trouble!" Lord Eight said, "That's right, so many strokes!" Finally Michelle's work did not disappoint. The calligraphy instructor praised, "Not bad, just right. This one is fine!"