Sun Li and Zhou Xun touch the award for luck
courtesy of on.cc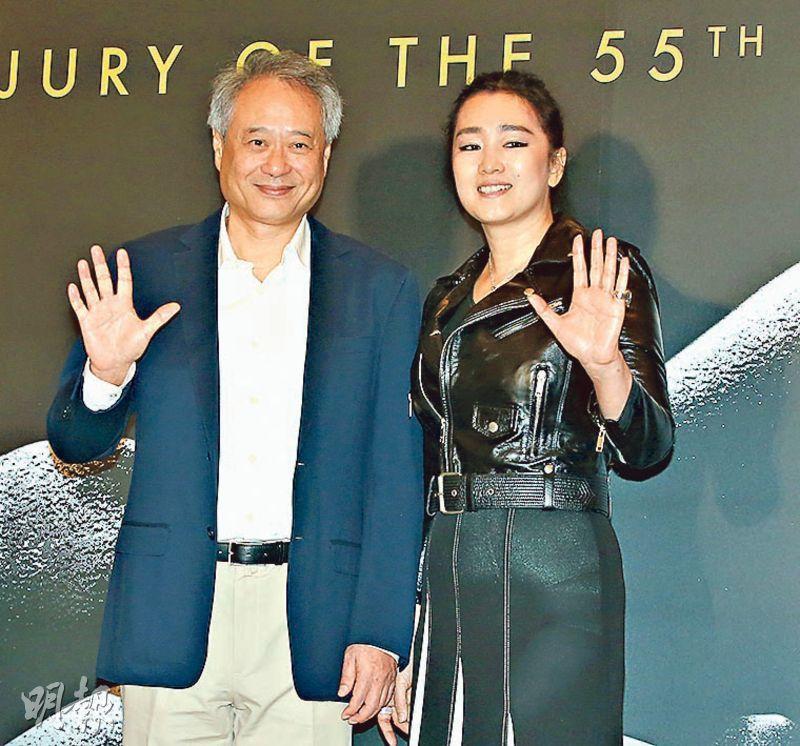 courtesy of mingpao.com
The Golden Horse Film Festival executive committee president Ang Lee and the 55th Golden Horse Award jury president Gong Li yesterday led 12 jury members to attend the 55th Golden Horse Award jury press conference. Ang Lee said that the mission of continuing the Golden Horse was important, as a part of Chinese film he felt honored to carry on the duty and mentioned that he was very touched that Gong Li agreed to be the jury president immediately. "I very much look forward to her leadership this year."
Speaking of accepting the Golden Horse executive committee presidency for the first time, Ang Lee admitted that he was "stressed" and at the same time had a sense of social responsibility. He also stressed that the Golden Horse Award was rather important to the Chinese film world in its pursuit of open, fair and free discussions. Over the year it carried certain weight in the hearts of every filmmaker. Every year he would try to participate and experience the effort of all the filmmakers. "As a part of Chinese film, I feel honored."
As for inviting Gong Li to be the jury president, Ang Lee said that at first when he saw Gong Li's name in the jury president invitation list he immediately thought "this one is good". Although he suspected whether she would come, Ang Lee said that "it is worth a try". Later Gong Li agreed immediately, which touched Ang Lee very much. He also looked forward to Gong Li's leadership in the jury activities very much this year. With Gong Li's experience and reputation, Ang Lee felt that he was very honored to be able invite her; Gong Li said that she rather admired Ang Lee's work and as a person. this year Ang Lee as the president to her was a particularly great comfort. As for how she would evaluate actor performances among the nominees, Gong Li said that she would look at the character's weight in the film and the amount of homework done for the performance, at the same time she had to be truly moved. Those would be the judging directions that she would pay attention to.