courtesy of on.cc
courtesy of singtao.com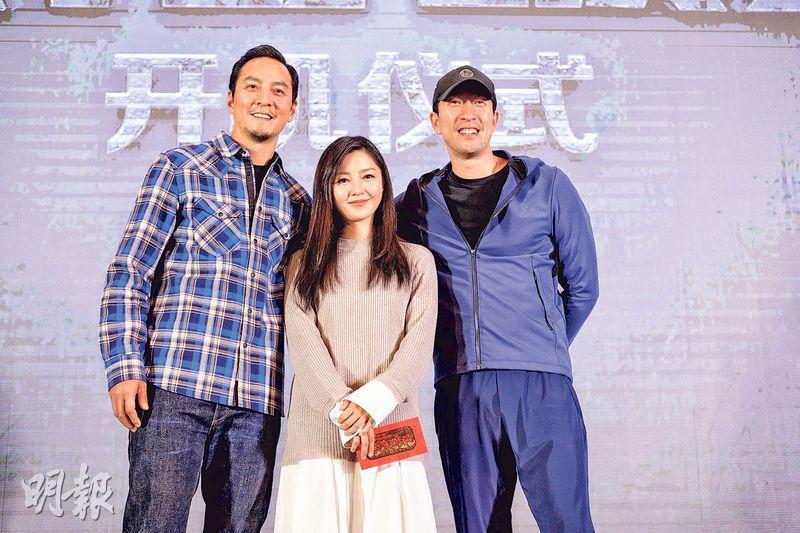 courtesy of mingpao.com
The film HAN KEI POR ONG (DEADLINE CASE BREAK) two days ago held its production start ceremony in Jiangmen. Emperor Group chief Albert Yeung Sau Sing, producer Han Sanping, director Lau Ho Leung, producer Leung Lam, leads Daniel Wu (Ng Yin Cho), Wang Qianyuan, Michelle Wai Sze Nga attended. Boss Yeung personally hosted the roast pig cutting and worship ceremony. He even gave away lai see on the spot for good luck! Ng Yin Cho said that the script lured him back for the production.
Living in the U.S., Ng Yin Cho admitted that because this script was outstanding he returned for it! "For now I can't spoil anything. After a few days at work, the director, Wang Qianyuan and I have had a very pleasant collaboration. Of course making U.S. series and Hollywood films were fun too, but I was born in Hong Kong. Filmmaking here is very professional, other nations can't make the Hong Kong flavor! In the U.S. jobs are divided very clearly, directors, producers, editors would only mind their own jobs, especially with television. Every two episode the director changes. You can't build lasting relationships. Coming back to make movies is much happier, I can study the script and the character with the director."
Daniel's unique look in HAN KEI POR ONG opened people's eyes. He said, "I think it's pretty handsome, pretty cool!" As for all the action scenes, Daniel said that he has been training in the past few years so no one would need to worry about him. "Making movies is much more comfortable. When I made the American series I almost had to fight everyday, and I had to make one episode every nine days. It was like working in a factory for six days a week, for nine months nonstop." Daniel has always been a family man. When he was making INTO THE BADLANDS, he brought his daughter Raven to the set. This time though she was nowhere to be found. Daniel explained, "She is in her first year in kindergarten. I want her to properly go to school and learn Chinese. My only regret is I didn't learn Chinese properly when I was little. I don't wan her to regret that in the future as well." Daniel joked that normally he could be the strict father, maybe Raven would be happier about not seeing him. "Yet every night we facetime to stay in touch." In order to take care of his 89 year old father, Daniel would still put his family and career focus in the U.S. He will make a new season of INTO THE BADLANDS and make other Asian films in his free time.
Earlier he was a guest on friend Nicholas Tse Ting Fung's program CHEF NIC. "We haven't seen each other in 3 or 4 years. I got teary eyed when we talked about the past. Actually GEN-X COPS was made 20 years ago already. We want to work together on another film, getting (Stephen) Fung Tak Lun to make GERIATRIC COPS, haha."
As the lead actress, Wai Sze Nga has already begun training early on. "I have to play the best fighter, I don't want to lose to the guys so I hired a coach. Today I work on arms, tomorrow on abs, the day after on thighs, the coach says I am too crazy and tells me to rest instead of coming everyday!" On the first day of work, Michelle held nothing back and opened her co-stars' eyes. "Wang Qianyuan asked, 'Why do you have to perform every scene in person? You still have over 50 days to fight!' I know I have female stunt doubles in waiting and the face is covered anyway, but I don't want to us a double. After training for so long, I feel it's wasted if I can't fight. Even if I am not in a scene, I would stay on the set to learn. Hopefully with this experience when other people think of action films they would remember Wai Sze Nga has fought before. It's better to have another way out." She planned to stay in Jiangmen until January next year. She would only take a day off to return to Hong Kong for her sister's wedding in December.
Michelle has worked with Daniel before. Years after she felt that Daniel was as handsome as ever. "Many friends have called to ask to visit the set, but actually they don't want to visit me. They want to see Daniel." Wang Qianyuan said that he had similar encounters. "Lately I got calls from many girls, asking for Ng Yin Cho's autograph." In Wang Qianyuan's impression Daniel was a handsome idol. After working together he did not feel the same. "Earlier when I worked with Chang Chen, he fought very well. Actually Ng Yin Cho fights just as well, I am a little nervous!"