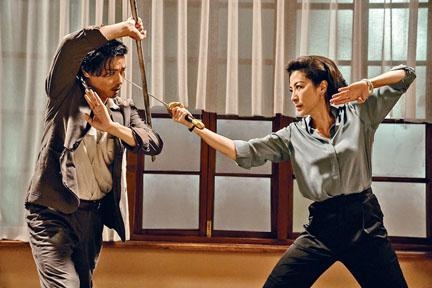 courtesy of singtao.com
The film MASTER Z: THE IP MAN LEGACY (IP MAN OI JUEN: CHEUNG TIN CHI) was the "world's number one action director" Lord Eight Yuen Woo Ping directed and action directed, its actors all agreed that Lord Eight was highly demanding. He kept forcing actors to improve. As his disciple Max Zhang Jin said, "Lord Eight understands my abilities very well, the stunts are designed for me all challenge my limits. They have to be different from the ones before. When challenging these stunts sometimes I would lack confidence, but Lord Eight allowed me to try again and again until completion. I am very grateful for Lord Eight's trust." During the shoot, Zhang Jin suffered a lot of injuries but insisted against using a double. Because he felt that all the hardship for the shot and the audience was worth it, he hoped that the contributions would make the audience feel the film was worth the price of admission. He also stated that the hardship from this type of work was the joy that he dreamed of when he was a stunt double.
As for working with elder Michelle Yeoh (Yeung Chi King), Zhang Jin was very thankful for the opportunity. 17 years ago in CROUCHING TIGER HIDDEN DRAGON he had a connection with her as a stun double and even mistakenly kicked Yeung Chi King. Zhang Jin said, "Before I got into the business I already admire Yeung Chi King very much. Her charm was a mix of presence, agility and beauty. She is also professional. She seems frail but actually packs quite a punch. During the shoot she still insisted on personally performing despite all the scars from fighting."
Yeung Chi King revealed that Zhang Jin was also one of the reasons that she took the role. Yeung Chi King said, "At the time he was still a double. In one scene he even accidentally kicked me, so I remembered it very well. Watching him going from behind to in front of the camera, his Hong Kong Film Award Best Supporting Actor proved that he was very hard work and very talented. Thus when Lord Eight asked me, I didn't have to think too much before agreeing." Of course another attraction for Yeung Chi King was Lord Eight's invitation. They have been friends for years. She admired Lord Eight's leadership abilities even more.