SPL
courtesy of on.cc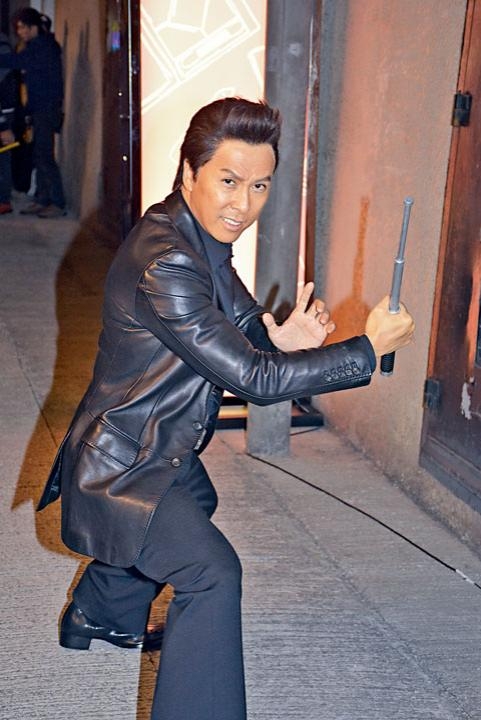 courtesy of singtao.com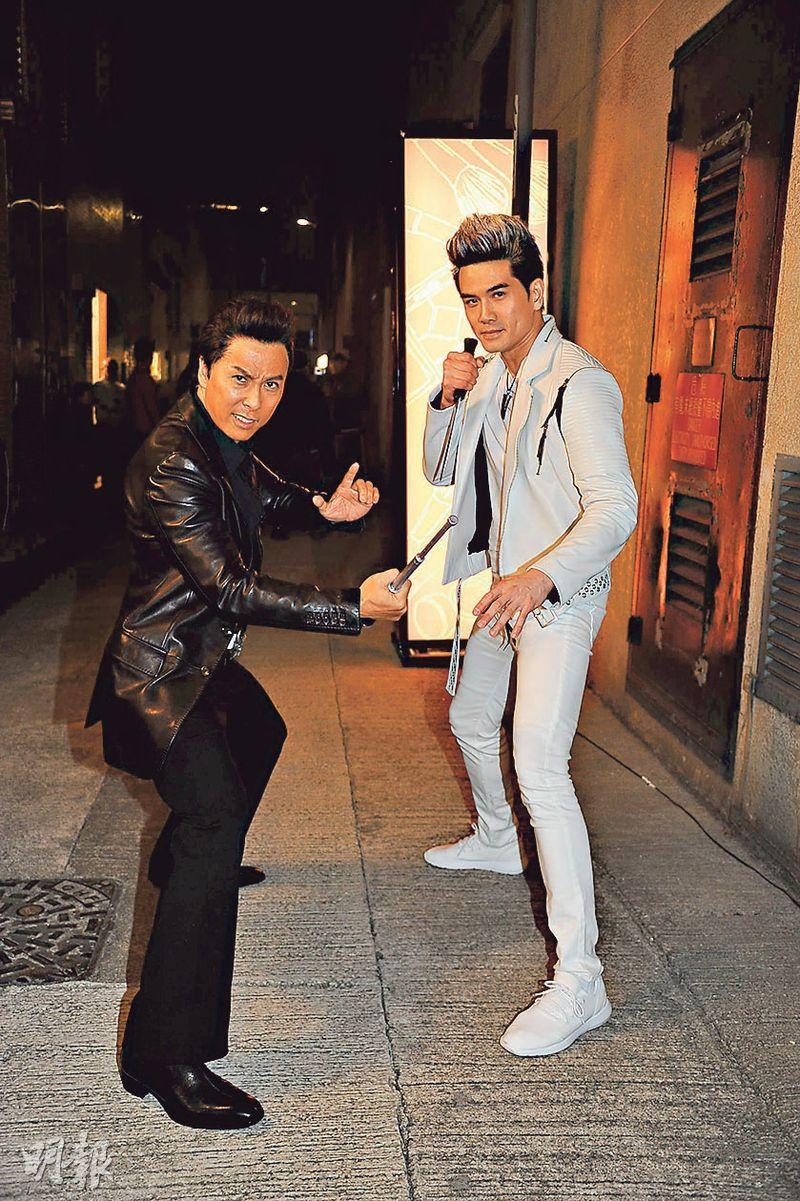 Donnie Yen and Philip Ng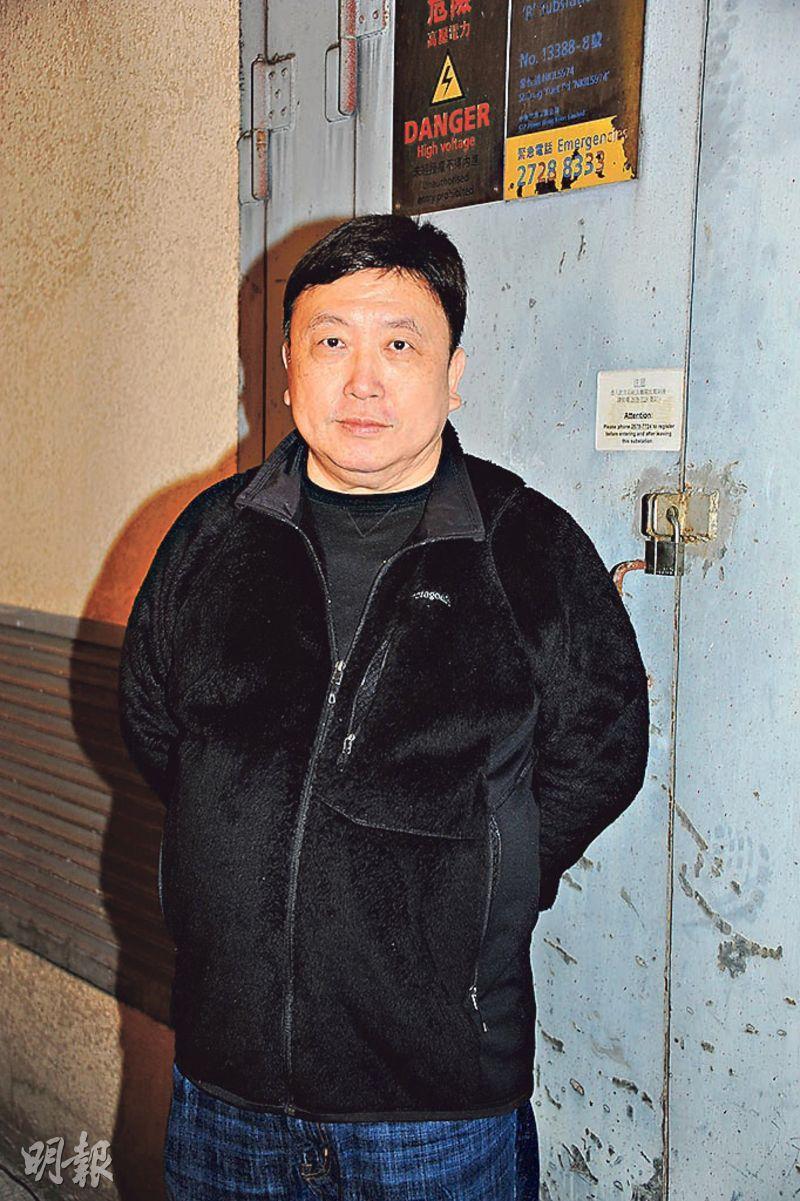 courtesy of mingpao.com
Donnie Yen Chi Tan, Wong Jing, and Philip Ng Won Lung two nights ago worked on their film ENTER THE FAT DRAGON (FEI LUNG GOR GONG) in an alley in Kowloon Bay. Chi Tan said that the film took a year to make because changes were made as the shoot went on. This day was already the final night. In two scenes he would have to mess with himself as he performed classic scenes from FLASHPOINT and SPL, with the same costume, same staff and at the same back alley as he did 15 years ago for SPL.
Yen Chi Tan joked, "The costume is still a little loose now because my chest wasn't so firm before. Instead my belly got a little fatter, but it's healthy fat." Chi Tan pointed out that ENTER THE FAT DRAGON was not entirely a comedy. He said that he would not be absurd, which he would leave for Wong Jing. This was his third collaboration with Wong Jing. They worked at different posts so the collaboration has been very pleasant. As for the chubby costume in the film, he said, "It's a very handsome chubby. Actually years ago I did a commercial with this chubby look. At the time a friend already suggested for me to transition it into a film character. (Does your wife like your chubby look?) My children don't recognize me, at the set they have no idea who is Daddy." He also said that because he felt the Chinese title was pretty cute he bought the title right. However the story would be all new. As for the Lunar New Year, Chi Tan said that he would spend it in Hong Kong because he would have to attend a family wedding.
Investor and star Wong Jing stated that this time he spent heavily, as the production cost was as expensive as CHASING THE DRAGON. The first half was shot in Japan and a studio set of Kabukicho was constructed for a car chase scene. Did his acting bug get its fill? Wong Jing said that at first when Chi Tan asked him to perform he was unwilling, because fight scenes would be very exhausting. He even suggested to pay more for Sammo Hung Kam Bo. However Chi Tan disagreed and insisted on him performing. Wong Jing said, "I am dying from all the fighting! I too had to fight alone against several people! Chi Tan fought against several dozen, without fighting I wouldn't know how well I could fight. Chi Tan regretted this chubby look very much, each time in make up all the gluing was quite a pain. The film will be released in April. Now getting a cinema circuit has been very tough." In addition, speaking of the earlier passing of veteran director Ringo Lam Lan Tung, Wong Jing sentimentally said, "Someone told me services will take place on the 9th, the location would be better left for the family to announce. When I heard the news in Beijing I really was stunned. As bad as it sounded I said, 'I would die before he would'! Life is very fragile."
In this scene, Ng Won Lung guest starred and imitated SPL's Wu Jing to fight with Chi Tan. He said that he was so nervous he could not sleep the nigh before. Because Chi Tan was his idol, being able to spar with Chi Tan was his honor. Speaking of the rumors after being caught out with Kamen Kong Ka Man, Ng Won Lung stated that Kong Ka Man sent the news to him. Very obviously it was not true. That day after promoting FIST FIGHT they went Christmas shopping and left. He said that he was also very close with Kong Ka Man's boyfriend as they always played video games together. Would he find a girlfriend? He said that he would let it up to Heaven to arrange it.