courtesy of on.cc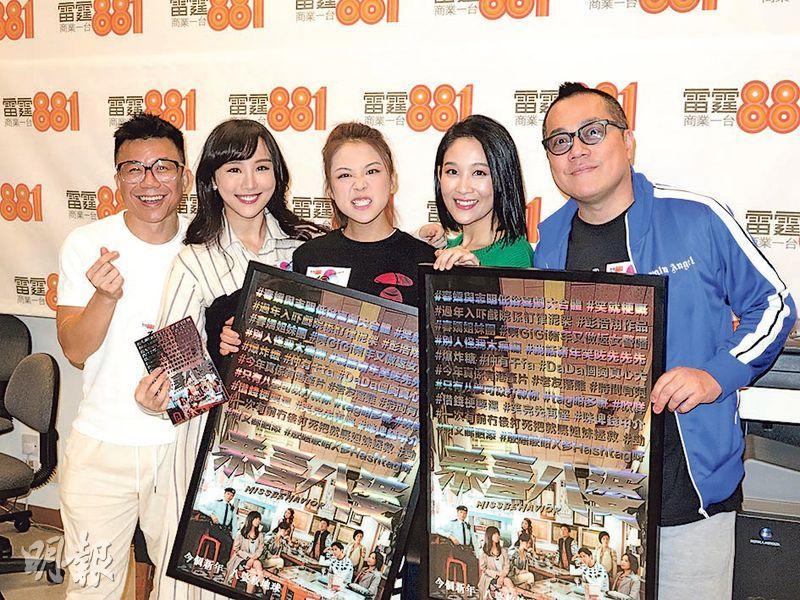 Hanjin Tan, DaDa Chan, Yanki Ding, Isabel Chan and Pang Ho Cheung
courtesy of mingpao.com
DaDa Chan Jing, Hanjin Tan (Chan Woon Yan), Isabel Chan Yat Ning and Yanki Din (Ting Ho Yan) yesterday promoted their Lunar New Year film on the radio. DaDa in the film had a stunt on a wire. She worried about wardrobe malfunction but the director said that if she did then he would either censor the scene or cut it.
DaDa said, "After the first time I saw that I was very scared, so I asked for another take. Finally it took four or five takes." In another Lunar New Year film Xenia Chong Shui Yi's figure was the focus, was DaDa concerned about any comparison? She said, "Never, there is no comparison. The director said that this time I am selling acting and comedy, which to me is a breakthrough."
Chan Woon Yan and Tsui Tin Yau in the film had a relationship. Chan Woon Yan said that they would have passionate scenes. The director even personally demonstrated how they would perform. As for how "passionate", he revealed, "All naked, all tied up, all out, all in, we saw everything, after the shoot no one suspected that we were a couple. (Did your wife supervise?) BB (his wife) didn't mind, Tin Yau is so handsome." He pointed out that this time the co-stars and the director had top "face value", but said "hard and straight" instead.