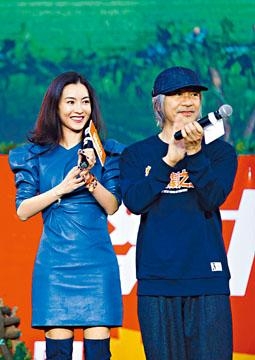 courtesy of singtao.com
Stephen Chow Sing Chi yesterday led the film THE NEW KING OF COMEDY's stars Wang Baoqiang, Vin E Jingwen, Huang Xiaopeng and others attended an event at the Chimelong Safari Park. Cecilia Cheung Pak Chi was the surprise guest as she presented a classic video from 20 years ago. Pak Chi revealed that this time she accepted Sing Yeh's invitation to provide her voice to the film.
As the KING OF COMEDY golden team 20 years ago, their reunion made Mainland fans more than excited. Cheung Pak Chi at the urge of the audience reprise her "I will take care of you" classic scene from the film, but her co-star was Wang Baoqiang instead. Pak Chi also played the Wan Tin Sau role while Wang Baoqiang played Lau Piu Piu. One used Cantonese and the other used the Henan dialect.
Speaking of focusing on small characters for his comedy creation, Chow Sing Chi said that he originally was a minor player. This time the leads and many new actors all were small figures who were extras. He even revealed that on the set he discovered a lighting technician, who would appear as a "small figure" in the film.
Reportedly, in the NEW KING OF COMEDY the leads would have rather perfect ending. Sing Yeh responded that because he felt it would more directly encourage everyone, he showed viewers that no one would always be an extra in life. 20 years ago, viewers did not seen the "sunrise" with Wan Tin Sau; but 20 years later, everyone would be able to see it. After the sunrise it really would be very beautiful.
The appearance of lead actress E Jingwen did not bring the audience the beauty and the presence that a "new" female actress should have. In comparison to many "Sing Girls" before, the lead actress' looks according to views, felt very pedestrian.
Then how could she become the new "Sing Girl", and in the trailer was she playing the "Lau Piu Piu" role? The audience were curious. However, E Jingwen did not reveal why she was so lucky. She only said that just her character name Yu Meng, to be able to star in Sing Yeh's new film was just like a dream.
When many fans put E Jingwen into the Lau Piu Piu role and felt the difference. Sing Yeh said that after watching the film they would understand. If he had to spoil something, then E Jingwen would probably be "Wan Tin Sau".
In addition, THE NEW KING OF COMEDY shot over two months. The news of the production surprised many viewers. Soon after the film's Lunar New Year's Day opening was announced. Lately, as the film released trailers continuously, many Chow Sing Chi's "old film" ideas could be found in the new film. Thus the concern and the discussions of "Chow Sing Chi is out of ideas" returned. Sing Yeh admitted that in the past few years with the release of each new film, he had to be "out of ideas" once. Then, Sing Yeh said, he could still work harder to give the audience something different.
The new film's theme song GALE revealed the same message and visuals. Sing Yeh said, Danny Chan Pak Keung's GALE lyrics were enduring and well honed, which would be able to let the audience imagine small figures running with all they got completely. With the new film about to be released, Sing Yeh was fully involved in the promotional tour and spread "positive energy" to encourage everyone to become the king of comedy of their own lives.
In addition, Ng Man Tat in a recent interview said that he and Sing Yeh were "old buddies who don't see each other anymore". Sing Yeh did not mind and even said that he would invite him to work together again.