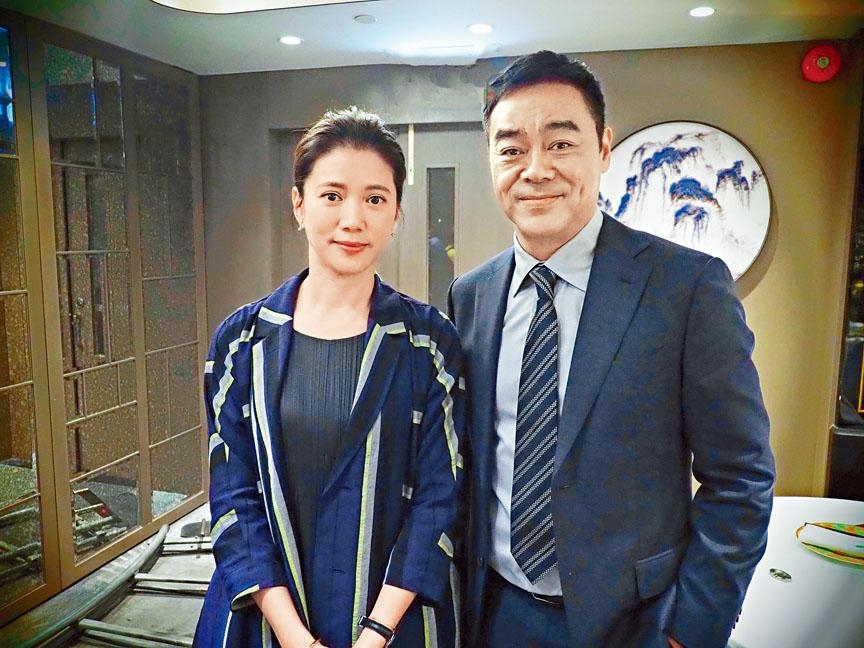 courtesy of singtao.com
The Alan Mak Siu Fai written and directed new film, based on real events, INTEGRITY (LIM JING FUNG WON YIN MOK) invited Nick Cheung Ka Fai, Sean Lau Ching Wan and Karena Lam Ka Yun to star and "Len Len" Anita Yuen Wing Yi as a special guest star. After being an on screen couple for years, Ching Wan and Len Len have not worked together for a long time. Reuniting this time, Ching Wan said that he had the familiarity of seeing an ex girlfriend again as past memories flooded back.
Mak Siu Fai adapted the screenplay from a HK$ 8.5 billion cigarette smuggling case from 1994 to 1995 and worked with Felix Chong Man Keung on the film INTEGRITY. Mak Siu Fai admitted that he has always wanted to work with Cheung Ka Fai but heard that Ka Fai was quite troublesome. This time he decided to ask Ka Fai and learned that he really was quite a bother. Mak Siu Fai joked, "He wasn't bothering you whether he has a private car at work, but he was serious about the script and asked a lot of questions. This is good. I also have encountered actors who didn't care about their characters at all, which gave you even more trouble during the shoot." The director even asked his cousin Yuen Wing Yi to guest star. Ching Wan joked that this time felt like seeing an ex again. He even watched their old film like C'EST LA VIE MON CHERI and brought back a lot of memories.
Lam Ka Yun worked with Ching Wan for the first time and admitted that she was nervous and beyond stressed! She was also working for the first time with Ka Fai and Director Mak, in particular later on she sensed that the director knew a lot about drama and became even more nervous. Ka Yun described, "He seems to have a pair of X-ray eyes when he watches you act, he discovers all my conscious and unconscious arrangements. I become very nervous, even avoiding his eyes." Rarely in an action film, Ka Yun this time even had a car crash scene. She admitted, "The director lifted my car up high for another car to crash into me. Cameras were inside and outside the car. Before the shoot began, my breathing became very rapid. The sound engineer said that my fear didn't come from acting. I thought were you making fun of me or criticizing me? Later I listened to the recording and realized that I was holding my breath for courage. Then 'bang', it was really scary!"
In the first trailer, a computer generated Cheung Ka Fai appeared in the final scene. It was one of the story's smoke screens. In the film Ching Wan and Ka Fai met in the university and thus they shot an university scene from 20 to 30 years. They thought about using young actors but their image might be too sharp for them to be convincing. The director did not want to ask them to wear wigs and use light to make them look younger. Finally he used computer special effects. Ching Wan joked, "Compared to the real me back then it was a little more handsome!" Ka Fai said, "I only heard that the director was pleased, so I looked forward to seeing how it turned out."