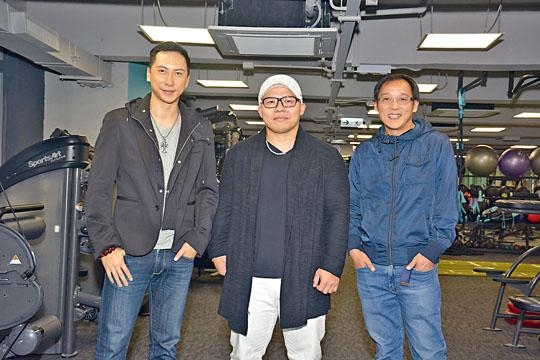 courtesy of singtao.com
Andrew Lam Man Chung and Albert Mak Kai Kwong directed the Lunar New Year film A LIFETIME TREASURE (YU JU YU BO). Despite Lam Man Chung having to direct and star, Mak Kai Kwong lightened the load. A LIFETIME TREASURE had a strong cast of veteran actors Tian Niu, Richard Ng Yiu Hon, Sammo Hung Kam Bo, Teddy Robin Kwan, Leung Siu Lung and others and young actors Louis Cheung Kai Chung, Bob Lam Sing Bun, Ivana Wong Yuen Chi and Dennis To Yu Hang.
Mak Kai Kwong admitted that although this time had many veteran actors it was not difficult. Instead he felt the veterans were easy going and the production process was very happy. He stated that the end was the hardest to shoot with 40 or 50 actors. Because Big Brother Big had limited time, they could only finish the ending scene in four days. He said, "I really thank To Yu Hang, one day we had to shoot with two teams at the same time. I was responsible for the ending scene while Lam Man Chung shot the other side. The worst part he had scenes in both sides. I had to shoot the scene before he fought, then he had to shoot the fight. Sometimes he really was very busy. After the fight he returned to my shoot. Thus sometimes we set everything up for the next shoot to wait for Ah Chung to finish his scene."
Playing a fake official, To Yu Hang even asked his MMA heavyweight friend Bruce Lee to make his big screen debut. Bruce Lee said that his scene was only 15 seconds and would certainly wow the crowd. He had to fight Lam Man Chung without accommodating him. He said, "On the set Ah Chung yelled, 'Don't hit so hard!'" To Yu Hang sad that after the fight with Leung Siu Lung, he was no match so his cohort Bruce Lee took over. He even praised Leung Siu Lung for being in great shape and not needing any adjustment. The shoot went very smoothly. Although he only traded a blow or two with Hung Kam Bo, he did not have stage fright. In the past they have worked together on several movies. He said, "Big Brother Big is very friendly. Before the shoot everyone would sit down and chat to catch up."
In his first Lunar New Year film, Bruce Lee said that it felt very romantic because not everyone would have a chance. He also felt that Lam Man Chung lived up to his quick witted reputation. Often on the set he would suddenly come up with a good idea, so he thought Lam was very cool.