courtesy of on.cc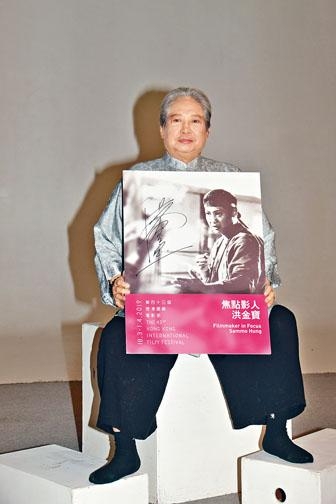 courtesy of singtao.com
courtesy of mingpao.com
Sammo Hung Kam Bo yesterday worked on the 43rd Hong Kong International Film Festival Filmmaker in Focus special cover shoot in Chai Wan. Big Brother even chose the poster of his favorite movie, the 1987 film EASTERN CONDOR, for the shoot. Earlier celebrating his 67th birthday, Big Brother felt that spending the birthday with the entire family was the most important. He joked that his birthday wish was to live to a thousand and long to have all five generations gather at once.
After over half a century in film, Big Brother Hung Kam Bo made almost 250 films. Starting as a stunt man, he switched to action director and actor, then director and producer. He witnessed and created the Hong Kong film golden age, thus he was invited to be the 43rd Hong Kong International Film Festival Filmmaker in Focus.
The Film Festival will take place between March 18th to April 1st. Ten of Big Brother Sammo's films have been selected for screenings, including THE VALIANT ONES (JUNG LIT TO), ENCOUNTERS OF THE SPOOKY KIND (GWAI DAI GWAI), THE PRODIGAL SON (BAI GA JAI), WINNERS AND SINNERS (KEI MAU MIU GAI NG FOOK SING), EASTER CONDOR (DONG FONG TUK YING), PAINTED FACES (CHUK SIU FOOK), PEDICAB DRIVER (KWUN LUNG HEI FUNG), EIGHT TAELS OF GOLD (BAK LEUNG GUM), SPL (SAT POR LONG) and IP MAN 2, as a salute to this film grandmaster and a retrospective of his glorious achievements. Big Brother Sammo will also attend the Hong Kong celebrity forum on March 30th at the Hong Kong Cultural Center to share his unique film perspective and experience.
Big Brother Sammo said that this time he would help to promote this event with interviews and photo opportunities. He would also talk about a little film history, on this rare occasion for people to remember and not forget this elder. Among the ten selected films, which one was his favorite? Big Brother Sammo said that he liked every one. "If I didn't like it I wouldn't have made it. I feel the most representative was EASTERN CONDOR, it was special because no one in Hong Kong would make this time of incident. After making it I realized that Hong Kong people at the time was rather weak on their own country and race. Hong Kong ultimately grew up under British laws. I also have to praise Bruce Lee. After his appearance, Hong Kong people's awareness of their own race was much stronger."
Speaking of Big Brother Sammo's film A LIFETIME TREASURE (YU JU YU BO)'s Lunar New Year release, he said that he would help with the promotion if time would permit. After the photo shoot he would have to return to Guiyang to make a movie and would not return until before the Lunar New Year. The entire family then would visit Japan. In the past few years the entire family have gone on vacation together, as he felt that nothing was more important than family. Was his son Timmy Hung Tin Ming treating everyone? Big Brother Sammo joked, "The son's old man will treat, we will eat as much as we can. The entire trip will have around ten people."
Earlier Big Brother Sammo returned to Hong Kong to celebrate his 67th birthday. He said that he would not hold a birthday banquet now. The most important was to be with his family, for any occasion he would like to spend it with his family. He revealed that his older grandson gave him a wool hat and his younger grandson a big scarf, all of which were perfect for work. He said, "After all these years this time was the most useful, all the watches and cakes before were mostly their Dad's ideas. I was just as pleased though."
Speaking of birthday wishes, Big Brother Sammo said that he hoped to live to a thousand. A hundred would not be enough because it will be here soon. "I try to live as long as I can, I would be very happy to see my grandchildren getting married. I would be even happier to see their children, as I hope to have all five generations in one place."