Anita Yuen gladly stays in shape
Dayo Wong shows his support for Cheung Tat Ming and Francis Ng
courtesy of on.cc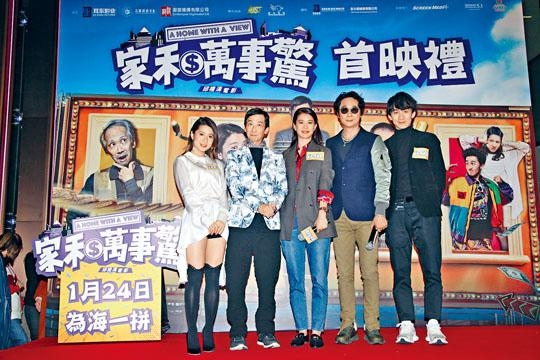 courtesy of singtao.com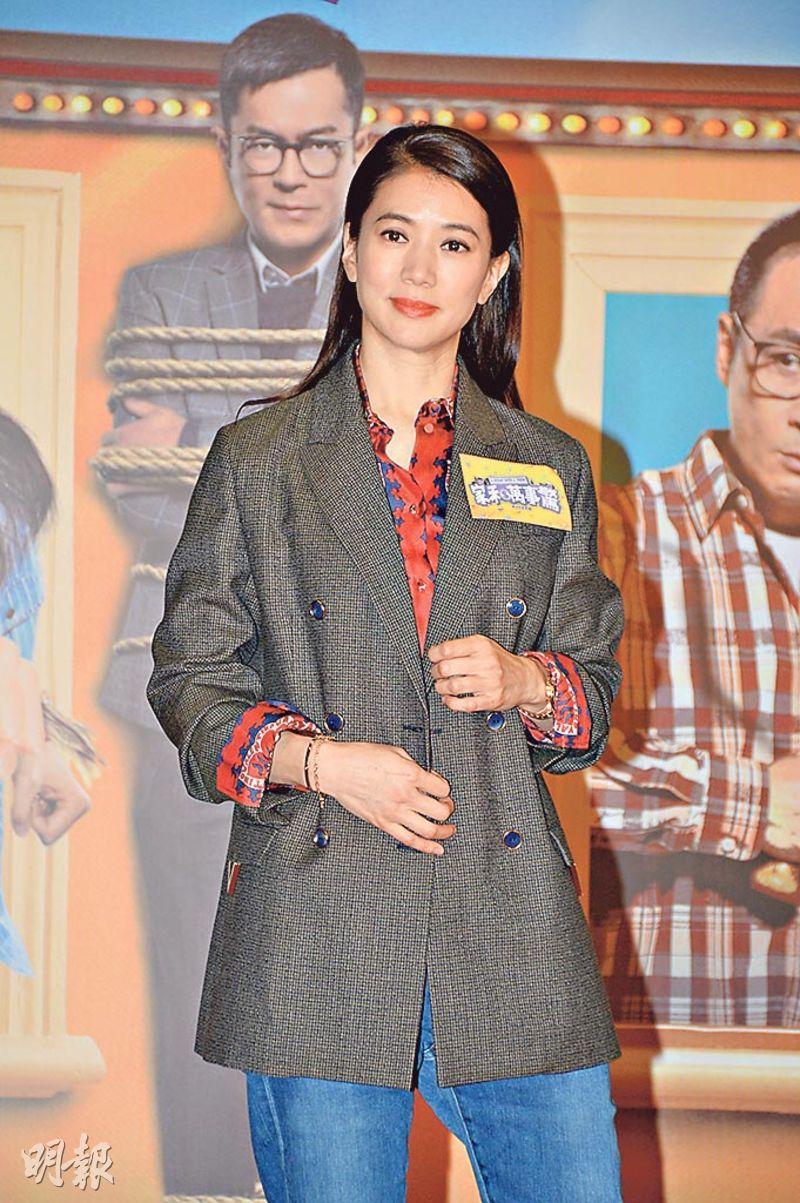 courtesy of mingpao.com
Based on Cheung Tat Ming's award winning play, A HOME WITH A VIEW (GA WOR MAN SI GAING) two nights ago held a premiere. Francis Ng Chun Yu, Anita Yuen Wing Yi, Cheung Tat Ming, Ng Siu Hin, Jocelyn Choi Chung Sze, Lo Hoi Pang attended. Friends like Dayo Wong Tze Wah, Lau Siu Ming and Joe Ngai Chun showed their support. Speaking of many parents saving for their children's home, Len Len admitted that she was making preparation for her son. Chun Yu recalled that how his late father saved for a home for him, thus he felt children should not rely on their fathers.
Wong Tze Wah made a flash appearance. With Tat Ming, Tze Wah and Chun Yu present, Tat Ming joked that if A HOME WITH A VIEW would make over HK$ 10 million at the box office they would perform MEN'S SHOW 3.
The on screen couple Chun Yu and Len Len shared the joy of their production on the stage. Speaking of Len Len playing a "sassy housewife" she had many argument scenes at the market. She said that the character was not sassy. She was helping her husband save for a home so she cut what she could. Speaking of many parents now saving for a home for their children, Len Len admitted, "I made some preparation, but if he would be able to rely on his own effort it would be the best. I would help him appropriately when needed. If I would think of everything for him then he would be quite a waste!" Chun Yu also recalled how his late father saved up for a home for him. "I told him to sell it and take the money to go on vacation, because I wouldn't be satisfied with such a small unit. In the end he still didn't sell the place and passed away without enjoying life. Thus children should not rely on their fathers."
Len Len originally had to lose weight then gain weight again for a performance. Yet the film production has been postponed so she stayed in her current shape. Len Len revealed that in two months she lost almost twenty pounds with exercise and nutritional meals. When she was the lightest she felt a little dry and unattractive, thus she gained a little back. When the film production would begin, the director mentioned that the thinner she was early on she would not have to be too fat later. She needed a 20 pound difference in between. She said, "I used to be happily fat, and I wasn't really fat!" Reporters joked that she was already happily fat in this life, she said, "Can't you say that I am happy in this life? I wasn't motivated to lose weight before, and no one thought I was fat. Now my husband (Julian Cheung Chi Lam) gives a lot of pressure. He never noticed that I was fat, but now when many people see us they would say your wife is much thinner. Then you would......" Was her husband afraid that she would have another after losing weight? She said that something like that would rarely happen to her. Would her husband love her a little more? She said, "He didn't say, only that when I am thinner I look better in pictures. However from my eyes, that stare, you can tell!"
Chun Yu revealed that Tat Ming in the film performed with make up and joked that he added another "senior" to the film industry. However he picked him to be nominated for the Hong Kong Film Award Best Supporting Actor. The film has not been released yet, perhaps his good scenes would be cut out! Tat Ming said that his fight with Law Kar Ying and Louis Koo Tin Lok were all removed. Earlier when Cheung Chi Lam worked on Wong Kar Wai's film he was cut out in the end. "I'd better stop there, otherwise Len Len would hear and get mad!"
This time HOME was adapted from Tat Ming's 1993 play. Chun Yu said that he read the original scrip many years. He felt that this time had some changes but was still a lot of fun. Tat Ming said that his junior colleagues performed the play before. This time he invited Len Len to oppose Ng Chun Yu, and for the two of them to oppose Koo Tin Lok.