Gin Lee
JC
Supper Moment's Sunny almost dropped the award
courtesy of on.cc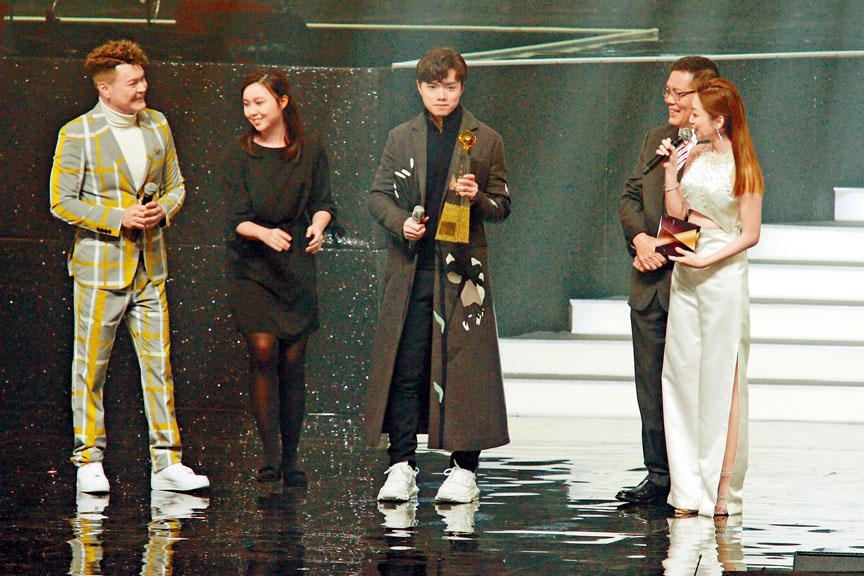 courtesy of singtao.com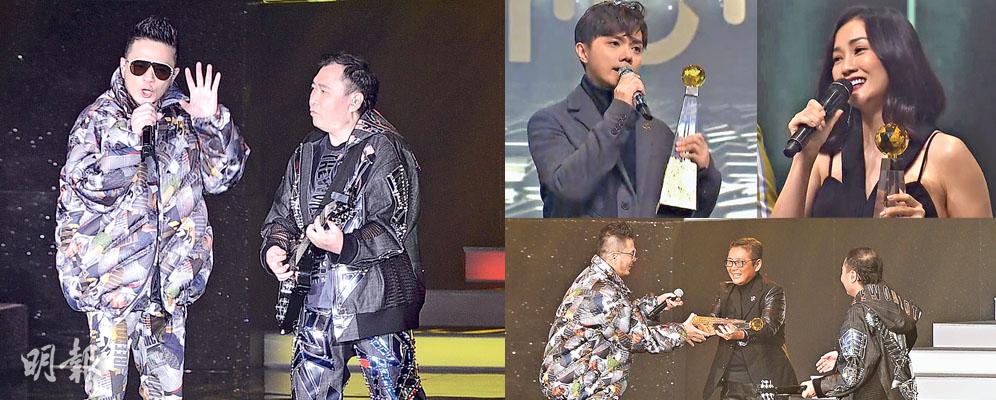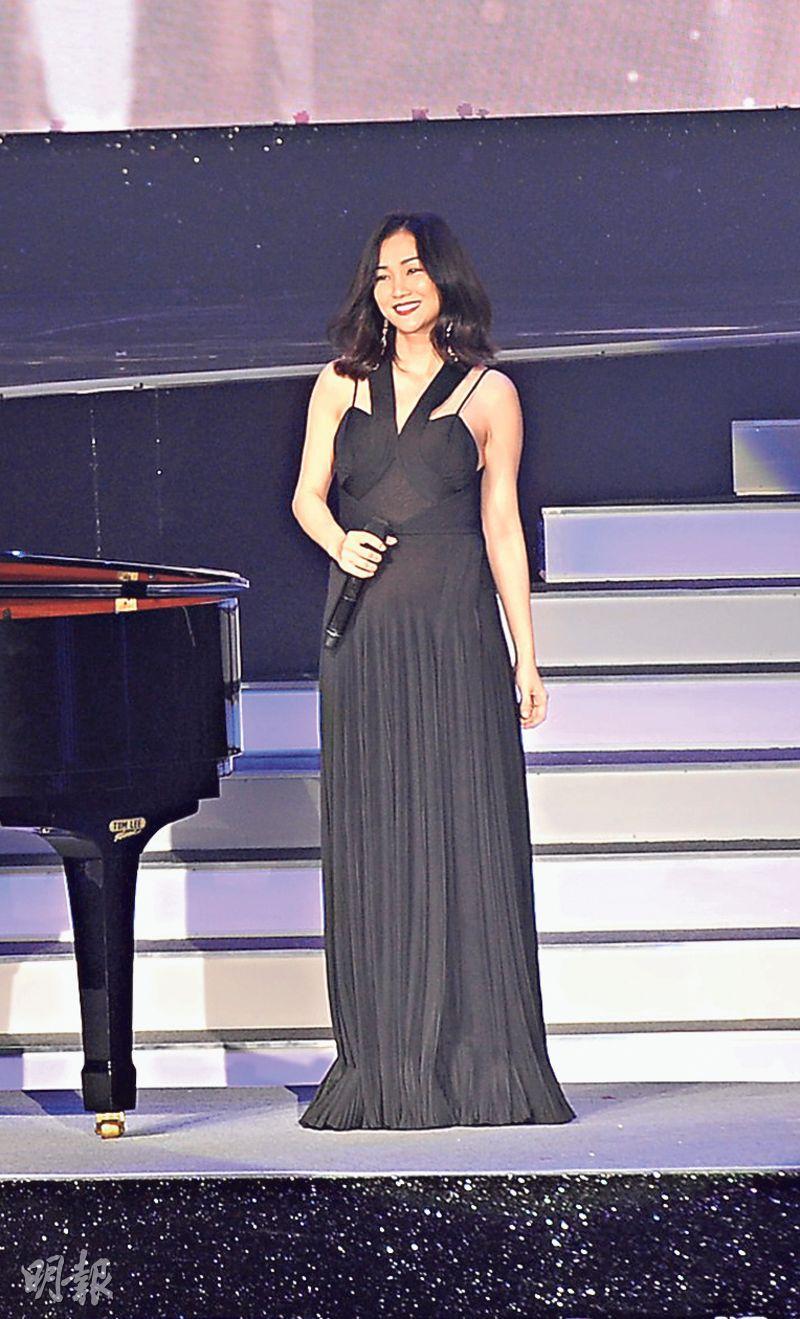 Kay Tse stopped Joey Yung's 14 year run and won Female Singer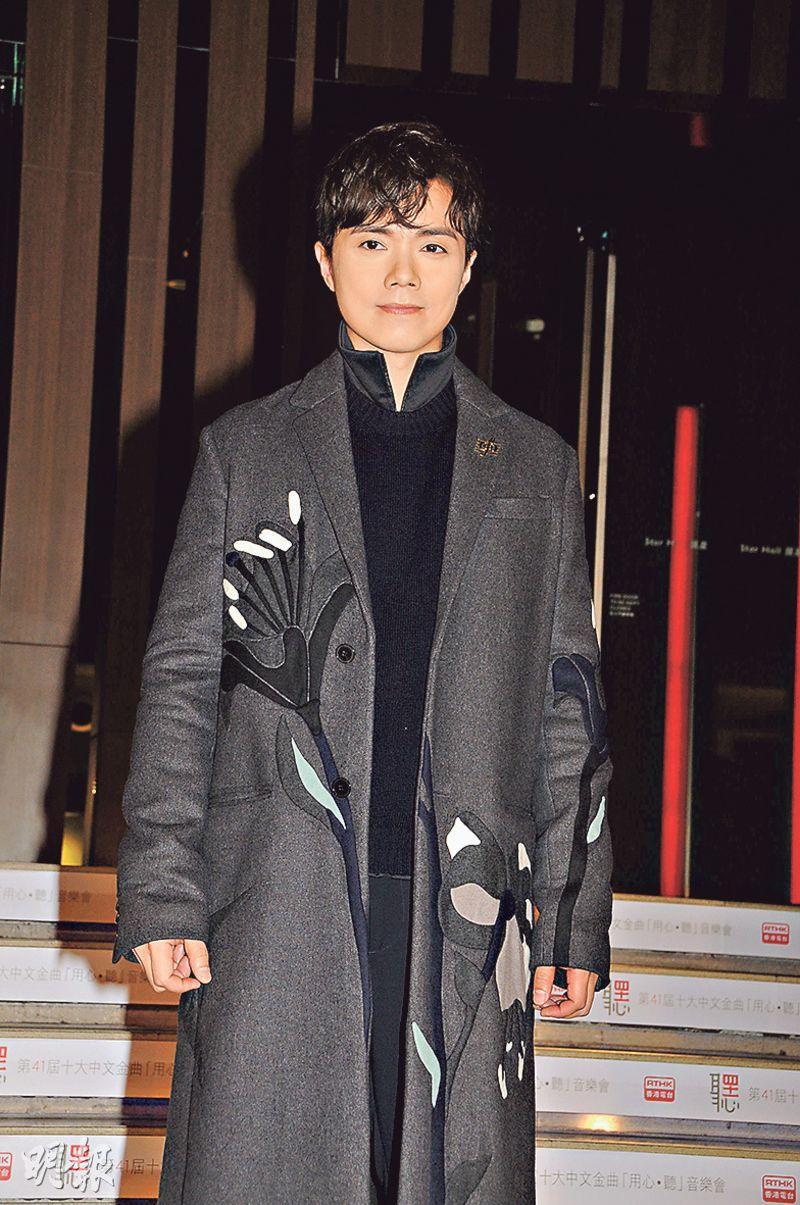 Hins Cheung ended Eason Chan's streak and won Male Singer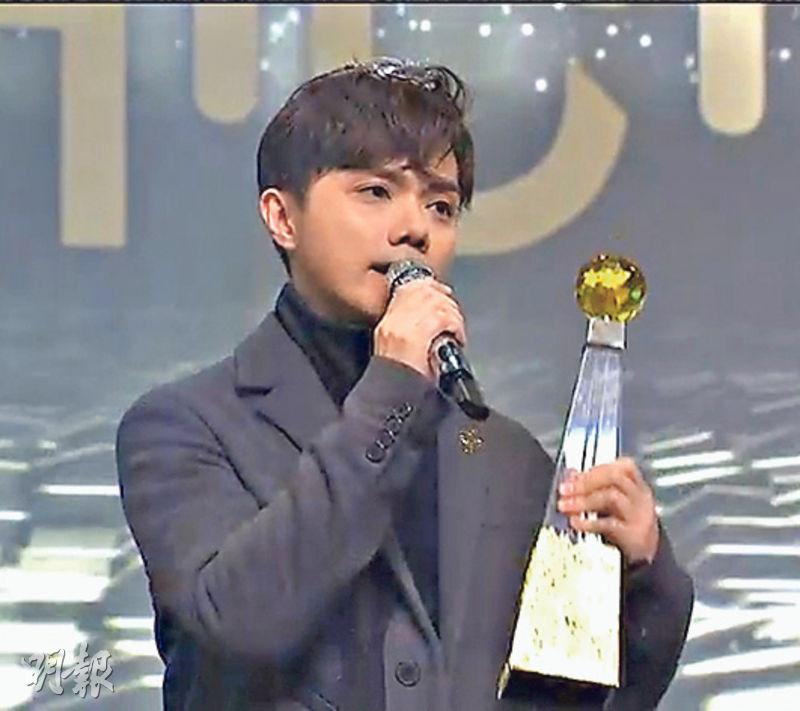 Hins Cheung with 4 awards became the big winner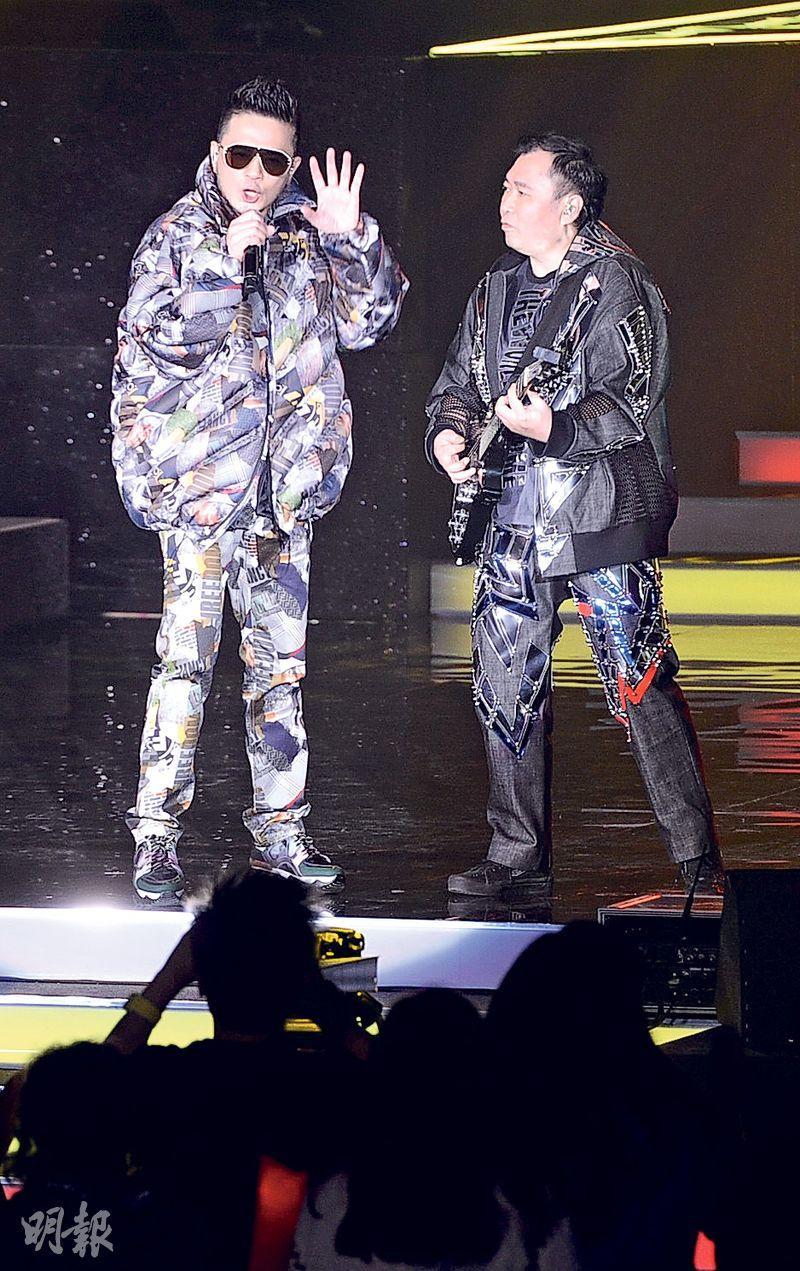 Anthony Wong Yiu Ming said that his speech was cut down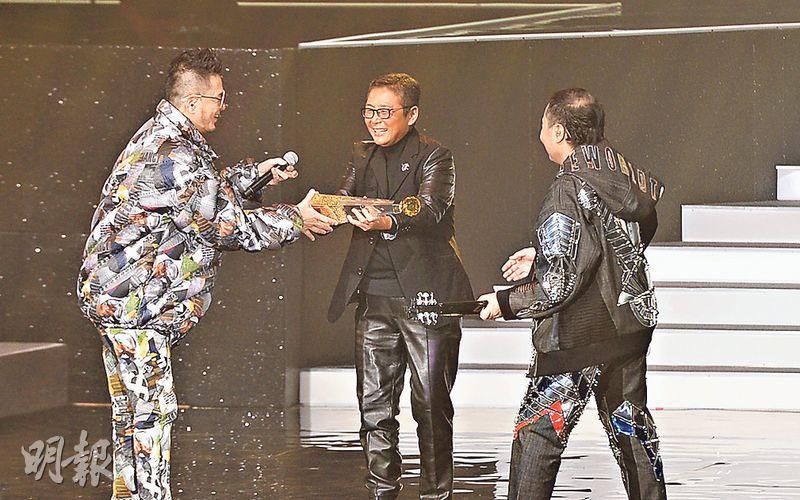 Tat Ming Pair received the Golden Needle award from benefactor Winnie Yu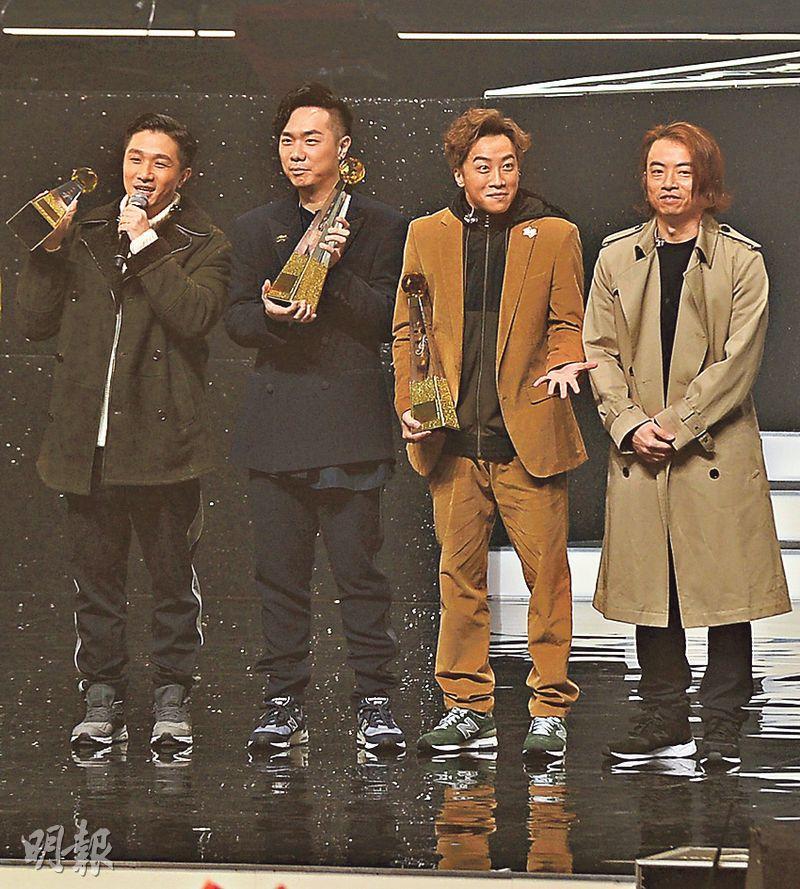 Supper Moment won their first Global Chinese Gold Song with ORANGE SEA
A video of Ellen Loo playing guitar with her brother PJ at17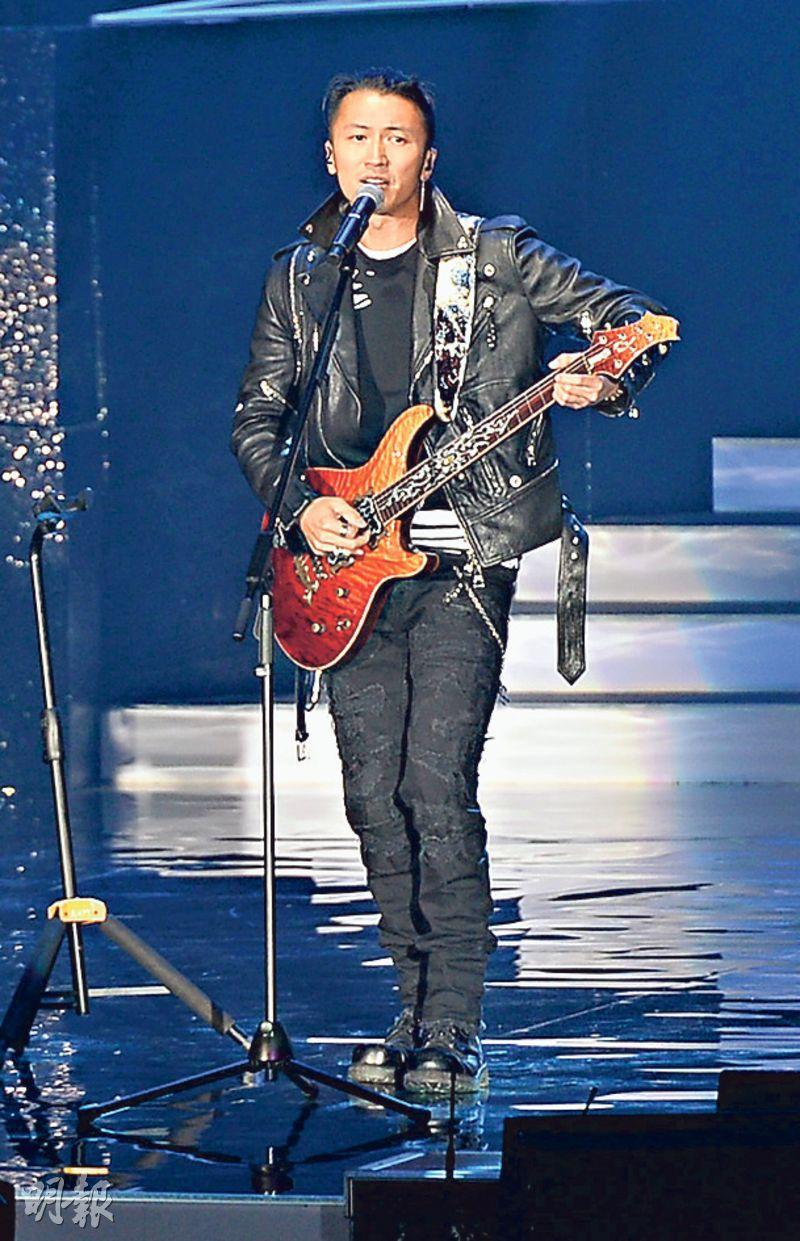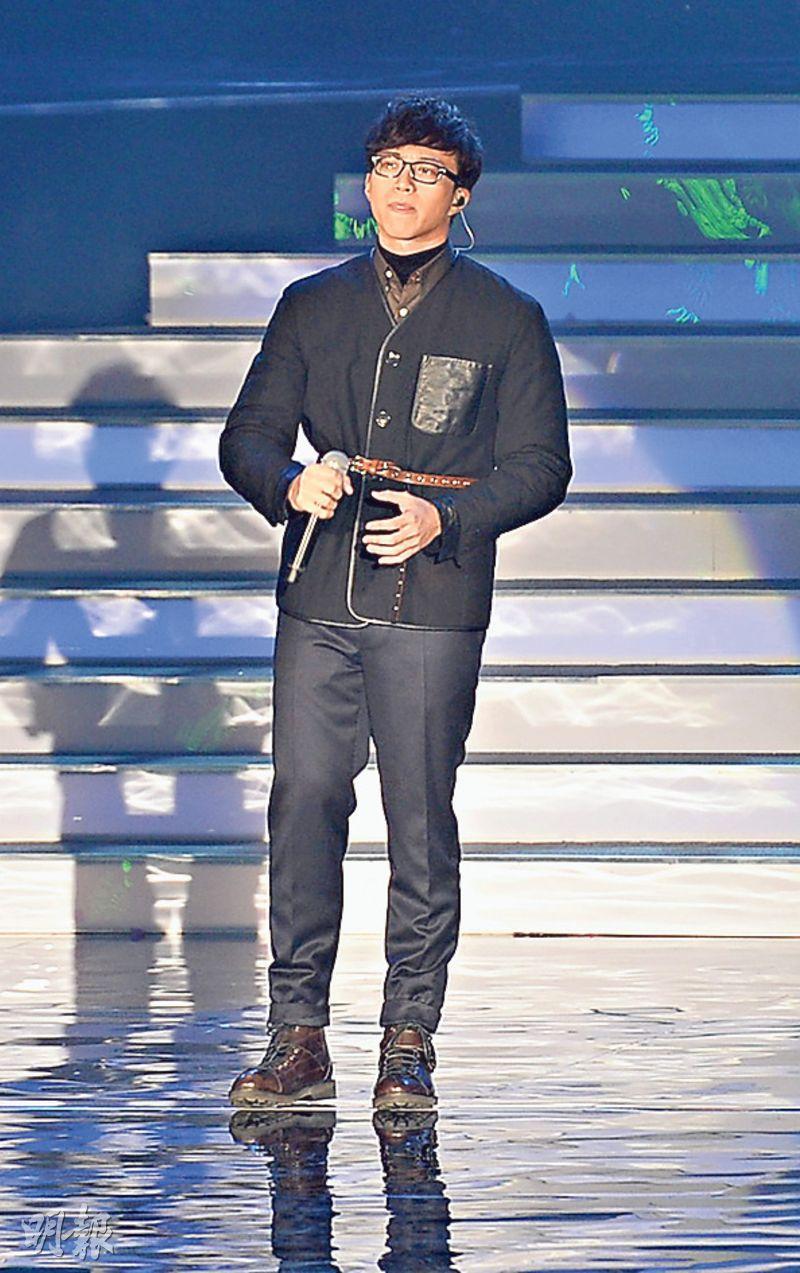 James Ng says that he has listened to Nicholas Tse since he was little
courtesy of mingpao.com
The 41st Top Ten Chinese Gold Song Concert took place last night. Broadcast Authority chief Leung Ka Wing presented the Global Chinese Gold Song award to Supper Moment's ORANGE SEA. The Most Excellent Male Pop Singer went to Hins Cheung King Hin, the Most Excellent Female Pop Singer went to Kay Tse On Kay. Including the earlier Ultimate and Metro Radio awards, Hin Jai has won 10 awards to become the biggest male singer winner. Tse On Kay became the female singer big winner.
Group Supper Moment received the Global Chinese Gold Song. The band happily said that this was too exaggerated because they never thought about winning such a big award. Their goal was very suitable for this award, as they hope to bring their music and performance out of Hong Kong. Last year they were able to perform a concert in England and introduce themselves to people overseas. When Supper Moment performed ORANGE SEA, they sang to the audience, "The venue prohibits silence, everyone raise your hands and fill this place with love!"
The "Most Excellent Male Pop Singer" Cheung King Hin said, "This has been a harvest year, with the support of a good team and good songs we went through storms together. I also thanked Radio Hong Kong for giving me the chance to host when I started. I had a good foundation and I miss it very much. In 2019, I will start over and keep working hard, see you on the stage again next year!"
The "Most Excellent Female Pop Singer" Tse On Kay said, "This is the first time I won this award. I am very, very happy. Ths year has been a very special year. Earlier I rested for a very long time. Working with the current team and Juno (Mak Chun Lung), I took risks and challenged myself. I have everyone's encouragement. I would with my humblest heart thank everyone, whether on or off stage you have told me that I have value!" the event arranged for ten singers including Joyce Cheng Yun Yi, AGA Kong Hoi Ka, Pakho Chau, Hubert Wu Hung Kwan, Andy Leung, Jason Chan Pak Yu, Gin Lee Hung Ngai, JW, Alfred Hui Ting Hung and James Ng Yip Kwan performed this year's theme song SING THE WORLD SONG to open the concert. Elders like Jacky Cheung Hok Yau and Leon Lai Ming performed the song in the past.
Then mystery guest Nicholas Tse Ting Fung appeared and performed Beyond's SHINING AGE. As he sang he told the audience to sing along, the audience clapped along and sang. Then he sang his song BLUE SKY. Ting Fung was raised to a smaller stage for a guitar solo as he removed his leather jacket. When he performed DIVING DRAGON he again picked up his guitar and sang.
The Top Ten Gold Song winners appeared and performed half of their winning songs. First Hui Ting Fung sang SPARE A LISTEN, then Wu Hung Kwan sang I WAS HERE, AGA performed MINOR PROBLEM, Chan Pak Yu sang SERIOUS AS EVER. Popular online singer JC followed with two songs. Sing out performed OCTAVE JOURNEY and then IDENTITY with Supper Moment. Supper Moment also performed their winning son ORANGE SEA. Pakho Chau performed BEHIND A MAN in a bowtie and a suit. Ng Yip Kwan was so intense when he sang FILIAL PIETY that his eyes were closed. Gin Lee also pressed against her chest tensely when she performed VERY TOUGH.
The event played the late singer Ellen Loo (Lo Hoi tung)'s song creation video in memory of her. Tse On Kay and Sacred Heart Canossian College Alumni Choir performed. Golden Needle award winner Tat Ming Pair appeared, played a medley of heir song to a standing ovation. Cheng Yun Yi and Gin Lee danced in the audience, even Winnie Yu Jung helped and played the ukulele and presented the Golden Needle award to them. The concert ended with a performance with Cheung King Hin, dancer Mui Cheuk Yin and cyr wheel artist Yang Shih-hao.
Ng Yip Kwan performed his elders' classic song THE WORLD SONG and got the feeling of the torch being passed. He was also very honored to be one of the ten singers to perform it, as he felt like he was being recognized. Speaking of this year's award show performance paling from last year's, Brother Kwan admitted that he asked himself whether he did not work as hard and as diligently as other singers. This was his shame so he would like to return to the stage in 2019. However after 4 years, he was able to accept awards on the stage for the first 3 years and still felt very lucky. When he saw Ting Fung, he was very surprised. He felt his stage presence because he already liked Ting Fung's JADE BUTTERFLY in fourth or fifth grade. He said, "I listen to him sing since I was little! Now he actually appear in person, the feeling is very wonderful, very gratifying. I hope ten years from now, someone would say that they have been listening to my songs since elementary school!"
THE 41ST RADIO HONG KONG TOP TEN CHINESE GOLD SONGS AWARDS
MOST EXCELLENT POP SINGER (Male):
Hins Cheung
MOST EXCELLENT POP SINGER (Female):
Kay Tse
GLOBAL CHINESE BEST GOLD SONG:
ORANGE SEA (Supper Moment)
EXCELLENT POP SINGERS:
AGA, JW, Joey Yung, Eason Chan, Janice Vidal, Kay Tse, Gin Lee, Pakho Chau, Hins Cheung, Jason Chan, Joyce Cheng
BEST BAND/GROUP
GOLD:
Supper Moment
SILVER:
Dear Jane
BRONZE:
Robynn & Kendy
BEST CHINESE RECORD
MALE SINGER:
HINSIDEOUT CONCERT (Hins Cheung)
FEMALE SINGER:
321 GO LIVE (Miriam Yeung)
GROUP:
BORN IN C ALLSTAR CONCERT (C AllStar)
EXCELLENT POP MANDARIN SONG
GOLD:
OUTSIDE OF (Eason Chan)
SILVER:
COUNTDOWN (G.E.M)
BRONZE:
ZHANG JIAMINGAND WAN JUN (Lee Ronghao)
MOST POTENTIAL NEW COMER
GOLD:
Tsang Lok Tung
SILVER:
Joey Thye
BRONZE:
Hana Tam
EXCELLENCE:
Kaho Hung, Will Lee, Cath Wong
MOST IMPROVED
GOLD:
Andy Leung
SILVER:
Deep Ng
BRONZE:
Mischa Ip
CASH BEST CREATIVE SINGER:
Phil Lam
GOLDEN NEEDLE:
Tat Ming Pair
TOP TEN GOLD SONG:
WITHOUT (Hins Cheung)
AM I ME (Eason Chan)
BEHIND A MAN (Pakho Chau)
SERIOUS AS EVER (Jason Chan)
ORANGE SEA (Supper Moment)
VERY TOUGH (Gin Lee)
MINOR PROBLEM (AGA)
SPARE A LISTEN (Alfred Hui)
A WOMAN AND THE BATHROOM (Kay Tse)
IF THE WORLD ACTUALLY IS NOT LIKE YOU EXPECT (Charmaine Fong)
FILIAL PIETY (James Ng)
I WAS HERE (Hubert Wu)