courtesy of on.cc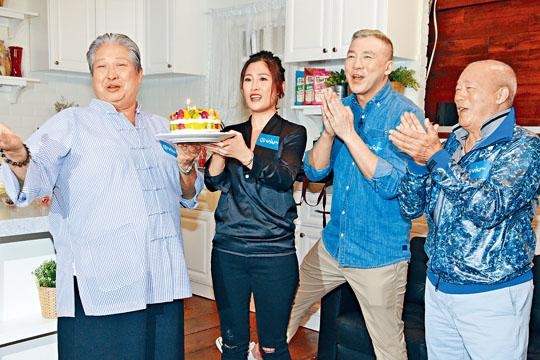 courtesy of singtao.com
courtesy of mingpao.com
Janet Chow Ka Wai's ViuTV food program invited her father in law Sammo Hung Kam Bo as a guest. Her co-host Lau Wing Kin invited his father Lau Ka Wing to the taping. Today is Hung Kam Bo's 67th birthday, Ka Wai prepared a cake and gave the birthday song to celebrate with her father in law. Hung Kam Bo happily said, "I am happy everyday, not just only birthdays, Happy Everyday!" Today he would probably celebrate with his family. Lau Ka Wing jokingly asked for an invitation, and Hung Kam Bo replied in jest that he should give me lai see first.
Hung Kam Bo and Lau Ka Wing have known each other since they were little. Hung Kam Bo revealed that when he was little Lau Ka Wing often picked on him. Lau Ka Wing admitted, "He was just a few years old when he started, if I didn't pick on him, should I have picked on someone several decades old?" Hung continued, "In terms of fighting I am no match for him. He could knock down someone in several dozen seconds." Lau Ka Wing humbly said, "That's just promotion, don't believe that."
Speaking of movies, Hung Kam Bo said, "If I have he chance I want to work with old actors like (Karl) Maka, (Richard) Ng Yiu Hon, and Ka Wing. (Five Lucky Stars?) Old Lucky stars, I can make Hong Kong films but let's see if today I hit the lottery." Hung Kam Bo felt that Hong Kong film used to be the dragon head of Asia, unfortunately now anywhere is stronger than Hong Kong. It's like a steak on the road, 'no taboo' -- it's nothing at all. After Ka Wing and I gradually retreated, Wu Jing can still fight, (Max) Zhang Jin can fight but may not be able to rise. I really don't know. In the past you had a chance to become a martial art star with martial art training, getting the younger folks hope. Now there is no hope to give them. Even Tony Jaa began his training after watching Hong Kong film because he wanted to become a martial art superstar. Without Hong Kong film he still would be picking up after elephants." Would he pass kung fu to his grandson? He said, "I am afraid that he would refuse to see Grandpa after that. Last time I told him to go to sleep he already said he wouldn't see me, how could I dare to tell him to study kung fu!"