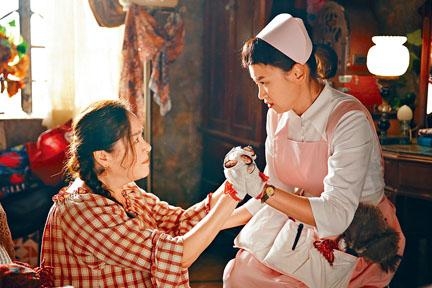 courtesy of singtao.com
Rarely making any Hong Kong film in recent years, Tian Niu earlier worked on the Lunar New Year film A LIFETIME TREASURE (YU JU YU BO). She stated that she was drawn to the story. Although she has not been in a Hong Kong film in years, she joked that after a second at work she was already caught up and even often changed channels to use Hong Kong slang. She felt very excited and very challenged, praising how much fun she had.
She stated that she missed Hong Kong very much. After working on TVB programs she left Hong Kong and went to work in the Mainland. She said, "Many people said that I was already retired, actually no! Everyday I would never stop, I wouldn't stop for more than three days. As soon as I would I would get sick. I feel like I am a racecar, the more horsepower you give the further I go. If stopped then it would be done for."
Tian Niu also thanked producer Sandy for thinking of her and inviting her to perform Actually before the production began, her role was not cast. Sandy happened to see a movie that she was in and realized that she was still active onscreen. Thus after discussing with director and screen writer Andrew Lam Man Chung she contacted her through online platform. She said, "She very sincerely sent me the story, but the first time that moved me wasn't Lam Man Chung or the salary. It was the principle of caring for the elderly because the subject was very suitable for the film. In addition it had tears within laughter. I understand how hard young people work, other than that they also have to show concern for their parents. A few words are already enough for their parents." Although she has not worked in a Hong Kong film in a long time, Tian Niu said that she caught up after a second at work. However the Hong Kong pace was truly too fast. She was used to the casual production pace of the Mainland, but for A LIFETIME TREASURE she had to follow the Hong Kong scene jumps and often had to change channel to speak Hong Kong slangs. She felt that was very exciting and very challenging and she had a lot of fun.
Playing one of the nursing home residents, Tian Niu often had to dress up in the film. Yet she said in the real life she dressed very casually. She never expected to dress in bright colors and very elegantly everyday and even joked that she felt like a bird in a senior home. Speaking of becoming friend with Ivana Wong Yuen Chi after working with her for the first time, Tian Niu admitted that their relationship felt very strange. "She would really want to protect me, and send me messages to say that she really misses me. I believe that her every word was sincere. She would ask me a lot of personal questions, I would say I would just share my own experience with me for her to analyze for herself and then make her choice."