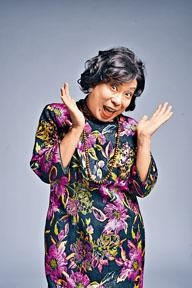 courtesy of singtao.com
The Lunar New Year film A LIFETIME TREASURE (YU JU YU BO) is Andrew Lam Man Chung's directing debut. Ah Chung with all his ideas even participated in screenwriting and acting in the new film, as he worked both on and off screen. He ended up not being able to sleep before the release!
Since it was his firs movie baby, Ah Chung this time had to play several generations of ancestors. He had to play his great great great great grandfather and great great great great grandmother. As a woman Ah Chung truly was convincing. He deliberately made a sexy and cute pose, really was even more woman than a real woman.
At the costume fitting, Ah Chung spent most of the day and tried ten looks. After the nursing home chief look he tried the great great great great grandparents costumes, and he did not forget to mess around nonsensically. Messing around with the ancestors, Ah Chung said, "Actually I only did it because it is necessary, as my own ancestors of course I would bear the most resemblance!"