AGA
The super popular group Mirror stepped on the Ultimate stage for the first time
JW
Tsang Lok Tung got so excited that her speech seemed to have no end
Cath Wong got sentimental after ten years of persistence in her passion for music
Kaho Hung won Rookie Gold Prize
courtesy of on.cc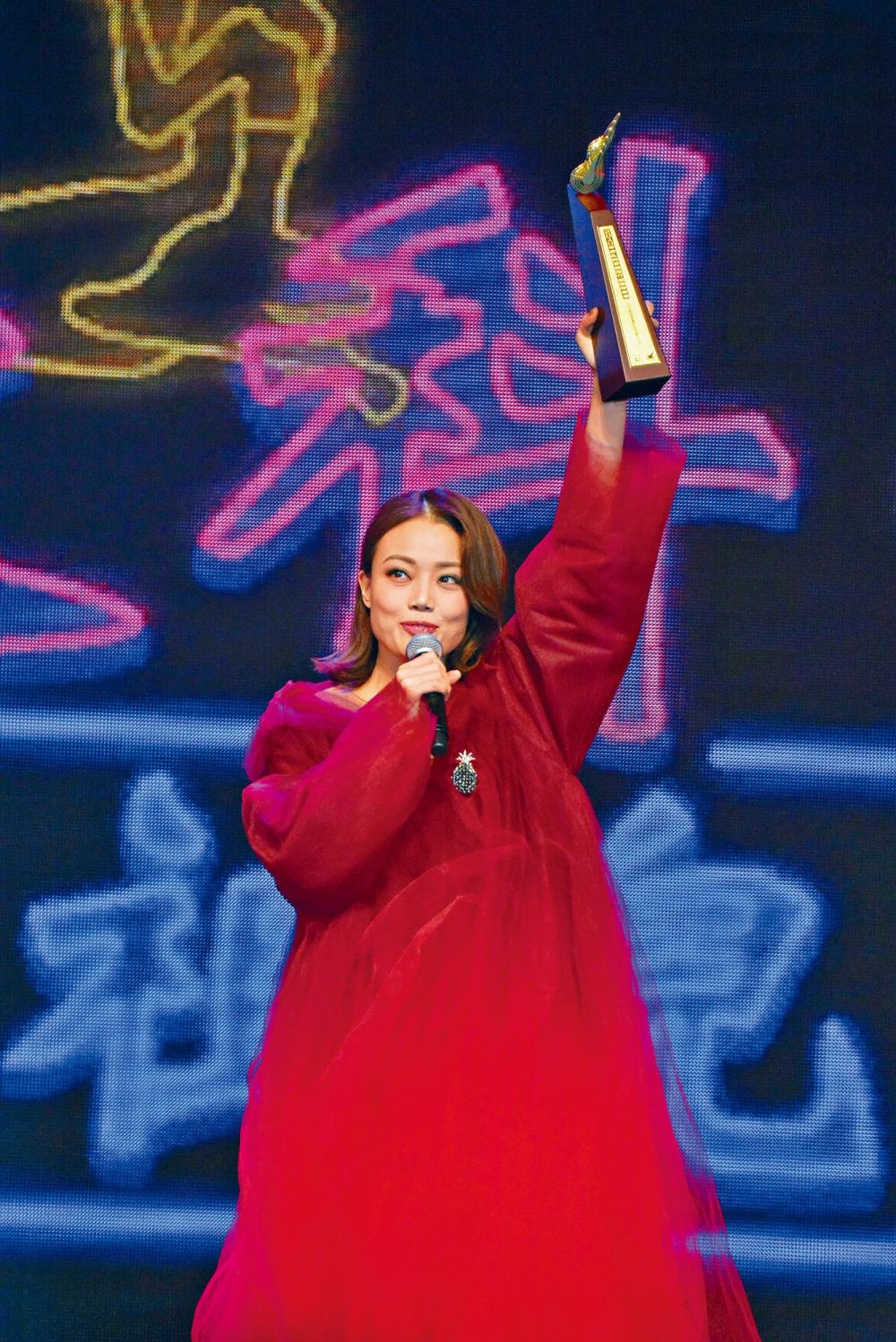 courtesy of singtao.com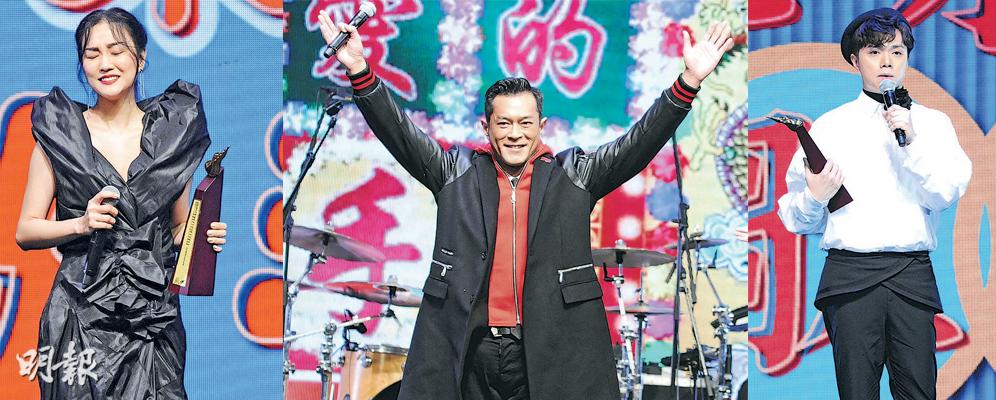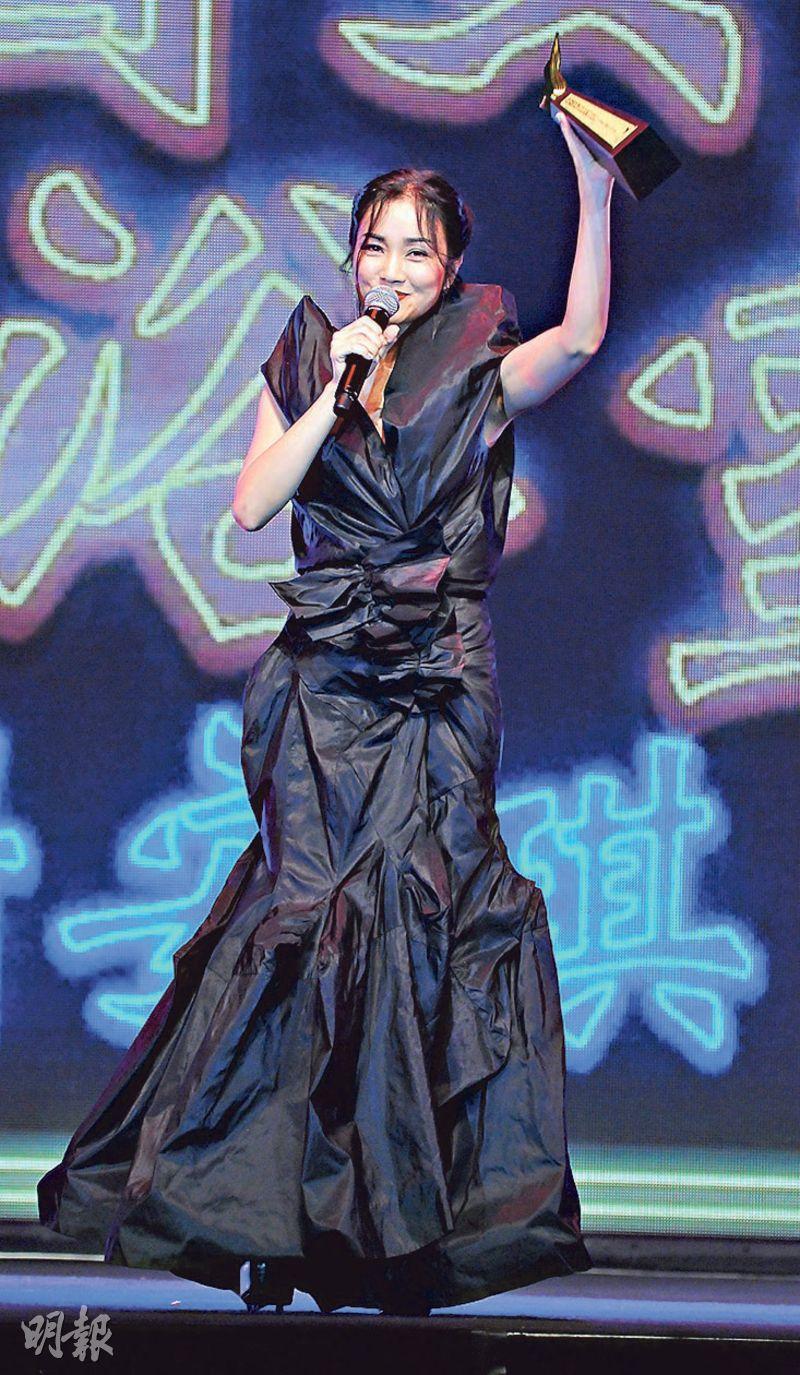 After a two year absence due to motherhood, Kay Tse returned as the big winner with 3.5 awards
Kay Tse broke into tears after winning her first Ultimate Female Singer gold prize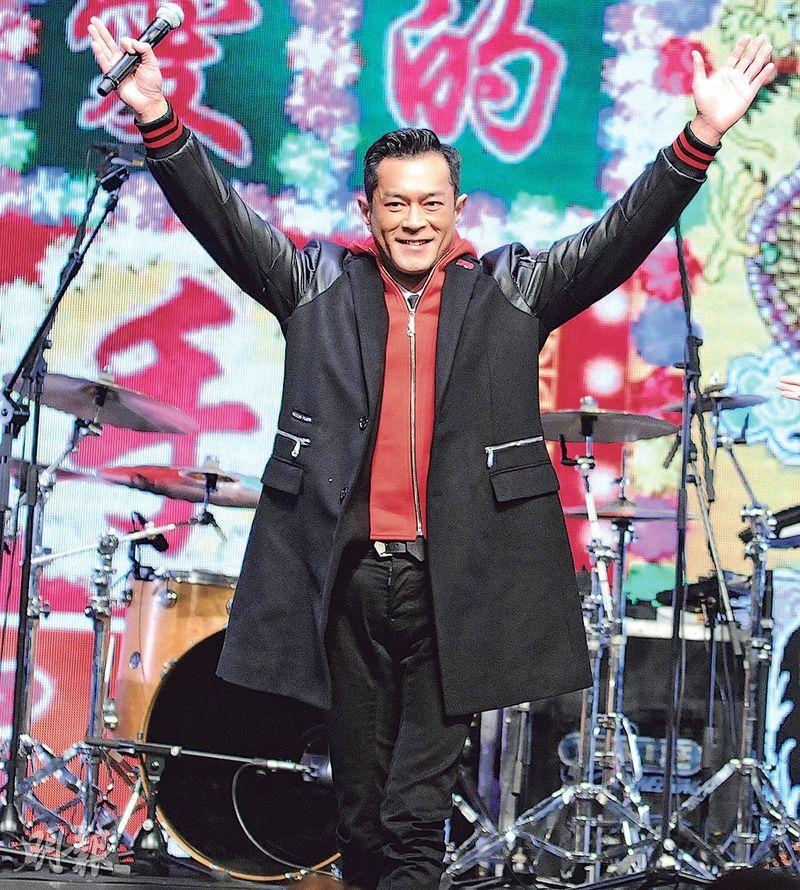 Louis Koo's surprise appearance to accept "My Favorite Male Singer" was welcomed with cheers and screams.
In the company of other singers Louis Koo sang his claim to fame BOYFRIEND
After 20 years Joey Yung finally won Ultimate Song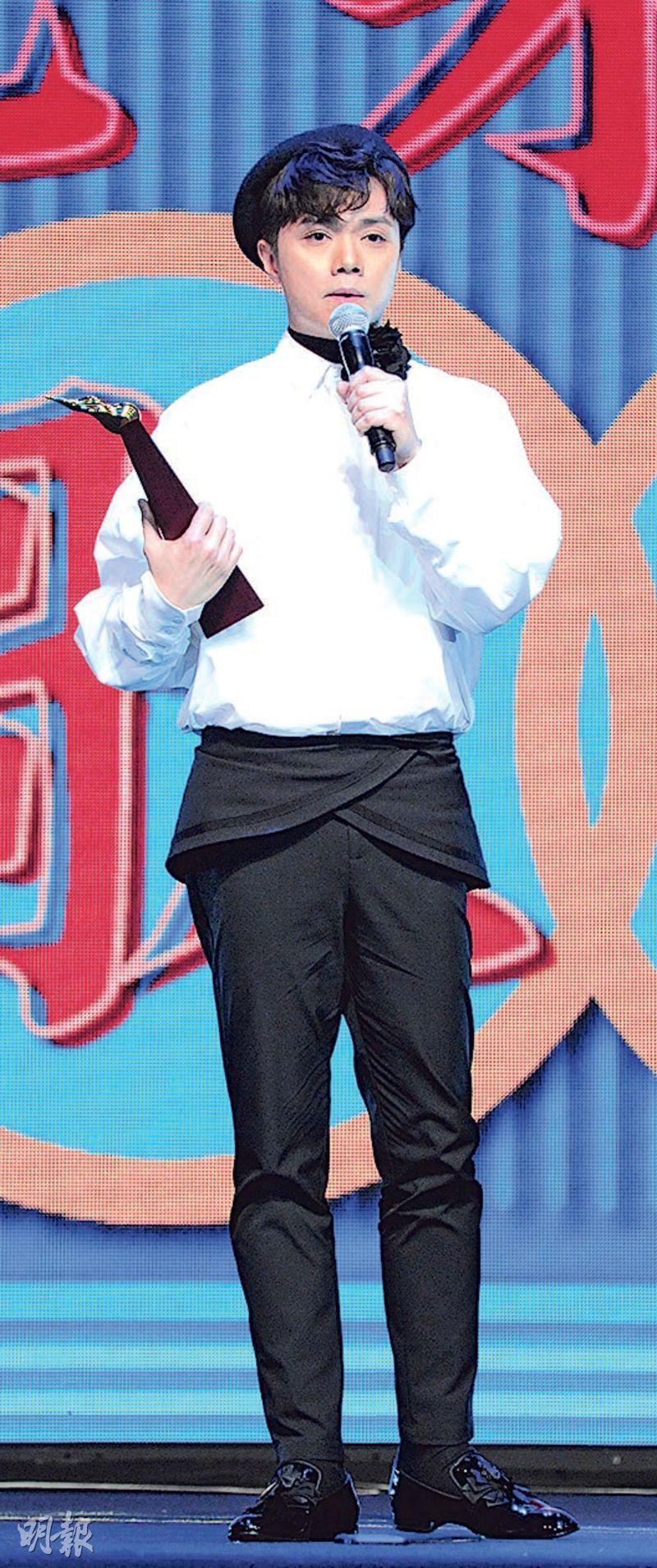 Hins Cheung won 3 awards to become the male big winner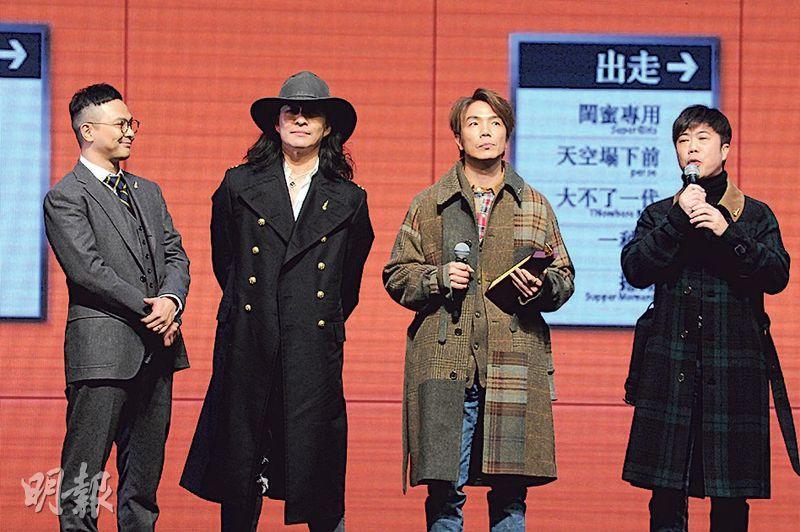 RubberBand won Ultimate Group gold prize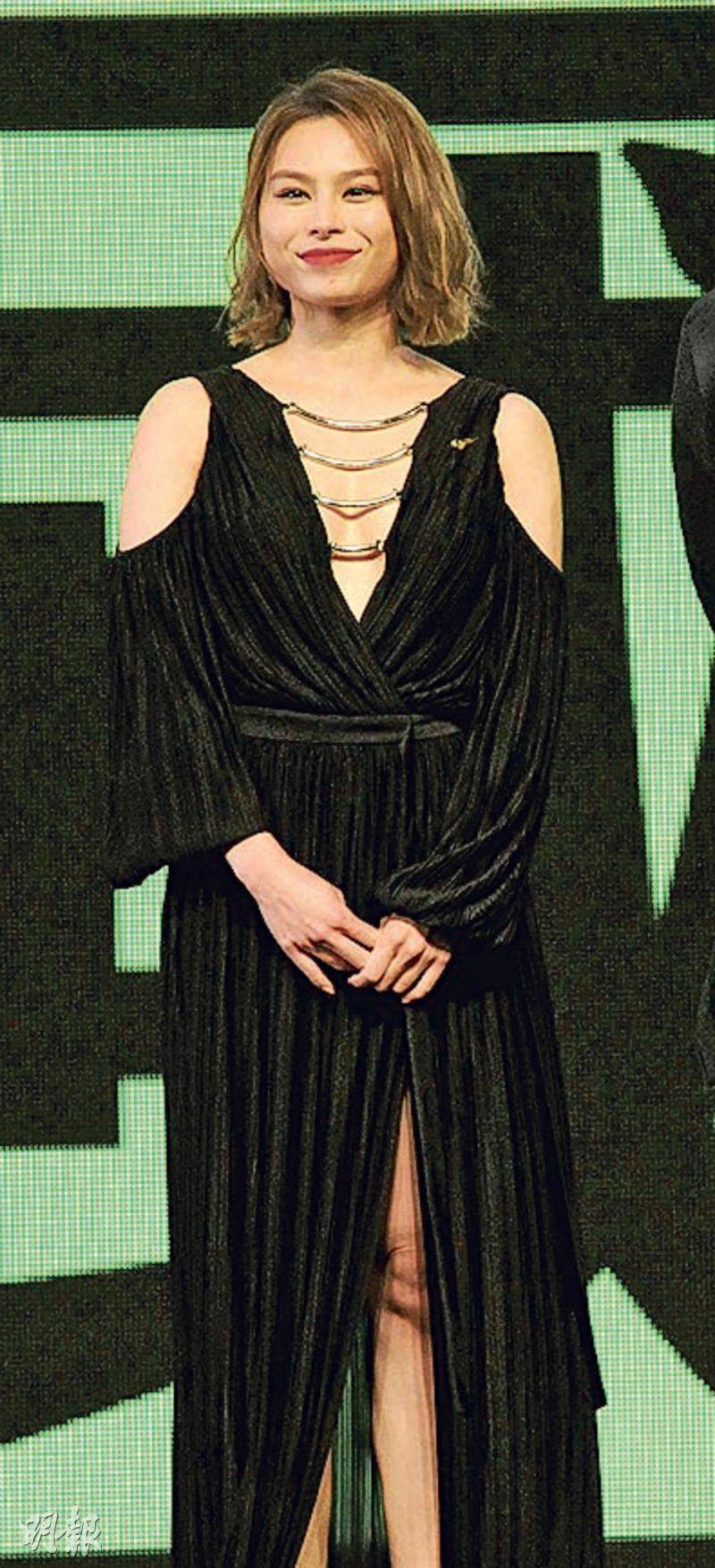 Gin Lee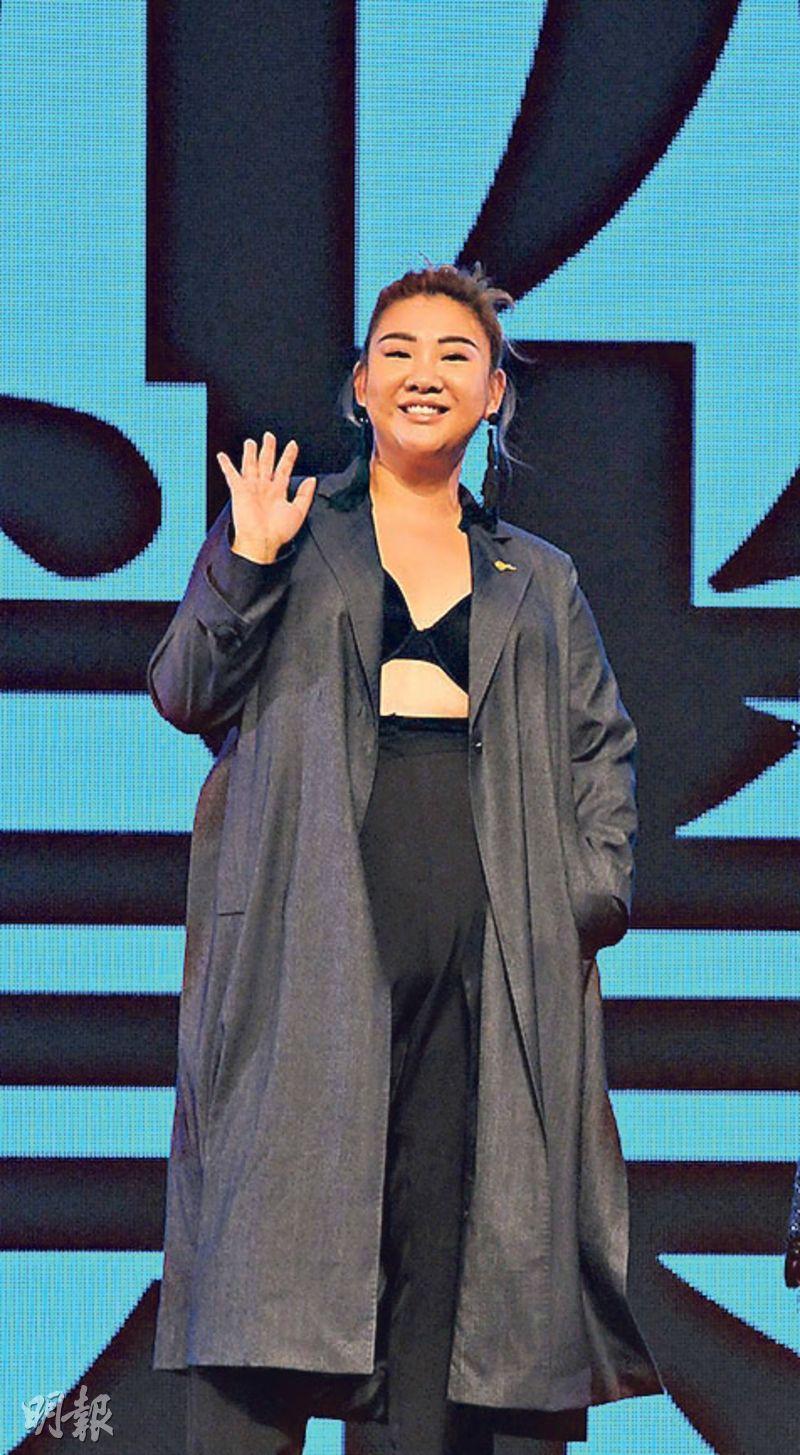 Joyce Cheng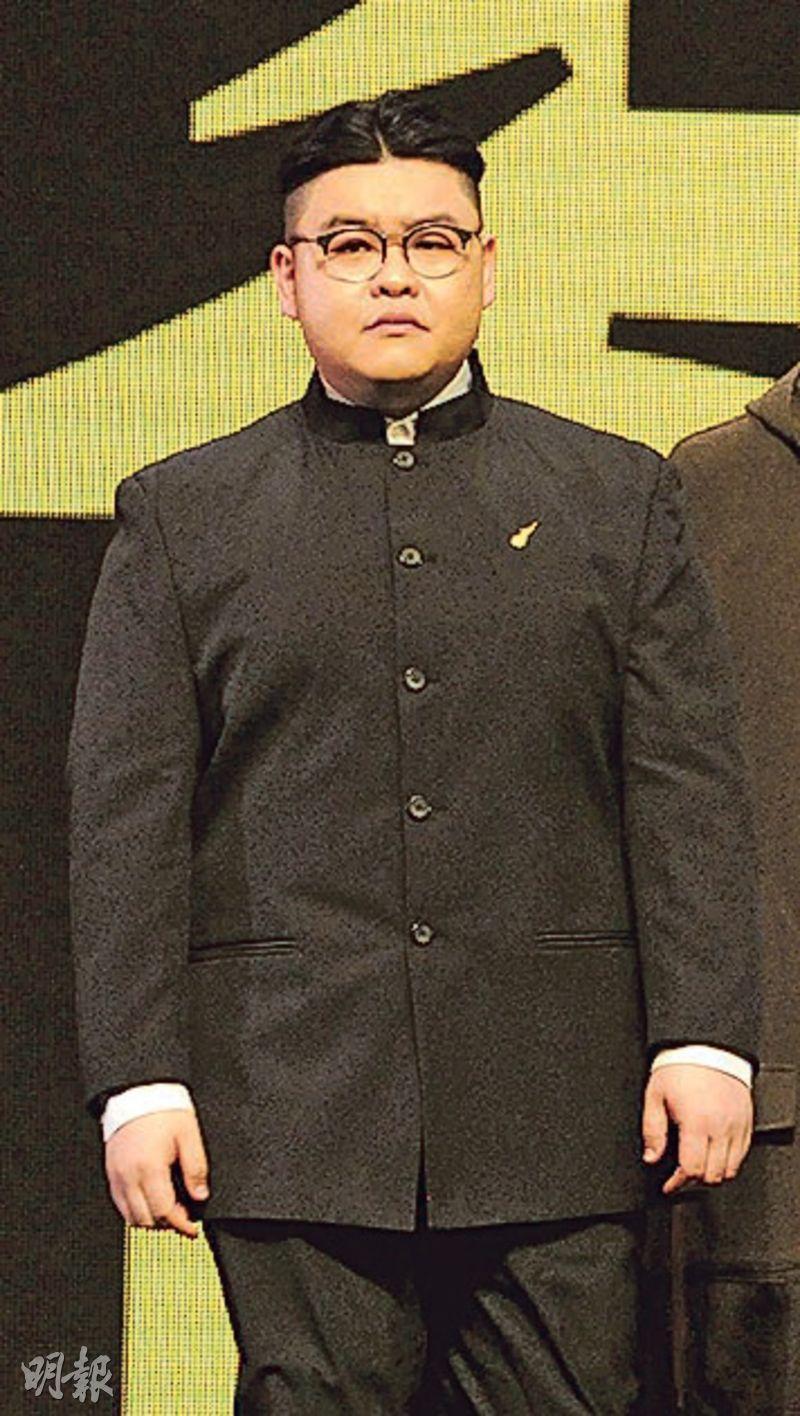 Calvin Fu resembles a certain North Korean leader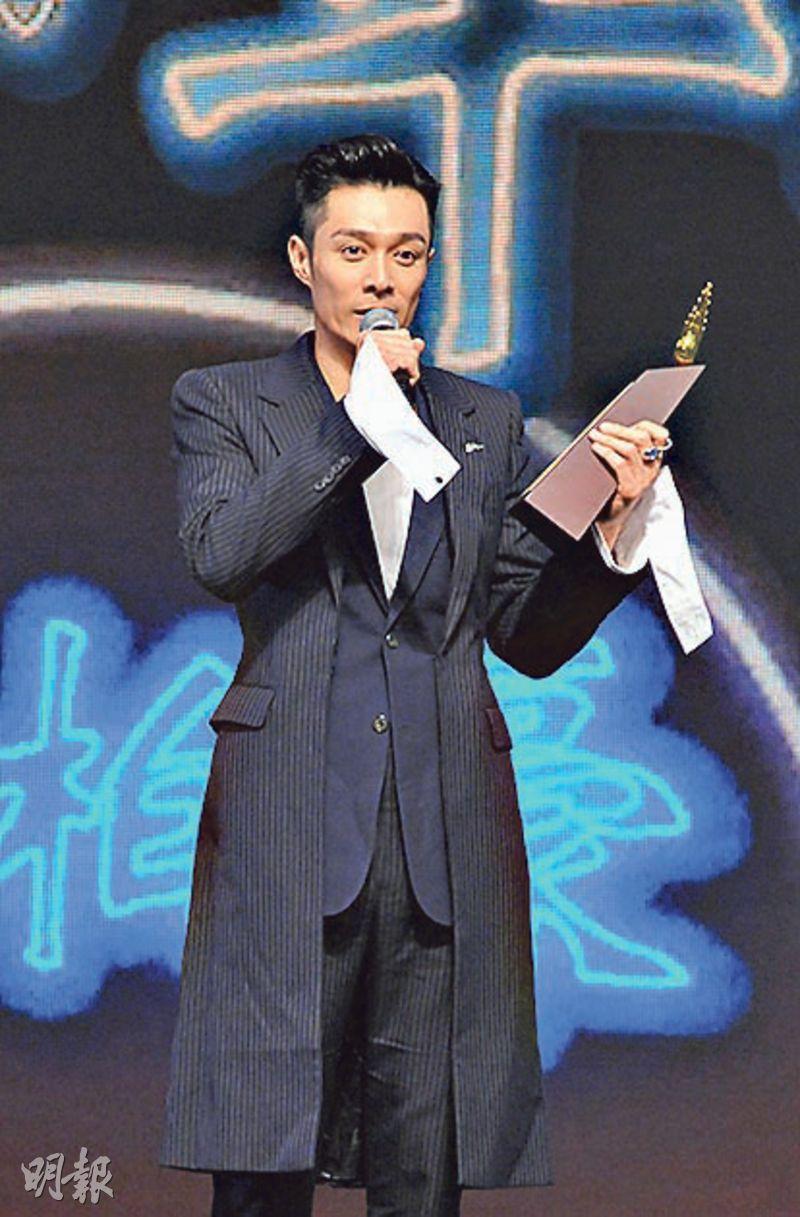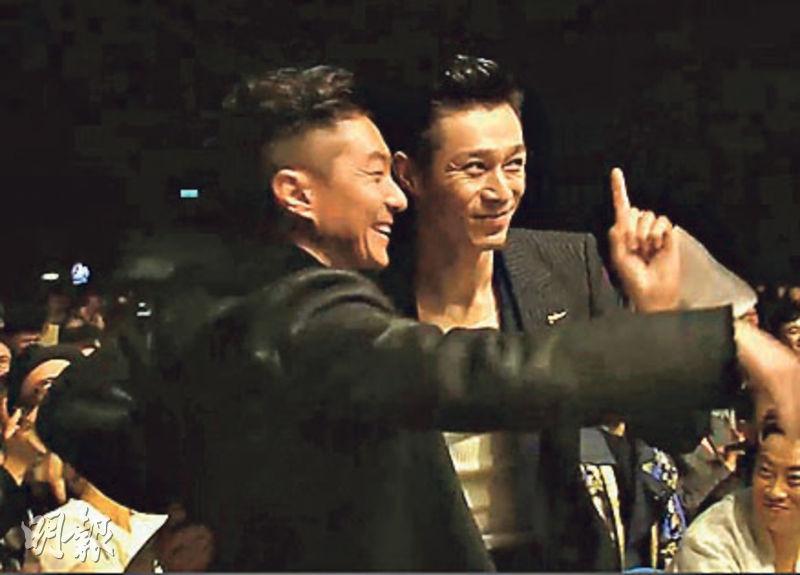 Endy Chow knew that the host made a mistake and graciously congratulated Pakho Chau
Abrahim Chan commends Commercial Radio for its courage for giving him an award after recent personal attacks against him online.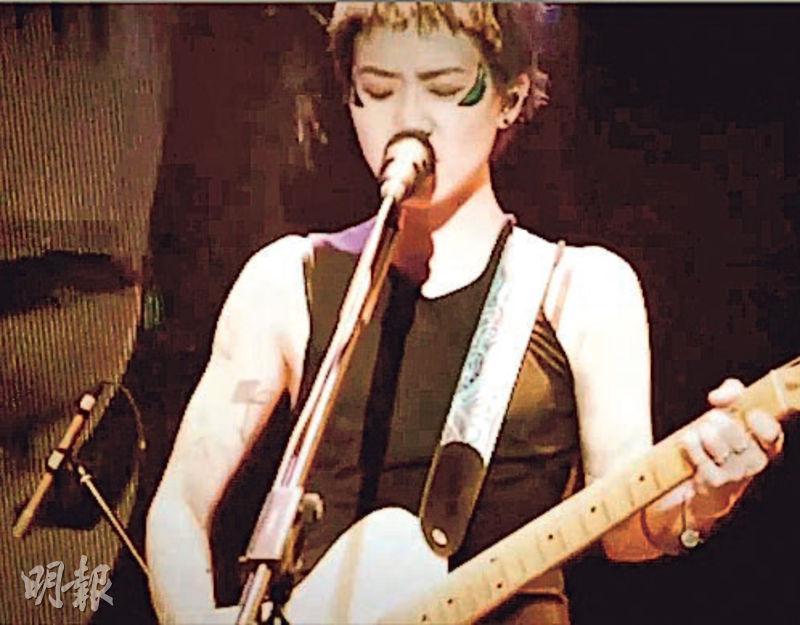 The event remembers Ellen Loo with IF I STILL HAVE TIME
courtesy of mingpao.com
The 2018 Commercial Radio Ultimate Song Chart Award took place last night at the Convention Center. This year's theme was "Our Songtopia", meaning that everyone had an award show that belonged to them in their hearts. The even presented 43 awards. "My Favorite Song" went to CENTENNIAL TREE. Louis Koo Tin Lok after 19 years appeared at a music award show again and won "My Favorite Male Singer" as the favorite. He even made an exception and sang BOYFRIEND acapella to bring the evening to its peak. He joked, "The world really has miracles, I actually get to go on this stage and accept this award!" Kay Tse On Kay after 14 years in the business defeated "nemesis" Joey Yung Cho Yee for the first time to win the Female Singer gold prize, with 3.5 awards she even became the big winner. Joey also won her long sorted after "Ultimate Song" award to complete her "grand slam" dream. Everyone went home happy.
When the show began each DJ introduced singers. Leading the pack were Juno Mak Chun Lung and Kay Tse On Kay, then Joyce Cheng Yun Yi, James Ng Yip Kwan, Alfred Hui Ting Hung, Pakho Chau, JW, Jason Chan Pak Yu, Charmaine Fong Ho Man, Gin Lee Hung Ngai, Endy Chow Kwok Yin and others. The new guy group Mirror received much applause. Hins Cheung King Hin and Joey Yung Cho Yee finished the line up. Joey also made her first appearance this year at a music award show. The event presented the Rookie gold, silver and bronze prizes to Kaho Hung, Tsang Lok Tung and Cath Wong. Rumored girlfriend of the band Mr.'s MJ, Cath Wong got sentimental during her speech and thanked MJ. "No matter how our relationship changes, you would always support me."
Silver prize winner Tsang Lok Tung thanked her grandpa who was on bed rest due to illness and got teary eyed. She believed that although Grandpa might not see her win, he would be able to sense her joy. Tsang Lok Tung also gave special thanks to elder Cheung King Hin because he unconditionally helped her with her stress as a new comer. Gold prize winner Kaho Hung said that he grew up a lot in the past year, which was also full of setbacks. Because he often had his head down and lived in uneasiness, after the award he had to remind himself no to lower his head anymore and to keep making good music.
Best Actor Koo Tin Lok since winning the new comer award in 2000 again with the duet (A MAN) A WOMAN AND THE BATHROOM successfully gained "popularity" among listeners as he defeated Chow Kwok Yin, Chan Pak Yu, Eason Chan Yik Shun and Cheung King Hin for "My Favorite Male Singer". Goo Jai made a surprise appearance with his arms raised high, as the entire audience gave him a standing ovation in support.
Koo Tin Lok said, "I really like to sing, bu I don't know how to sing! Please don't stand, I am not accepting the Lifetime Achievement Award. Winning My Favorite isn't something that happens overnight, I know I won My Favorite not because of my great singing." Goo Jai explained that last year as the Performing Artist Guild president he met with many singers, understood their difficulties and hoped to revive the music industry. He said, "I discover that the fire in everyone has never been extinguished. I am very happy, I can get on the stage. I hope everyone can continue the dream and the fire in their hearts, Papa taught me not to be afraid of being taken advantage of. I am not saying that the duet with Tse On Kay is being taken advantage of, it is daring to try, daring to do, never give up, keep making good Cantonese songs!" Goo Jai graciously sang and invited Joey, Kay, Juno Mak Chun Lung and Cheung King Hin to the stage for "courage" as background singers. However he declined to sing POPULAR THIS WEEK, instead he finally sang a few verses of BOYFRIEND acapella and won the entire audience's applause.
At her 20th anniversary in the business, Yung Cho Yee over the years at different awards show received different awards. This year she finally won her first Ultimate Song Award. When producer Shu Man pointed out that exciting people and events needed time to wait for them to happen, Joey was already in tears. She said, "I started in the last century. I was a 1999 new comers, all along with everyone I longed for the Ultimate Song. With that state of mind and hard work I performed every song, until today in 2019 when the Ultimate Song was presented to me. Thank you everyone!" However she did not land in the top three for the Female Singer award.
Tse On Kay since starting in 2005 won her first Female Singer gold prize. She emotionally embraced her colleague Mak Chun Lung. She said, "Actually I haven't attended an award show for several years, I once was disillusioned and really wanted to rest. My music once brought me a lot of memorable moments, but I didn't know how to handle them. I thought about letting go of music. Today I face an award show today, instead I changed my state of mind. I can openly face it because what I see here isn't defeat or victory, but sincere support. Thank you!" She even won a song award, My Favorite Female Singer and split Ultimate Record with Mak Chun Lung. Wiht 3.5 awards she became the evening's big winner.
As for Male singers, Cheung King Hin this year won the gold prize as the favorite. After 2015 and 2016, he won this award for the third time. He also won a song award and My Favorite Song, pocketing three major awards. Hui Ting Hung and Chow Kwok Yin won silver and bronze for Male Singer.
Song writer award went to Cousin Fung. He made a comparison to a wrong beef noodle order, sometimes he did not know what kind of song singers would want. He also thanked his wife for helping him with his choice of clothing, otherwise he would dare to wear "boxers" to the stage. Lyrics award went to Abrahim Chan Wing him, who said that he though about whether he would have jeer or applause. He expressed that musicians often would have the speech overshadowed by such noise and lose themselves in music. However he would continue to work hard and make good music. In recent months he faced personal attacks online. The host said that he originally was unable to personally accept the award and planned to have Pakho Chau accept it on his behalf. Chan Wing Him originally was singing backup for Andy Lau Tak Wa's concert, later Wa Jai cancelled his concerts due to the flu and Chan Wing Him was able to accept the award in person. The producer award went to Shu Man.
When host Pitar Leung Man Lai presented the Ultimate Top Ten number eight song PEACE FOR YOUNG AND OLD, she mistakenly said Chow Kwok Yin instead of Pakho Chau. Both singers stood up at once, but Endy graciously congratulated Pakho Chau and even walked him to the stage.
Later Chow Kwok Yin with OLD BOMB won the number six song. He excitedly darted to the stage to accept the award.
In the "Ultimate Remembers Ellen Loo" segment, a special edit of Lo Hoi Tung's interview recordings and videos was played. In it Ellen mentioned her relationship with guitar, once due to too many performances she minded it. "Later when I embrace guitar anew, I felt like a little kid again. A simple melody actually could be great, actually the simpler it was the happier it was. Then I could write songs ago. My relationship with guitar was very complicated yet very simple." The screen displayed "Wish you happiness, blank space here". Then her song IF STILL HAVE TIME was played as the lyrics went, "Clouds palely shine, your smile never ages from here on."
2018 COMMERCIAL RADIO ULTIMATE SONG CHART AWARDS
ULTIMATE SONG:
SCIENCE OF THE HEART (Joey Yung)
PROFESSIONAL RECOMMENDATION ULTIMATE TOP TEN
2.
A WOMAN AND THE BATHROOM (Kay Tse)
3.
SEE YOU LATER (RubberBand)
4.
CAN BE AGAIN (Eason Chan)
5.
GENIUS CHILDREN 1985 (Hins Cheung)
6.
OLD BOMB (Endy Chow)
7.
NO TIME (AGA)
8.
PEACE FOR YOUNG AND OLD (Pakho Chau)
9.
SERIOUS AS EVER (Jason Chan)
10.
SILENT DISCO (Ivana Wong)
ULTIMATE RECORD:
THE ALBUM PART ONE (Kay Tse, Juno Mak)
ULTIMATE ROOKIE
GOLD:
Kaho Hung
SILVER:
Tsang Lok Tung
BRONZE:
Cath Wong
ULTIMATE MALE SINGER
GOLD:
Hins Cheung
SILVER:
Alfred Hui
BRONZE:
Endy Chow
ULTIMATE FEMALE SINGER
GOLD:
Kay Tse
SILVER:
Gin Lee
BRONZE:
AGA
ULTIMATE GROUP
GOLD:
RubberBand
SILVER:
Dear Jane
BRONZE:
Supper Moment
ULTIMATE CREATIVE SINGER
GOLD:
Phil Lam
SILVER:
AGA
BRONZE:
Panther Chen
ULTIMATE SONG WRITER:
Cousin Fung
ULTIMATE LYRICS:
Abrahim Chan Wing Him
ULTIMATE PRODUCER:
Shu Man
ULTIMATE SONG ARRANGEMENT:
Carl Wong Seung Chun
MY FAVORITE SONG:
CENTENNIAL TREE (Hins Cheung)
MY FAVORITE MALE SINGER:
Louis Koo
MY FAVORITE FEMALE SINGER:
Kay Tse
MY FAVORITE GROUP:
Supper Moment