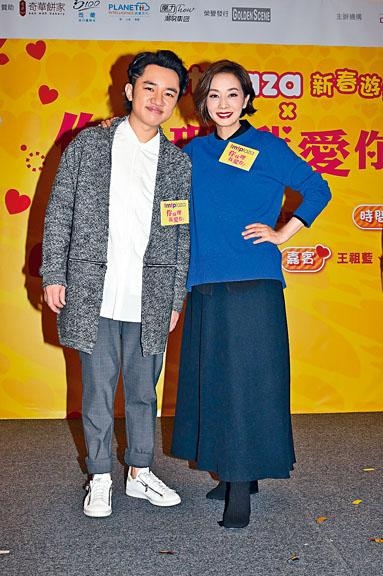 courtesy of singtao.com
Teresa Mo, Wong Cho Lam, Corinna Chamberlain
courtesy of mingpao.com
Wong Cho Lam, Teresa Mo Shun Kwan and Corinna Chamberlain (Chan Ming Yan) yesterday promoted their Lunar New Year film I LOVE YOU, YOU'RE PERFECT, NOW CHANGE! (NEI MAI LEI, NGOR OI NEI) in Tuen Mun. They played games with the audience and talked about their memorable moments from the past years. Recently becoming a father, Cho Lam said that the most memorable was directing the Lunar New Year film and having a daughter. Both were new born babies that required his time to raise. Sister Mo said that the most memorable was winning the Hong Kong Film Award Best Actress. The ailing Sister Mo sounded hoarse. She said that she caught the flu from her daughter.
Sister Mo said that in the film she would play four characters with seven costumes, one of them even had a 40F bust. Has her husband Au Ting Ping seen it? Sister Mo said, "Not yet, I want him to be surprised at the movies. (What kind of shape does your husband like you to be in?) Men of course want everything." Cho Lam was asked what kind of figure did he like his wife Leanne Li Yanan to have? He said, "My wife is perfect, even when pregnant."
Just becoming a father, he said, "I tried everything, but I couldn't finish anything. I have to hand her back to the women of the home to finish up." Did he ask Sister Mo for advice? Sister Mo pointed out that Cho Lam's home had too many people to take care of the baby, she was not so lucky and reminded Cho Lam said that a couple would have friction when they have a baby. However friction is a part of life, only with it would they know how important each other was. Cho Lam said, "I already know that this family is very important, I don't need the friction."
Cho Lam also stated that he wanted to two in three years, but he said that his wife wanted to wait until their daughter turns one before having another. She did not want to be pregnant while taking care of their daughter. Cho Lam said, "Being a mother is too noble, I have to love my wife even more." To reward his wife for having the baby and to celebrate their wedding anniversary on Valentine's Day, he planned to take his wife to Japan. He realized that nine out of ten women would want to eat raw and cold food after giving birth.
Cho Lam revealed that he is planning his daughter's hundred day banquet. Earlier he originally wanted to order cookies from Sister Mo as gifts for family and friends but Sister Mo turned him down. Sister Mo explained that she was very busy at the time and she did not have time to complete Cho Lam's large order. Cho Lam said that he ended up buying boxes of finished cookies for friends and family.