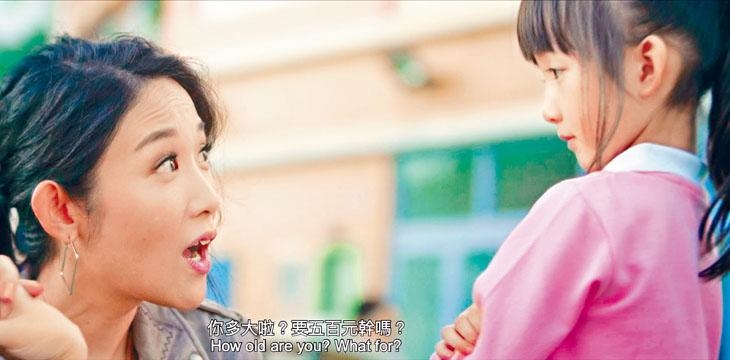 courtesy of singtao.com
The Pang Ho Cheung directed, Gigi Leung Wing Kei, DaDa Chan Jing, Isabel Chan Yat Ning, Lam Suet, Patrick Tse Yin, Jo Kuk Cho Lam and Miriam Yeung Chin Wa starred Lunar New Year film MISSBEHAVIOR (GUNG HEI BAK POR) yesterday released its official trailer. The trailer began with Lam Suet, who "greeted" Yeung Chin Wa and told Chin Wa to "speak English". She was stunned. Chin Wa said that the appearance in the trailer absolutely was not acting because it was a real reaction. "Brother Suet was loud and the set was very quiet. As soon as he turned around he loudly dropped the bomb. I really was stunned from fright. I had to wait for awhile before I remembered to deliver my lines."
DaDa's low cut leap also caught a lot of eyeballs. DaDa said, "The scene actually required wires. Since it was my first time I really was a little nervous. Instead I was the most afraid of wardrobe malfunction. I took all the precautions before appearing on the set." DaDa's niece Little Mantou also performed. DaDa also praised her niece's great performance. In addition, Pang Ho Cheung's movies have always been very "domestic". Aside from adding topical figure "Yam Ho Yan", he also invited internet artist Yanki Din ("Sister Turkey" Ting Ho yan) and Manner's Hou Dee to join the fray.