courtesy of on.cc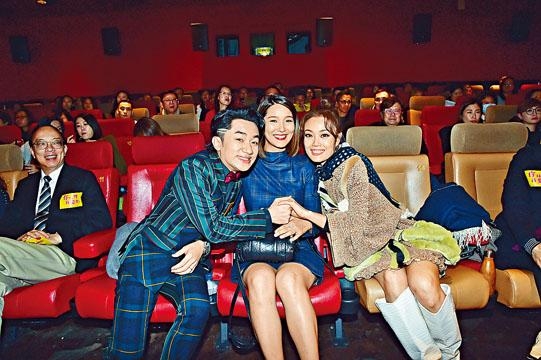 courtesy of singtao.com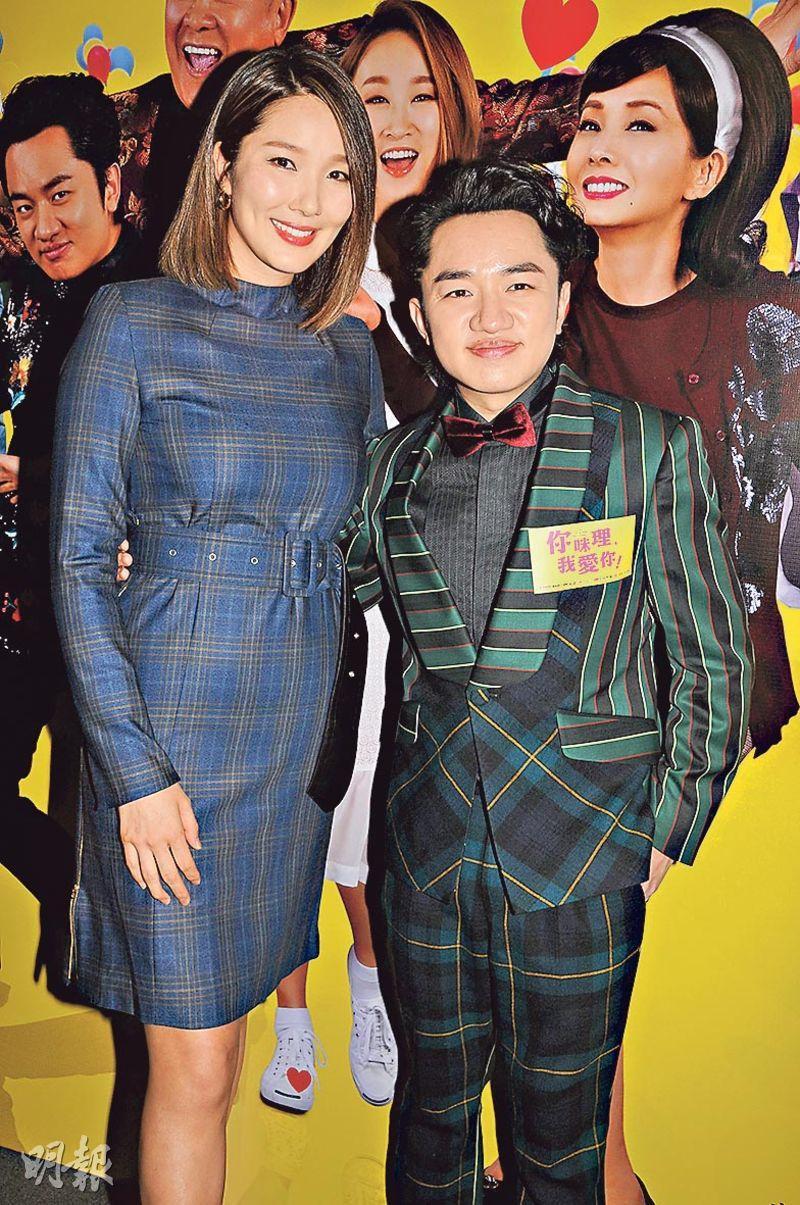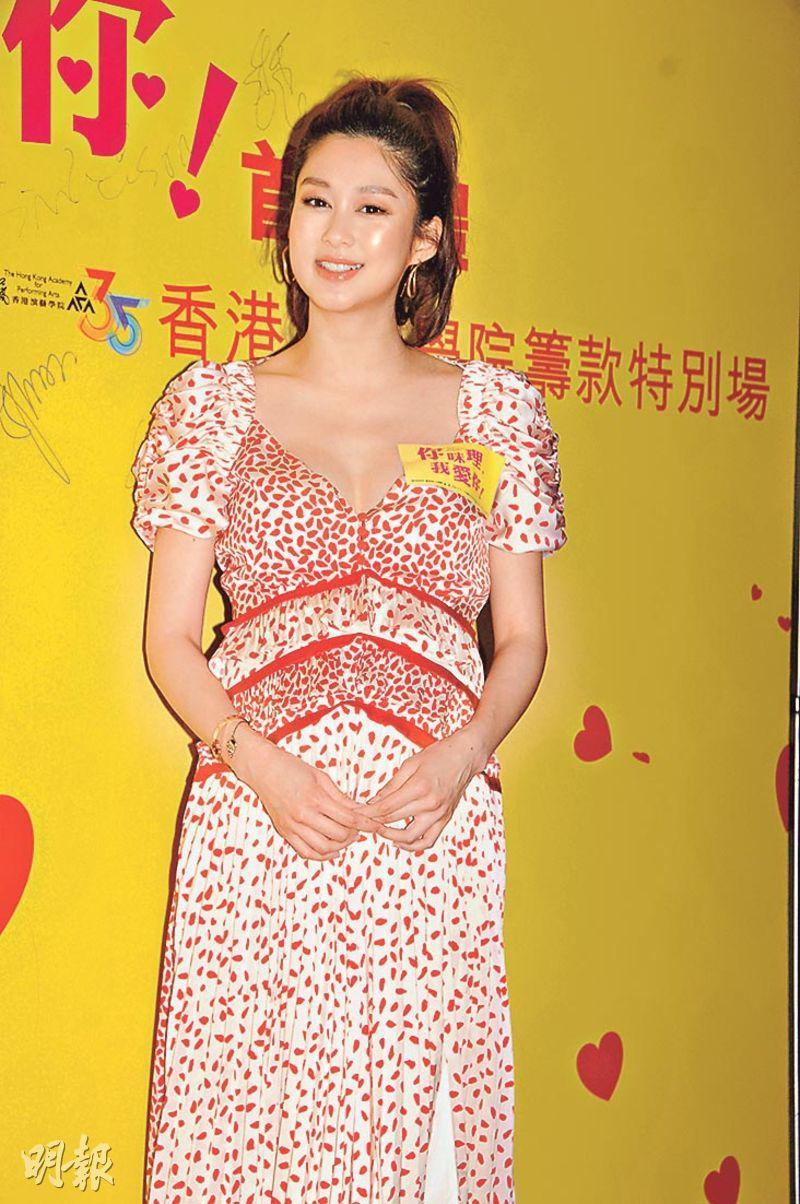 courtesy of mingpao.com
Wong Cho Lam's directing debut, the Lunar New Year film I LOVE YOU, YOU'RE PERFECT, NOW CHANGE! (NEI MAI LEI, NGOR OI NEI!) two nights ago held its premiere. Cho Lam and film producer Elaine Lok Yi Ling led actors Teresa Mo Shun Kwan, Eliza Sam Lai Heung, Alex Fong Lik Sun, Ivana Wong Yuen Chi, Candy Yu On On, Christine Kuo, James Ng Yip Kwan, Louis Yuen Siu Cheung, Michael Ning (Bak Ji) and guest star Melody Park So-yeon in attendance. Leanne Li Yanan who gave birth to Cho Lam's daughter Gabrielle at the end of last month also showed her support for her husband. Would Cho Lam arrange for Yanan to perform next time? Cho Lam said that next time she might have another one and another scheduling conflict, seemingly he really wanted to have another!
Former member of the Korean group T-ara, Park So-yeon greeted everyone on the stage in Cantonese, "How are you? I am very honored to be able to work with Cho Lam, very honored to be able to come to Hong Kong and work with Wong Cho Lam on this movie. I hope everyone would like my performance, and support the movie more, thank you everyone."
First time in a Hong Kong film, So-yeon said that she felt Hong Kong film production's pace was quicker. Because this time was a guest starring role, she hoped to officially work on a movie next time.
Cho Lam and Yanan spoke to the press together and Cho Lam immediately told his wife to suck in her gut. Yanan said, "I am, but I still have a belly. I just (gave birth) over a month ago." Cho Lam said, "It doesn't mater, you are just as pretty." Having already seen the film, Yanan was asked about her husband's directing debut. She had nothing but praise. "Truly nothing but praise, he is full of talent, very cool, all his aura radiated! I am very proud of him."
She also said that Cho Lam took her to see this play when they just met. She even went with him to New York to negotiate its rights, she truly was touched when she witnessed his dream came true. Why did Cho Lam not arrange for Yanan to perform this time? He said, "At the time Yanan was pregnant, later she had the baby, being able to successfully give birth to our daughter Gabrielle was the most important. The most important was to keep the baby safe. I didn't even permit her to visit the set, since I was afraid of the dangers there. (Would you next time?) Next time we might have another one, another scheduling conflict." Yanan joked, "Then I am not having another, just joking."
Sister Mo in the film played 4 characters with 7 different costumes. Even her husband could not recognize her. "The funniest was after the trailer was released, my husband asked why I wasn't in it? Actually he didn't recognize me! Because the hairstyle and performance style were all different." Speaking of the most memorable look, Sister Mo said that the 50F bust look was quite a heavy burden. She also had to sing and dance in it, which gave her back pain as she struggled through the scene. Although she has sung in movies before, this was a musical and she had to seriously sing. Thus it was an enormous challenge.
The over 6 months pregnant Heung Heung revealed that in the film she had a dance scene in the film, but before the shoot she did not tell her husband. She believed that her would be able to accept it. She also revealed that at the early stage of the shoot she was already pregnant, but she did not realize until by the end of it. She was already a little fat and the photographer asked if she could reduce her belly. At the time she could only say she would try her best.
Would she return to Canada for the birth? She said that she still has not decided yet, but more likely she would give birth in Hong Kong. However she still has not booked a bed and knew that she needed to do it as soon as possible. Thus she was a little stressed. Heung Heung said, "I did some research, if possible I would like a natural birth. It's not because I am brave, but because I am afraid of surgery and blood. A natural birth won't be as terrifying. (Would your husband go to the delivery room and cut the umbilical cord?) Probably, my husband is not as afraid of blood as I am. I have to close my eyes even during a blood draw and hold on to something hard. During the birth he probably would be in pain with me, only his arm would hurt."