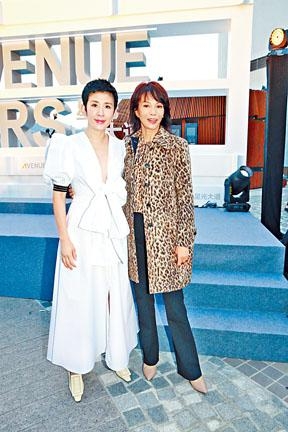 courtesy of singtao.com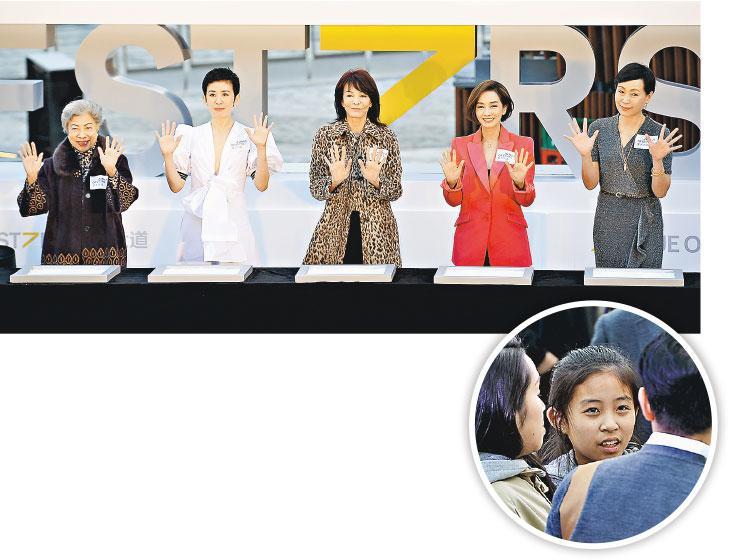 Sandra Ng's daughter attends the hand printing ceremony
courtesy of mingpao.com
The Avenue of Stars in Tsim Shui Sha reopened after renovation. Yesterday at the unveiling, five Hong Kong Film Award Best Actresses Carol Cheng Yui Ling, Sandra Ng Kwan Yu, Teresa Mo Shun Kwan, Helena Law Lan and Cecilia Yip Tung were invited to a hand printing ceremony and thus honored at the Avenue of Stars. Kwan Yu said that Sister Mo just asked her where she would be in the future, so she urged all the organizers to remember to tell them. Sister Mo joked that she was afraid of being next to Kwan Yu, only then did Kwan Yu explain that she meant the position of their "handprints".
Sister Do admitted that yesterday had special meaning because she has worked with all the Best Actresses. Kwan Yu was also very touched to be able to join this hand print family and honored to be able to participate in Hong Kong film's most beautiful era. She said, "I felt that today's hand printing is just signing the yearbook at graduation, next to the handprint would be some well wishes. Even I got goose bumps!" She also sentimentally said that sometimes in the middle of the night she would watch some old Hong Kong films. When she saw familiar faces and actors she has worked with, she would get teary eyed. Sister Do also felt honored to take part. "Looking back, making movies was really tough. So I hope Hong Kong film would continue its glorious era!"
Kwan Yu in recent years has helped new comers and encouraged more support for New Wave directors because she felt like she was one of them. Sister Do asked was she? Kwan Yu said, "Are you kidding?" Kwan Yu revealed that she was planning to make a movie and used the excuse to invite Sister Do to "come back" in support. Unfortunately each time when she wanted to ask Sister Do to guest star, she would knock her out in less than 3 seconds. Sister Do this time said that she would see how Kwan Yu would do with this movie before deciding. Kwan Yu immediately said that she just watched THE TOP BET (DOH BA) again and praised Sister Do's great acting. It would truly be regrettable if she did not return to film. Sister Do said, "I remember that movie, thank you for your support. Yet you are so free to watch it, don't you sleep at night?" Did Sister Do rarely watch old films? She sated that she loved new stuff. Kwan Yu also said that Sister Do would be in bed by 9PM while she would not go until 1AM. Thus she had time to watch old movies. She joked, "OK, it's time for Sister Do to go home and sleep!"