Fish Liew and Louise Wong become good friends after playing sisters in ANITA
courtesy of on.cc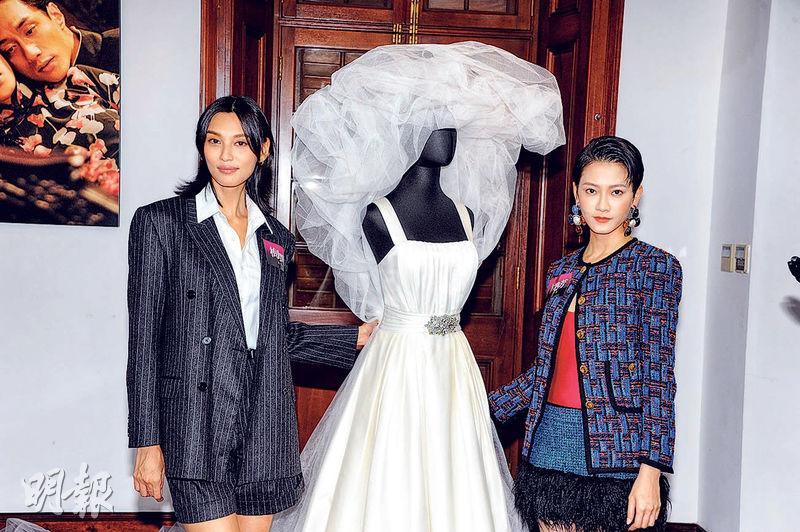 Louise Wong and Fish Liew pose with Anita Mui's costume
courtesy of mingpao.com
Based on the story of the Hong Kong music superstar Anita Mui Yim Fong, the film ANITA (MUI YIM FONG) will open soon. Edko film company and Fwd House 181 organized the "We Miss You So, Anita" exhibit. Yesterday the actors who played sisters Mui Yim Fong and Ann Mui On Fong, Louise Wong Dan Nei and Fish Liew Chi Yu, were invited to participate in the launch ceremony.
Mui Yim Fong's ever changing image and spirit have transcended through the generations and remained influential today. Many of Sister Mui's classic looks appeared again in ANITA. All of the costumes were inspired by the original designs and made anew. This time three were on display. They represented three important moments in Mui Yim Fong's performing art career, including the "Golden Armor" she wore to perform Paula Tsui Siu Fung's hit SEASON OF THE WIND at the 1982 1st New Talent singing contest; the qipao costume from the film ROUGE that enabled her to bring life to her character and won her three Best Actress awards; and the wedding gown she wore for her final song at her final concert.
Wong Dan Nei in order to play Sister Mui well before the shoot did a lot of research with the team. She kept watching Sister Mui's performance on television, film and listening to Sister Mui's music. She even spent half a year on singing and dancing lessons. "Everyday I spent at least 6 hours in class. Sometimes when I thought I didn't dance well enough, i would add two more hours of dance class. (What do you admire the most about Sister Mui?) Her personality, Sister Mui was a heroine among women, very loyal. When she wanted to something well, she would persist and give her all to make it her best. Later she also gave back to the community and did a lot of charity work. Those were all expression of love for the community and people around her, which were well worth for the younger generation to learn from.'
Stanley Kwan Kam Peng praised her performance as convincing. Wong Dan Nei said that she would remain humble, listen to advice and work hard. She was very grateful that her colleagues and elders in the film treated her very well. She and Liew Chi Yu also achieved real emotions from the performance. For many crying scenes they could not help but shed tears. Outside the film they also became good friends. Has her husband Sheldon Lo (Law Hau Yung) seen the film yet? Wong Dan Nei said, "Of course not, even I haven't seen it yet. At the premiere he would be able to see it."
Liew Chi Yu said that Anna Mui Oi Fong left less research material in comparison, which instead gave her more room to perform. She said that in real life she also had many great sisters, so she was able to project her personal experience and emotions in her role.
On the star message board, actors who participated in ANITA, friends who have worked with Sister Mui, performing art celebrities she influenced, like Sister Do (Carol Cheng Yui Ling), director Stanley Kwan Kam Peng, Louis Koo Tin Lok, Ivana Wong Yuen Chi and others all took this opportunity to share what they would like to say to Anita.