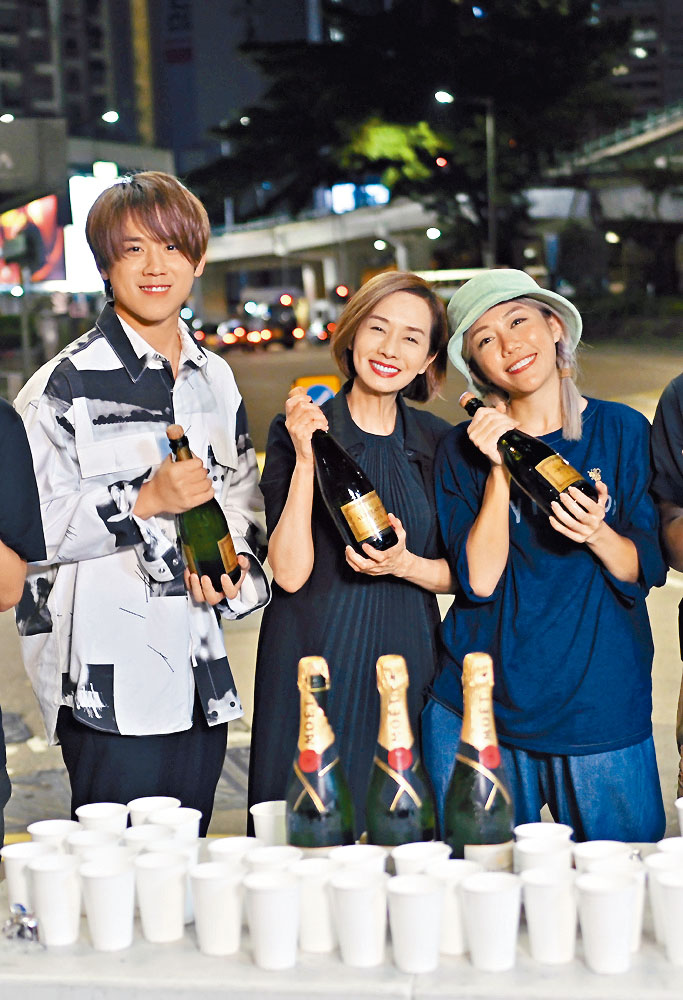 Keung To, Teresa Mo and director Kearen Pang
courtesy of singtao.com
courtesy of mingpao.com
The Emperor Motion Picture AH MA YAU JOR DAI YI GOR (MA HAS SOMEONE ELSE) starred Teresa Mo Shun Kwan, Keung To, Jer Lau Ying Ting earlier announced its production wrap. The team celebrated with champagne, as Sister Mo and Keung To spray champagne at each other.
Sister Mo worked with two new actors Keung To and Jer and also had an unique experience. "In the film I have these two new actors to play my 'son', which is my fortune. They brought me a lot of pleasant surprise. At the same time with their participation, this film is much more colorful!"
Keung To cherished his big screen debut. "Thank you Director Pang Sau Wai for your appreciation, which enabled me to participate in a film production for the first time. At the same time I want to thank Sister Mo and other elders and crew members for taking care of me."
Jer also felt deeply lucky. "I am very happy to have a new attempt outside of singing. Thank you director Pang Sau Wai for providing the opportunity. I look forward to even more new challenges in the future!" By casting Keung To and Jer, Director Pang shouldered an enormous duty. "I hope that through the production process they realized that they would still have a lot of potential of their journey as actors."