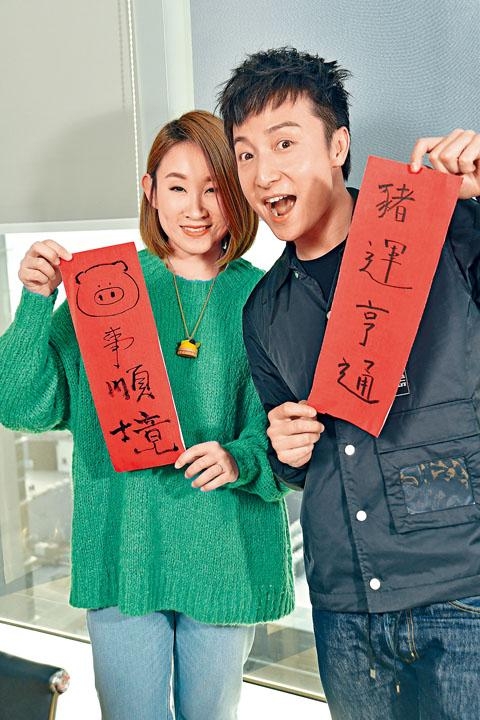 courtesy of singtao.com
Alex Fong Lik Sun and Ivana Wong Yuen Chi have worked together countless times in film. In the Lunar New Year film I LOVE YOU, YOU'RE PERFECT, NOW CHANGE! they challenged a musical film for the first time. Although they both started as singers and only worked together on one of the vignettes, they were fully prepared beforehand. Siu Fong said that although he was paid for the film, he was not for the recording before!
Fong Lik Sun and Wong Yuen Chi with their singing background should have an easier time with the Lunar New Year musical film I LOVE YOU's performance, but both admitted that it was not easy at all. A musical style film was completely different from pure singing. Siu Fong said, "I only performed in one of the vignettes, but took a whole day to record before hand. I got paid by the day for the film production, but not for the recording. However I still admire Cho Lam's determination to make a musical film, truly he needed a lot of passion to be able to get it done."
Siu Fong stated that he was very surprised to learn that Wong Cho Lam would make a musical film. He did not understand why he would choose such an alternative genre. later he realized that with his Performing Art Academy background Wong wanted to bring the exaggerated stage comedy feeling to the audience. Wong Yuen Chi also said, "I know Cho Lam spent 2 years to negotiate the script rights in the U.S. I watched him overcome numerous obstacles before getting the rights, which made him even worthier to support. This time Siu Fong's performance in the film absolutely would open people's eyes. I didn't expect him to be the musical material. We can go on tour to sing musicals, which definitely would be a lot of fun."
Siu Fong and Yuen Chi have worked together many times in film, but each time they had different chemical reaction. Would they hope that next time they would no longer be funny and make a serious romance instead? They lovingly looked at each other and after two seconds broke into laughter. Yuen Chi said, "I really can't, with Siu Fong comedy has more spark."
I LOVE YOU, YOU'RE PERFECT, NOW CHANGE was a big ensemble production. Its cheerful atmosphere was the right Lunar New Year joyous celebration feeling. Siu Fong and Yuen Chi both hoped that the film would perform well at the box office. They even personally made couplets to wish everyone "good luck and smooth sailing in the year of the pig". Having studied calligraphy, Wong Yuen Chi wrote well. She said that she really liked to celebrate the Lunar New Year because she would be able to enjoy a lot of snacks. She would also decorate her home for the holiday. Siu Fong last year after starting a swim school has focused on his career. In the new year he swore to start dating again. "I would always look at my astrological forecast for the year. The master said that this year would be beneficial for my career and marriage, so I would try to find the other half."