courtesy of on.cc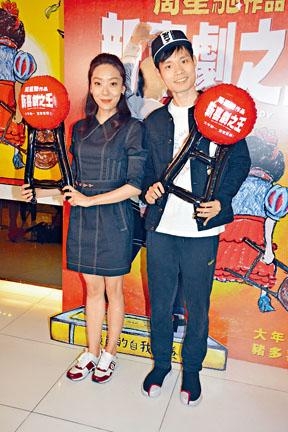 courtesy of singtao.com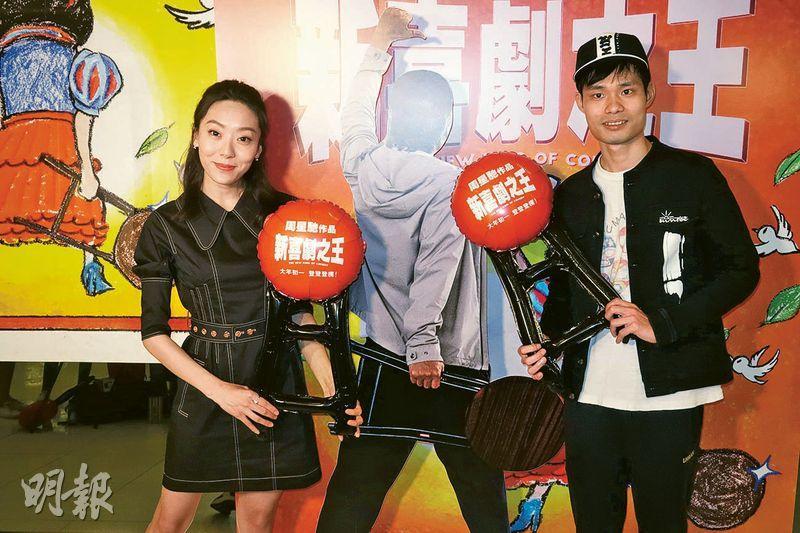 courtesy of mingpao.com
The Stephen Chow Sing Chi directed Lunar New Year film NEW KING OF COMEDY (SUN HEI KET JI WONG)'s leads Vin E Jingwen and Michael Jack (Lai Yuheng/Zhang Quandan) yesterday attended an audience appreciation event in Kwun Tong. Zhang Quandan performed his girl wooing tricks again and performed NEEDING YOU EVERY MINUTE. He received applause from E Jingwen and the audience.
They both said that they were very happy to reunite during the Lunar New Year and promote together. Earlier was E Jingwen's birthday. Zhang Quandan said that he was unable to be by her side that day but he did send a text message to wish her Happy Birthday. E Jingwen revealed that Sing Yeh gave a big red pocket to her. Zhang Quandan also said that Sing Yeh gave away New Year laisee. Was it big? He blurred out, "Not big, how much is called big?" Then he said it was super big laisee.
Speaking of working with Sing Yeh, did they feel he was hard to get along with? Zhang Quandan joked that he had to collaborate his testimony with E Jingwen to avoid any talk from any mishap. "Sing Yeh is a great person, working with him is certainly stressful. It's my first movie, I am new. He knows so much more than me, of course I would get yelled at. If I don't meet his demands after second or third try, he wouldn't smile as much. When he promotes he is another person, he would tell everyone to eat, hand out food, he is great."
E Jingwen revealed that Sing Yeh yelled at her as well. "Sing Yeh is very strict on the set and doesn't say much, maybe because of the stress. I was just like Zhang Quandan, as Sing Yeh yelled at me. He wasn't very loud, he just frowned and still scared people. Yet after the shoot he would joke around." They were not afraid of Sing Yeh's temper, as they both hoped to work with him again in the future.
Zhang Quandan said that his character has become so well known that he decided to use it as his stage name.