courtesy of on.cc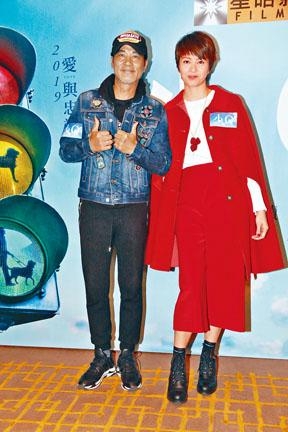 courtesy of singtao.com
courtesy of mingpao.com
Simon Yam Tat Wa, Gigi Leung Wing Kei, Angela Yuen Lai Lam, Filmko boss Alex Wong Hoi Fung two nights ago attended the Hong Kong service dog movie LITTLE Q (SIU Q)'s production wrap banquet. Two of the service dogs that played Little Q appeared, one of the service dogs Pudding was very attached to Brother Wa. Brother Wa even hug Pudding for a photo.
Yam Tat Wa said that before the shoot he brought Pudding home to cultivate the relationship so they became good friends. His dog at home got jealous. He believed that the 2020 Hong Kong Film Award Best Actress would definitely be Pudding. Brother Wa admitted working with puppies was very painful. Because Little Q was played by 8 dogs, 6 of them had over 40 bad takes. Pudding was very nice and at most would have 3 or 4 bad takes, perhaps because they already had a couple relationship.
Would his wife Qi Qi be jealous? Brother Wa said, "No, Qi Qi watched the third party come in. Because Pudding and I have some special training, it is always following me around. It is very obedient." He also said that before the shoot he had a "darkness class", as he had to be blindfolded in a 400 foot dark room to experience the life without vision. The feeling was pretty scary because I had no idea what I would run into. In the end I would remember the setting in the dark room and the test score was 80.
Speaking of the just announced Hong Kong Film Award nominations, he congratulated the film PROJECT GUTENBERG (MO SEUNG) and praised Anthony Wong Chau Sun and Francis Ng Chun Yu's MEN ON THE DRAGON (YIK LAU DAI SHOOK) as great. They all truly deserved their nominations. Everyone said that only one would win Best Actor. Brother Wa said, "You may get double yolk, moon cakes have double yolk, quadruple yolk, just not quintuple yolk. Each movie is entertaining. MEN's low budget production was very natural, the director handled it very well."
Gigi said that she admired director Law Wing Cheong's patience very much because the puppy constantly stepped on the bottom line. Thus working with animals was a great challenge. For her, acting with a puppy was also a test of patience. Luckily at home she had experience with dogs, and working with the puppy was very simple. Thus the shoot was rather easy. The film's protagonist this time was Little Q, which was also a challenge to their acting. Thus they all could be nominated for Best New Actor awards. She also hoped through this film to bring everyone's attention to the problem of service dog integration into the society.
Gigi spent the Lunar New Year in Hong Kong and everyday she has been busy with Lunar New Year visits. She said, "When my daughter sees Uncle and Auntie she would take the initiative with New Year greetings, she could practice social interaction and courage." Today is Valentine's Day, Gigi said, "We aren't done with Lunar New Year visits, so we haven't been free to think about Valentine's Day. Every year Valentine's Day has been a world of three. My husband doesn't want to leave his little love, me either. So we expect to celebrate together."