courtesy of on.cc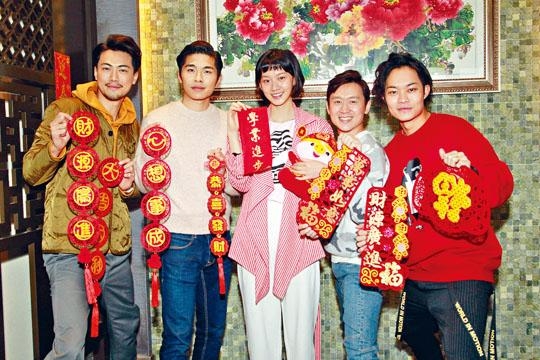 courtesy of singtao.com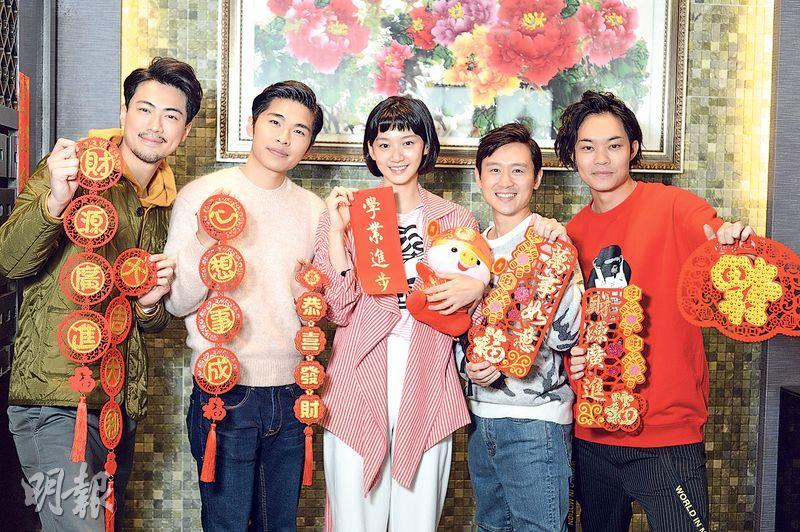 Louis Koo's artists Yau Hawk Sau, Jason Wu, Angela Yuen, Ling Man Lung and Tony Wu
courtesy of mingpao.com
Ling Man Lung, Angela Yuen Lai Lam, Tony Wu Tsz Tung, Jason Wu Cheuk Hei and Yau Hok Sau wished everyone a Happy New Year, good health, advancement in the New Year and may all your wishes come true.
Ling Man Lung said that for the New Year he hoped good health and peace for his family, happiness for him and his friends, being able to do what he wants as happiness is the most important. As for his Year of the Pig plan, he revealed that currently he has several jobs in negotiation and would perform in a few plays as well as a television series. He also has film offers in negotiation. Would he just work and not date? He said, "I have too many female friends......I really want to be like Angela and have so many suitors. (You can pursue someone.) I am too introverted." He said that although he was not in a relationship yet, he was still happy. At work he was able to have even more different attempts.
Angela said that her New Year wish was do what she wants, she really hope to be able to make even more good movies this year because she was very career minded. Wu Tsz Tung said, "I can tell! (She is dressed so conservatively and you can still see?) Some stuff are deep secrets! We know." Known as the "literary youth goddess", Angela complained that in movies she often played girlfriends but in real life she was not in a relationship. Did she have any suitor? She said, "I have some contacts, but I can't say suitors. I am just trying to make friends, but if I like some I would pursue him. For now I have no target."
Tony after transitioning from athlete to actor also had many goals. Aside from wanting to keep making more movies, he also wanted to get a fitness training certificate and open his own gym as a coffee shop. He revealed that last year he opened a whisky bar and a teppanyaki shop. With a firm career development, how was his love life? He happily said, "Pretty good. (Any big breakthrough this year?) The big breakthrough is to keep dating and going on vacation. Because this year my girlfriend (Stephanie Au Hoi Shun) will be in the Olympics, this year I have to reach the goal and would fully support her. As soon as she reached the goal we might have more time to travel. (Not more time to get married?) Everyone is working hard on career. (How many shops would you need to open before marrying your girlfriend?) Whether I open shops or not I still can consider marrying my girlfriend, but at work I have to reach a certain place or recognition before parents would be at ease. Family comes first. (Flash wedding?) Not for now, I tend to have plan."
Jason said that Tony was his goal, as he wanted to be as fit as he was. He revealed that he already have another half, an industry outsider girlfriend of two years. She has been very supportive and understanding of his show business development. Jason was fortunate that his girlfriend was very understanding but he still warned her about everything as a sign of mutual respect. However so far he still has not had any intimate scene. "I only had kisses, anything further would have to wait. Ultimately it is a part of love. For a series just now I had to take off my shirt, more correctly in the end I would be putting my clothes back on. (Did you want the middle of the process?) The middle process required a lot of learning because I don't know how to make it. It would be a great experience, actually I am looking forward to my next film. Can I ask Boss Koo (Louis Koo Tin Lok) to make a movie for him and add in the middle part?"