courtesy of on.cc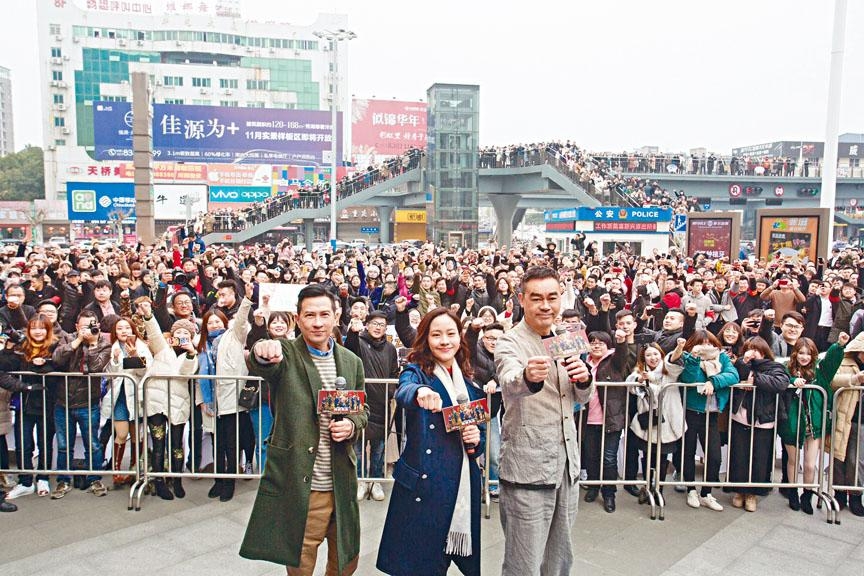 courtesy of singtao.com
With 3 Best Actors and 2 Best Actresses, the Emperor Motion Picture INTEGRITY (LIM JING FUNG WON YIN MOK) will open tomorrow, on Lunar New Year's Day, in China, Hong Kong and Taiwan. Sean Lau Ching Wan, Nick Cheung Ka Fai, and Karena Lam Ka Yun even personally promoted in the Mainland. To celebrate the New Spring, 3 Best Actors and Actress competed in zong making!
INTEGRITY is Alan Mak Siu Fai directed, Felix Chong Man Keung and Wong Bun produced, Best Actors and Actresses Lau Ching Wan, Cheung Ka Fai, Lam Ka Yun, Anita Yuen Wing Yi, Alex Fong Chung Shun, with Carlos Chan Ka Lok and Kathy Yuen (Tong Yi). The Mainland promotional tour reached Jiaxing and Ching Wan, Ka Fai and Ka Yun appeared together.
With new spring on the way, Ching Wan, Ka Fai and Ka Yun experienced the local New Year atmosphere and tried to make the traditional Jiaxing Zong. At the event the three and Jiaxing zong masters competed in a zong making race; in the end the lady on Ka Fai's team was the fastest. Ka Fai in the one minute short zong making process learned that the lady made zong with her husband as a couple; Ching Wan was concerned with how long the zong would have to cook before it could be eaten; Ka Yun with the help of the master personally made a zong and was praised for her skills.
The event presented for the Best Actors and the Best Actress a big drum with a tiger's head sticker for their drum ceremony. Ching Wan, Ka Fai and Ka Yun kept having fun; on one hand Ka Yun and Ka Fai played the drum together, on the other hand Ching Wan also "complained" that Ka Yun almost hit him; Ka Fai even banged the drum and he hummed George Lam Chi Cheung's hit from ONCE UPON A TIME IN CHINA.