courtesy of on.cc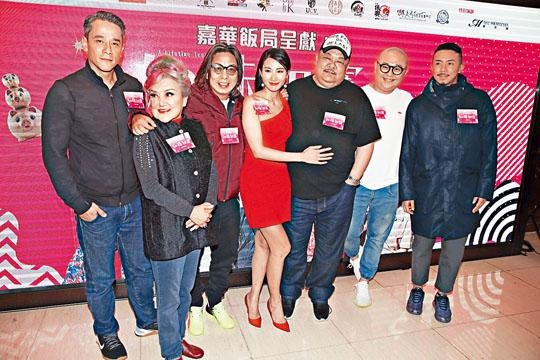 Carl Ng, Susan Shaw, Andrew Lam, Xenia Chong, Lam Suet, Bob Lam and Louis Cheung
courtesy of singtao.com
Andrew Lam Man Chung, Louis Cheung Kai Chung, Xenia Chong Shui Yi two nights ago attended an audience appreciation event for their Lunar New Year film A LIFETIME TREASURE (YU JU YU BO). Ah Chung said that his film has been postponed for production in Guizhou in March, thus he was able to participate in recent audience appreciation events and the premiere. He was also able to stay in Hong Kong for the New Year with his wife and children. "Aside from being able to stay in Hong Kong for a commercial, I can even pay New Year visits and go to the New Year Market with my family."
Because he would have to stay two to three months in the Mainland for his film, he was reluctant to be apart from his wife and children. "I have been quite conflicted. Because my relationship with my daughter is great, she always wants to play with me. I am afraid that when I come back I would have to start over. So now I have never too far from her, I am going heavy in hopes that the relationship foundation would still be there." Would this be the longest he would be away from his daughter? He said, "Don't mention it, I had to consider it for a very long time because the script would be worth making. My wife may bring the kids to visit the set, but I have to evaluate the environment first. Ultimately the shoot would be in the mountains." Would he cry from missing his daughter? He said, "Since you are asking now of course I wouldn't, I am afraid that when I get back to the hotel I would sob when the mood would strike."
Chong Shui Yi said that in one scene Teddy Robin Kwan was so excited to see her that his nose spray blood. Have men in real life fainted from being under her spell? She said, "Once at a parking lot a car almost hit me. At the time I was wearing shorts. The driver stared at me and almost ran me over." She joked that she would pay attention to what she would wear.