courtesy of on.cc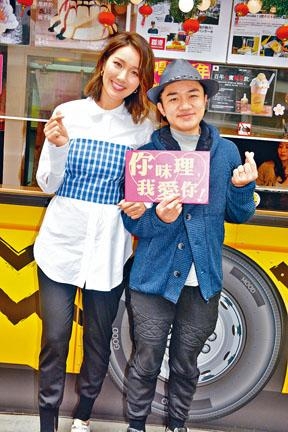 courtesy of singtao.com
courtesy of mingpao.com
Wong Cho Lam, Leanne Li Yanan, Kaki Leung and Momo Wu Zhi Mo yesterday promoted their Lunar New Year film I LOVE YOU, YOU'RE PERFECT, NOW CHANGE! (NEI MAI LEI, NGOR OI NEI!) at a dessert shop. After promoting the film, Cho Lam would take his wife to Japan for a vacation. He even revealed that the film company originally wanted them to go after Valentine's Day, but he declined. Cho Lam said, "Couple time is more important!"
When everyone arrived at the dessert shop, everyone all said fresh and very seriously observed how the workers made pancakes and hoped to learn from the process. Their sudden attack even drew a big crowd.
Recently busy with audience appreciation events, Cho Lam said that he and his wife brought their daughter to pay New Year visits to elders. The happiest was that the four generations could be together for the New Year. During the audience appreciation events he gave a lot of lai see for his daughter, he joked that the lai see revenue could rival the film's box office.
Cho Lam said that he already placed his daughter's lai see next to her bed for good luck. He also was happy that yesterday was his final promotion of I, after that he would fulfill his promise to his wife to take her to Japan and pig out on sashimi in order to make up for her having to watch what she ate during her pregnancy. Would his wife be shopping until she dropped? Cho Lam said, "She is big and tall, we have to go to Europe to be able to shop for her. Japan is only suitable for a shortie like me." Leanne Li Yanan said that in the past she used to furniture and now she already switched to shop for her child. She put her thoughts into the two "babies" at home, her daughter and Cho Lam.
Cho Lam also said that the film company originally wanted them to go on vacation from Valentine's Day, but he declined, "Couple time is more important, but I know actors are already in Japan and I believe we will run into each other. Maybe we will promote overseas." As for Valentine's Day gift, Cho Lam admitted that he has not prepared anything yet. In addition he and his wife never valued materialistic needs, the most important was to spend time with each other.