courtesy of mingpao.com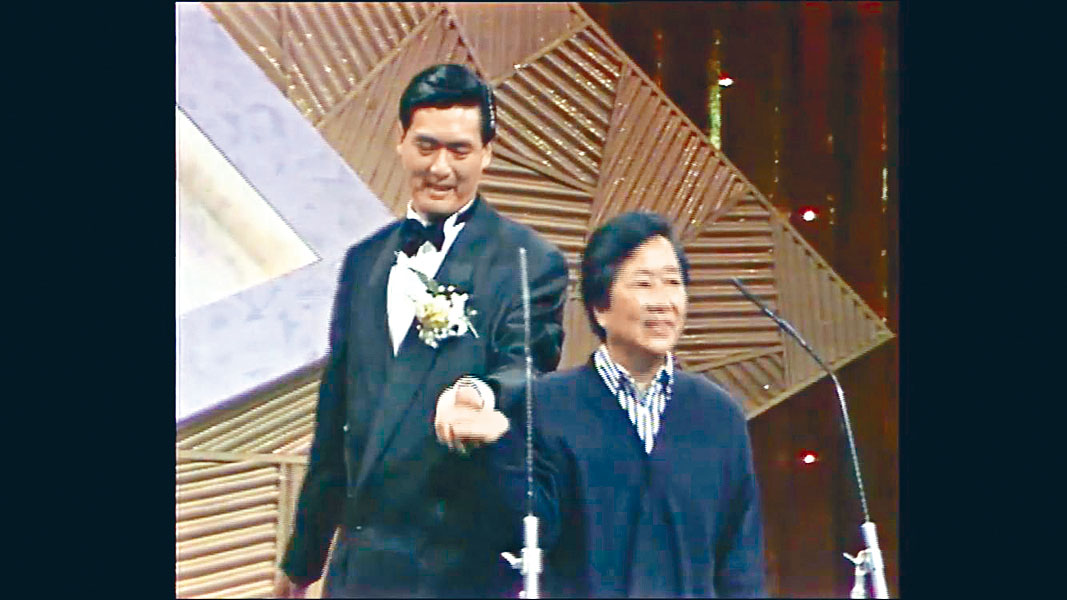 Chow Yun Fat presents the award to Sister Eight
courtesy of singtao.com
Veteran Hong Kong film assistant director Chu Yat Hung earlier passed away at age 86. Director Cheung Kwok Ming yesterday remembered her on social media. He said, "The one in the middle was Chu Yat Hung. We called her 'Sister Eight', a Hong Kong film important figure. We once climbed the Himalayas together. Now she would climb to Heaven alone. See you Sister Eight!"
Chu Yat Hung was an assistant director for almost 60 years. In 1991 she received the Hong Kong Film Award Professional Spirit Award. She was the first Hong Kong film assistant director to receive an award, which Chow Yun Fat presented to her. The "Hong Kong Film Assistant Directors' Guild" last year honored sister Eight for her professional contributions to the film industry, visited her during the Lunar New Year and invited her to record words of encouragement for the Assistant Directors' Guild and assistant directors.
Chu Yat Hung worked in the film industry for almost 60 years, from Cantonese film actor to behind the scenes. She once became sworn sisters with Lee Heung Kam, Yam Bik Yi, Leung So Kam, Lai Kwan Lin, Kam Ying Lun, Hui Hing Hing, Ying Lai Lei and Tam Sin Hung as the "Nine Big Sisters". Chu Yat Hung later went behind the scene and worked as film production assistant and assistant director as she was called "Sister Eight". She was a integral part of Cinema City as she worked countless times with Karl Maka, Raymond Wong Pak Ming, Dean Shek Tin and others. Wong Pak Ming said, "Sister Eight was the assistant director for the HAPPY GHOST film series. She put a lot of effort into taking care of the at the time very mischievous Happy Girls team members. I respected her very much. Sister Eight was the assistant director on many Cinema City films. She truly was the 'assistant director king'. She had quite a history in the film industry. When she was young she was already carrying (Petrina) Fung Bo Bo in a movie." Sister Eight also worked as costume planner on plays like THE MAD PHOENIX (NAM HOI SUP SAM LONG). Her final work was the Raymond To Kwok Wai directed MISS DU SHI NIANG.