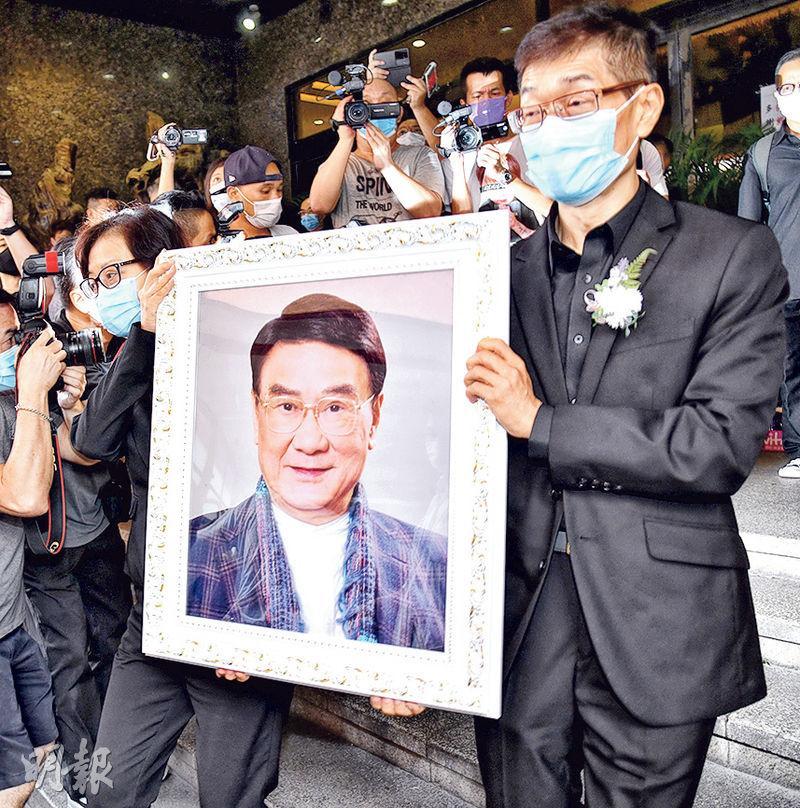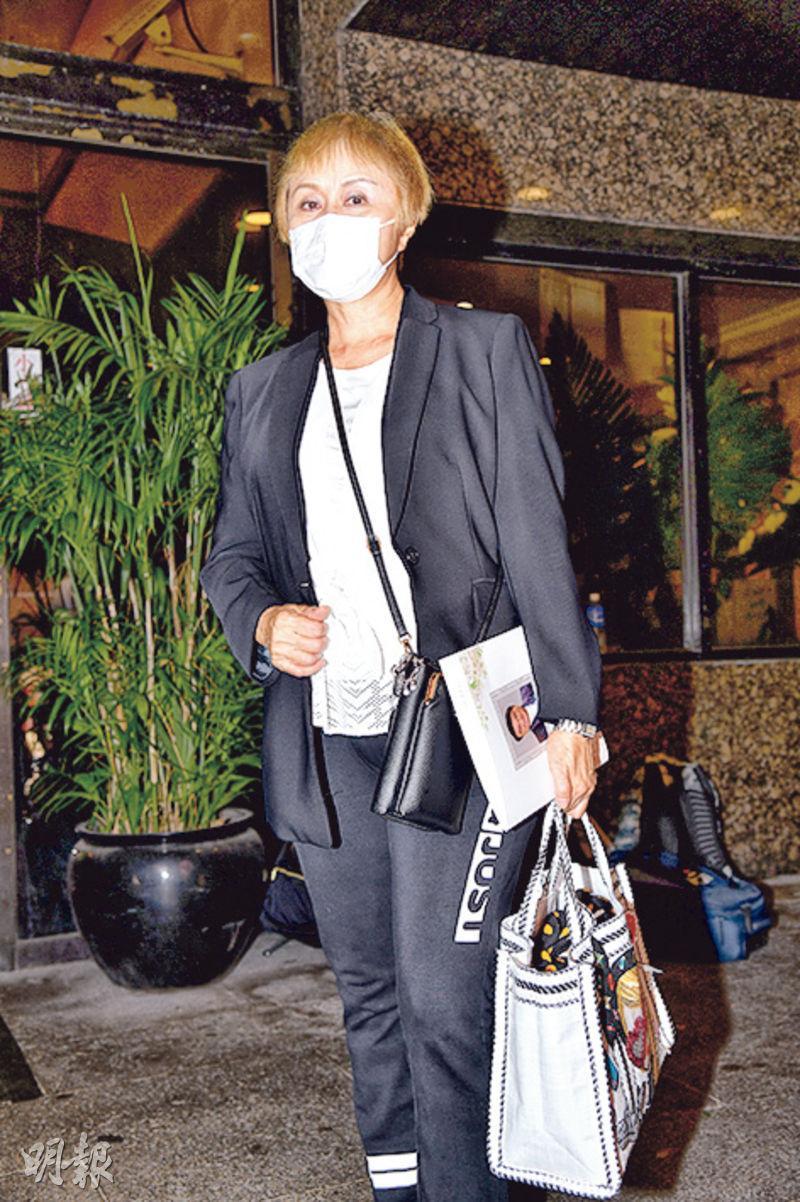 Meg Lam says that Brother Bing loves the crowd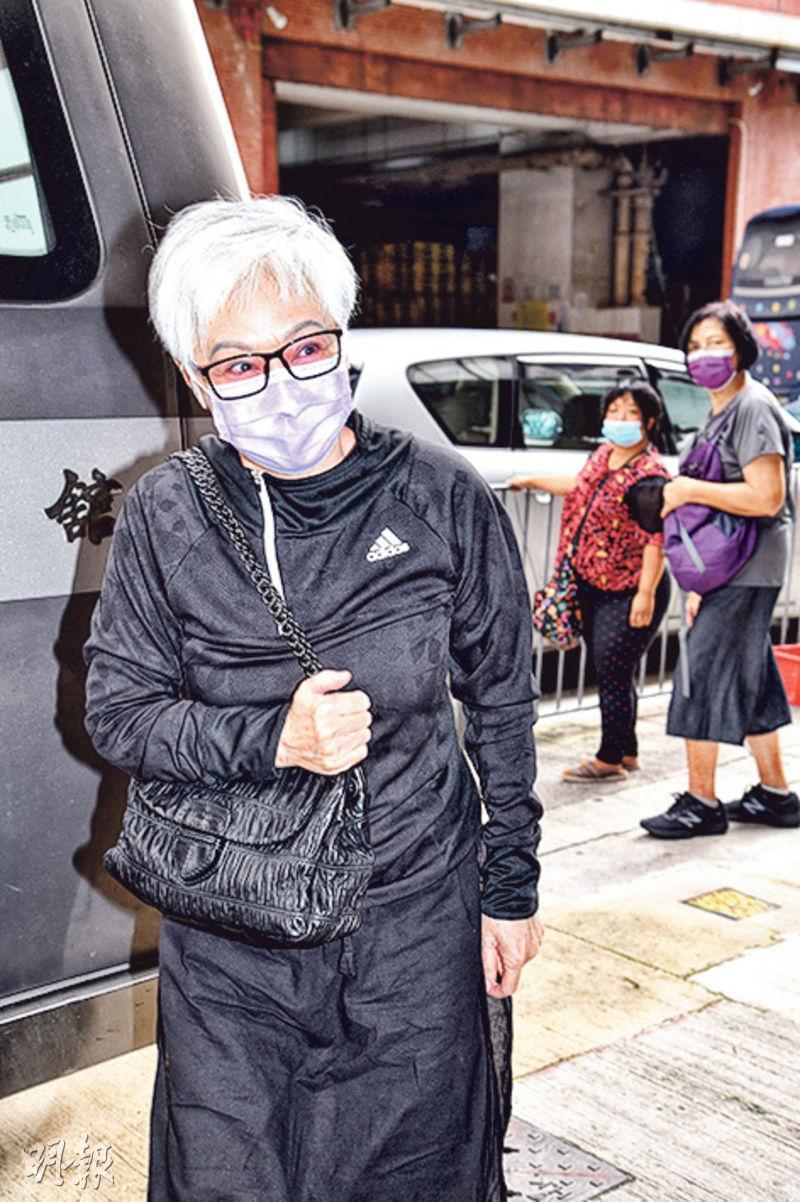 Lee Heung Kam's daughter Siu Chi Kwan came to the funeral again on behalf of her mother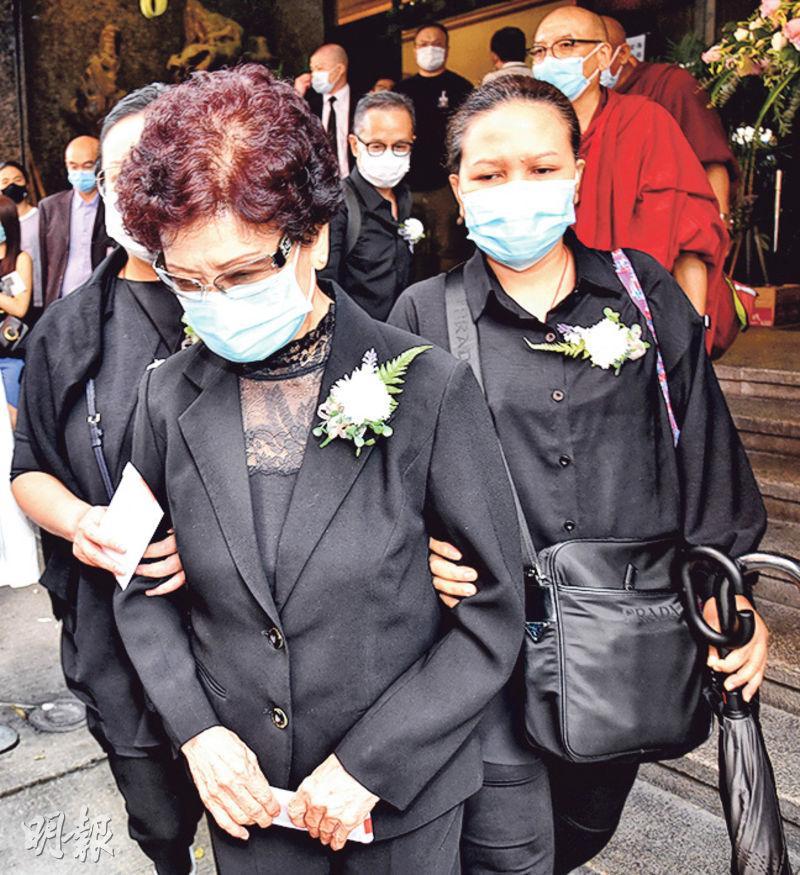 Tam Bing Man's widow Wong Yuk Ping needs assistance from two people

Meg Lam
courtesy of on.cc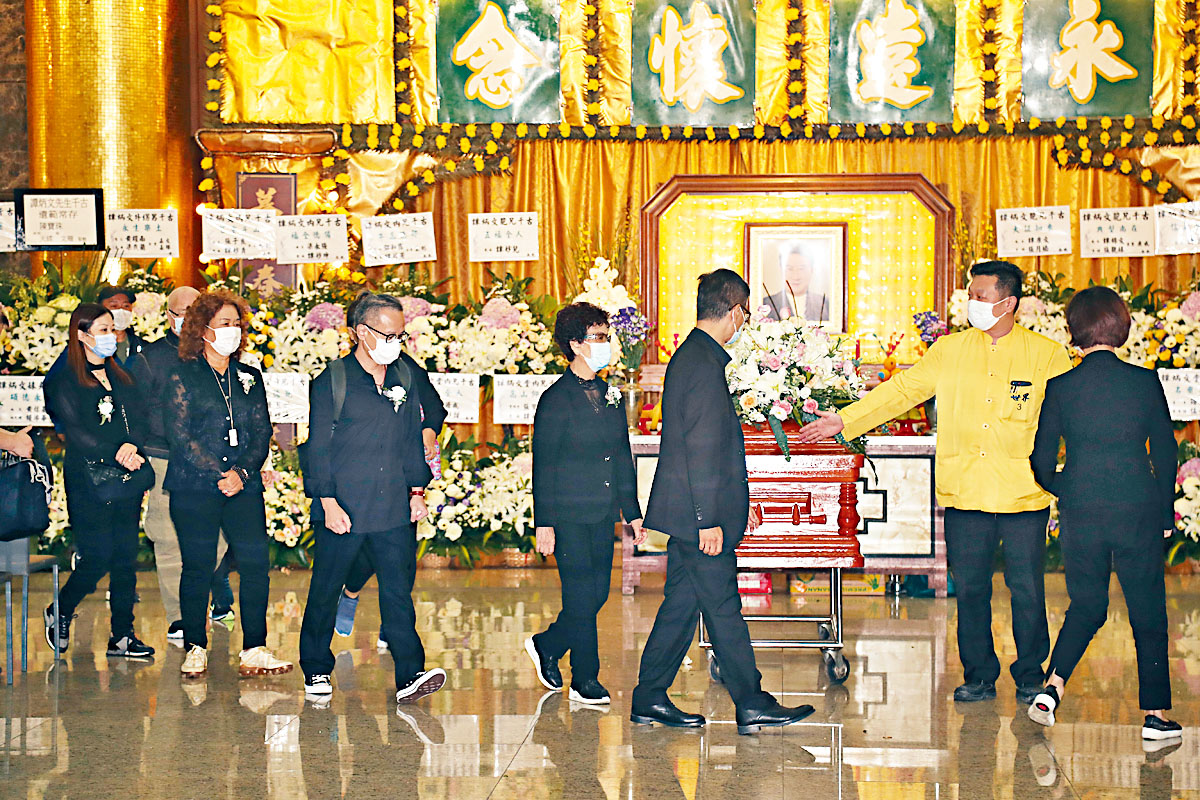 Friends and family bid a final farewell
courtesy of singtao.com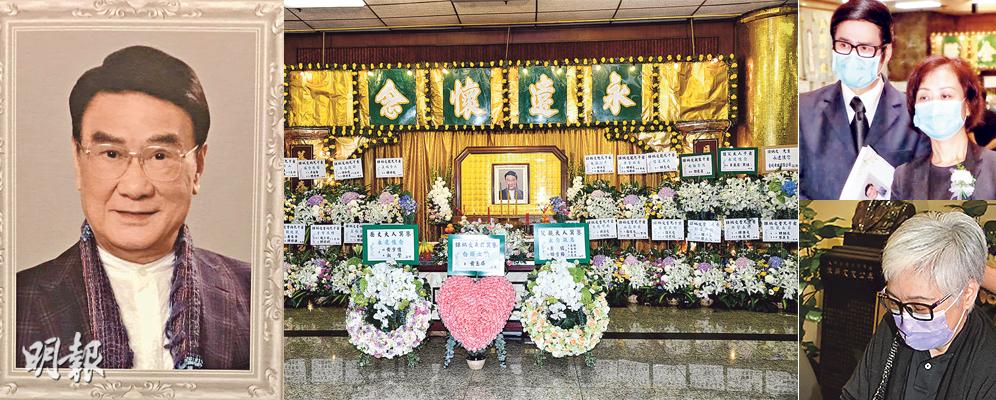 Tam Bing Man's photo was taken 6 years ago after receiving the TVB Lifetime Achievement Award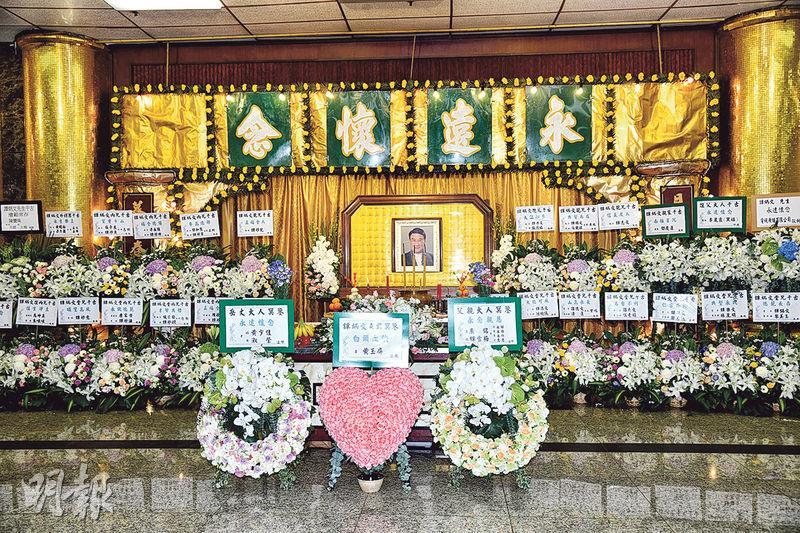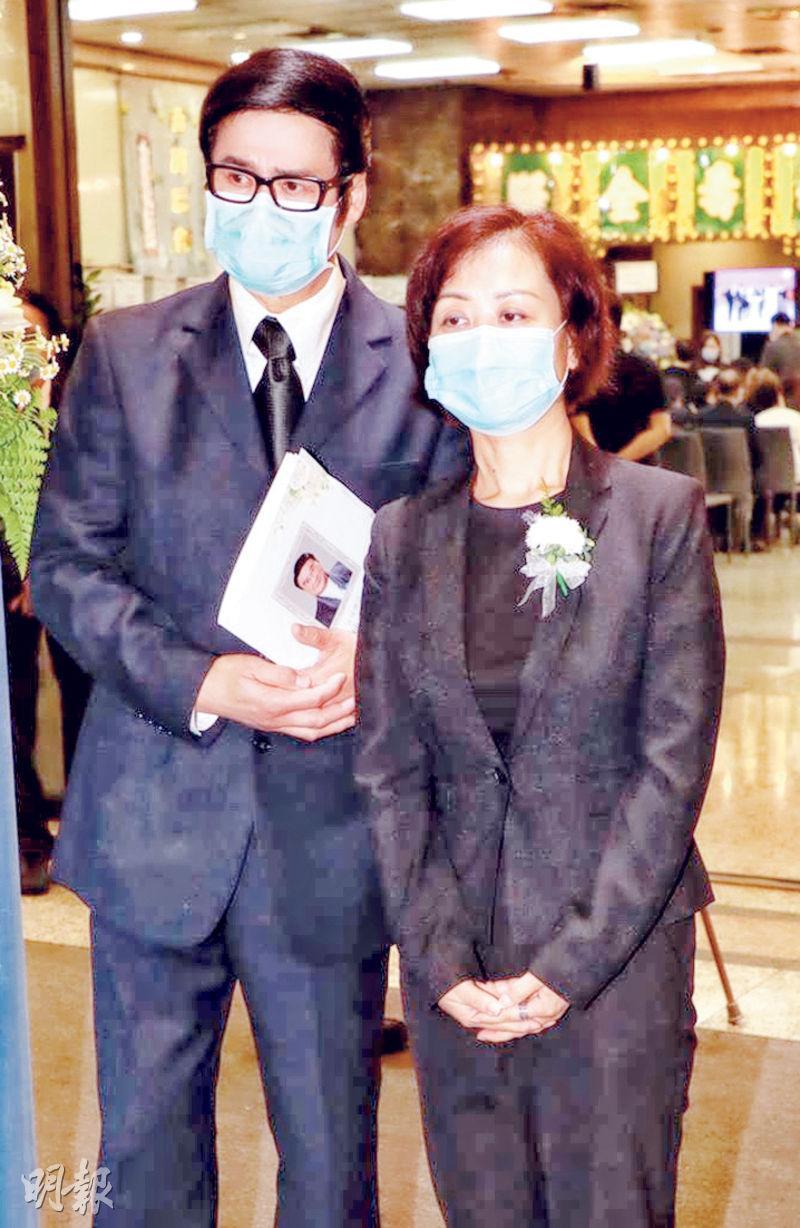 Brother Bing's daughter Tam Suk Ying on the behalf of friends and family thanks those who brave the rain to pay their respect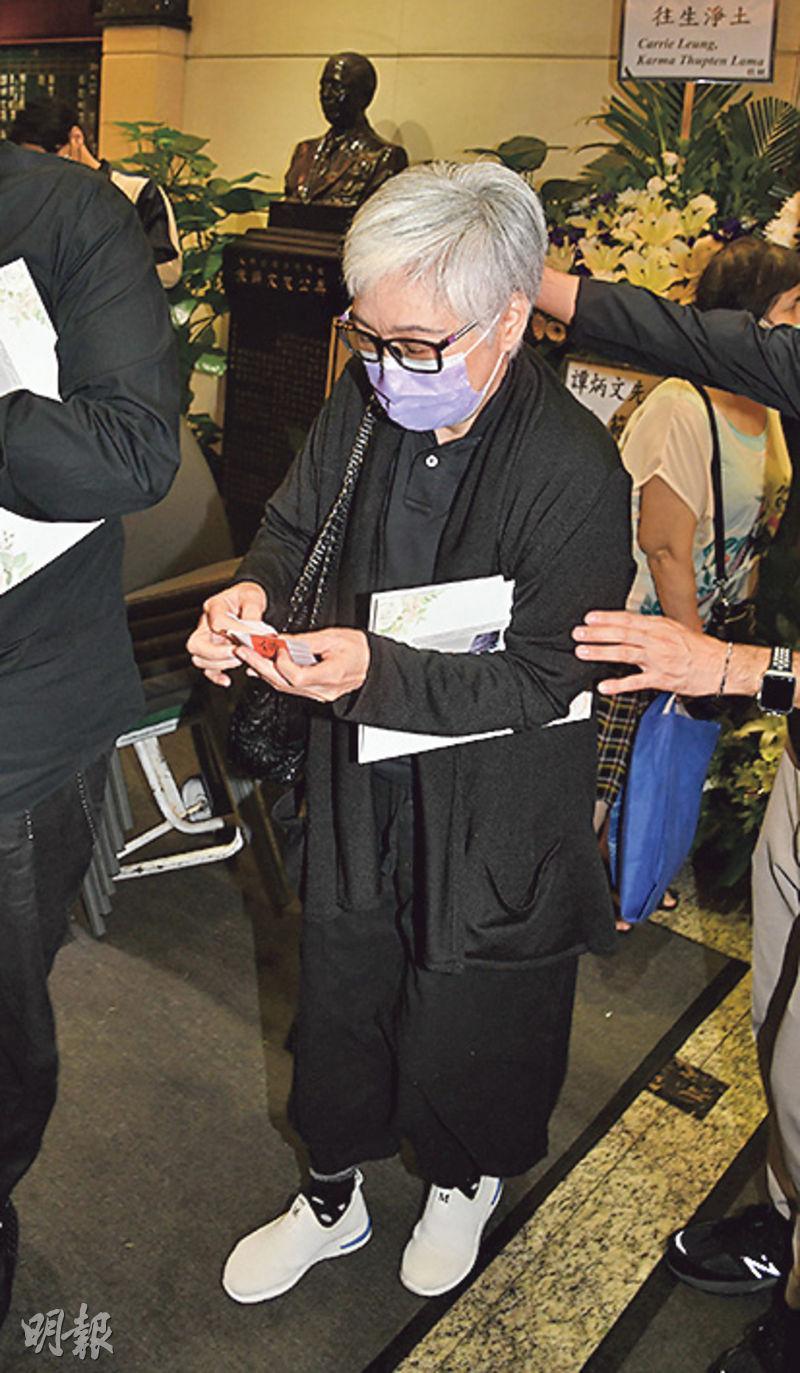 Siu Chi Kwan represents her mother Lee Heung Kam (below)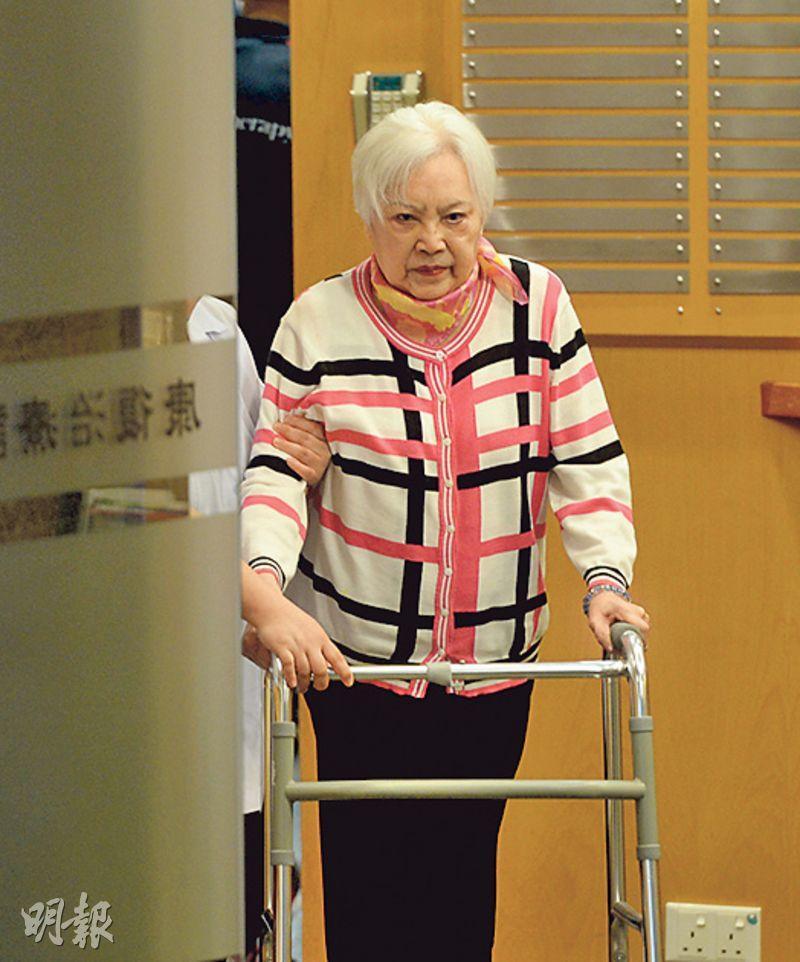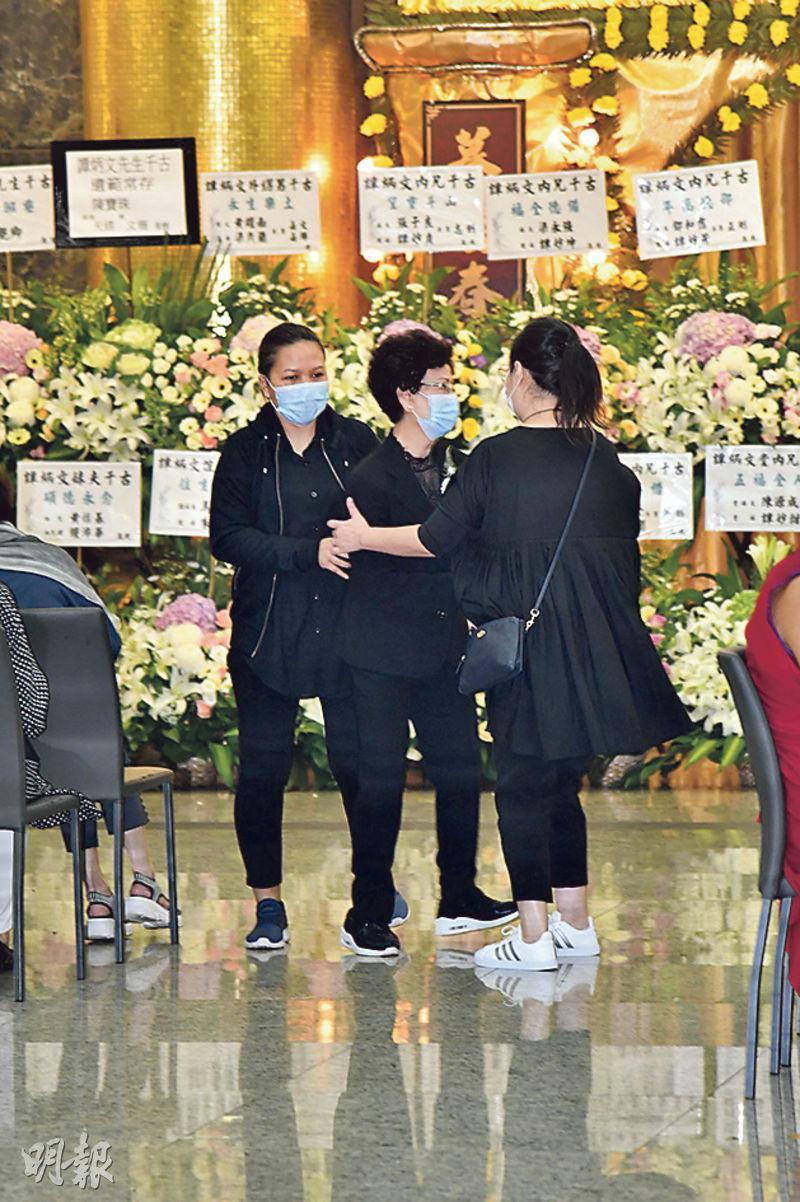 Family and friends console Brother Bing's widow Wong Yuk Ping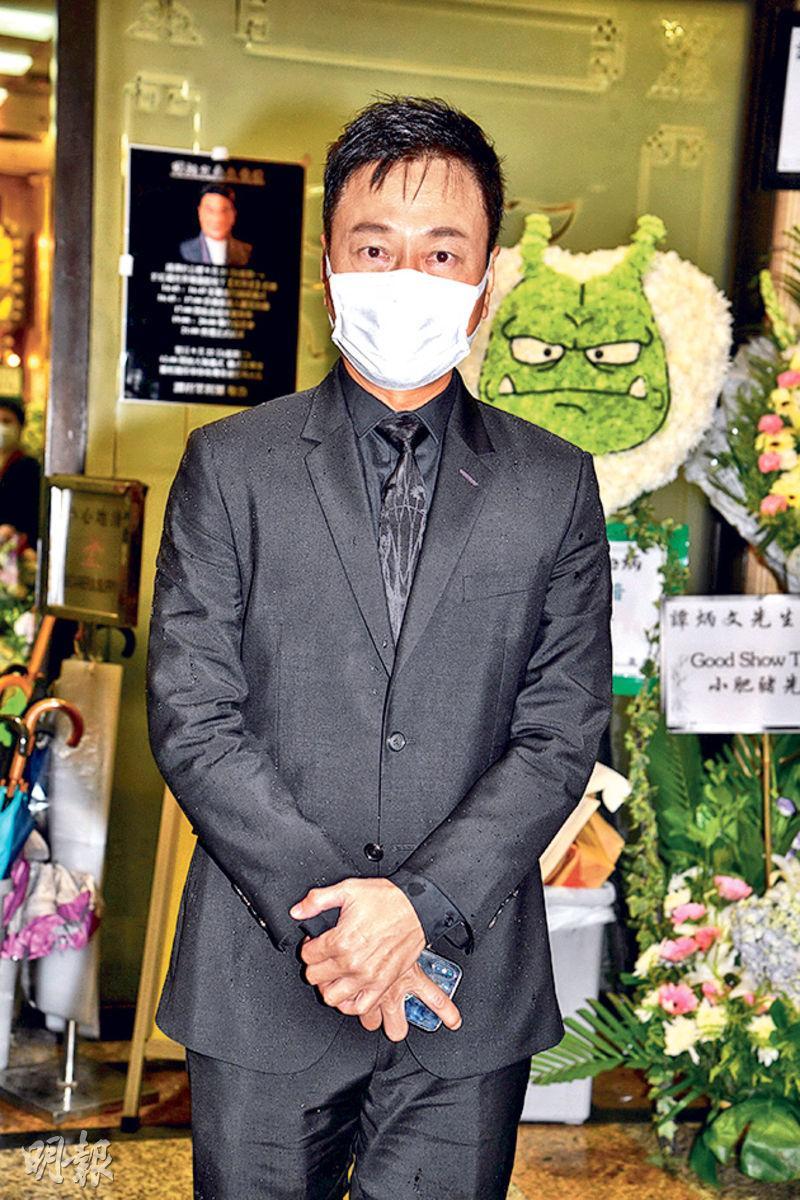 The "King Nikochan" floral arrangement behind Wayne Lai is from Lee Heung Kam's godson Lok Wing Cheung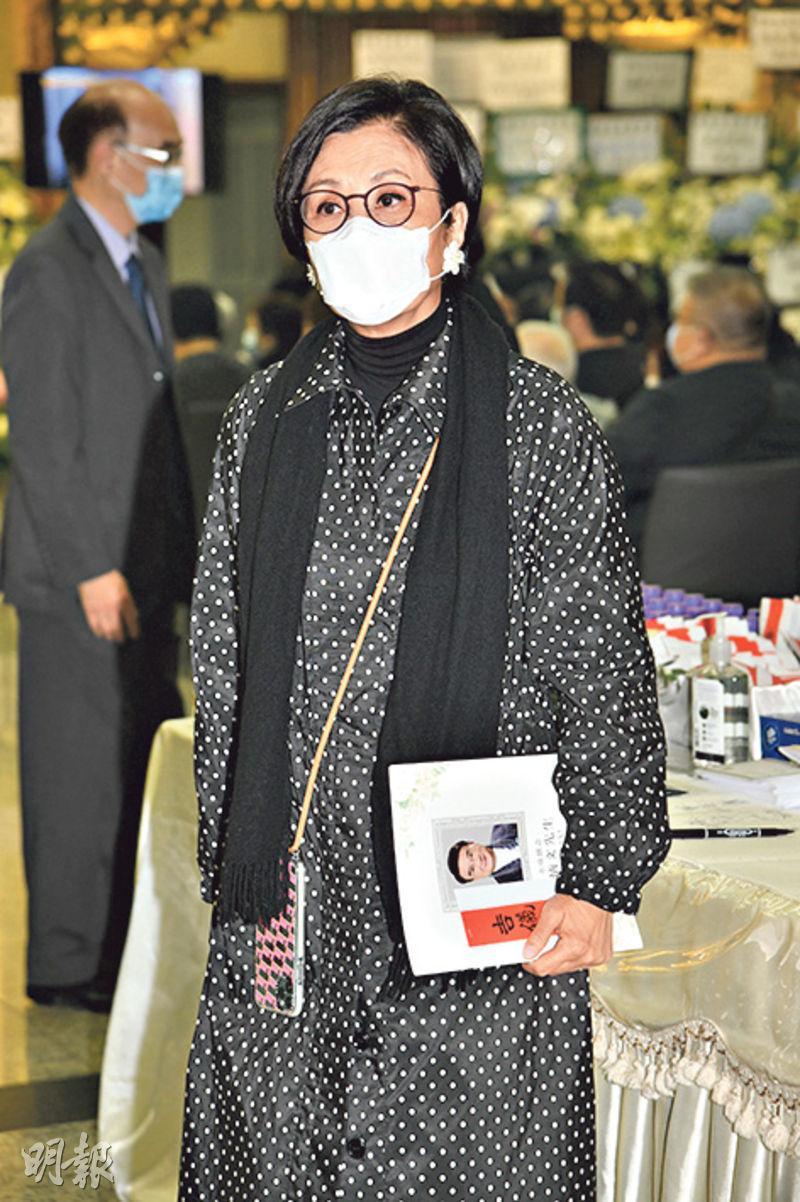 Liza Wang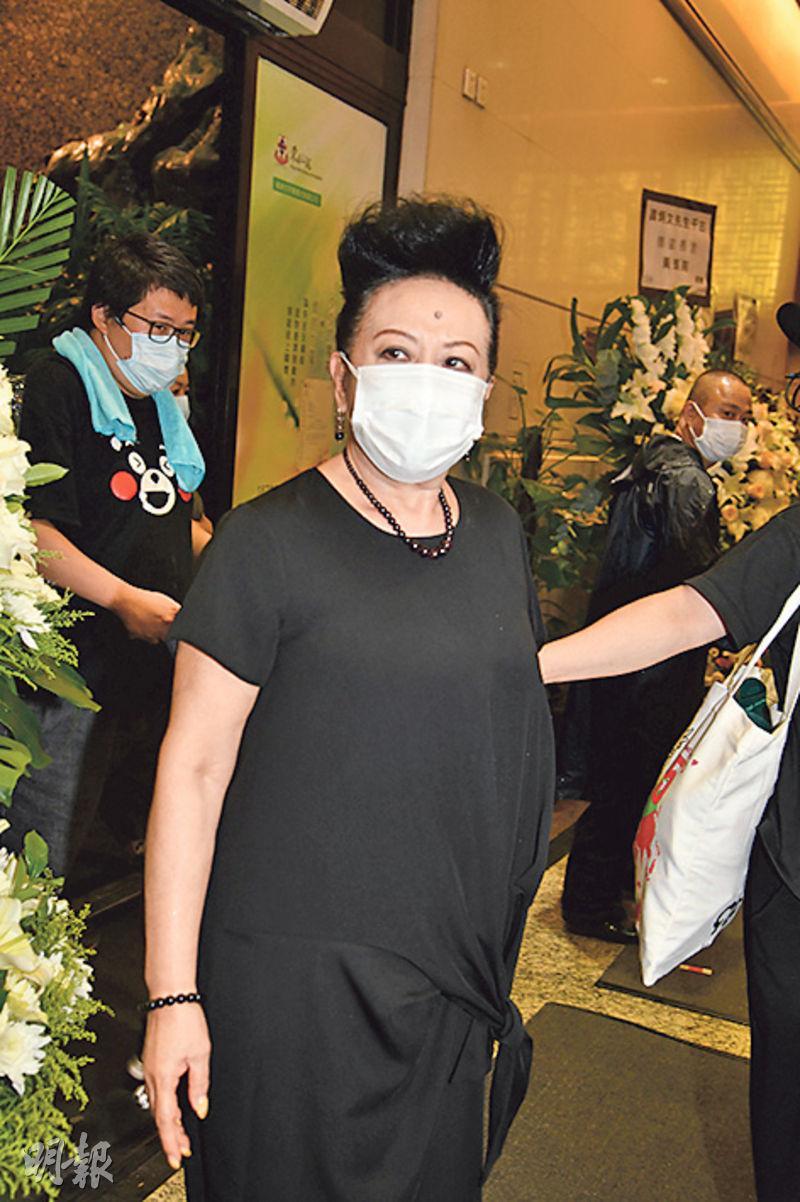 Nancy Sit says Brother Bing's laughter and unique voice would remain in her heart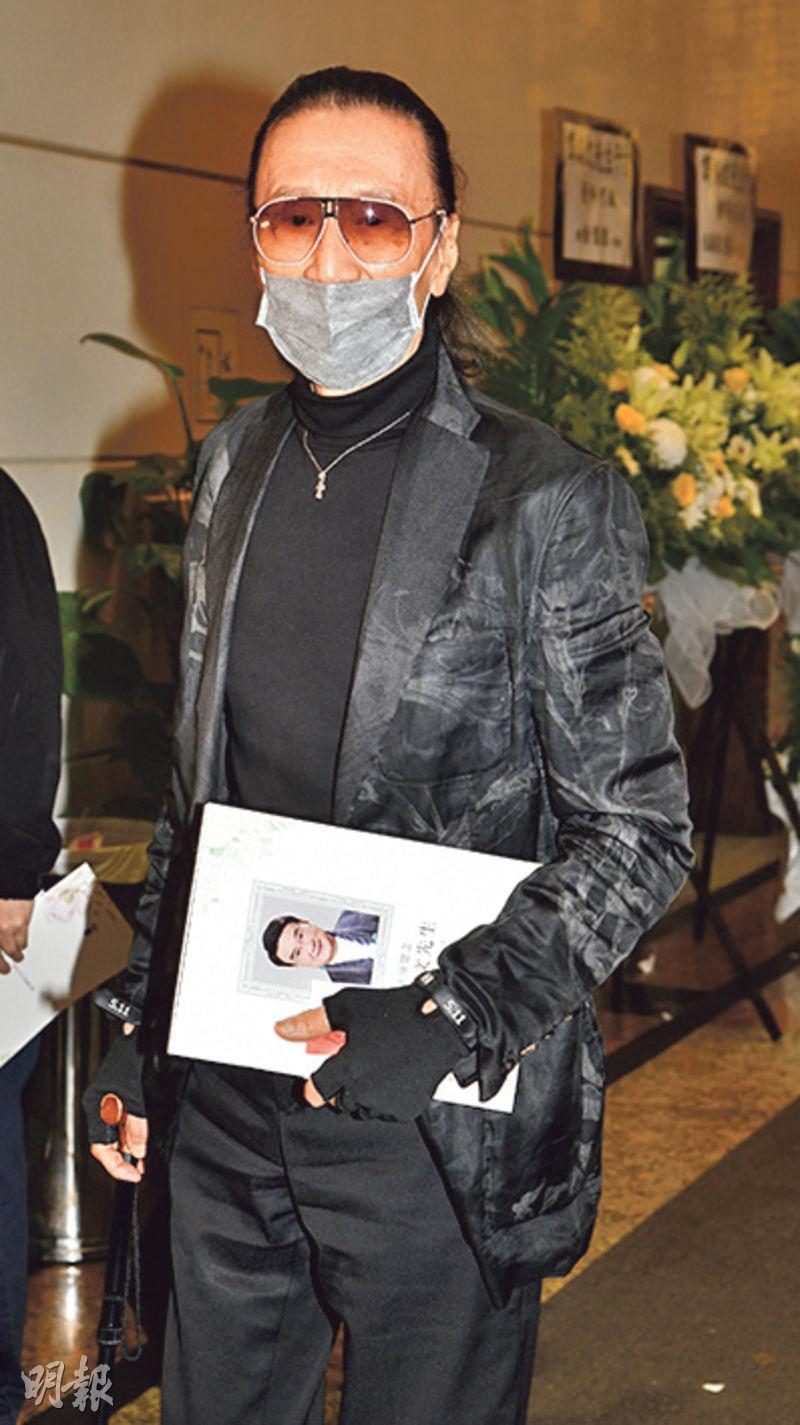 Patrick Tse attends with a cane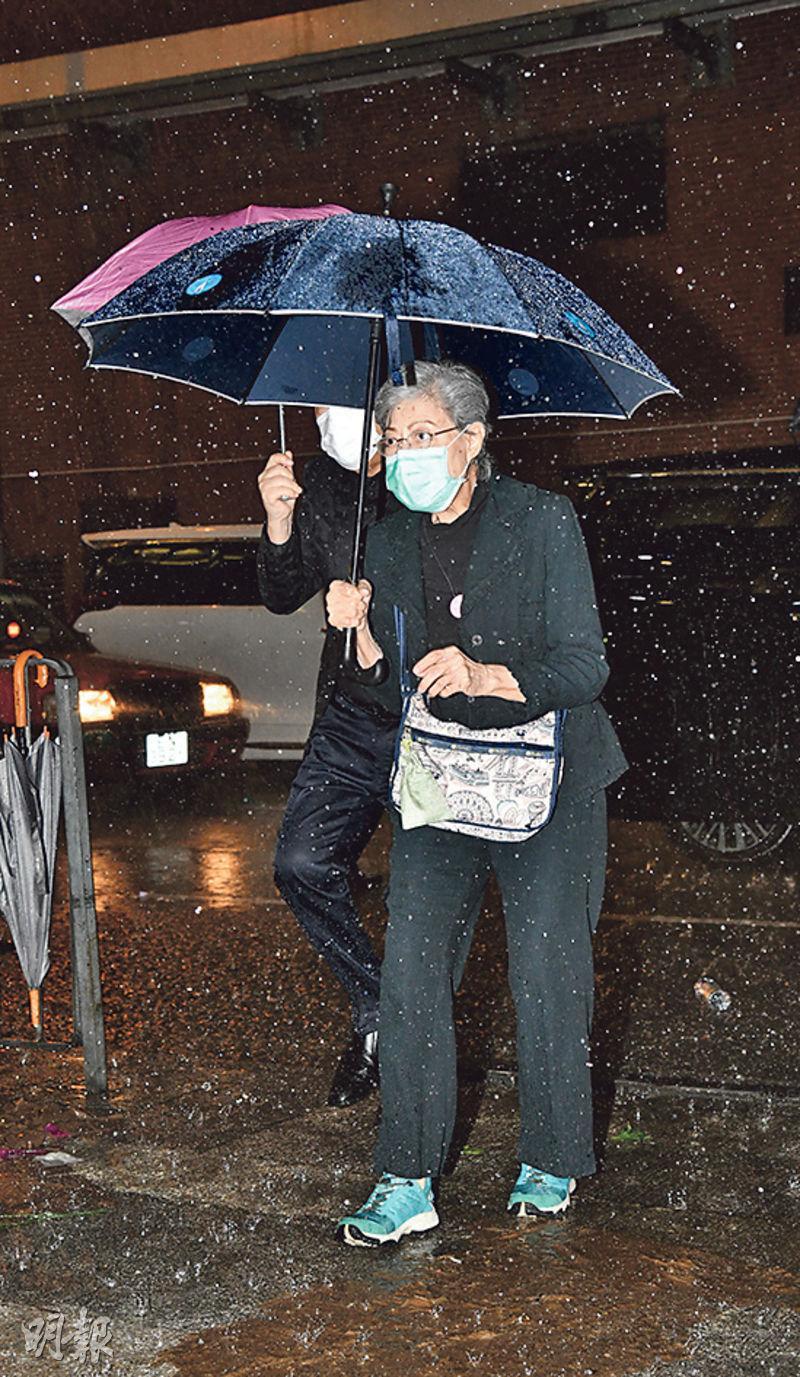 Helena Law braves the rain to pay her respect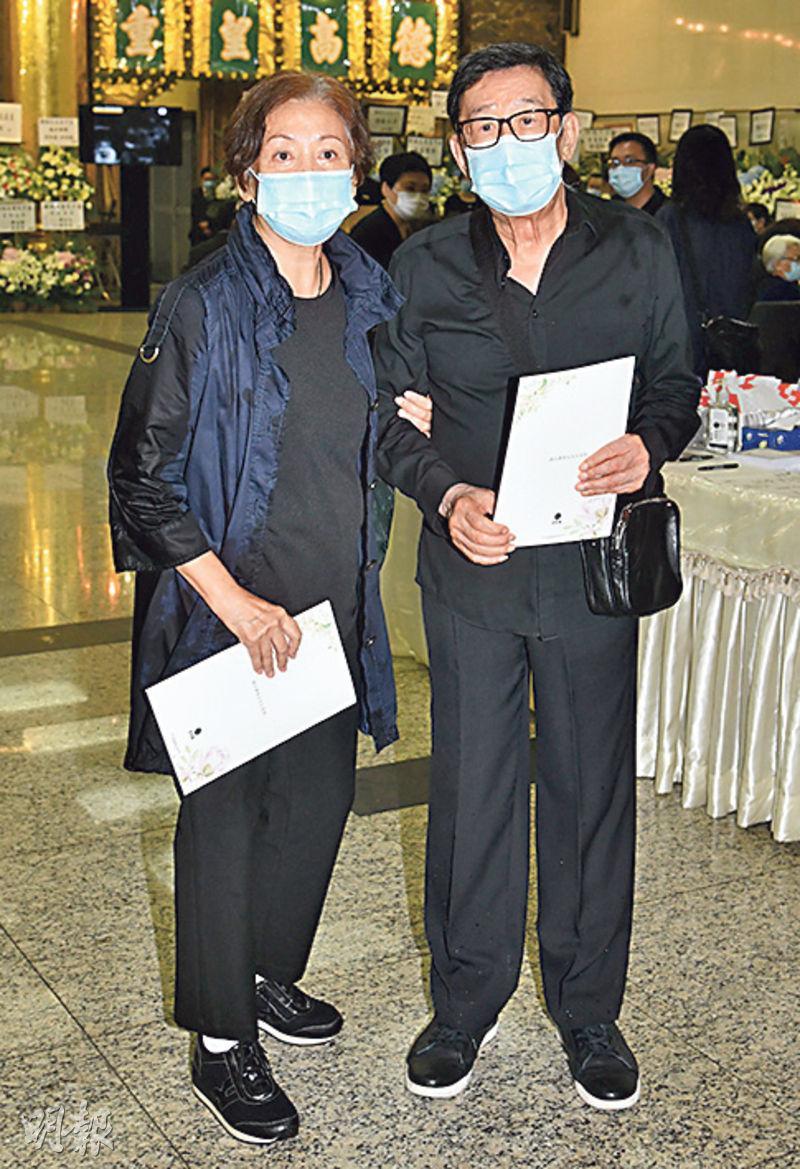 Nina Paw and Wu Fung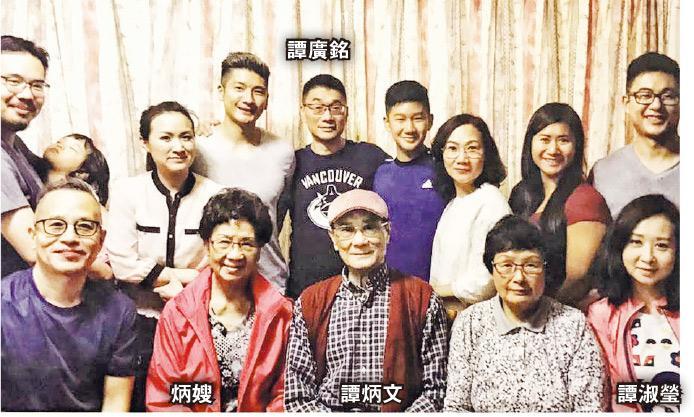 In the program is Tam Bing Man's family photo
courtesy of mingpao.com

courtesy of on.cc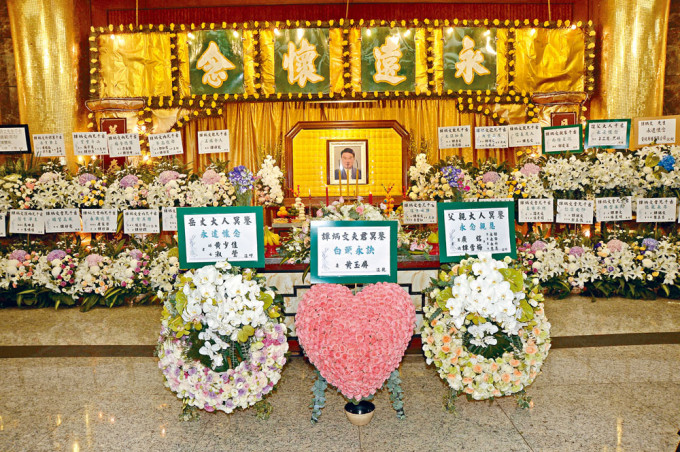 courtesy of singtao.com

The "voice over king" of a generation and five field artist Tam Bing Man passed away from lung cancer on the 5th at age 86. Brother Bing's services took place yesterday at the Universal Funeral parlor in Buddhist ceremony, with viewing in the afternoon and memorial at the evening. The funeral took place this morning as the remains would be transported to Cape Collinson Crematorium. Lee Heung Kam's godson sent "King Nikochan" as a final salute to Brother Bing. Tam Suk Ying said that although she was heartbroken, she still had to be in a partying mood to cheerfully sent her father on his final journey.
The hall was decorated simply and cleanly, with a "Forever Missed" center banner. The photo was a color one with Brother Bing's gentle smile. In front of the altar at the center was Brother Bing's wife Wong Yuk Ping's pink heart shaped floral arrangement. On the right and left of it was floral arrangements from Brother Bing's children and grandchildren. Because Brother Bing was great with people in life, the hall was filled with flowers.
Friends Lee Heung Kam, Connie Chan Bo Chu, Law Yim Hing, Law Kar Ying and his wife Liza Wang Ming Chuen, Lung Koon Tin, and god daughter Li Lai Ha's floral arrangements were placed on both sides. The TVB Cantonese voice over team, Patrick Tse Yin, Louisa Lee Si Kei, Adam Cheng Siu Chau, Wu Fung, Chor Yuen and his wife Nam Hung, Johnnie To Kei Fung, Wan Fei Yin, Louis Koo Tin Lok, Maggie Siu Mei Kei, Teresa Mo Shun Kwan, Ng Yu, Mr. and Mrs. Philip Keung Ho Man, Mr. and Mrs. Chin Kar Lok, Meg Lam Kin Ming, Yvonne Yung Hung, Tang Ying Man, Mr. and Mrs. Yuen Tak Cheung, and others also sent floral arrangements. Brother Bing provided his voice to the anime DR. SLUMP's King Nikochan, so Lee Heung Kam's godson Lok Wing Cheung sent a special King Nikochan floral arrangement as a final salute to Brother Bing. Daughter Tam Suk Ying and brother Tam Kwong Ming were among family members who came early to the hall. Around 2:15 PM, around ten lamas began chanting scriptures with offering in their hands. The hall had several television screens that kept showing Brother Bing's performance. The media at 4:45 PM entered the hall to pay their respect to Brother Bing.
Later Sister Kam's daughter Siu Chi Kwan, Wan Fei Yin, Alice Lau Nga Lai and her mother Bao Hiu Wa, Tsui Siu Ming and his wife, Lau Shek Yin, Wong Ha Wai, Ng Heung Lun, Yip Seung Wa, Wan Lau Mei, Wu Fung, Helena Law Lan, Li Lai Ha, Che Suk Mui, Ng Lai Chu, Wayne Lai Yiu Cheung, TVB executives Lee Bo On, Elaine Lok Yi Ling, Felix To Chi Hak, Herman Ho Chit To, Sandy Yu Wing Shan, Clifton Ko Chi Sum, Johnnie To Kei Fung, Liza Wang Ming Chuen, Nancy Sit Ka Yin all arrived to pay their respect.
Brother Bing's friend Patrick Tse Yin, dressed in black and a cane, arrived at 5PM. Sei Gor stayed for 20 some minutes. When he left reporters asked about his memory of Brother Bing, but Sei Gor declined to talk, only saying, "It's the old same thing." He departed in his vehicle.
At the funeral, Brother Bing's wife was peaceful. Their son often sat in her company. Brother Bing's daughter Tam Suk Yin at 5 PM came to speak to the media alone. She first thanked everyone for braving such a storm to pay their respect to Papa. She revealed that because Papa followed the Esoteric Sect master, this funeral service would be in traditional Esoteric Buddhist ceremony. How does Mama feel? Ying Ying said, "She probably is tougher than me, but maybe inside she is very heartbroken. She only doesn't show it and is a little calmer. I am more fragile. For the past 20 some years I have kept Papa company, so my emotions are a little more complicated. Because I was with him everyday, I would go on tour with him, have dinner with him and go to the hospital, I really miss him. However today I have to be strong, because the Master said that if you want Papa to Paradise, after chanting so many scriptures Papa was already able to reach that status; if I was still heartbroken he would miss you, come back down and all the effort would be wasted. Thus today I have to be very strong, and help him finish this party today. So he can be happy, seeing all the late friends and family. I have to conduct this funeral well!"
Were many friends and family unable to return to Hong Kong to attend Papa's funeral? Ying Ying said, "Very regrettable many are unable to return because they don't have Hong Kong identification card. For some it was too sudden, requiring 14 days in quarantine both ways. However everyone left messages and texts for Papa. Because Papa's phone would be around and not shut off, it's like Papa was still around me."
Did Brother Bing had any final wish? Ying Ying said that Papa fulfilled his wishes, only one that he did not mention. "Papa once said that if he left before us, he hoped to still be able to eat and speak. Because he was the most concerned about his voice. When he was sick if his voice was hoarse he would be very nervous. However on the day before his passing he was still able to speak and eat. He passed in his sleep, without any painful struggle or intubation. This probably was his greatest wish!"
As for Brother Bing's other wish of a birthday party, Ying Ying answered, "This funeral should be it. Because I really am powerless for a birthday party, this funeral today is a party. I hope that everyone would bid him farewell with a smile, so he would be able to happily go to a better place." Ying Ying said about Brother Bing's burial goods, "His favorite down jacket, a very handsome suit that he really liked but only wore once. The most important was the ear piece that he always used for voice over work, his tour glasses, and his favorite clothing, socks and shoes."
Did Sister Kam know Brother Bing passed? She believed that Sister Kam's family told her, but she really was not sure if she knew. Because Sister Kam was at an old age, she might not know. Ying Ying said that she took part in choosing Brother Bing's funeral photo. It was taken when Papa won the TVB Lifetime Achievement Award, which Papa really liked."
Helena Law Lan and Wu Fung around 6:30 PM came to pay their respect despite a red storm warning. They were obviously saddened and teary eyed. Has Sister Law Lan recovered emotionally? She sighed and shook her head, "Sigh! This can't be done in a flash. Last night at 3 AM I still couldn't fall asleep. I wasn't missing him, but we have known each other for decades." However Sister Law Lan admitted that she did not know Brother Bing had cancer, and he passed away so quickly. She pointed out that before the pandemic they still met and had contact. At the time he only said that he had heart problems, maybe even he was not sure that he had cancer.
As for memorable moments, she pointed out that they actually had too many. In the past when ENJOY YOURSELF TONIGHT was on three nights a week, sometimes they would see each other for five nights. However even if she missed him she was helpless because that was life. As for Brother Sau he and Brother Bing have already known each other before they got into the business. At the time Brother Bing was in the jewelry business. He would often go to his union to play ping pong. Later they also worked together countless times, thus about Brother Bing's passing he said, "I am very saddened and heartbroken!" Brother Sau said that Brother Bing had a long term illness but he never guessed he had cancer. He did not want to bring up anything from the past, as he wanted to make himself even more heartbroken.
Lee Heung Kam's daughter Siu Chi Kwan said that she mentioned Brother Bing's passing to Mama. "However Mama has some mental disorder, her thinking is somewhat different. After hearing she didn't act any different, like she didn't know that her old partner was gone. The old partner was still in her heart." Siu Chi Kwan pointed out that Sister Kam was in decent health, only that she has forgotten. She was as happy as a child. Now she was living with Mama. Did she struggle over telling her mother about Brother Bing's passing? She said, "I didn't need to, she actually is obedient like a child. If you tell her she would listen."
Wayne Lai Yiu Cheung years ago performed in the U.S. with Brother Bing and Sister Kam, spent a few days together, after having dinner together and rehearsals they became familiar. Cheung Jai said that actually it was very interesting, they did not work together much on screen but they often saw each other singing and at parties. In his heart Brother Bing was a multi-talented elder, very friendly. When they ran into each other at work they would have a few casual chats. He felt that Brother Bing did a lot for the Hong Kong audience over several decades and generations, in the industry he was well respected as people on and off screen valued and respected his performance very much. His best memory was working with Brother Bing in the series REAR MIRROR, even though they did not have any direct scenes with each other. The producer told him that they landed Brother Bing, a great elder of great caliber to perform.
Sit Ka Yin tearfully spoke to the media. She admitted that at first when she learned of Brother Bing's passing she really missed him, but after two weeks of self examination actually Brother Bing was in his 80s so the passing was considered a happy one. In addition Ying Ying told her that Papa went very peaceful. Sister Ka Ying was shaking as she said, "I feel some regret, before Brother Bing's passing I didn't visit him at the hospital. I told him several times that I wanted to visit him, but due to the pandemic the hospital turned away visitors. At the time Brother Bing was still very tough and told me not to worry. He would be fine. When he was released they could chat. However at the time Brother Bing didn't say that he had cancer, he only said that he was in for an examination. Later he would check in with her later. Because we would exchange text everyday, that day when I heard the news of his passing it felt very sudden and sad. When his daughter told me I broke down right now. However now looking back he went to a better place and was at peace. Brother Bing made great contributions to show business. His laughter and unique voice would always be in our hearts. I would forever miss him and his positive attitude in life. He would often guide us, encourage us to live. Actually everyone should be strong and cherish everything in front of them."
TVB published 1,500 memorial programs for attending friends and families. On the cover were the words "forever missed, Mr. Tam Bing Man 1934-2020". The photo used was the one he took for TVB Weekly after Brother Bing received the 2014 TVB Lifetime Achievement Award. This photo was also used for Brother Bing's funeral services.
In the program were eulogies from his family and life photos with his siblings, children, son in law, daughter in law, grandchildren, godchildren and others. His daughter Tam Suk Ying wrote, "Your beloved daughter Tam Suk Ying bids a sobbing farewell". Industry insiders Liza Wang Ming Chuen, Nancy Sit Ka Yin, Louis Koo Tin Lok, Mimi Choo and others also wrote eulogies to remember Brother Bing. In addition some of Brother Bing's ENJOY YOURSELF TONIGHT and other performance photos and film posters were all in the program, including valuable photos from his 2013 Outstanding Voice Over Actor Lifetime Achievement Award and 2014 TVB Lifetime Achievement Award.