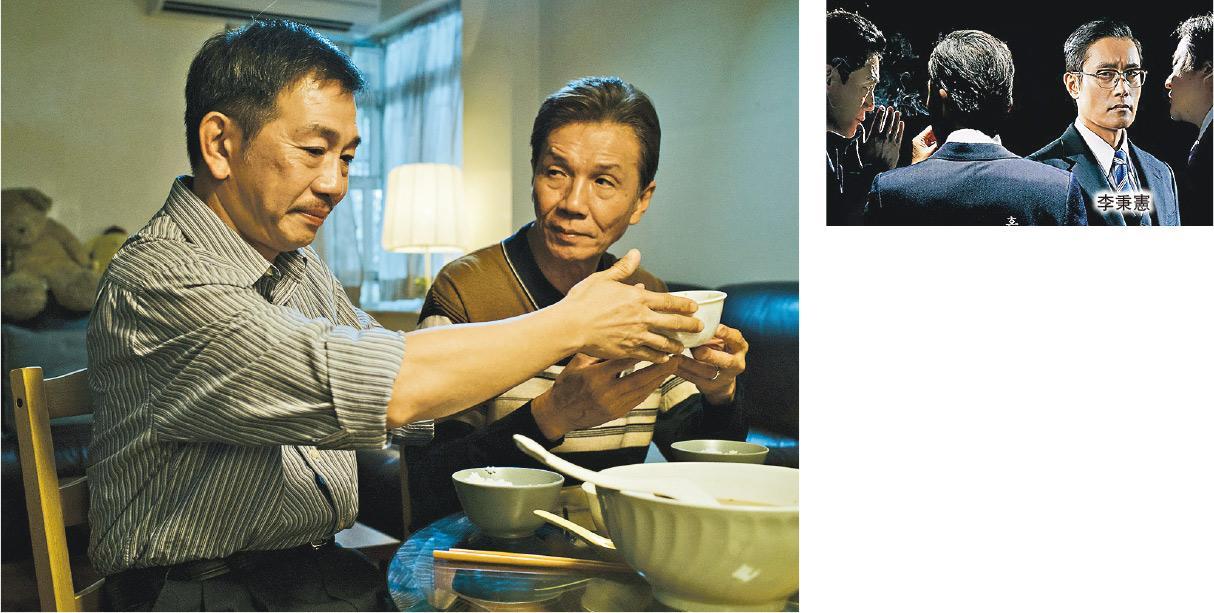 SUK SUK's Ben Yuen (left) is nominated for Best Supporting Actor, while Tai Bo (right) competes for Best Actor with THE MAN STANDING NEXT's Lee Byung-hun.
Tai Bo's wife in SUK SUK, Patra Au, is happy to be nominated for Best Supporting Actress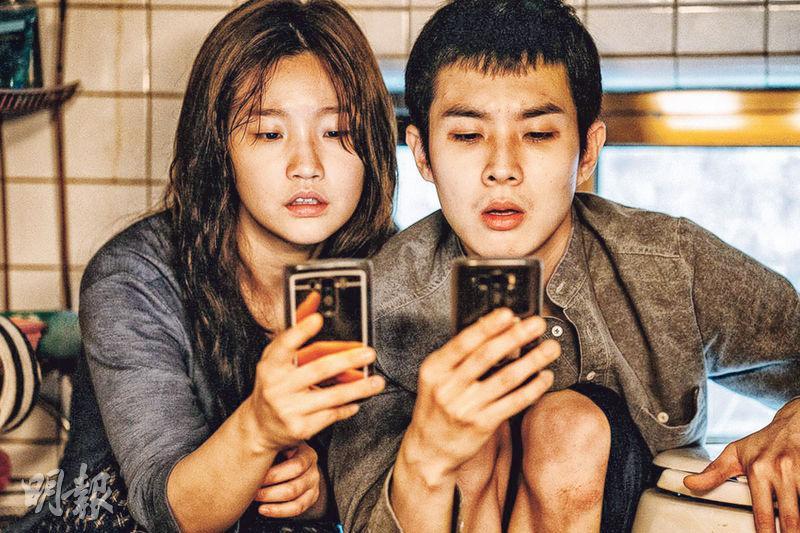 PARASITE receives 10 nominations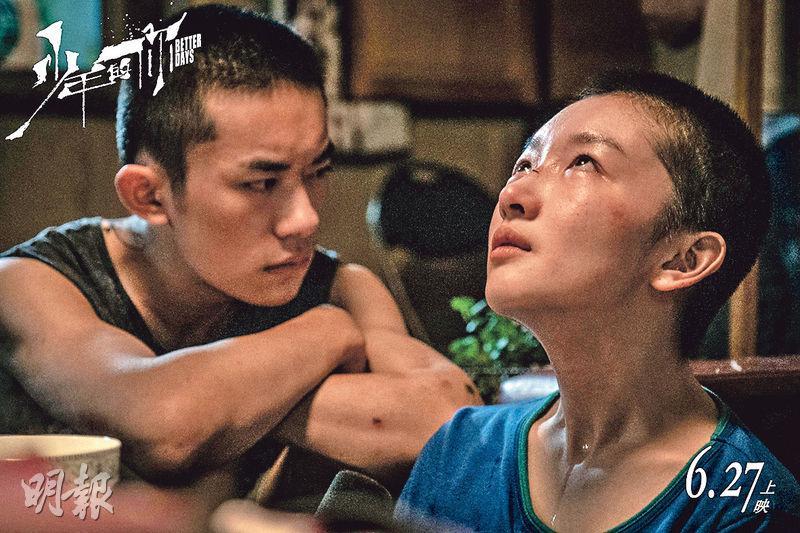 BETTER DAYS' Zhou Dongyu (right) vies for Best Actress
courtesy of mingpao.com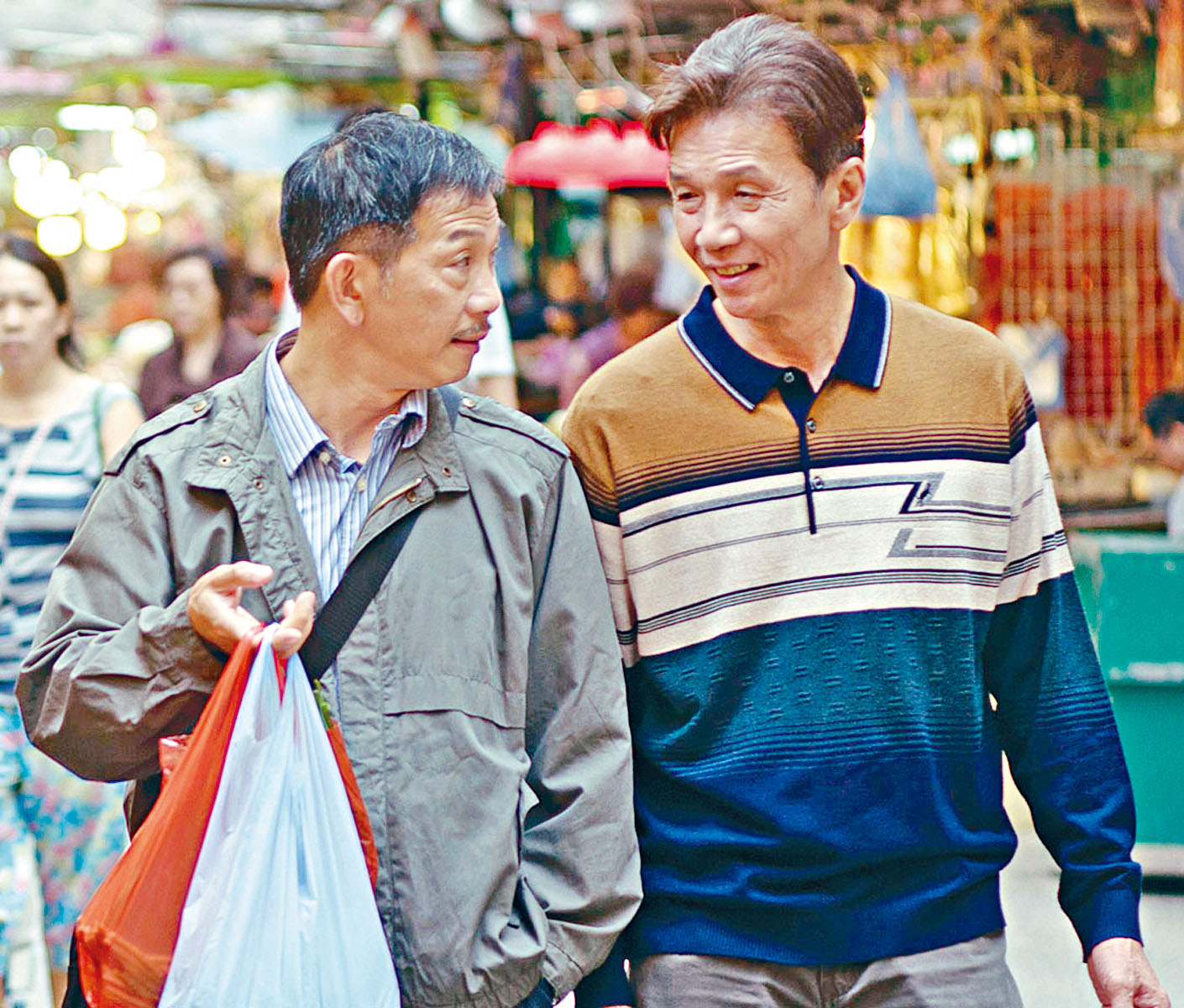 SUK SUK receives 3 Asian Film Awards nominations. Tai Bo is in the Best Actor competition while Ben Yuen is nominated for Best Supporting Actor
courtesy of singtao.com
The 14th Asian Film Award nominations were announced yesterday as 39 films would compete in 16 film award categories. Mainland actress Zhou Dongyu would have a chance to win Best Actress again. With BETTER DAYS she would compete for the Asian Film Award Best Actress. Korean actress Jung Yu-mi was also seen as this year's Best Actress favorite. They won the award respectively in Hong Kong and Korea's large scale film awards and thus had the advantage. Best Actor was also a competition between Best Actors, including Mainland Best Actor Wang Jingchun and Korea's Lee Byung-hun.
This year's Asian Film Award would take place for the first time in Busan, Korea, but due to the novel coronavirus pandemic the film award would not have a ceremony. On October 14 the winners would be announced online.
Winning many Oscar awards early this year, the Korean film PARASITE led with 10 nominations including Best Film, Best Director, Best Supporting Actor, Best Supporting Actress, Best Screenplay, Best Editing and others. the Mainland film SO LONG, MY SON received 7 nominations including Best Film, Best Director, Best Actor and Best Actress.
The Derek Tsang Kwok Cheung directed BETTER DAYS received 5 nominations. Aside from Zhou Dongyu in the Best Actress race, lead actor Jackson Yee was also nominated for Best New Actor.
Hong Kong film SUK SUK received 3 actors award nominations included Best Actor for Tai Bo, Best Supporting Actor for Ben Yuen Fu Wa and Best Supporting Actress for Patra Au Ka Man. Tai Bo after winning the Hong Kong Film Award Best Actor again was nominated. Tai Bo said, "To be nominated for the Asian Film Award, I am happy, peaceful and pleased. I am always full of positive energy, I am still young, haha! As long as the audience likes to watch my movies, I would live and perform until I am old!"
Yuen Fu Wa was nominated again after the Golden Horse Awards. He thanked the event for giving him the chance to observe with other Asian film workers. The lack of an award ceremony this year due to the pandemic was regrettable. He wished that the pandemic would soon pass, everyone would be able to resume work normally. Au Ka Man was happy and honored to receive the nomination.
In addition, Norris Wong Yee Lam with MY PRINCE EDWARD (GUM DOH) was nominated for Best New Director. She felt deeply honored. She would continue to work hard and bring everyone even better films.
14TH ASIAN FILM AWARDS NOMINATIONS
BEST FILM
LISTEN TO THE UNIVERSE
PARASITE
SO LONG, MY SON
A SUN
THAPPAD
THERE IS NO EVIL
BEST DIRECTOR
Pema Tseden (BALLOON)
Tsai Ming-Liang (DAYS)
Bong Joon-ho (PARASITE)
Wang Xiaoshuai (SO LONG, MY SON)
Chung Mong-Hong (A SUN)
Nobuhiro Suwa (VOICES IN THE WIND)
BEST ACTOR
Hamed BEHDAD (CASTLE OF DREAMS)
CHEN Yi Wen (A SUN)
Masataka KUBOTA (FIRST LOVE)
LEE Byung-hun (THE MAN STANDING NEXT)
Tai Bo (SUK SUK)
WANG Jingchun (SO LONG, MY SON)
BEST ACTRESS
Chutimon CHUENGCHAROENSUKYING (HAPPY OLD YEAR)
JUNG Yu-mi (KIM JI YOUNG, BORN 1982)
Mariko TSUTSUI (A GIRL MISSING)
YEO Yann Yann (WET SEASON)
Yong Mei (SO LONG, MY SON)
ZHOU Dongyu (BETTER DAYS)
BEST SUPPORTING ACTOR
CHOI Woo-shik (PARASITE)
Jinpa (BALLOON)
Ryo KASE (TO THE ENDS OF THE EARTH)
LIU Kuan Ting (A SUN)
Ben YUEN (SUK SUK)
BEST SUPPORTING ACTRESS
Patra AU (SUK SUK)
Samantha KO (A SUN)
LEE Jeong-eun (PARASITE)
Yuko TANAKA (ONE NIGHT)
ZHOU Ye (BETTER DAYS)
BEST NEW DIRECTOR
John HSU (DETECTION)
LEE Sang-geun (EXIT)
Sharipa URAZBAYEVA (MARIAM)
Norris WONG Yee Lam (MY PRINCE EDWARD)
HIKARI (37 SECONDS)
LIANG Ming (WISDOM TOOTH)
BEST NEWCOMER
Fandy FAN (WE ARE CHAMPIONS)
Anong HOUNGHEUANGSY (DAYS)
KIM Hye-jun (ANOTHER CHILD)
Sakurako KONISHI (FIRST LOVE)
Jackson YEE (BETTER DAYS)
BEST SCREENPLAY
Pema Tseden (BALLOON)
Mohammad DAVOUDI, Mohsen GHARAIE (CASTLE OF DREAMS)
BONG Joon-ho, HAN Jin-won (PARASITE)
A Mei, WANG Xiaoshuai (SO LONG, MY SON)
CHANG Yao Sheng, CHUNG Mong Hong (A SUN)
BEST EDITING
ZHANG Yibo (BETTER DAYS)
YANG Jin-mo (PARASITE)
Lee CHATAMETIKOOL (SO LONG, MY SON)
LAI HsiuHsiung (A SUN)
Yasha RAMCHANDANI (THAPPAD)
BEST CINEMATOGRAPHY
LU Songye (BALLOON)
Girish GANGADHARAN (JALLIKATTU)
LIM Won-geun (TIME TO HUNT)
Akiko ASHIZAWA (TO THE ENDS OF THE EARTH)
DONG Jinsong (THE WILD GOOSE LAKE)
BEST ORIGINAL MUSIC
Karsh KALE, The Salvage Audio Collective (GULLY BOY)
Prashant PILLAI (JALLIKATTU)
Tomohiko BANSE, GRANDFUNK, Wataru SAWABE (ON-GAKU: OUR SOUND)
JUNG Jae-il (PARASITE)
KIM Tae-sung (SVAHA: THE SIXTH FINGER)
BEST COSTUME DESIGN
Dora NG (BETTER DAYS)
JO Sang-gyeong (FORBIDDEN DREAM)
Arjun BHASIN, Poornamrita SINGH (GULLY BOY)
Pacharin SURAWATANAPONGS (HAPPY OLD YEAR)
Masae MIYAMOTO (KINGDOM)
BEST PRODUCTION DESIGN
Suzanne Caplan MERWANJI (GULLY BOY)
Wenceslaus de ROZARI (GUNDALA)
LEE Ha-jun (PARASITE)
LV Dong (SO LONG, MY SON)
GAO Ang (THE WANDERING EARTH)
BEST VISUAL EFFECTS
JIN Jong-hyun (ASHFALL)
Tomi KUO (DETENTION)
Kaori OOTAGAKI (FIRST LOVE)
HONG Jeong-ho (PARASITE)
DING Yanlai (THE WANDERING EARTH)
BEST SOUND
CHOI Tae-young (ASHFALL)
Yoshifumi KUREISHI (LISTEN TO THE UNIVERSE)
CHOI Tae-young (PARASITE)
WANG Danrong (THE WANDERING EARTH)
ZHANG Yang (THE WILD GOOSE LAKE)