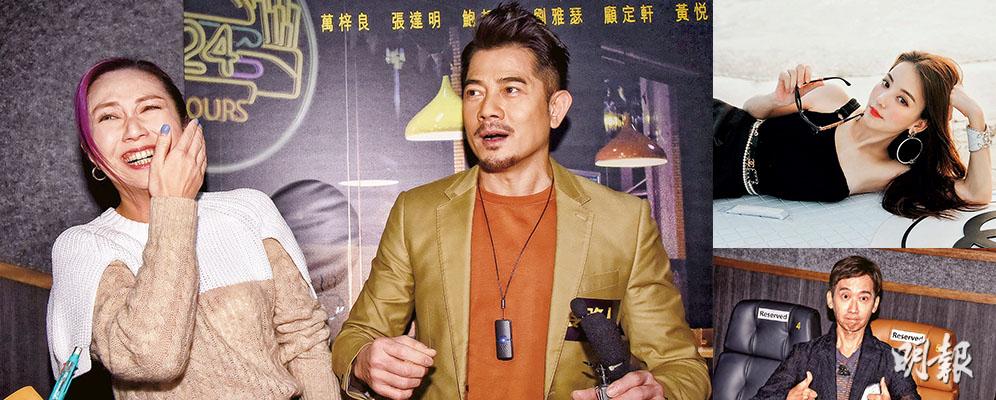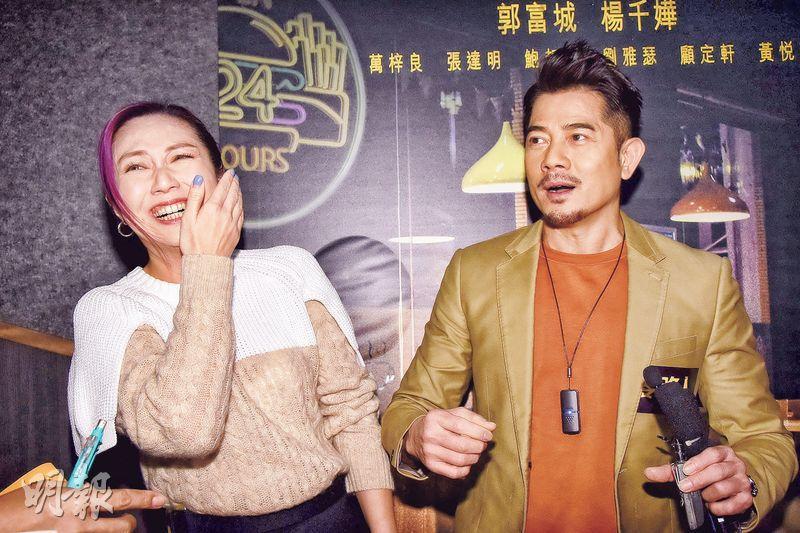 Miriam Yeung says that because Aaron Kwok is too in character, comedy ensues
Cheung Tat Ming hopes the Hong Kong Film Award to get his hands soon
courtesy of mingpao.com
Aaron Kwok tensely protects his wife and hopes the rumor spreaders would stop
What does director Wong Hing Fan say to make Miriam Yeung crack up?
courtesy of on.cc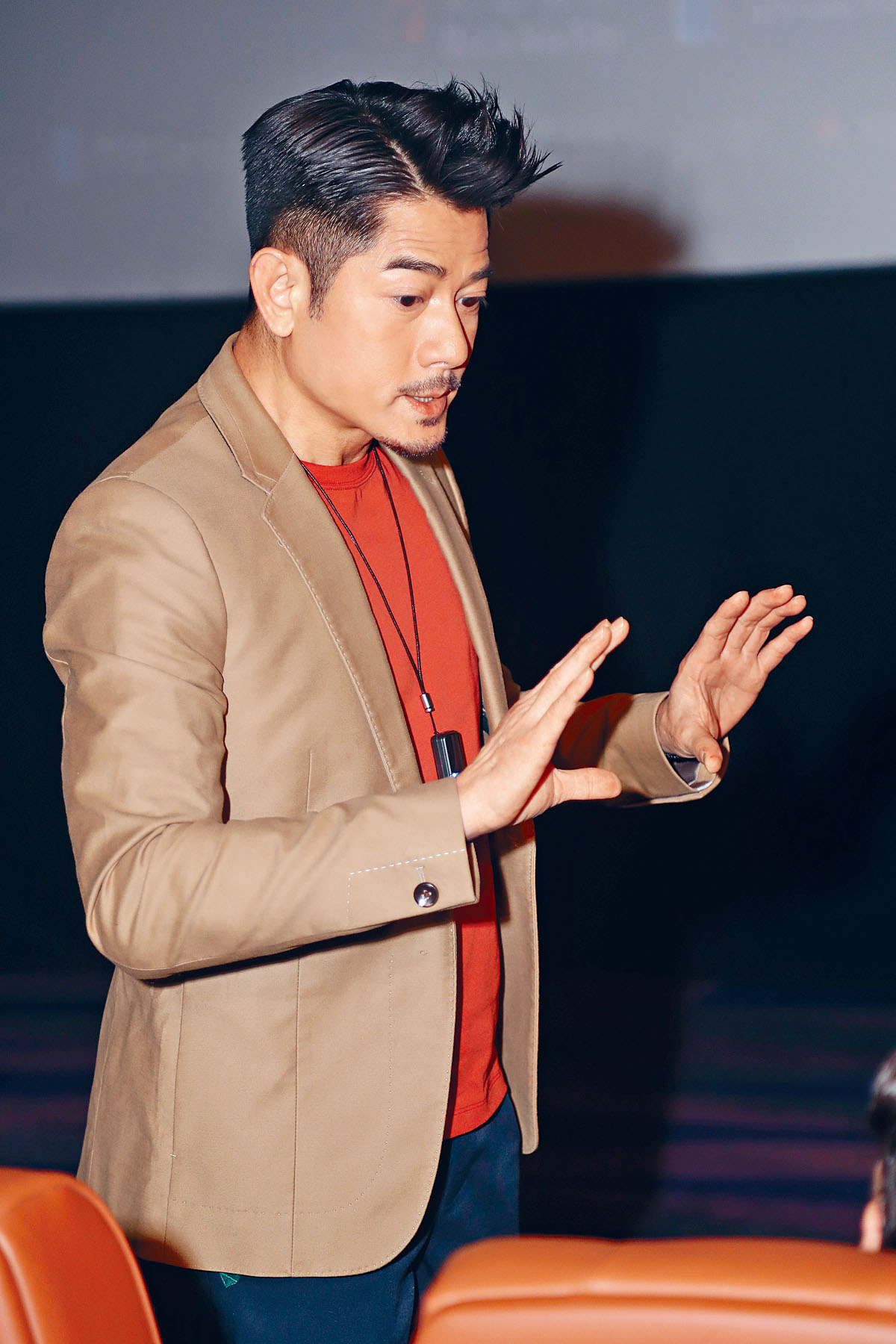 Aaron Kwok calls "Mrs. Heavenly King Training Camp" fake news and hopes those spreading the rumor would stop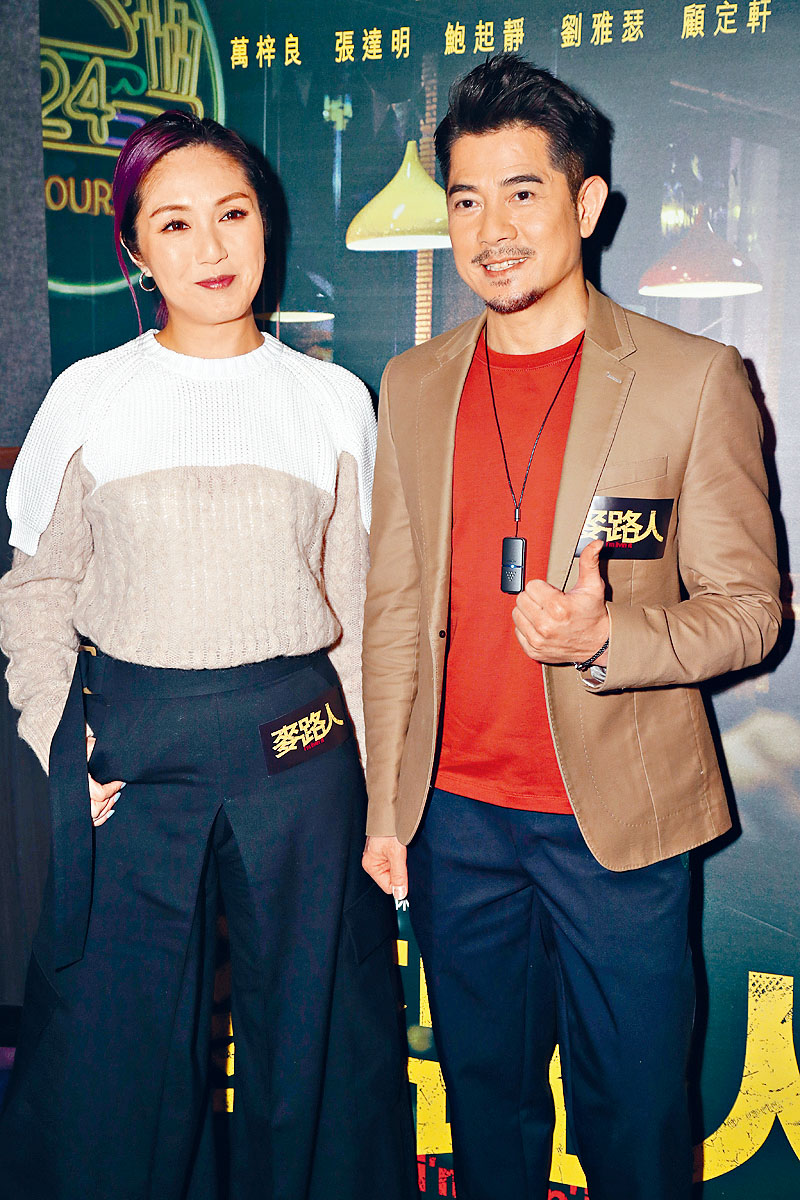 Miriam Yeung reveals that Aaron Kwok was in character the entire time during production
courtesy of singtao.com
The film I'M LIVIN' IT (MAK LO YUN) in September 17th will open simultaneously in the Mainland, Hong Kong, Singapore, and Taiwan. Yesterday a premiere was held for the Aaron Kwok Fu Sing performed theme song GRAY STARDUST music video. Kwok Fu Sing, Miriam Yeung Chin Wa, Cheung Tat Ming, Zeno Koo Ting Hin and director Wong Hing Fan attended. Sing Sing responded to his wife getting swept up into the "Mrs. Heavenly King Training Camp" scandal and hoped those irresponsible rumor spreaders would stop.
After enjoying the music video premiere, Kwok Fu Sing praised Siu Mei for being able to putting the spirit of the film into lyrics in two days. She lived up to the top female Hong Kong lyrics creator. With the I'M LIVIN' IT financial whiz role Sing Sing won the London East Asia International Film Festival Best Actor award. He was also happy to receive the recognition of overseas audience, but playing this character was very difficult spiritually and physically. Originally he already "ditched" the character two years ago after he was done, but earlier when he recorded the theme song in the studio he fell into character again and suffered once more. "During recording my tears never stopped, I couldn't sing. Now I would naturally choke up, tears would roll in my eyes. However the role required me to not shed a single tear, which really was hard to take. I hope the audience would be able to hear the voices of the character and me Kwok Fu Sing!" Chin Wa also agreed that seeing the film footage in the music video, it was like it happened yesterday and led to even more sentiment.
Chin Wa also said that she had the most scenes with Sing Sing and Alex Man Chi Leung. Her scenes especially the last one with Sing Sing were hard to interpret, she credited this group of good co-stars for bringing her into character. Chin Wa joked, "When we worked we would go for ten or twenty hours, but at meals Aaron would hide in the room quietly. I would bring rice rolls and pork bone congee to him. He would use his character's tone to say, 'I am not eating, my character can't be fat'. I was so frightened that I immediately put the food down and ran. I was afraid of taking him out of character and he would have to put his soul back into the role anew!"
Sing Sing admitted that he starved until his stomach hurt, but in order to make the character even more dimensional he could do nothing about hunger. Chin Wa also jokingly praised Sing Sing. When they were not in a scene, she saw Sing Sing still carrying the backpack. She even thought that his assistant was very daring to not properly take care of him. Actually he was in character all the time. Sing Sing joked, "I couldn't put down my baggage, actually the package had nothing of value except several rolls of toilet paper!" Chin Wa sincerely praised him, "Every actor has been very strong, I have to keep alert. In addition a good script is very hard to run into, I have to cherish the opportunity."
I'M LIVIN' IT was about to open, Sing Sing pointed out that under the pandemic people has been starving from the lack of entertainment for a long time. Even when he went out and saw closed cinemas his heart ached. He would like the audience to return to the cinemas anew and watch this movie with a positive message. Of course everyone should take the full precaution against the pandemic before going.
Sing Sing also said that everyone should be tested. "I did it, it was negative! Last week after work I walked in for testing without an appointment. I was in line for less than 5 minutes and it was done. I was very convenient, I felt that everyone should be tested because invisible carrier would be found. The community would recover soon because of that. If we would reach no more additional cases, it would be good for every business, restaurants, entertainment venue could recover and the economy would be revived. Even children would be able to go to class as normal!" Chin Wa said that she already had a novel coronavirus test before citywide testing, but she would still support it and would get tested again.
In addition recent rumors pointed out that some female internet sensations through "Mrs. Heavenly King Training Camp" landed rich husbands. Sing Sing's wife Moka Fang was swept up into the scandal. Sing Sing yesterday protected his wife, "My wife has responded, the reports were untrue. Now the online world is too free, anyone could spread rumors without responsibility. This would make people involved suffer. My wife isn't in show business, at most she was half on screen. She only occasionally would do some print ads. For her it was a type of damage. As her husband I of course would support her, I hope those responsible would stop!"
Cheung Tat Ming with I'M LIVIN' IT won this year's Hong Kong Film Award Best Supporting Actor, but he joked that so far he still has not received the award. "I actually passed by the Hong Kong Film Awards office earlier. I went upstairs and asked, they said that it would have to wait until the program was published. Now the program has already been published!" Was he in a hurry to get the award into his hands? Tat Ming said, "I need it, I want to take a nice picture to give to everyone!" This time I'M LIVIN' IT cast had a lot of fun. Tat Ming of course wanted to make another movie with the original team. Sing Sing and Chin Wa told him to write the screenplay. Sing Sing said that this time he would like to make a comedy. Tat Ming said that he could make YUP FOR YUN (MOVING IN PEOPLE), everyone would definitely have a good time from watching it. However he also asked director Wong Hing Fan to arrange for him to play a romantic character, because he was pretty handsome in person and he asked not to make him look so "worn out"!
Zeno Koo Ting Hin was also very honored to be able to learn from so many elders. When he was not in a scene he would watch the elders perform from the sideline and learn from them, hence he would improve.