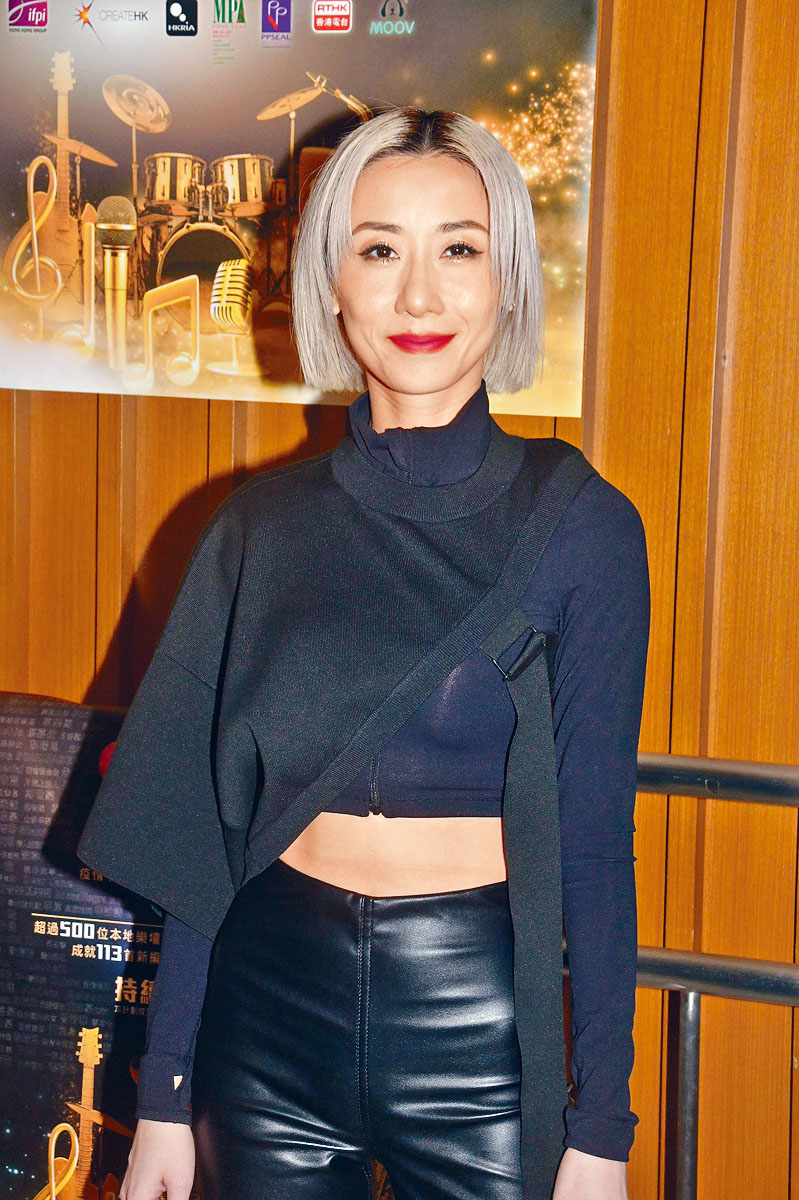 Stefanie Sun gives Vincy Chan some advice personally
courtesy of singtao.com
Vincy Chan insists on keeping her own style in her music
courtesy of on.cc
The record industry was in crisis under the pandemic. The Special Administrative Region government's "Create Hong Kong" sponsored The Music Must Go On project, which took some of the classic songs that reached platinum or gold record status in the past 40 years, arranged them anew and added drastic different styles. 55 record companies and labels participated in the project and made 113 classic songs. 98 singers and bands participated and created over 800 outsourced positions for the industry, bringing appropriate assistance to the record industry. Yesterday at the first day of taping of a performance for the project, participating singers included Wan Kwong, Pierre Ngo Ka Nin, Elaine Ho Yuen Ying and Vincy Chan (Wing Yi). Wing Yi revealed that she knew Singaporean singer Stefanie Sun Yanzi, who advised her to having her own personal style in her singing. She was also very happy that Eric Tsang Chi Wai was able to successfully break the past music industry stalemate and looked forward to a full bloom in music from now on.
Vincy Chan (Waing Yi) sang Stefanie Sun Yanzi's DARK DARK SKY, she said that when she was in school in Singapore, she grew up listening to this song. Singing it again this time brought back a lot of childhood memories for her. Wing Yi and Sun Yanzi knew each other, she would personally give her advice on music. She reminded her that as a singer she needed to know how to turn a song into her own, with her own personal color. She has always kept this advice in her pocket. Wing Yi said that in the past she did not know how to express herself, until recently her style became dark and was accepted. She then thought of this spirit that Sun Yanzi advised her on. Thus she was very happy now to do what she wants to do. She also said that her next new song would be a little dark as well, yesterday she was dressed in black to coordinate. However during the fitting her boyfriend made fun of her for showing a little belly. She blamed it on having too much turnip cake during the Lunar New Year.
In addition as Eric Tsang Chi Wai successfully "broke the ice" three major record companies' singers would be able to appear on TVB's music programs again. Wing Yi said, "I too wish for a full bloom, for example I too try different styles for listeners to enjoy. Thus having different platforms for different companies' singers to share the stage would be a good thing and bring even more sparks!" She also mentioned that for her new song LOST she also worked with a group from a different company Per-se, and created an enormous chemical reaction.
Elaine Ho Yuen Ying yesterday chose to sing Andy Lau Tak Wa's RESTRICTED AREA OF LOVE. She said that because she has never publicly sung a male singer's song and back then she saved up to buy the video of this Wa Jai song, she had a connection. This time she also only chose this song from Wa Jai's song list, with an all new arrangement in a slow version performance.
Ho Yuen Ying revealed that in the middle of the year she would release a new song. Originally the new song earlier already completed its recording, only due to the pandemic its release was postponed. In the past her LOVING YOU IS THE MISTAKE OF MY LIFE became a classic. This time her new song WRONG IN THE END IS STILL RIGHT could be considered a continuation. "It's like one is answering to the other. In my living and my life now, now is also right. It's like I am singing about myself!"
Wan Kwong revealed that this time he would perform Sam Hui's MISCHEVIOUS TWINS STARS, but would an all anew arrangement in a stronger beat version. He pointed out that in the past year due to the pandemic he had no way to perform, so he could only practice singing at home. "I am a senior, I am afraid that if I don't sing at all I would forget." However on March 10th, he would perform the Cantonese Opera DI NU HUA with Tse Hue Ying at the Ko Shan Theatre. Wan Kwong said that he has not performed in Cantonese opera make up for 28 years. Luckily Yuen Siu Fai gave him advice on his performance.