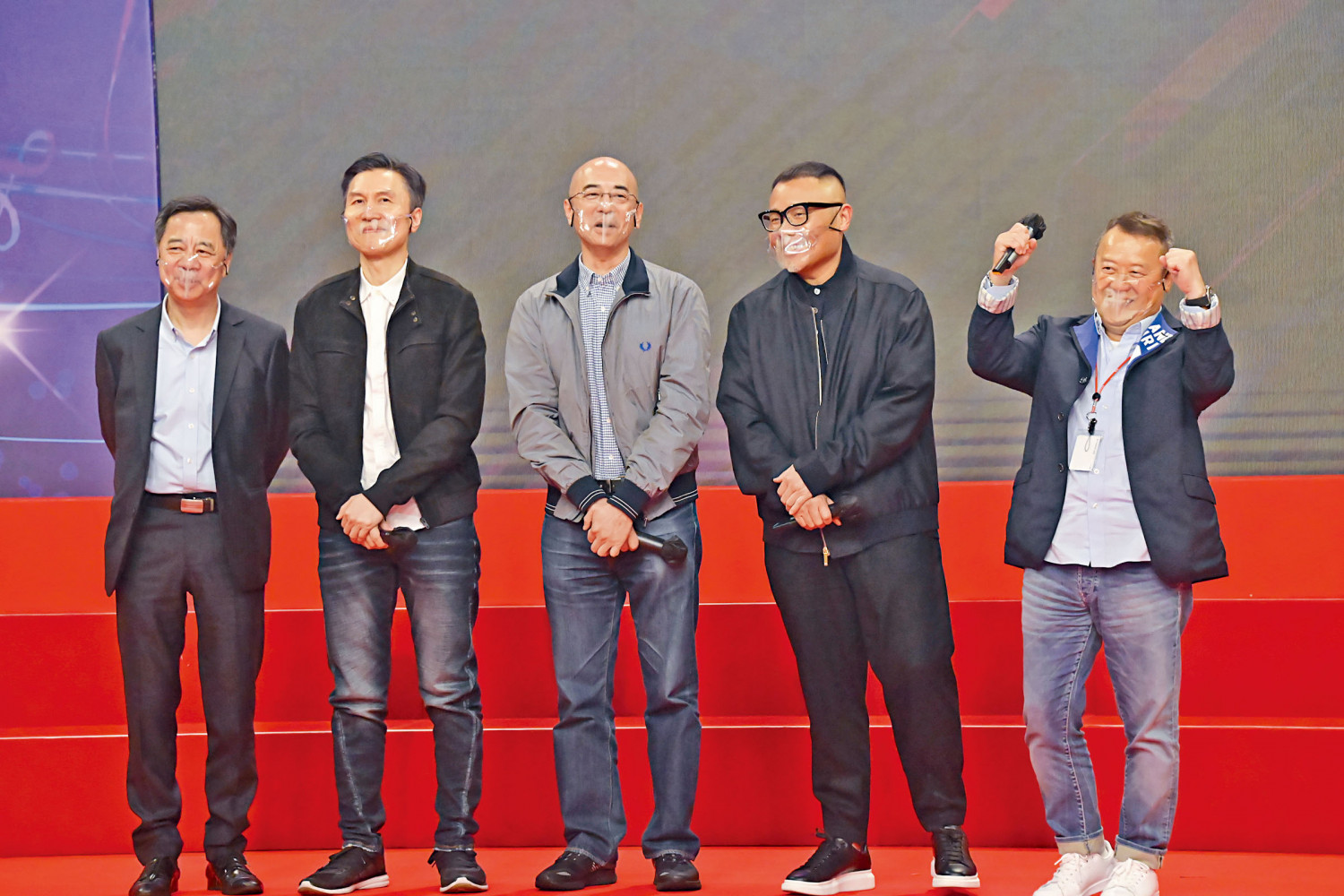 Eric Tsang has quite a sense of success as three major record companies' executives appear at Television City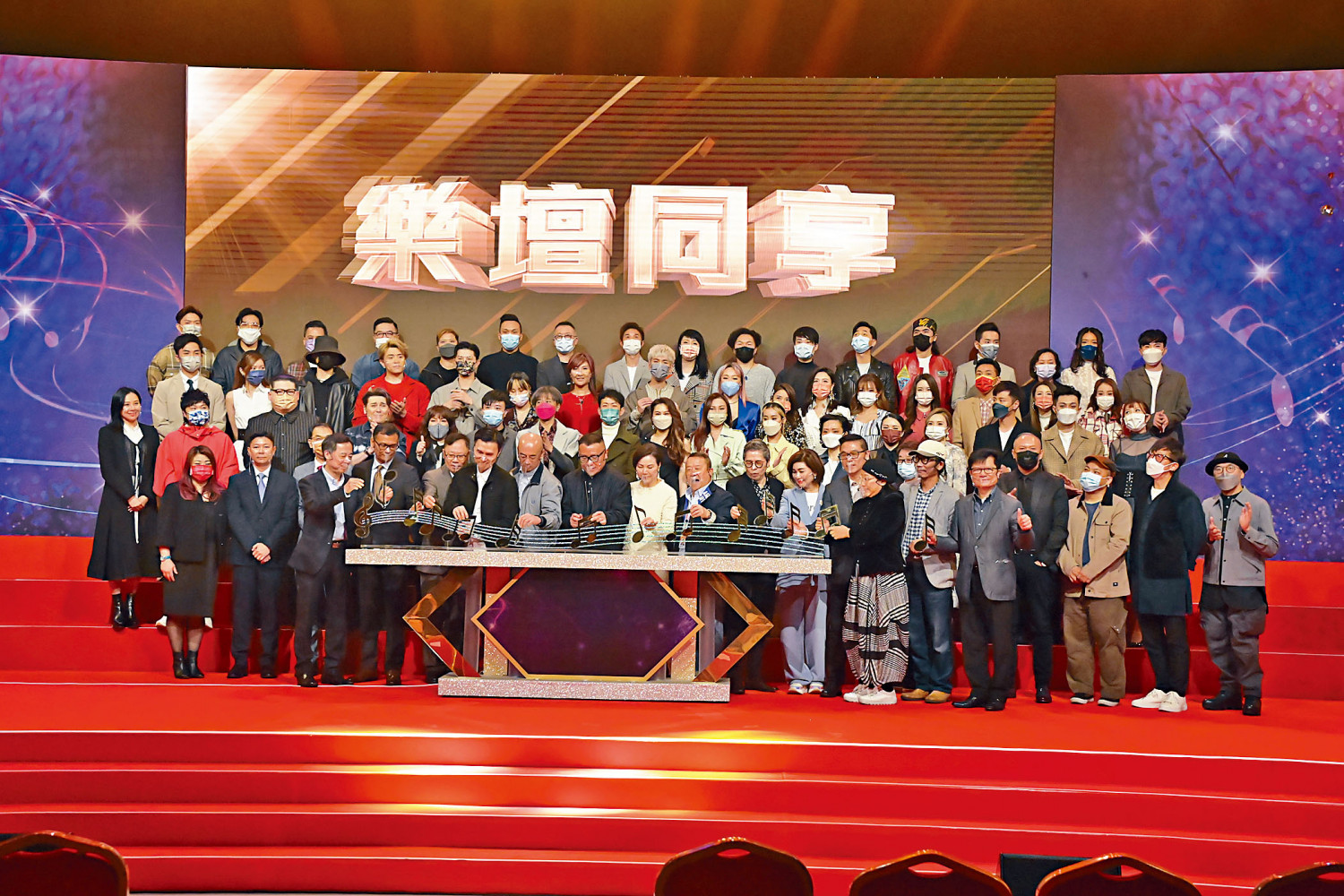 Many music labels' executives and singers attend the event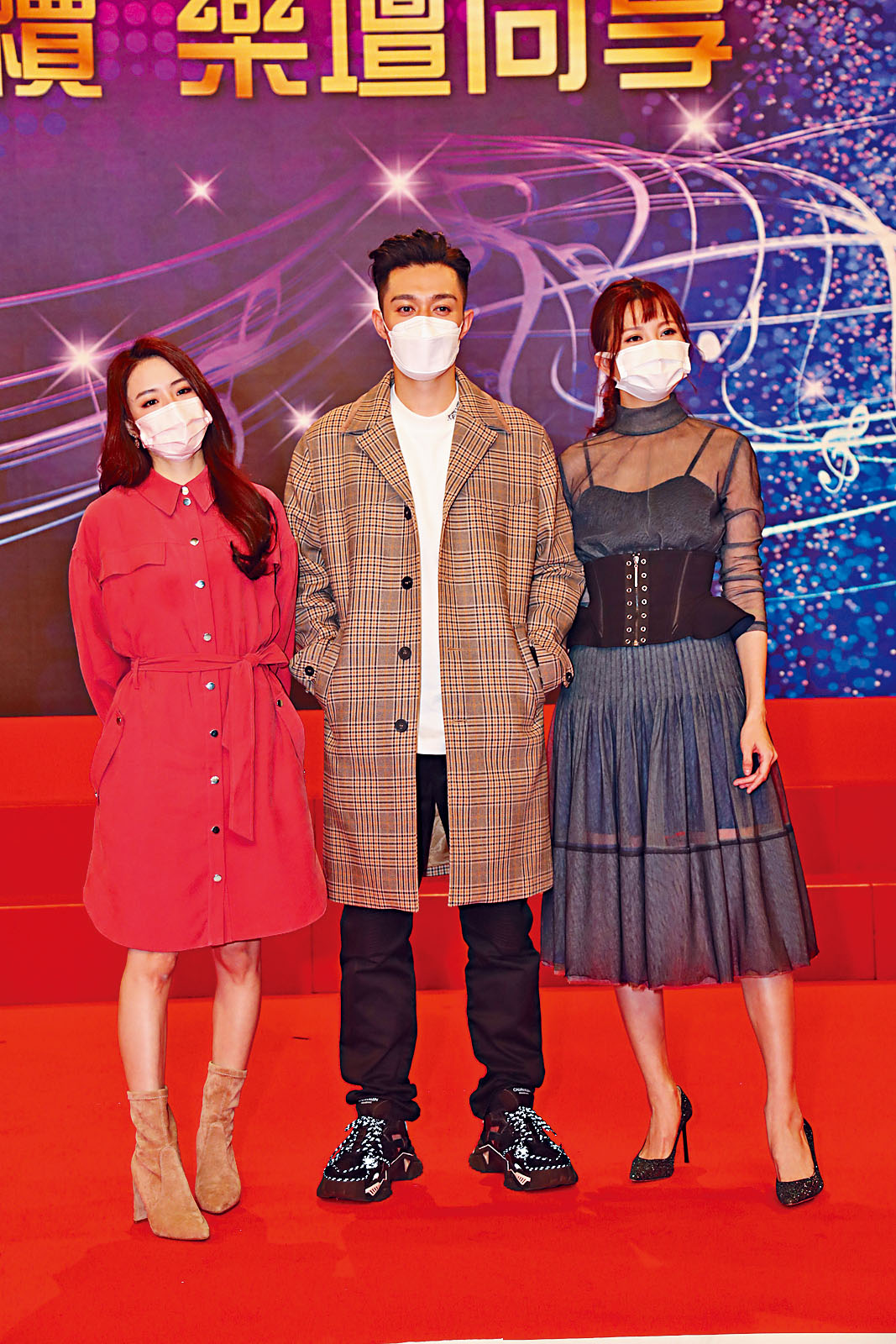 Hana Kuk, Pakho Chau and Jinny Ng suddenly become humble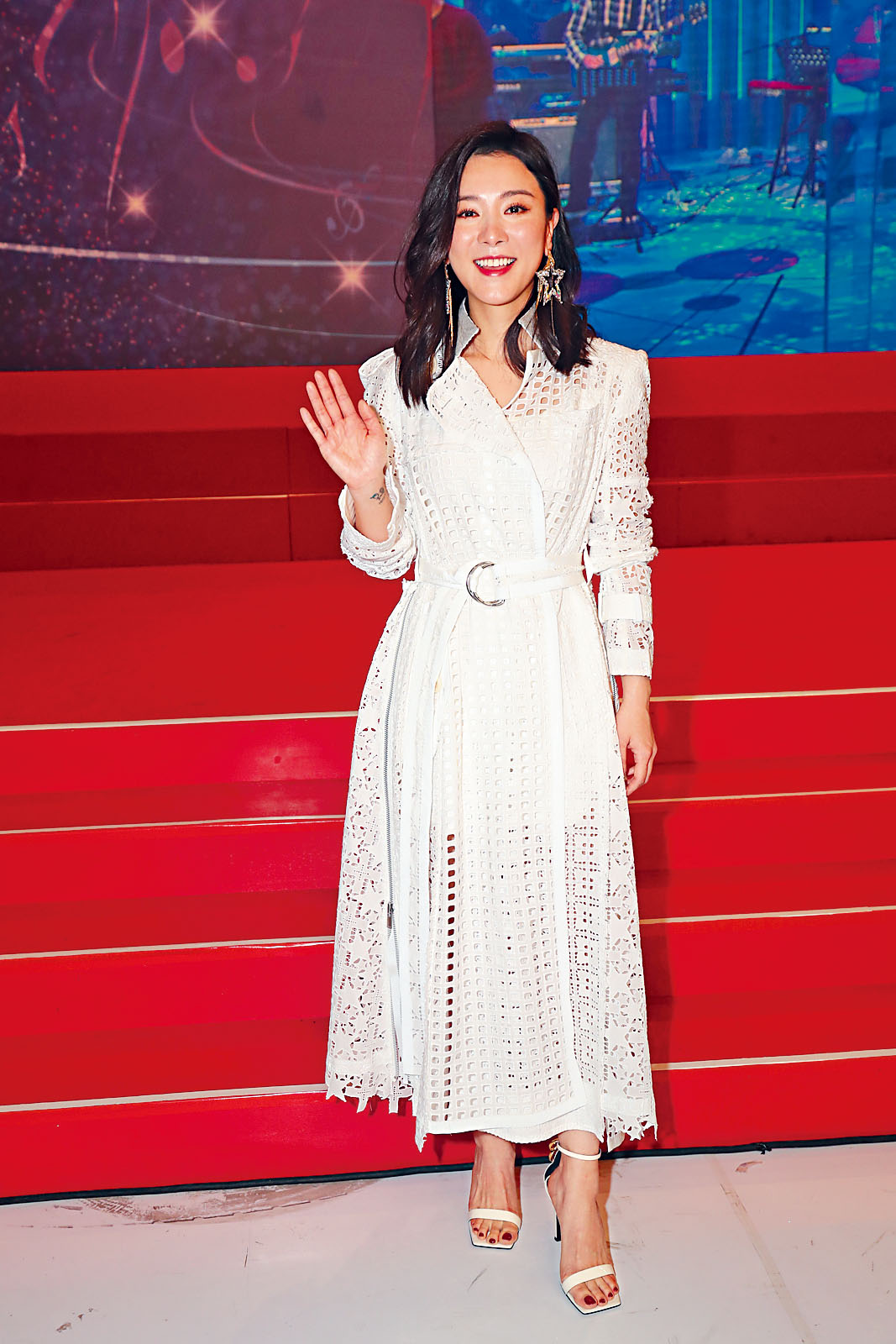 Venus Wong says that she would not talk about work with her father in law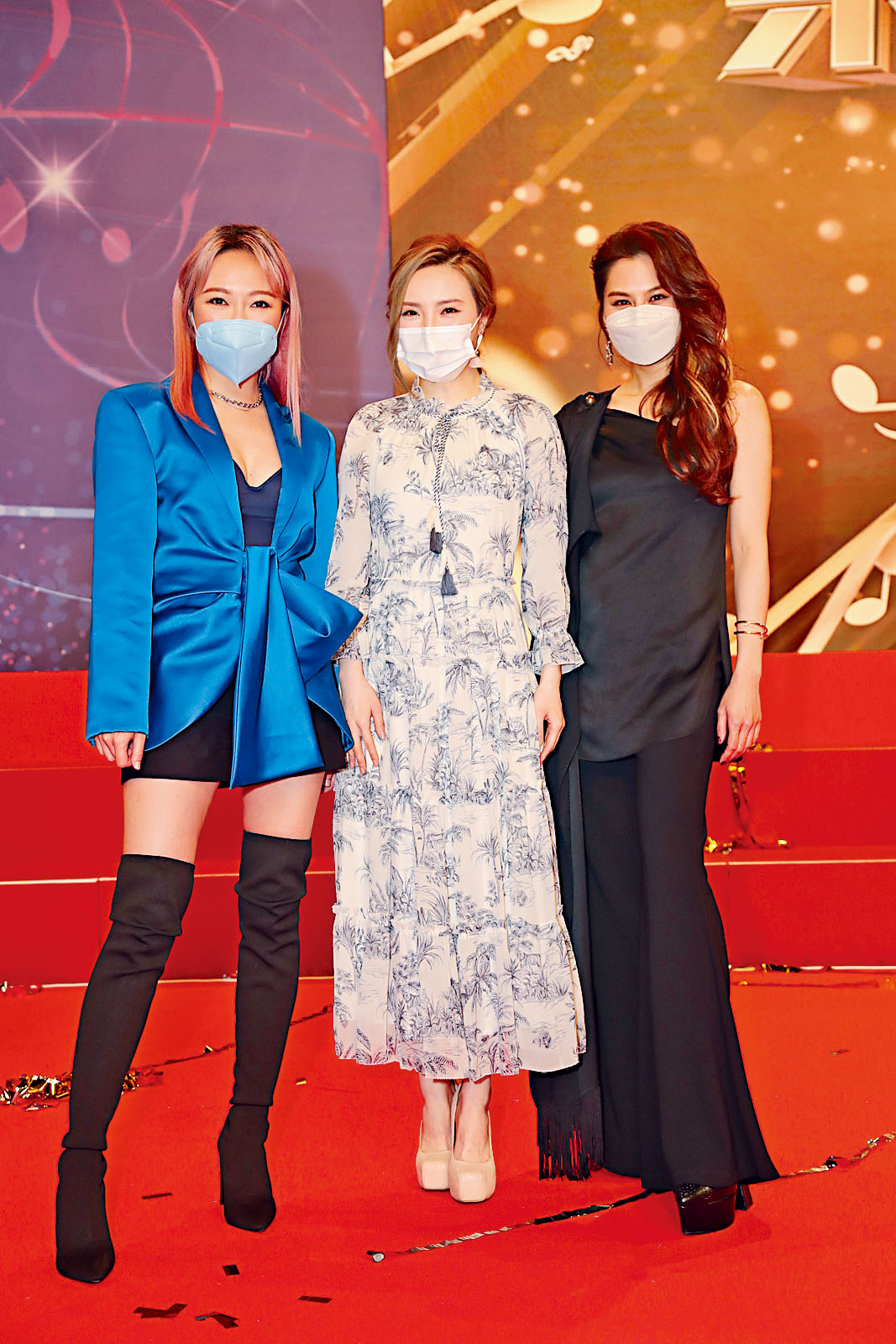 Mischa Ip, Mag Lam and Gin Lee are all frequent ViuTV guests
courtesy of singtao.com
Hana Kuk and Jinny Ng speak to the media together, with Pakho Chau between them
In the audience, Jinny Ng chats with Stephanie Ho and JW while Hana Kuk sits alone
Eric Tsang and Ho Lai Chuen appear at the press conference with other record companies' executives

Mischa Ip, Mag Lam and Gin Lee look forward to take part in Jade Solid Gold
courtesy of on.cc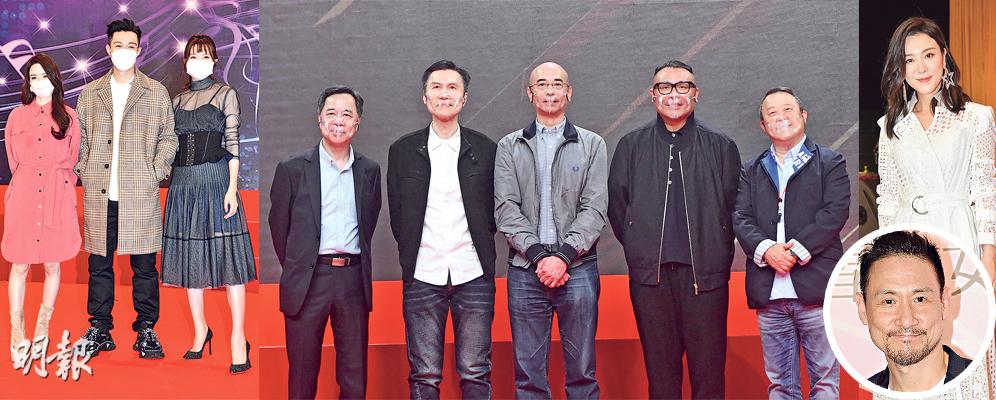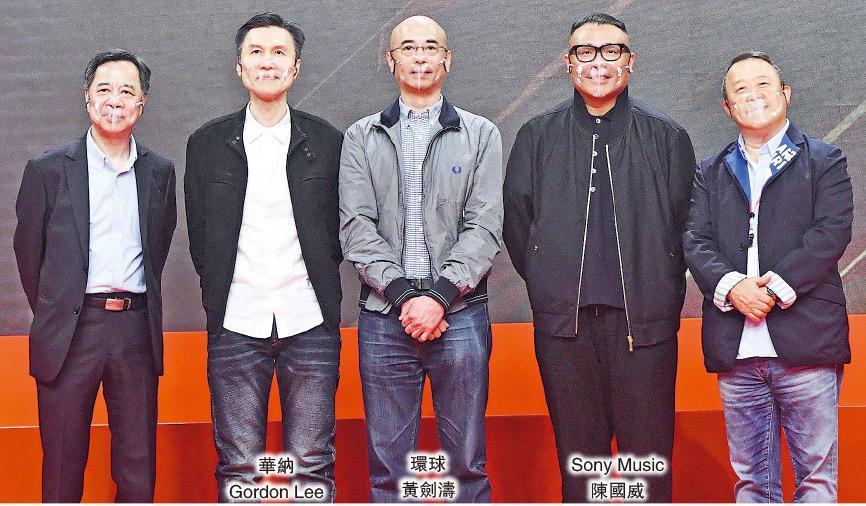 Eric Tsang has just taken over as the TVB assistant general manager. He invited Ho Lai Chuen to take over the music department, and broke the ice with three major record companies. Yesterday a press conference was held at the Television City and the big three's exectuives attended.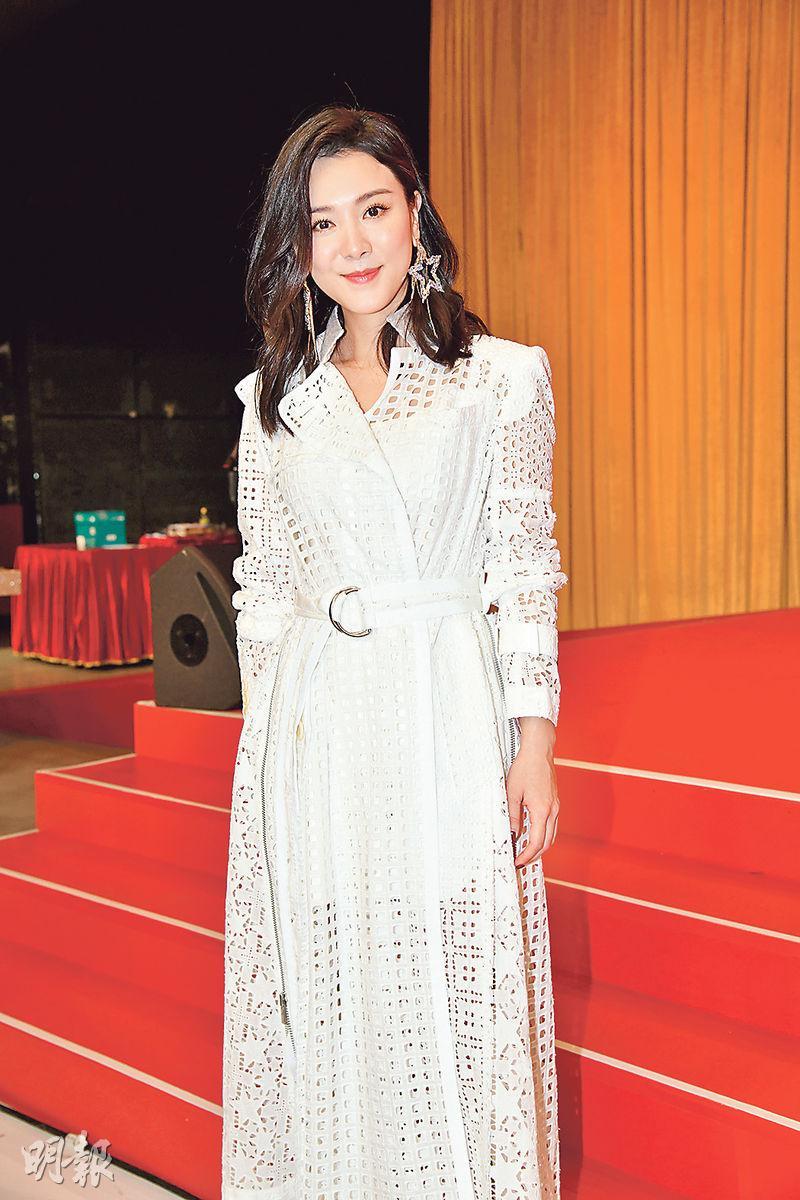 Venus Wong just signed with the Voice last year and says that her father in law's takeover of the company is a good thing. She is not worried about talks of nepotism, saying that she has always been independent.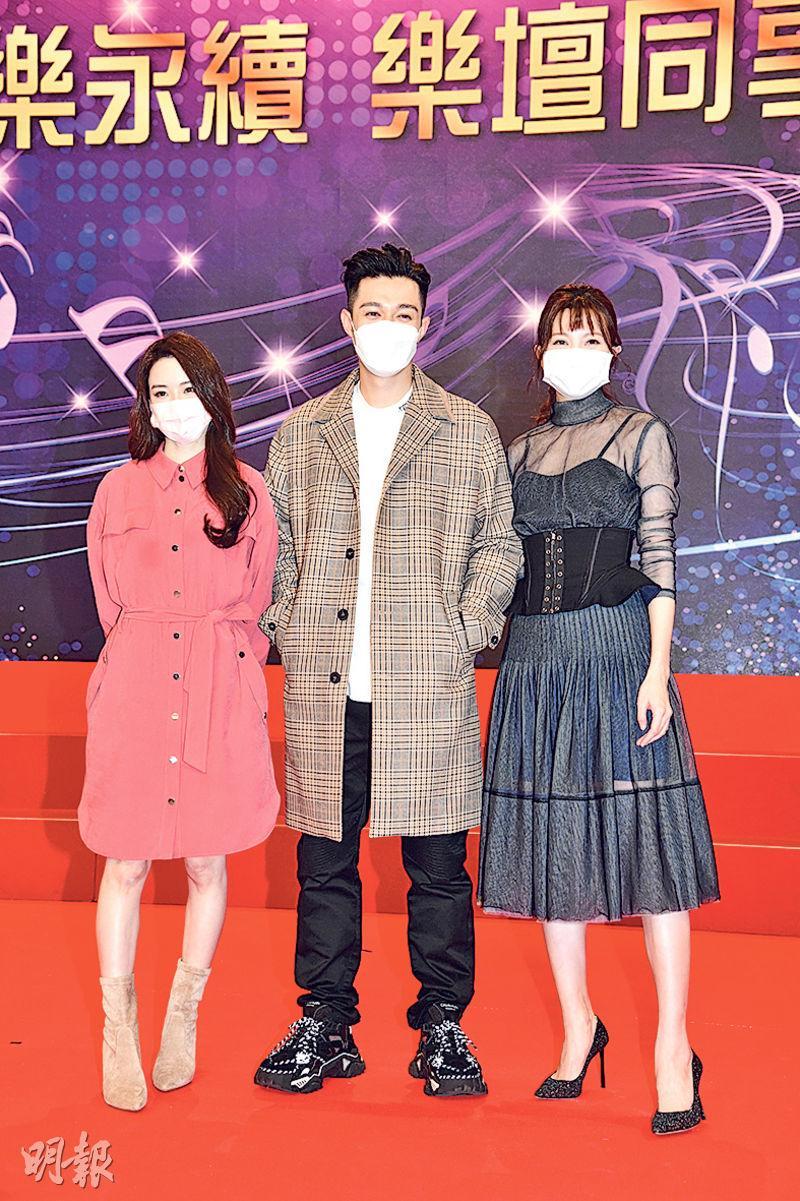 The Voice's singers Hana Kuk, Pakho Chau and Jinny Ng gets a shot of confidence from Eric Tsang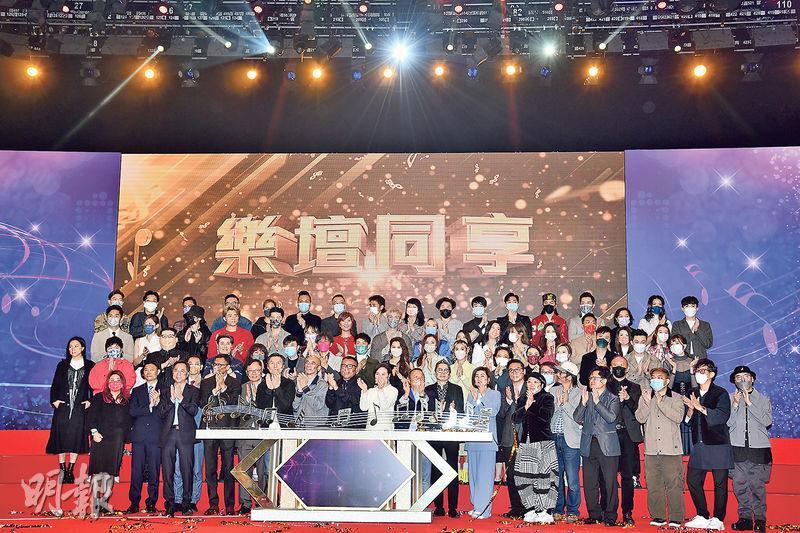 Universal, Warner, Sony Music, IFPI (Hong Kong), HKRIA and singers attend "The Music Must Go On" press conference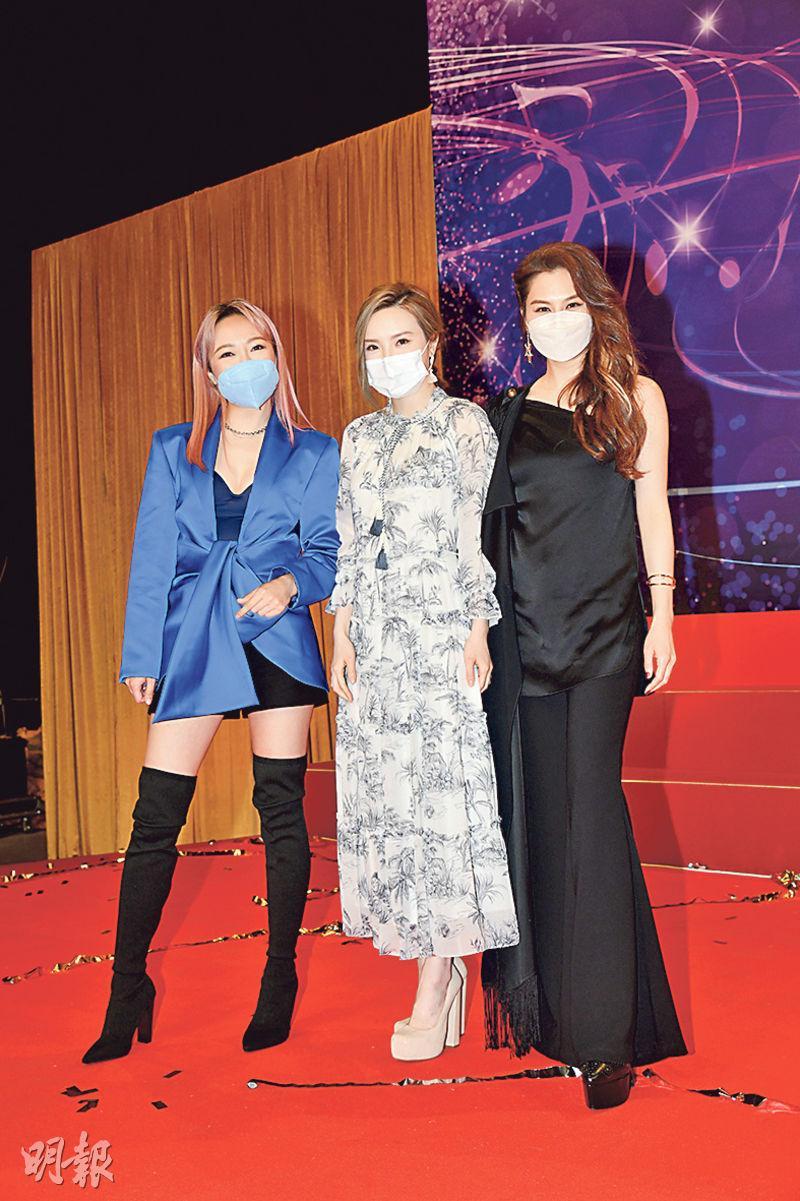 courtesy of mingpao.com
TVB, four major record companies Universal, Warner, Sony Music and EMI (one of the big four EMI was purchased by Universal in 2012) due to royalty issues and internet use rights were in a stalemate for 11 years. After Eric Tsang Chi Wai took over the TVB music business, he and the veteran he urgently called to return, Ho Lai Chuen, negotiated with the "Big Three" and the problem has already been resolved. TVB would fully support the IFPI (Hong Kong) organized "The Music Must Go On" project. Yesterday a press conference was held at TVB. The three major record companies Universal, Warner, Sony Music's executives all sent their singers to attend in a "show of good will", proving with action that TVB and the "Big Three"'s official settlement and the ice breaking of the century. Chi Wai extended a hand of friendship and expressed welcome to each major record company's singer to appear on TVB platforms and spread the positive energy of music. At the same time he did not forget to give a shot of confidence to "the Voice Entertainment" singers, hinting that they would not be "orphans".
At "The Music Must Go On" press conference, aside from IFPI, Hong Kong Recording Industry Alliance, each major record company and music label representatives and their singers in attendance, the focus were on the "Big Three" representatives: Sony Music's Greater Chinese Region general managing director Chan Kwok Wai and the label's singers Phil Lam Yik Hong, Mischa Ip Hau Lam, Universal Record's Great Chinese Region (Hong Kong) general managing director Wong Kim To and the label's singers AGA, Gin Lee, Chan Hoi Wing, Warner Records general managing director Gordon Lee and its labels' singers Mag Lam Yun Tung. "The Voice" singers almost all appeared, including Jinny Ng Yeuk Hei in her first appearance after giving birth, Pakho Chau, Hana Kuk Chi Kiu, Brian Tse Tung Man, Venus Wong Man Yik and others.
Chi Wai in less than a month after becoming the TVB assistant general manager (variety, music production and program) successfully resolved the stalemate with the "Big three". He indeed brought great news to the music scene. On stage he in a friendly manner first thanked the industry's singers and press for their support. He said, "As a Hong Kong television station we have to fully support 'The Music Must Go On' project, we don't get to duck away. I hope even more singers would appear on our music programs. In addition the pandemic has been very hard on everyone, concerts and tours for example can't be done at all. Even small events at shopping centers have no way to be done. Every business and industry are in tough spot. This time 'The Music Must Go On' project would help with employment opportunities. The most important is to spread positive energy, so Hong Kong music can start anew." Chi Wai continued, "This is only the beginning, after today we welcome singers to appear on all TVB platforms and sing. Everyone will be united so Hong Kong music to start over again." The audience responded with enthusiastic applause.
When each record company executive expressed support for the event on the stage, Chi Wai said, "Without your support, TVB is nothing. I hope Hong Kong singers and songs would be like they were before, to be able to go all over the world. TVB as the television platform has a responsibility of passing the torch, and lending out space for everyone to perform." Chi Wai also gave the Voice singers a shot of confidence, stressing that they would continue to be on programs and work with other music units to make good music.
Chi Wai even introduced Ho Lai Chuen as the "music new comer". At his first public appearance after returning to TVB he joked, "I am very scared to be standing on the stage, because I haven't stood on this stage for over a decade. However I feel very happy, like I have returned to past award shows, with so many singers' support." He stated that the first task was to bring all music back!
Chi Wai said that he was very happy. He waited 11 years to finally resolve the crisis. Since he was buddies with each major record company, they clicked right away. "Actually we mutually need each other. Variety programs need singers, singers also need programs that many people watch. It's win-win for everyone. Ultimately singers are welcome at anytime. (Jacky) Cheung Hok Yau called to support me, and agreed that he definitely would come. If he is willing then that's good. Everyone can have the common goal of making good music, so I didn't say too much with the 'Three Majors'. The most important is to bring life to the music scene. Under the pandemic many singers had their arms and legs tied, especially new comers. They need platforms to promote." As for the details of the collaborations, Chi Wai admitted, "We have a lot to talk about, these problems won't be anything big. Nothing can stump us, we should just get it done first."
Chi Wai also said that more music programs will be added and JADE SOLID GOLD will be switched back to better air time. Speaking of the rumored to be halted reality singing show STARS Academy, Chi Wai said that it would continue but other record companies would be invited to participate, the judges line up would be strengthen for the contest standard to be more complete and the program to be more recognizable. "If it would be fixed it would be meaningless!" Would he invite his buddy Alan Tam Wing Lun to be a judge? Chi Wai joked, "Actually he isn't very famous. (Why didn't you ask him to support the event today?) He overslept." Would Tang Chi Wai return to be the chief music producer? Chi Wai said that he would not be the only one, as TVB would work with different creators.
Ho Lai Chuen would take over the management of the Voice Entertainment but did not reveal his title. He said that he was a music new comer. As for the earlier rumors about the Voice, he said that none were true and stressed that the Voice's singers were not neglected. He has met with most of them. They were not worried about competition, but felt that only with competition would there be improvement. They also looked forward to being able to work with different music units from now on. Speaking of giving the Voice the confidence pill, Chi Wai did not forget his humorous side. "One box per person (confidence pill) once it's gone it's gone, but you have to see whether it is expired, ha ha!"
The Voice's "Brother One" Pakho Chau and two "Sister One" Jinny Ng Yeuk Hei and Hana Kuk Chi Kiu yesterday attended "The Music Must Go On" press conference and spoke to the press together. Has Chi Wai's arrival affected them a lot? Pakho responded, "Honestly I haven't received any notice, but when Herman (Ho Jit To) left he told me. As a TVB singer and employee I wish the company would have better development in the future!" As for the executive changes, Pakho said that TVB was a publicly traded company. Changes often happened in big companies. He would sing his songs, play his roles, doing his part would be enough. He has not officially met with the new boss to discuss future projects.
Ng Yeuk Hei said that she has already met with Ho Lai Chuen and Elaine Lok Yi Ling. "I met with them together, just general stuff. I went from having nothing at all. The company raised me." Hana said that she also met with the new boss and looked forward to work together. Were they afraid that their top star positions would be shaky? Pakho said, "Brother One is a label others gave. When I go to work I go to work, no Brother One, Brother Two, Brother Three. The most important is my position at home, now it has gone to my daughter!" Hana also was not afraid of losing her presence, although she pointed out that she has not received any guarantee. "For now I haven't been affected. I am not worried either, I look forward to future development!" As for claims that Ng Yeuk Hei would be willing to renew her contract in order to take back the Voice Sister One position from Hana? Ng Yeuk Hei said, "My contract is under negotiation, but I haven't thought about it at all. It's my first day at work after having the baby, my brain hasn't been able to turn around yet. TVB raised me, Herman raised me, if any side needs help I would help." She also said that actually she was only Sister One at home. With her husband, children, Ho Jit To, Ho Lai Chuen, she was surrounded by people named Ho. Hana said, "I have never been Sister One, so I am not worried. I just want to make good music!"
Last year's JSG Most Popular Male and Female Singer Pakho and Hana denied that after the major record companies and TVB "broke the ice", singers would have more competition. Would they be worried that they would be unable to win this award again? Pakho said, "A full bloom would be good for both viewers and singers. To be able to appear on different platforms wouldn't be a bad thing. When I see other singers play together, I also think of before I got into the business we were very happy to play together. I am also very happy on a big day like today. This is the most important!" Hana also felt that this was a good thing. She believed that TVB's music would be better and better, a full bloom would enable exchanges with different music and singers.
In addition, only signing with The Voice Entertainment as singer last year, Wong Man Yik said that Herman Ho Jit To's departure did not mess up her work plan. Originally she would record her new song before working on a new series. However as her father in law Tsang Chi Wai took over the TVB music business, would she have even more advantage? She said, "I have always put a lot of effort into what I do, I also worked hard on learning to sing, dance and play instruments to elevate myself." She admitted that she was not worried about what others would say. "People who have paid attention to me would notice that I put an effort into work. Of course Father in law's addition to the company is something to be very happy about. The audience would be happy too." Some online half jokingly picked her as the favorite to win this year's Most Popular Female Singer award. Wong Man Yik said, "I would work hard on myself, to show everyone my sincerity." Would she bring her husband Derek Tsang Kwok Cheung to join TVB as well? She said that her husband had no intention to, not to mention that they work on their own. Even during the Lunar New Year visit she did not talk about work with her father in law. She has never mentioned her suggestion in music? Wong Man Yik said, "No, musically I just started like a blank piece of paper. I still have a lot that I have to try. Even as an actor I am still exploring!"
The three major record companies' singers yesterday gathered at TVB. Universal's Gin Lee, Warner's Mag Lam Yun Tung and Sony Music's Mischa Ip Hau Lam spoke to the press together. Gin Lee remembered that once in 2010 she came to Television City to participate in a singing contest with Mag. The last time she was in this studio was almost 5 years ago. Mag also said, "This studio used to be super big, now I feel it's not so big. Maybe we have grown. I was too scared before because it was filled with people. During the contest I was shaking all over!" Ip Hau Lam constantly appeared on ViuTV, but yesterday at TVB she did not feel awkward. Instead she was very happy to be able to appear on different platforms and sing her songs. She would be able to go to both. Gin Lee said that she was very happy because Hong Kong actually did not have too many platforms that was able to share music. Mag also felt that this ecology in music would be very healthy. "It's a win-win situation, I wish for a full bloom!" Would she like to win awards at the Jade Solid Gold Awards again? Mag joked, "I would look forward to it very much, I would try my best!" Gin Lin smiled and answered, "We can, let's play together!"