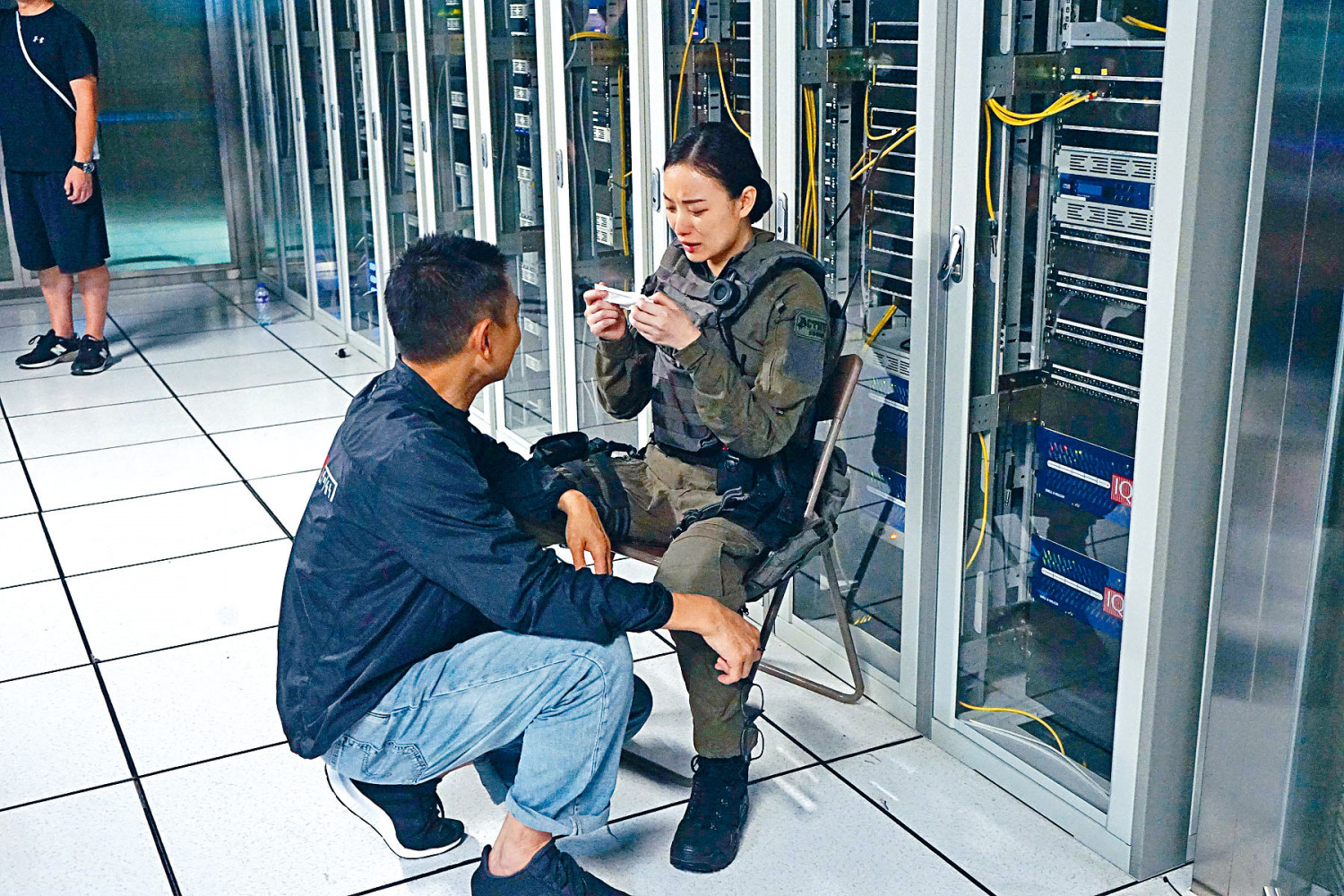 Andy Lau comforts Ni Ni after her emotional break down
courtesy of singtao.com
Ni Ni says that Sean Lau is easy going
courtesy of on.cc
SHOCK WAVE 2 (CHAK DAN JUEN GA 2) was already rapidly released after cinemas opened up again. The film not only had two Best Actors Andy Lau Tak Wa and Sean Lau Ching Wan, but also Mainland star Ni Ni as the anti terrorist special unit's chief inspector. Ni Ni remembered that in one scene she broke down. Lau Tak Wa who did not have any scene that day returned to the set to rehearse with her, the warm move almost brought her to tears.
Ni Ni was fortunately enough to work with two Best Actors in her first Hong Kong films, which she admitted was full of pressure. "It was definitely stressful, they are two elder actors I admire very much. When the shoot just started the pressure was greater, because it was my first time in Hong Kong I didn't know whether I could acclaim. In addition Hong Kong's film production rhythm was different from the Mainland's, I worried before hand!"
However, Ni Ni praised Lau Tak Wa, Lau Ching Wan, director Herman Yau Lai To and the entire film's cast for taking great care of her. She said, "At first I would be very nervous about communicating with Brother Wa and Brother Ching Wan, but later after working together for awhile I realized that they weren't hard to get close to. Instead they were very friendly. During the shoot they often helped me, like how to hold a gun. Because the gun alone already weighed eight catty and I also had a lot of gear on me, during stunts sometimes when they saw that my reaction was lacking they would teach me. They really took great care of me."
Ni Ni in the film had many emotional scenes. In one scene she broke down inside a control room. Because the entire scene required space for imagination and she was ailing that day, after one shot she remained upset. She broke down and cowered in a corner and the atmosphere on the set became very heavy. She said, "I worked on the scene in front of a green screen. I had to use my imagination to perform, the lines had some adjustments and I was a little sick. I was in a good shape, which made me feel a little ashamed."
Ni Ni stated that this scene was memorable. She also revealed that Lau Tak Wa, who was not scheduled to be on the set, returned to rehearse with her and kept encouraging her. She said, "Brother Wa that day deliberately came back to go over the script with me. I feel particularly moved. At the time I heard the director said that Brother Wa thought this scene was very important, so he came back. After hearing that I was on the verge of tears!"
The 32 year old Ni Ni became an overnight sensation after the Zhang Yimou film THE FLOWERS OF WAR, with the film she received the 6th Asian Film Award Best New Actor award. At the same time the Mainland media dubbed her the new generation "Mou Girl" and with Angelababy, Yang Mi, Liu Shishi were called the new generation "four little divas". She was linked to Mainland artists Feng Shaofeng and Jing Boran but nothing came of the romance.