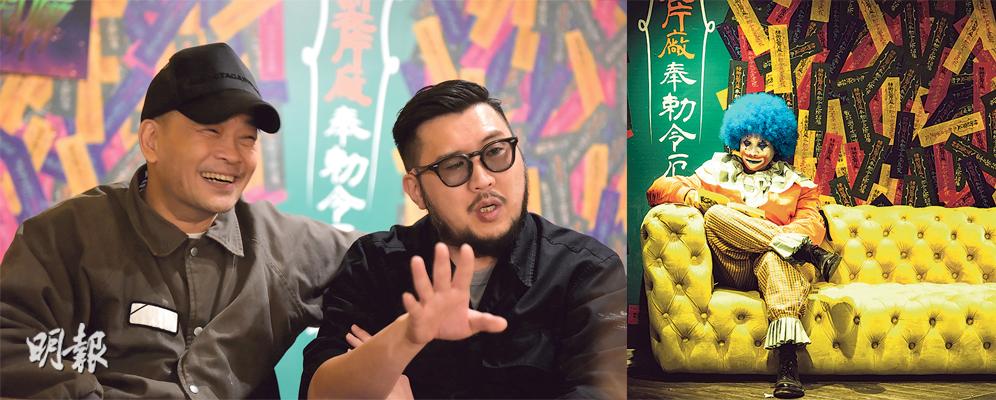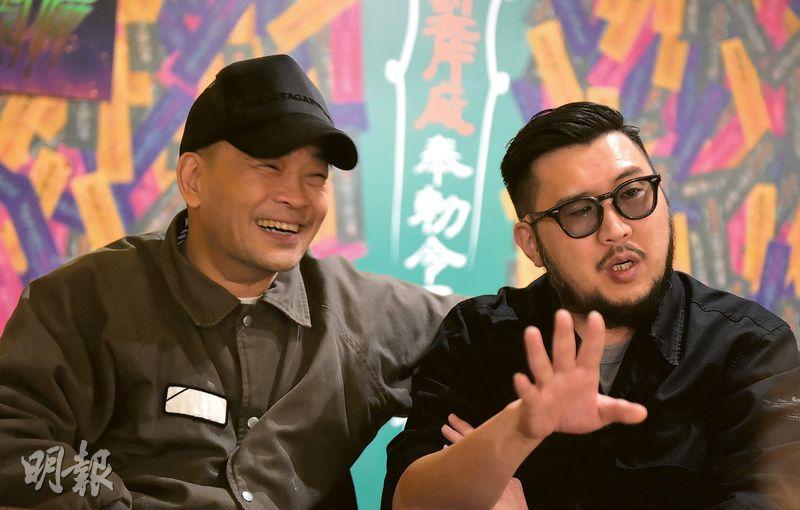 "Sifu" Eric Kot agrees to perform in Sunny Lau's directing debut
SUGAR STREET STUDIO tells a urban legend's secret with a movie within a movie. Originally it is scheduled for a Lunar New Year release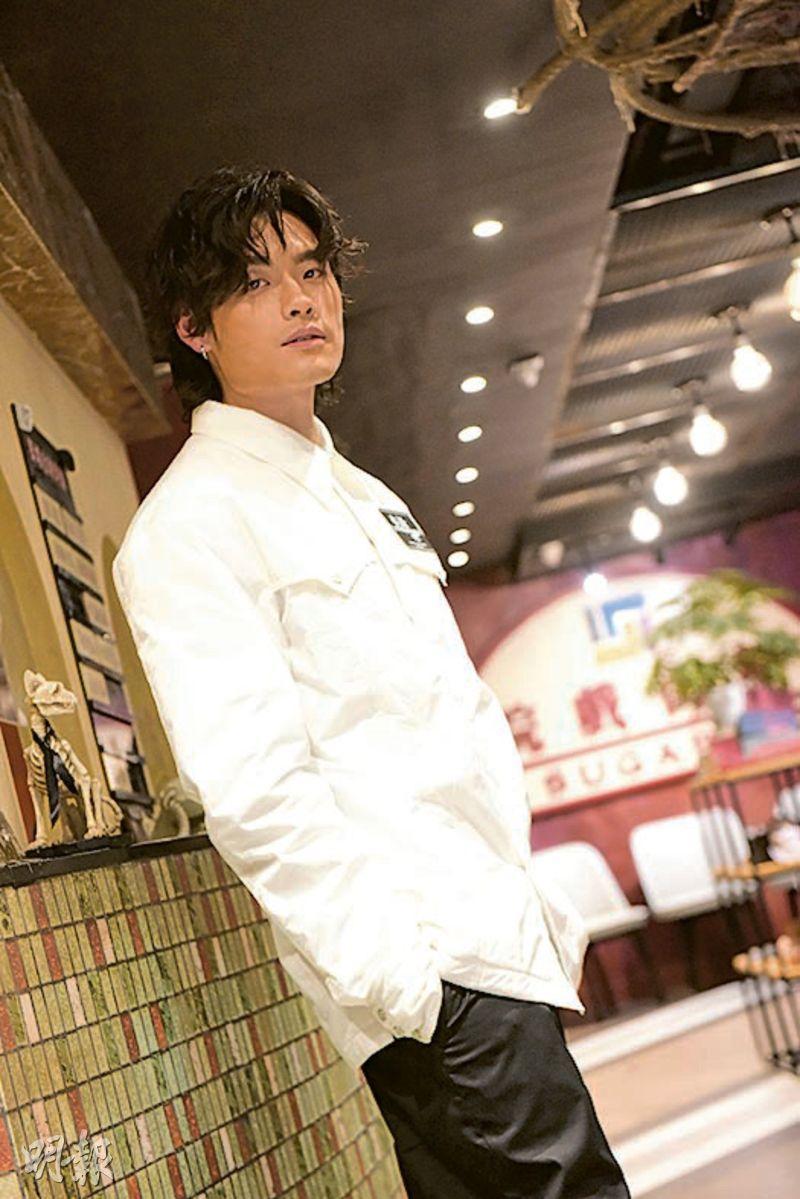 Wong Yat Ho does not have many scenes with Eric Kot but he feels satisfied just to be able to learn from the sidelines
courtesy of mingpao.com
Sunny Lau Yung's directing debut, the horror comedy SUGAR STREET STUDIO (TONG GAI JAI PIN CHONG), called in a favor and invited his "sifu" Eric Kot Man Fai to star. The film originally was scheduled for a Lunar 29th (February 10th) Lunar New Year release, but the government decided to extend the social distance restriction for two more weeks to February 17th. Cinemas were forced to remain closed and SUGAR was unable to open on time. Lau Yung admitted that he was a little disappointed, but believed that cinema owners would be even more helpless than he would be because cinemas still had to pay rent despite the business suspension. Thus he hoped that the government would let everyone relax a little during the Lunar New Year and make a little money.
About the cinemas' continual closure, Lau Yung said, "Of course I am a little disappointed, but the most disappointed aren't us. If I was in the cinema owner's shoes, I had to keep paying rent but property owners would not reduce rent. The government also shut down your boat. In terms of being helpless, cinema owners are more helpless than us. Sometimes for each position, as long as you do your best, you are fully prepared, wait for the opportunity and it's smooth sailing. Earlier someone guessed that since the flower market would be open, would cinemas open as well? Because the indoor dining ban now takes part after 6PM, has the pandemic improved? Have confirmed cases been reduced? Actually seemingly they have nothing to do with each other. Not just cinemas, all restaurants in Hong Kong are doing a show for God. Stores are open, all the lights are on but not a single customer is there."
Lau Yung said that many restaurants have been crying to help. "We wish from the Lunar 28th to the Lunar 5th, leave a few days for everyone to relax a little and make a little money. Everyone knows that 2020 has been quite a dead end for everyone. Without any more jobs, any more opening, I think the closing wave later would not be limited to just one business. It may be many industries, like beauty salons, gyms, and cinemas. I can only say, during this period everyone should work as much as they can. No one should look forward to anyone being able to help everyone. Thus we all should work hard."
Lau Yung said, "If entertainment stops, the business shouldn't be the only one that is stopped. Even property owners have to stop charging rent. Everyone have to stop together." He said that it would be impossible to just let property developers, construction and airport runway 3 to keep working. The property owner can just turn a blind eye and keep charging rent. How can the little people fight the property owners?" He even heard that some property owners took the opportunity to raise rent. Thus when the government forced the enforcement of gathering restrictions, it should also force property owners to stop charging rent. Everyone would feel that would be fairer, instead of just the little people footing the bill. "Do you think that when restaurants close, property owners wouldn't charge rent? If they are only open for half a day, would property owners charge just rent for half a day? No they wouldn't! Many beauty salons are paying rent for nothing; no more needs to be said about cnemas. (Raymond) Wong Pak Ming has to pay HK$ 6 million in rent a month. Property owners wouldn't talk to him about rent reduction, as he still has to keep paying rent. When these industries dry up, no one would operate them again and no one would invest in them again, many industries would dry up too. When everyone is trying to get over the pandemic together, property owners can care less. Many people feel that is unfair, almost all of Hong Kong are chipping in to help foot their bills." Lau Yung also stated that he already made alternate plans. Although SUGAR STREET STUDIO was unable to open in the Lunar New Year, he would still wait for the opportunity to arrive. "If cinemas won't open until next year, then I will wait for next year.' The film company Sun Entertainment Culture's CEO Jones said, "This plan originally was born only due to the pandemic, so projects that are messed up are already a part of the plan. our loss isn't real loss, the real loss is the Hong Kong film industry's loss."
Earlier Lau Yung and Kot Man Fai were interviewed. Ah Kot in the film played a mob boss who was swindled out of millions. His hot pot shop, being haunted, had poor business. Ah Kot said, "The roles I play in recent years all have mob flavor, but each time I play them seriously." Speaking of constantly playing pranks on his co-stars as his way to create comedic effect, Lau Yung chimed in, "Ah Kot is much more matured, he used to play for a full 26 hours. Now he only plays for 12 hours." Ah Kot complained that work was very dull, waiting on the set he had no playmate. Thus he directed his energy into helping his "disciple" Lau Yung and sharing his production stress. "It's rare to see people who I grew up with improve. He has his heart into it, he has fire, why not help him? I am just lending him a hand, helping him with igniting the fire and building the fire."
Lau Yung remembered returning to Hong Kong after studying photography and art courses in England, at age 21 he joined Ah Kot's creative company as the official photographer. In the brink of an eye they have known each other for 2 decades. He revealed that he admired Sifu for continuing to trying new things. Aside from on screen work, he made sofa, home remodeling, advertising. He realized creativity was not unidirectional. It could be placed in different areas. Thus whenever he was creating something big, including making short films, his first series, first film, he definitely would work with "Sifu" as he would feel more at ease. Ah Kot joked, "I am the king of breaking in virgins!" Lau Yung praised the value of Ah Kot. "He definitely does more than his actor job, I by chance give him the level one salary. He can still be seen in the film after being cut down to 90 minutes. In addition he is an experienced actor, with newcomers he serves the purpose of passing the torch. When I am busy, anxious, lacking in something, he would help and make up for it. For example (Wilfred) Lau Ho Lung played an old role, he forgot for a moment and appeared very fast in a wheel chair. Ah Kot would help and remind Ho Lung to slow down the pace and speed."
Ah Kot pointed out that Lau Yung was great with people, which got the team good catering but turned into comedy. "In the previous generation, there was only one sister at catering. At most director (Andrew) Lau Wai Keung would make soup for us, unlike Hollywood productions that had catering trucks. This time was very strange, we had no catering but had ample food. However the timing was a little off. Sometimes when we worked in Kowloon City, in 6 hours we had three snack breaks. Every two hours his friends would bring food to visit the set to support and service us. I got to be picky with what I ate." As a part of the cast, Wong Yat Ho did not have a lot of scenes with Ah Kot. He felt that being able to learn from the sidelines at work was already satisfying enough. "Actually earlier when we shot a video, I already had experience with how quick Ah Kot's wit was. Luckily I memorized the lines, otherwise I wouldn't be able to catch up." Actually Matthew Chow Hoi Kwong, Chloe So Hoi Yi, Hanna Chan were his main co-stars. Wong Yat Ho said, "So Ho Yi and I play a couple, the most intimate was only holding hands. Instead I came up with comedy with Chow Hoi Kwong more. The most memorable for me was being chased in the haunted house, running back and forth and I had to keep my acting in mind. I realized that being an actor a good physical condition is very important." Ah Kot joked, "Now you should understand, being an adult video actor is the hardest!"
As the pandemic persisted for over a year, Lau Yung said that the production began in November last year. The production only went for 10 days and wrapped up at the end of December last year. He also explained why it was scheduled for a Lunar New Year release. "The film being scheduled for a Lunar New Year release was just a coincidence. The truth is since the pandemic has endured for a year, I wanted to bring employment opportunities through the movie, let people know that the film industry is still operating, and urge the government to permit cinemas to operate. It would also provide domestic entertainment for Hong Kong people who have been unable to travel. Even the flower market can open with limits! Every year has only one money making week. If even this week isn't approved, businesses would close one after another. The worst is cinema closings. Being a front line actor is even harder, how can movies be made without any cinema?" As for releasing a ghost film during the Lunar New Year, he felt that going against tradition would be more viable. "Everyone thinks, would it be very strange? Over these few years what strange things haven't Hong Kong people seen, they would want to watch because the movie is strange! Last year I made a ViuTV horror series that had pretty good response. Maybe Hong Kong has been starved for a long time. In the past ten years it had no ghost film, not to mention a pure Hong Kong ghost film. In recent years co-productions requires inspections, actors are all unknown. This one uses domestic actors and maybe able to jump out."
In SUGAR the movie within the movie HAUNTED HOUSE MASSACRE uncovered an ancient urban legend's secret. Lau Yung while coming up the idea added in metaphors, bringing out that young people with dreams are the easiest to swindle, bosses being out of touch, and other ills of the society. He said, "This comedy was made for here, about the awkward situations in life. You have to live in this city to be able to understand. Today when we see young people, we say no budget like saying good morning. As they continue to operate in this city, when people of this era see the movie they would understand and laugh -- but it's a bitter laugh." Ah Kot chimed in, "This movie should be called The Cruel Food Chain!"