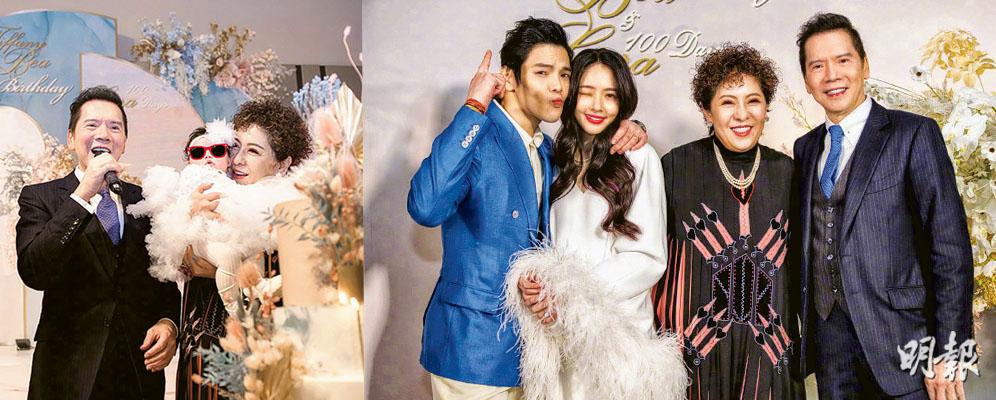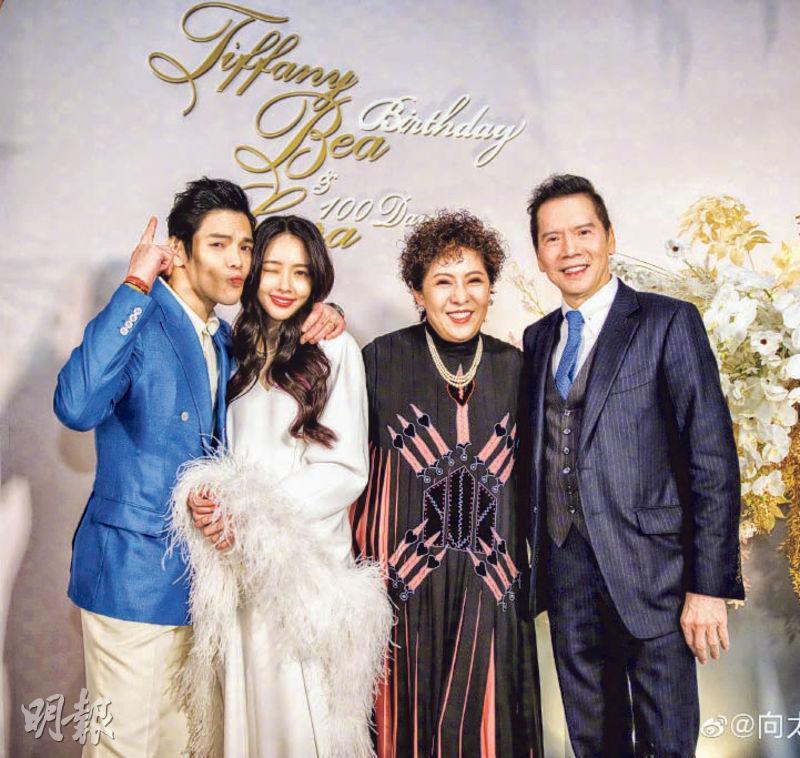 Jacky Heung (left)'s wife Bea Hayden (second left) and Charles Heung (right)'s wife Tiffany Chen (second right) are both from Taiwan. Father and son applied for immigration but were rejected.

Charle Heung on the 9th last month held a hundred day banquet for his granddaughter in Taiwan and invited 200 guests
courtesy of mingpao.com
China Star boss Charles Heung Wa Keung at the end of last year applied to Taiwan's National Immigration Agency for "immigration via family" with his son Jacky Heung Jor. Yesterday Immigration confirmed through related unit's review, under conditions that were not permitted under Article 22 of the "Regulations Governing Permits for People from Hong Kong and Macau Setting up Residence or Permanent Residence in the Republic of China (Taiwan)" the applications were rejected. According to Taiwan's Liberty Times, both applications were rejected on the basis of "threats to national security". Mrs. Heung, Tiffany Chen Lan, replied to the Taiwan media that one day the truth will come out. If possible they would apply again.
Heung Wa Keung's wife Chen Lan was born in Taiwan. Their son Heung Jor's wife Bea Hayden (Kuo Bi-ting) is also from Taiwan; last year Kuo Bi-Ting gave birth to their daughter Heung Chi (nicknamed Little Milk King). On the 9th last month Heung Wa Keung and his wife held a hundred day banquet in Taiwan for their granddaughter Little Milk King, invited over 200 guests including show business celebrities.
At the time Mrs. Heung Chan Lan posted happy photos from the hundred day banquet on Weibo and revealed that as a Hong Konger, Heung Jor was unable to receive a visa to Taiwan due to the pandemic, Until early September last year when he was able to Taiwan for work, he was able to get a marriage certificate in Taipei with Kuo Bi-ting. On October 1st Little Milk King was born. She even revealed that she and husband Heung Wa Keung arrived in Taipei in early September last year. Under the urging of friends they also got their Taipei marriage certificate 40 years later
VARIETY: Taiwan Denies Residency Visa to Pro-Beijing Producer Charles Heung