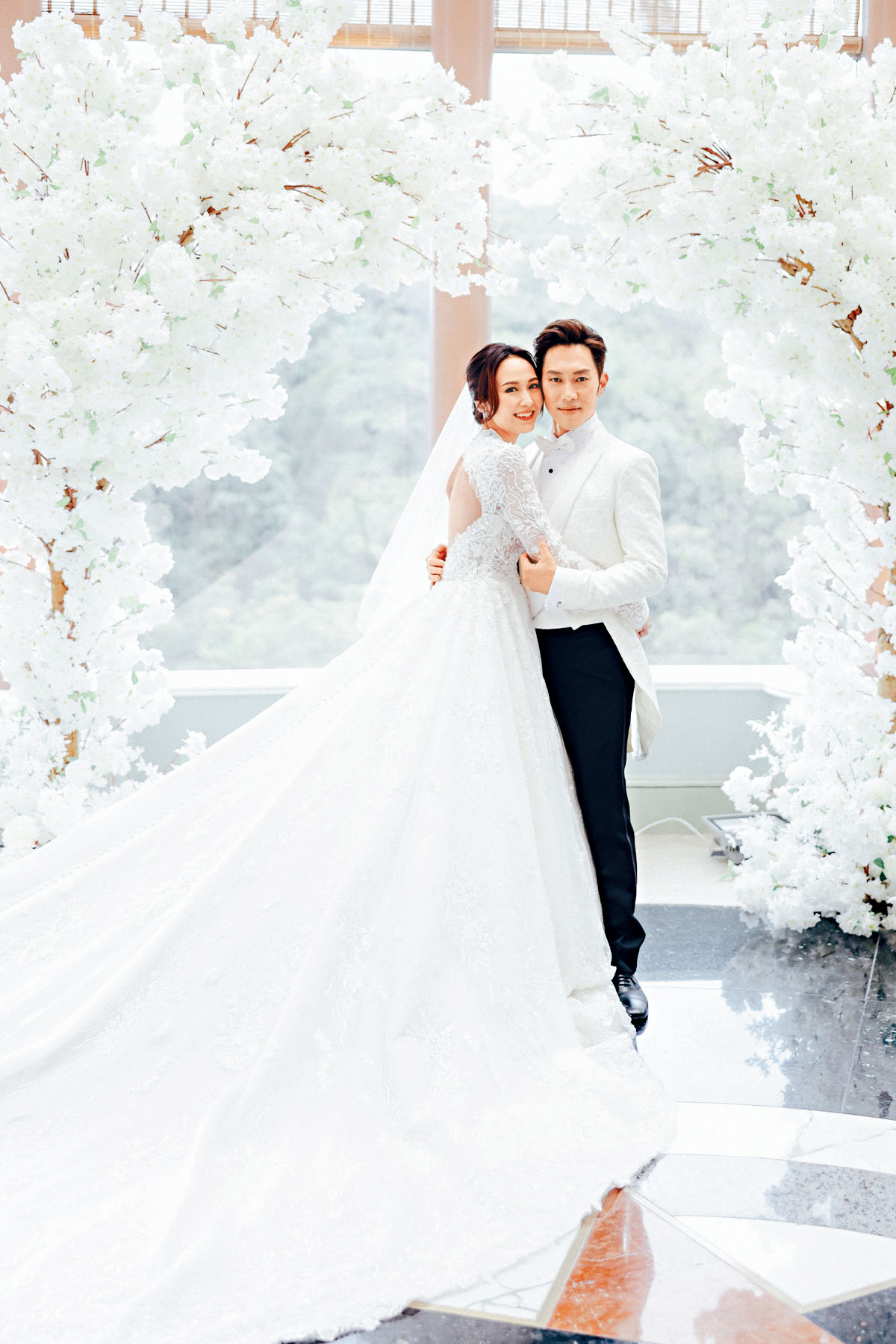 courtesy of singtao.com
Kathy Yuen and Maverick Mak hold hands as they meet the press
They kiss per the media's request
The bride wears gold all over, among the jewelry the "meteor hammer" has the most caliber
Aaron Kwok attends the wedding and even advises the groom to be a good husband and father
Albert Yeung and Emperor executive Hui Pui Si attend the wedding
courtesy of on.cc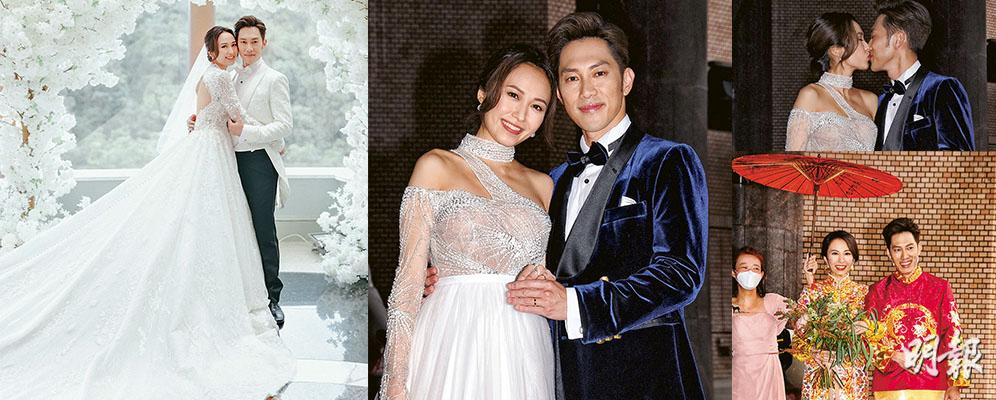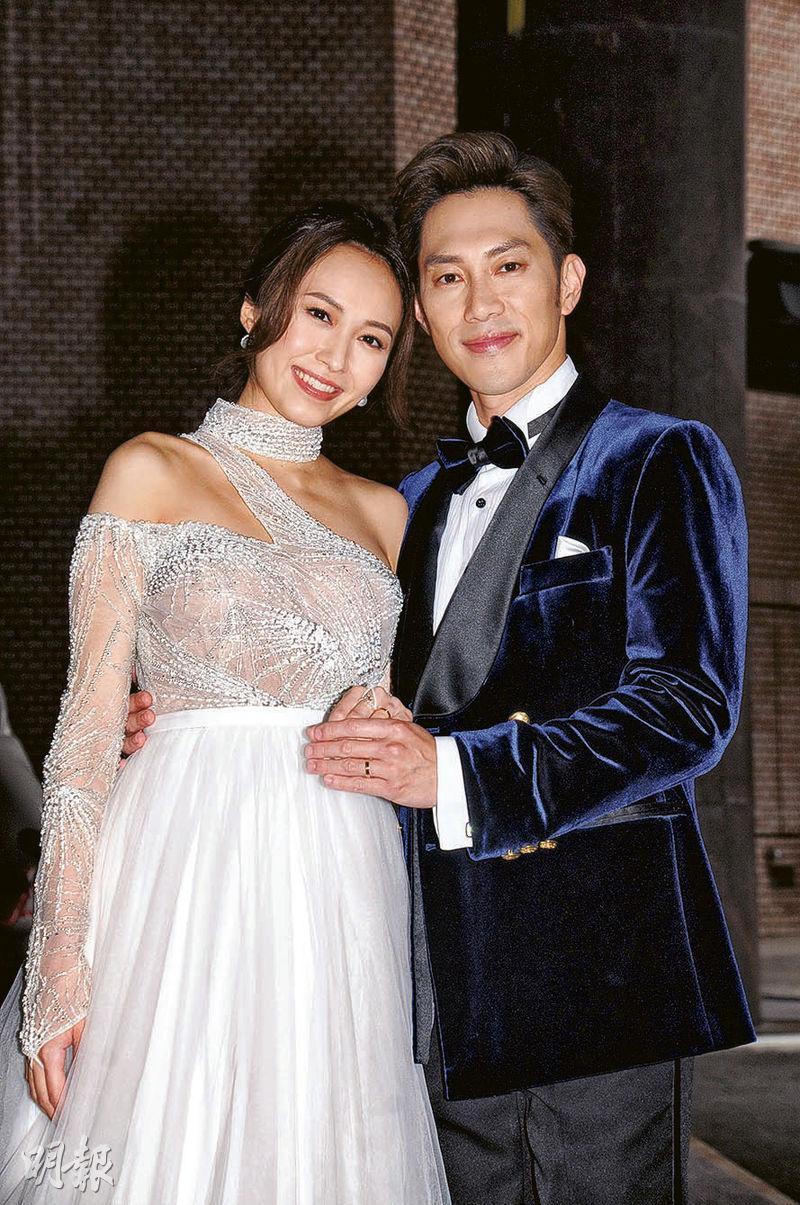 A new couple makes a vow of love. Maverick Mak says he loves Kathy Yuen for life.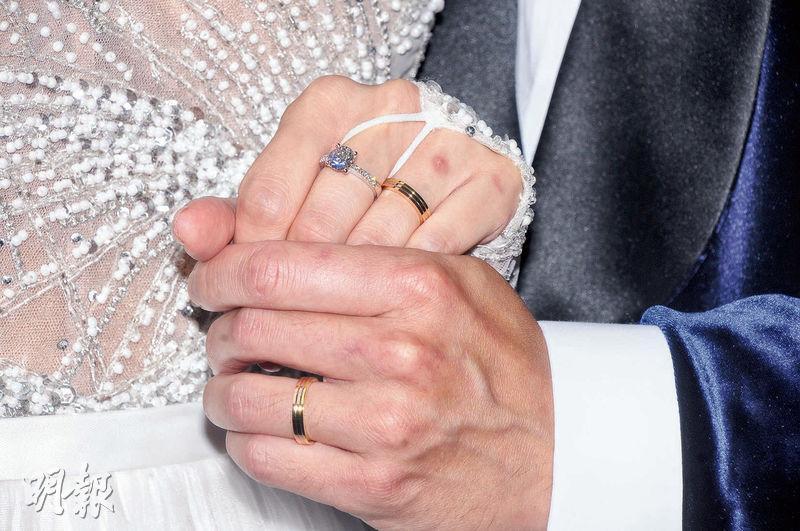 Kathy Yuen wears both a wedding ring and a 2 karat engagement ring.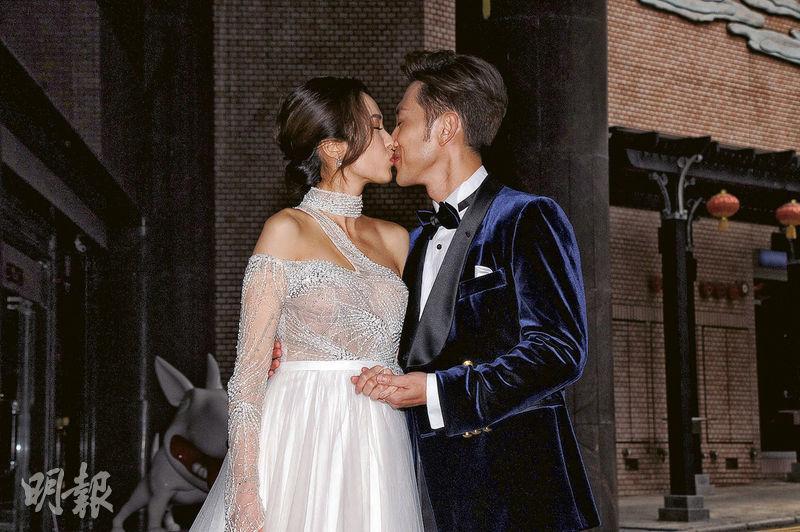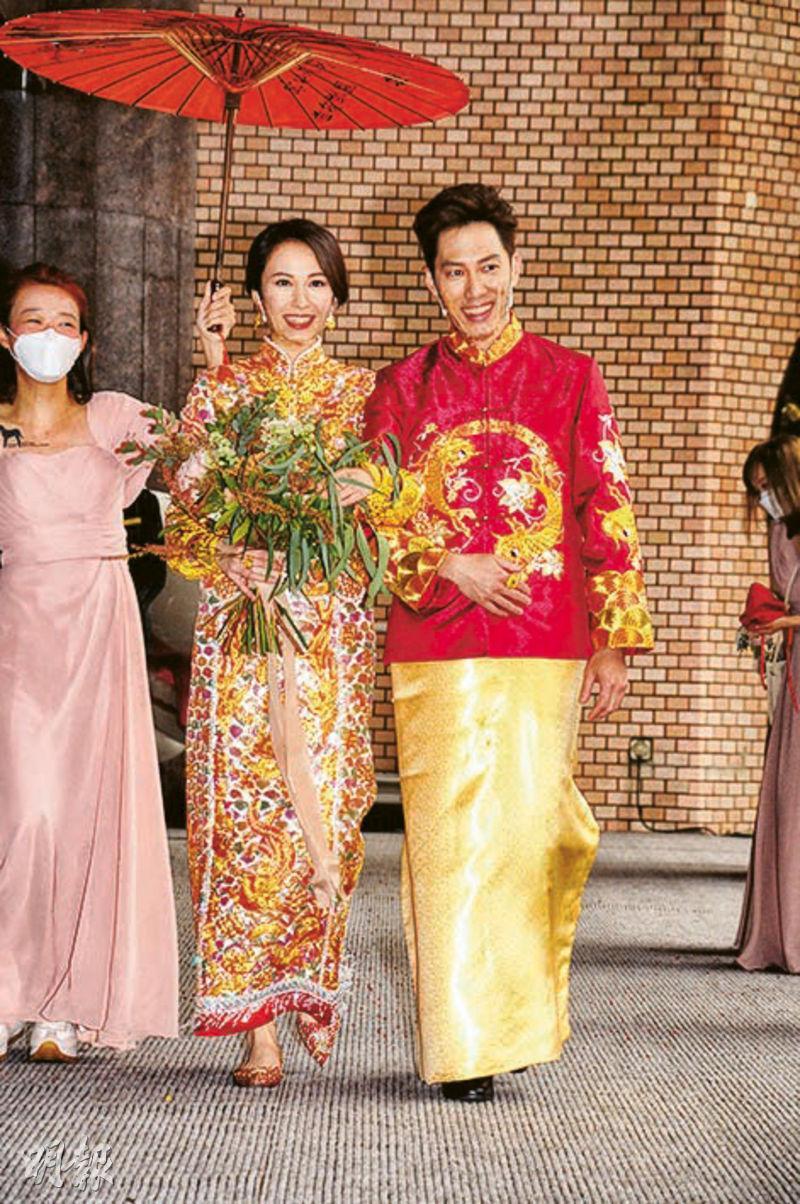 Kathy Yuen is all decked out in gold and she and Maverick Mak walk out in their traditional Chinese wedding costumes. Regen Cheung carries the red umbrella for them.
Kathy Yuen wears a royal wedding gown, which took over 280 hours to make with hand sewn crystals and pearls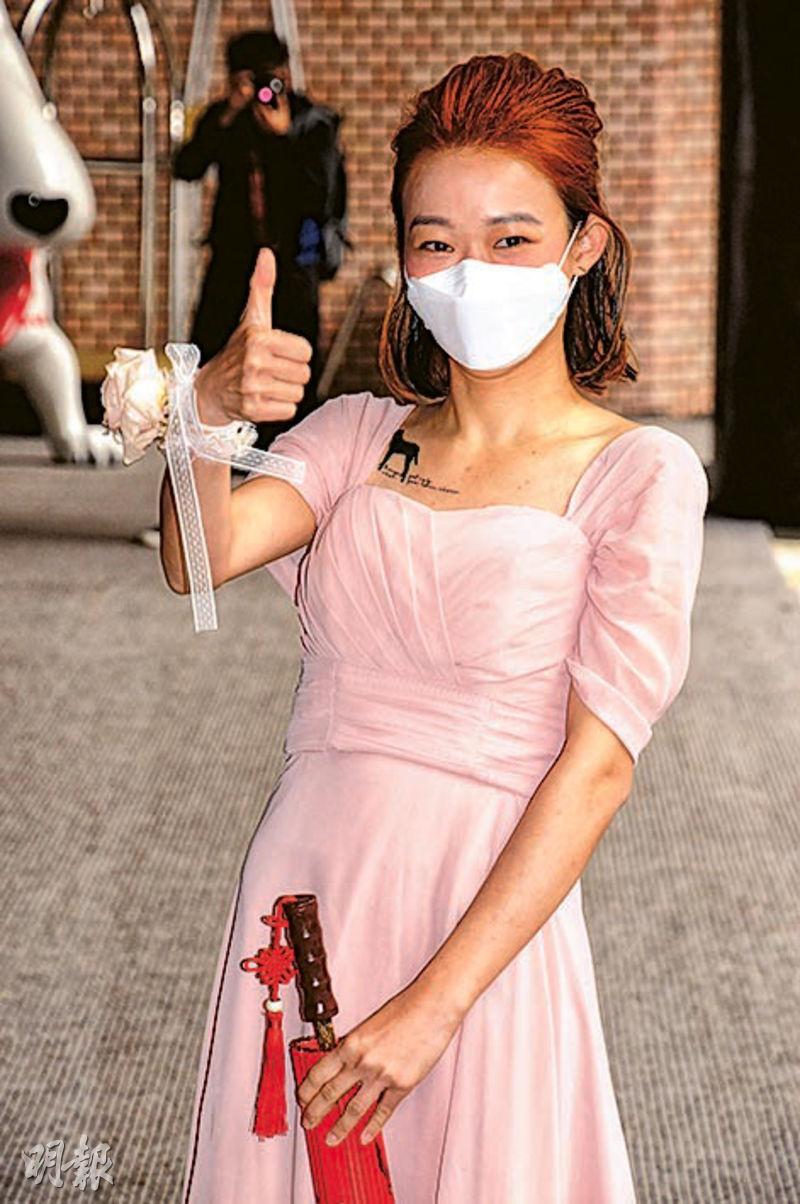 Regen Cheung is the maid of honor and wants to be the godmother to Kathy Yuen's baby
Aaron Kwok is happy for Maverick Mak and personally attends the ceremony to congratulate him
Emperor boss Albert Yeung gives Kathy Yuen a super heavyweight bracelet for her wedding
courtesy of mingpao.com
Kathy Yuen (Tong Yi) and Maverick Mak Chau Sing held their wedding ceremony yesterday on the Lantern Festival. Although due to the pandemic they were unable to hold a large banquet as only around 80 members of the family and friends were invited to bear witness, Tong Yi received a personal attendance and the largest dragon and phoenix bracelet from boss Albert Yeung Sau Sing. Her parents wanted more grandchildren so they kept turning her bracelets. The newlyweds would like to wait until the baby's one month banquet to celebrate with family and friends again!
Yesterday was Tong Yi and Mak Chau Sing's big day. They chose to hold their wedding certificate signing ceremony on the Lantern Festival. Around 10AM, the new couple wore Chinese wedding costumes and went for a ride from their wedding venue in the bridal vehicle. Before departing the groom kissed his wife with the mask on twice. 30 minutes later, the couple returned to the venue to prepare for the registration ceremony. Amigo Chui Kin Bong was the master of ceremony. Guests included Emperor group chief Albert Yeung Sau Sing, Emperor Music CEO Hui Pui Si, Emperor Entertainment artist management general manager Lester, Aaron Kwok Fu Sing, Siu Mei, choreographer Sunny Wong, Elaine Lok Yi Ling, Kan Man Dik and Dear Jane member Jackal.
Attending Tong Yi and Mak Chau Sing's wedding ceremony, Kwok Fu Sing happily said that he watched Mak Chau Sing grow up. Mak helped him with concert before, and slowly developed from there. He was very happy to watch him grown. Mak's wife Tong Yi worked with Sing Sing on the film COLD WAR (HONG JIN), at the time she even played his secretary. Recently they also worked together on DISCONNECT'D (DUEN MONG). Their wedding was a joyous event and he had to come. As for his gift, Sing Sing said that lai see would be better, as they could buy whatever they wanted. Did he give them any marital and parenting advice? Sing Sing said, "They are with child, today is their big day and they are very busy. I would wait until I see them again to start talking about being a Papa. That would be the happiest. (Did you remind him to take care of his wife?) Definitely."
Around 4PM, Tong Yi in evening wear came to meet the media with her husband Mak Chau Sing, a wedding ring and a 2 karat engagement ring. They kissed twice per the media's request. When asked about the baby's gender, she kept mysterious and said that the answer would be revealed later. She would not mind either sex, Chau Sing joked, "Twins would be great!" Tong Yi revealed that her parents and family all said that her belly after four months was larger than usual. She also said that she really wanted to raise her baby herself, but after maternity she would have to prepare to return to work at anytime. Chau Sing anxiously told her rest before returning to work. As for whether they would have another they would leave it to Heaven. Tong Yi joked hat her parents turned dragon and phoenix bracelets five or six times, symbolizing how many children they would have. Albert Yeung Sau Sing also gave her the largest dragon and phoenix bracelet on her arm.
They both cried at the wedding ceremony. They admitted that it had many touching moments, especially their loving words for their parents. When they saw their parents they already cried. Chau Sing received the family heirloom from his parents, a gold ring that came from his maternal grandmother to his father to him. Mama gave him a gold chain that she secretly bought when he turned 18. As for the vow, Chau Sing revealed that he said "I love you for a lifetime". Tong Yi said that everyday has been like a dream after meeting her husband. She was very happy that he appeared and praised him for his patience and tolerance of her.
Under the pandemic the wedding ceremony could not invite too many guests, as 80 some members of the family and friends were in five halls. Chau Sing only invited a group of choreographers, and was unable to invite many artist friends. Fellow dancers were only notified online. Thus he hoped that later he would be able to have a wedding banquet. Tong Yi would like to wait until after having the baby at the end of July and getting back into shape. Chau Sing pointed out that having the baby's one month banquet at the same time would be the best.
Tong Yi's wedding gown look was praised as her sexiest in her career. Chau Sing joked that the most important was for his wife to be pretty. The newlyweds performed all the traditional wedding ceremonies. Two nights ago they each performed the traditional hair ceremony and each posted on social media photos of their dragon and phoenix candles. Chau Sing thanked his family for their love and care as all the emotions rushed to his heart. They also posted their wedding photos at the same time. Wearing masks they held hands and loving stared at each other. The pregnant Tong Yi's belly was not showing yet in the photo. They posted, "Tomorrow our ceremony will officially take place. Having a wedding under the pandemic isn't easy at all. Due to the gathering restriction order, guest numbers are limited. We wish that the pandemic would pass soon, then we would hold a large wedding ceremony and invite all the family and friends." Friends posted their blessing, Bob Lam Sing Bun even wrote on Mak Chau Sing's social media, "Waiting for you to seriously get hammered once."