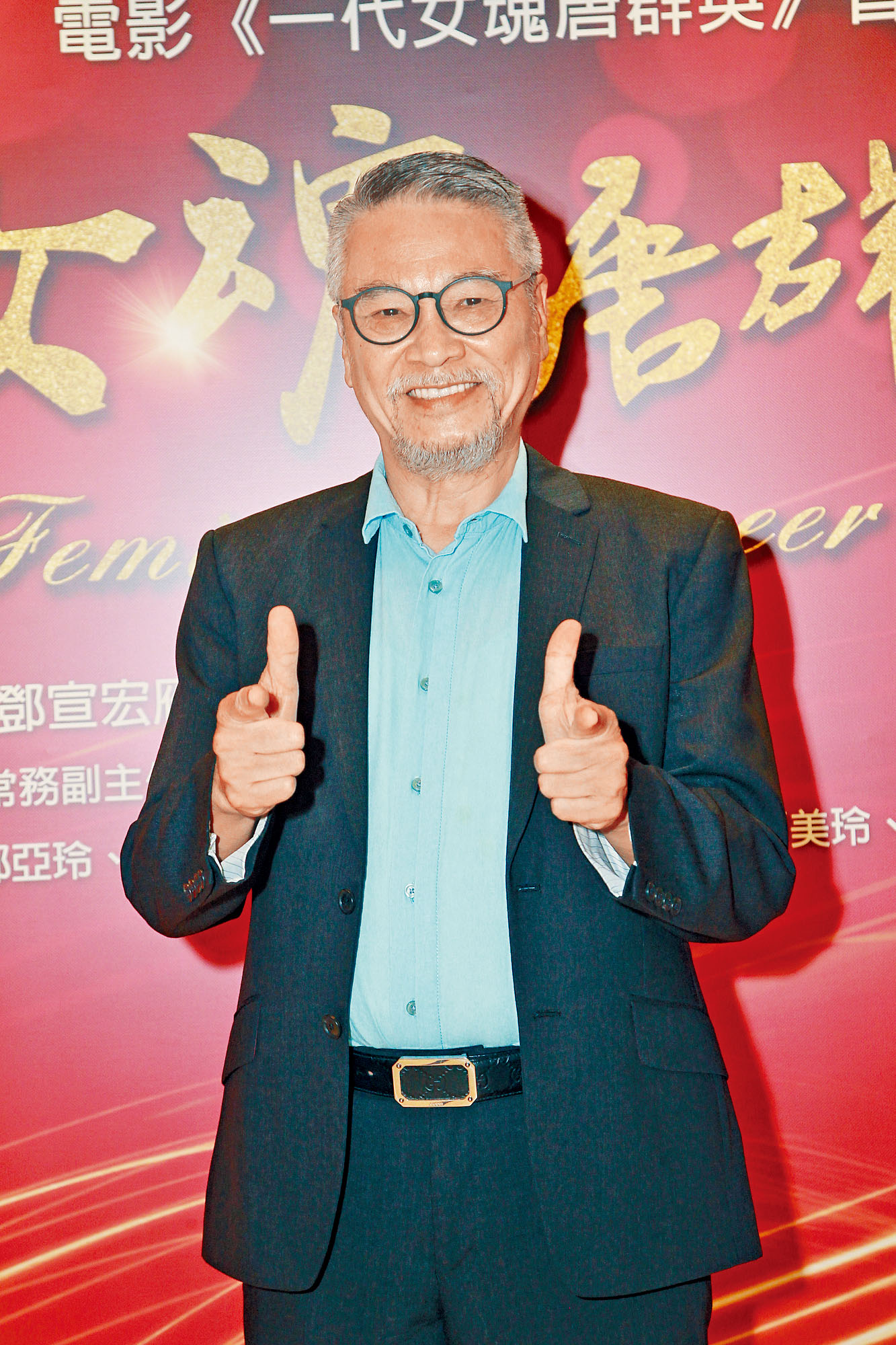 Comedy star of a generation Ng Man Tat passed away yesterday at age 70.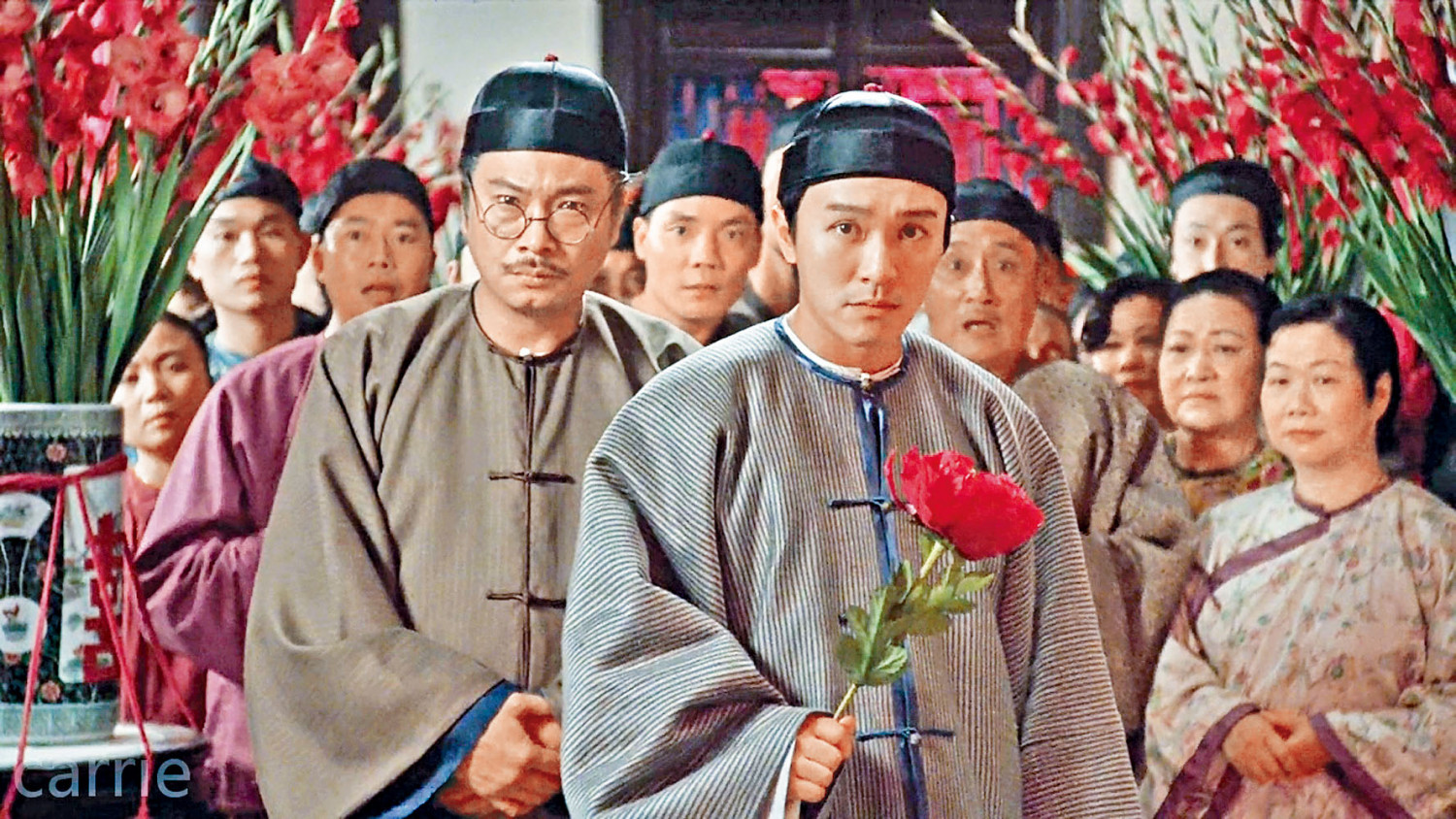 Ng Man Tat left behind many comedies, almost every one with Ng Man Tat was a classic like HAIL THE JUDGE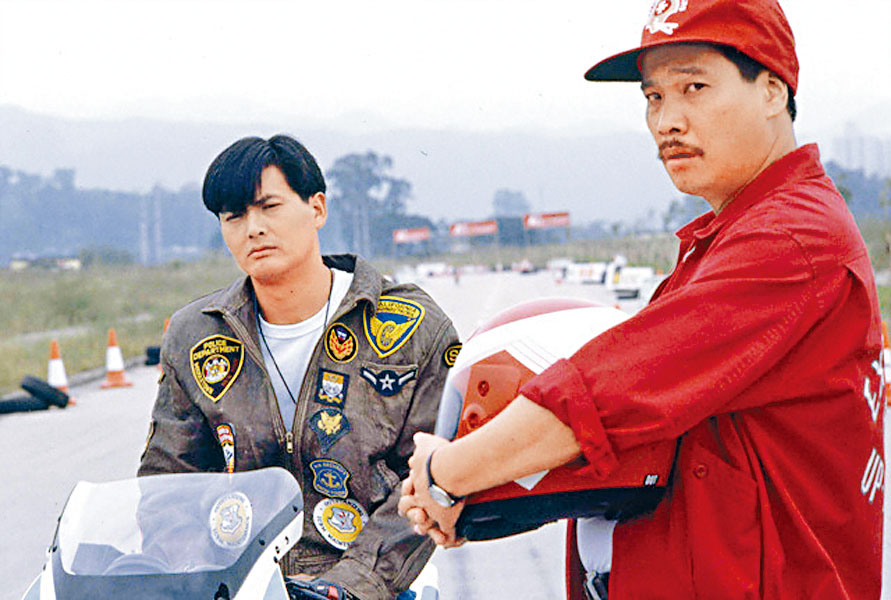 Chow Yun Fat and Ng Man Tat were TVB training class classmates. Once because Fat Gor was unwilling to lend him money, Ng hated him. They were in the film ALL ABOUT AH LONG.
courtesy of singtao.com
Ng Man Tat's work brought a lot of joy to Hong Kong. His smile would always remain in people's hearts
Tin Kai Man goes to the hospital to see his friend for a final time
After SHAOLIN SOCCER the golden team went their separate ways
Ng Chi Hung met with Ng Man Tat and his current wife Hou Shan Yin
Ng Man Tat won a Hong Kong Film Award with A MOMENT OF ROMANCE but unfortunately he was not able to accept it in person.
courtesy of on.cc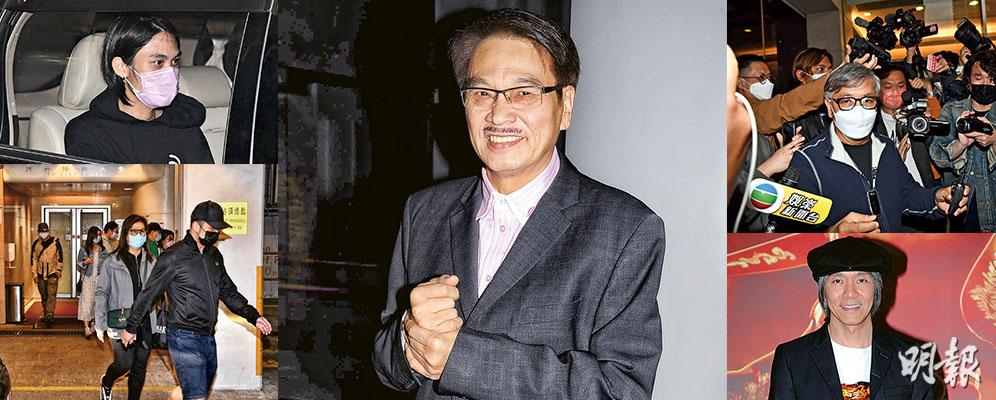 Ng Man Tat had liver cancer. When his condition deteriorated he was rushed to the ICU. He passed away yesterday afternoon with his family by his side.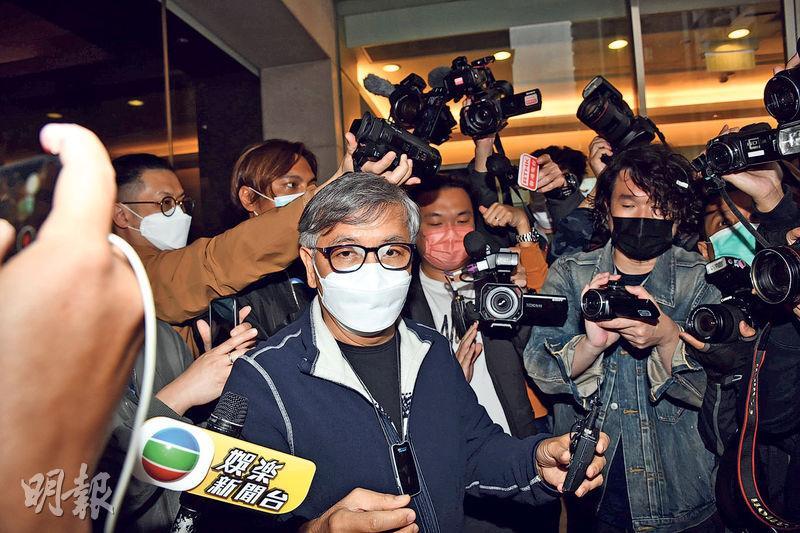 Tin Kai Man revealed to the press that Ng Man Tat passed away peacefully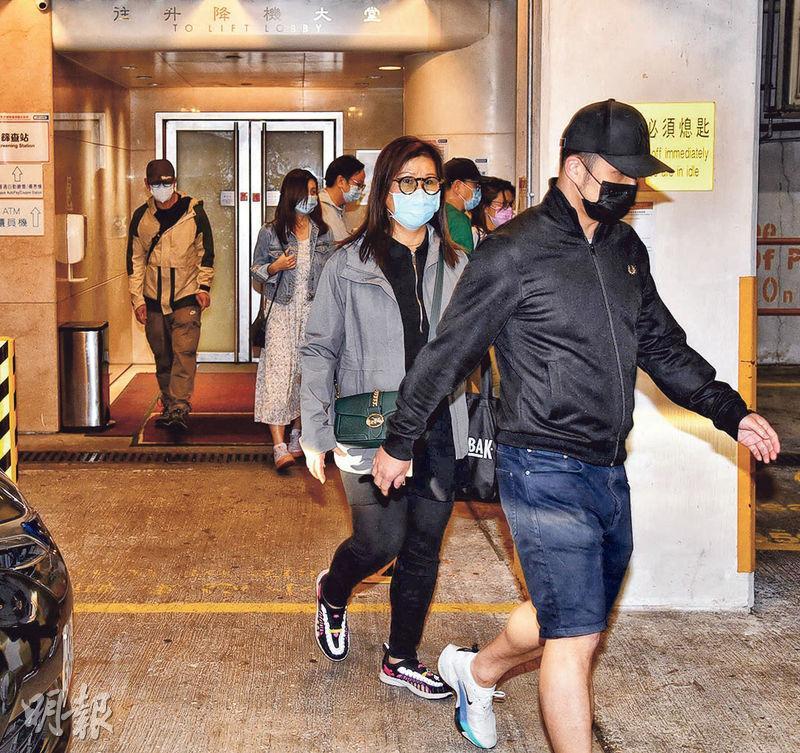 Ng Man Tat's friends and family left the hospital last night
Ng Man Tat's son Ng Wai Lun
Ng Man Tat held his chest and appeared to be in pain whether working on a film poster earlier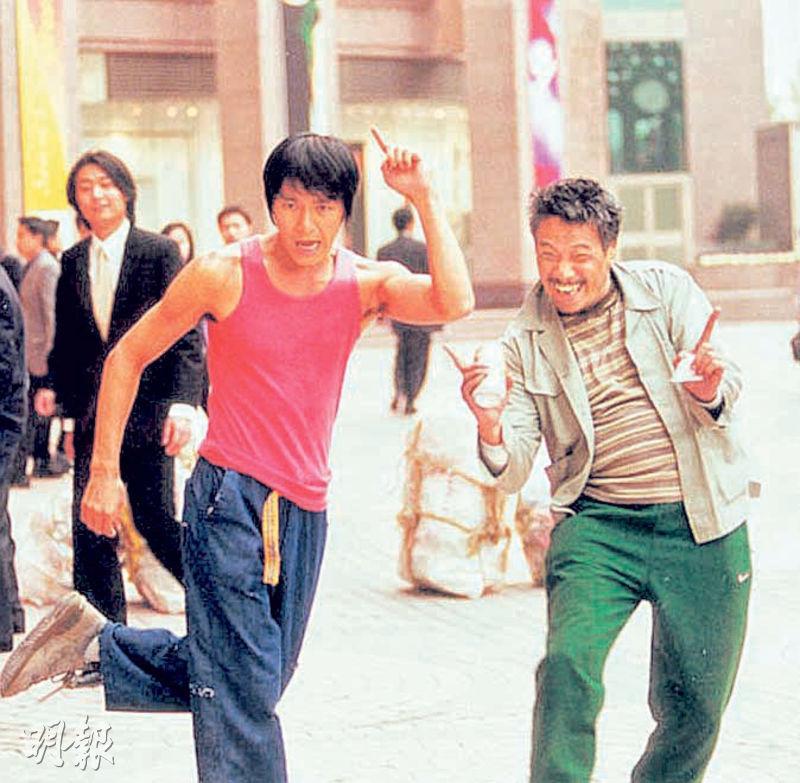 Stephen Chow still cannot accept the news of Ng Man Tat's passing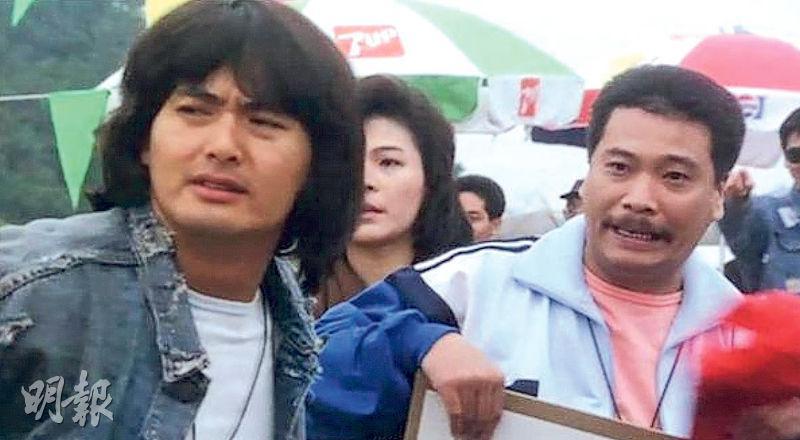 Chow Yun Fat wishes Ng Man Tat a safe journey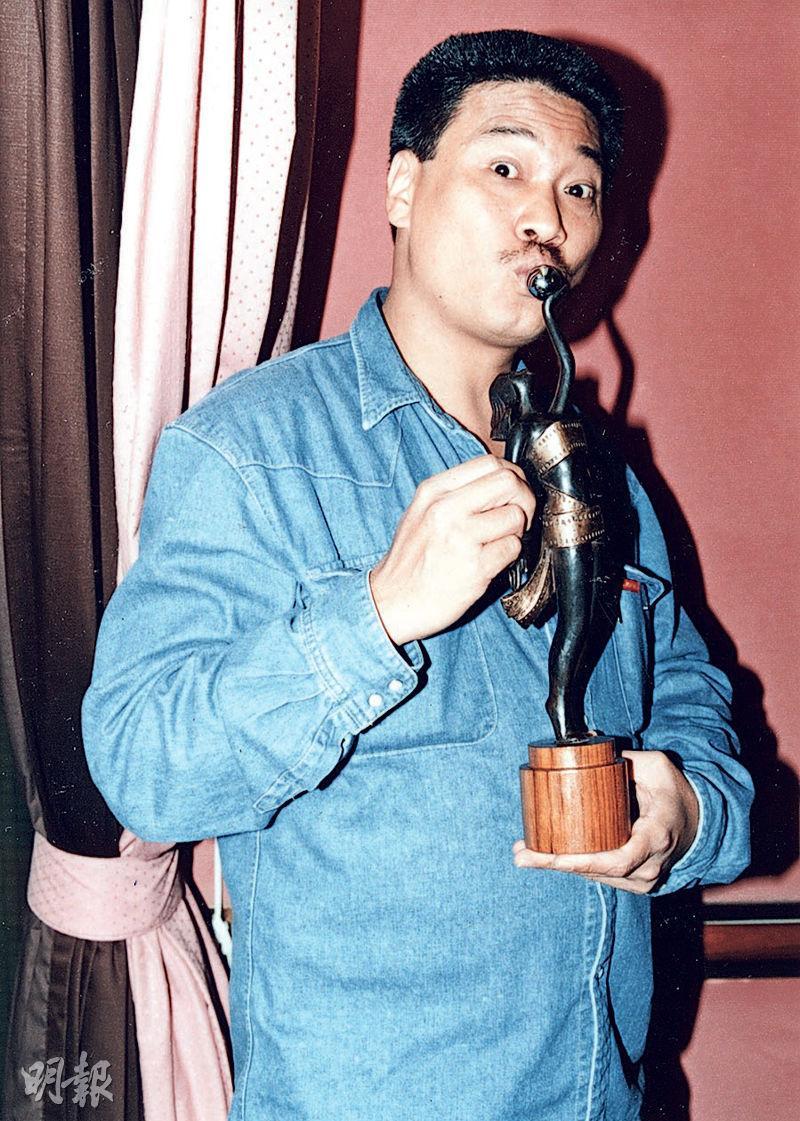 Ng Man Tat won the Hong Kong Film Award Best Supporting Actor with A MOMENT OF ROMANCE

Ng Man Tat had tough wire work for THE WANDERING EARTH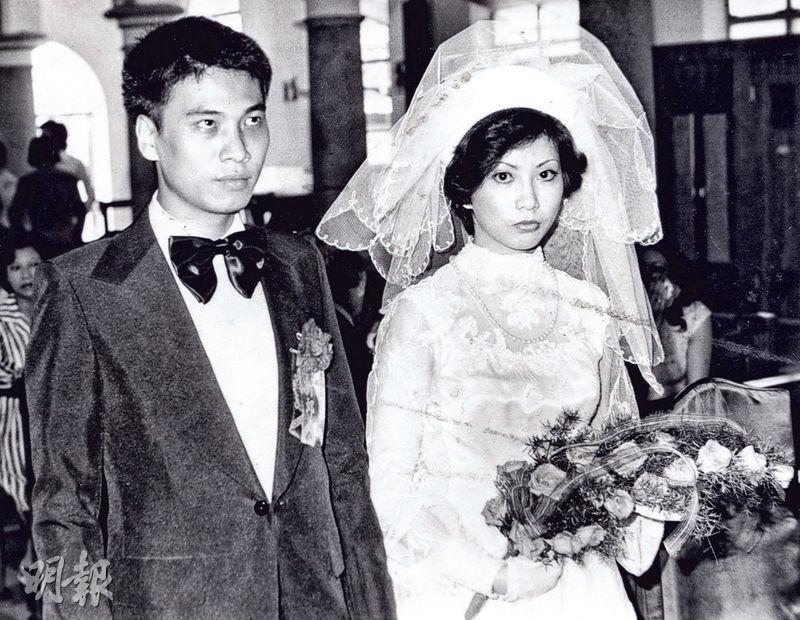 Ng Man Tat and his first wife Mak Lei Lei wed in 1976
Stephen Chow and Andy Lau are saddened by Ng Man Tat's passing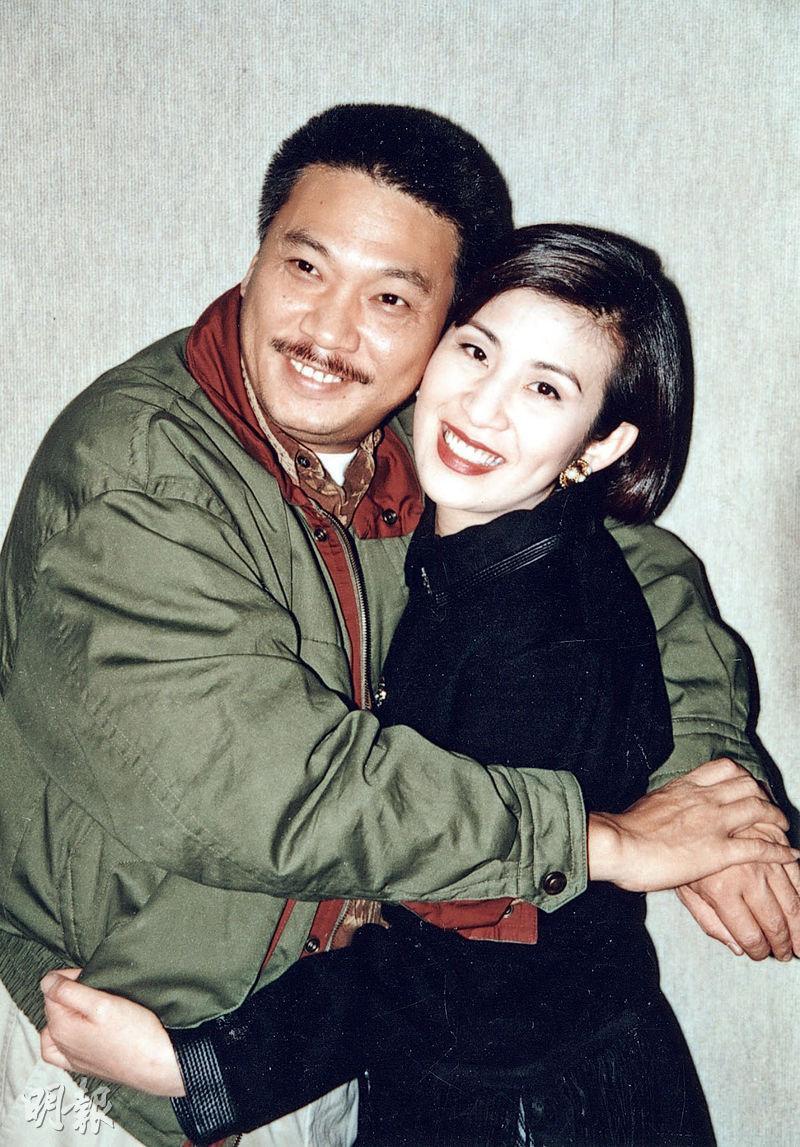 Sandra Ng says Ng Man Tat was a great teacher and co-star
courtesy of mingpao.com
Known as "Brother Tat", veteran actor Ng Man Tat due to liver cancer accepted treatment a month ago. Under suspicion of the cancer cells spreading he was again hospitalized for chemotherapy. Yesterday the condition turned critical and he was rushed to the ICU, by the evening he succumbed to cancer as he passed away in the company of his family at age 69. Brother Tat and Stephen Chow Sing Chi teamed up to create many "god class" comedy films, his supporting characters were wildly popular. Chow Sing Chi upon learning the passing sadly said, "I still can't accept it."
Brother Tat had heart failure early on. In recent years his health was often rumored to be changing. Earlier when he worked on the poster for the film THE LEGEND OF SHAOLIN TEMPLE, he suddenly felt chest pain and often massaged his chest with his hand. Later he promoted his new film on a Mainland variety program, which was Brother Tat's final public appearance. Brother Tat early last month revealed his illness through friends. His wife also came from Malaysia to take care of him in Hong Kong. On the 20th Brother Tat was rumored to be secretly hospitalized at the tumor ward. That day Brother Tat's friend Tin Kai man revealed that Brother Tat already had surgery and passed the critical period.
Yesterday Brother Tat's condition was rumored to be deteriorating. Brother Tat's mother, wife, children and those closest to him yesterday morning arrived at the hospital one after another to keep on company on his final journey. Friends Tin Kai man, Lok Ying Kwan, Ai Wai and others rushed to the hospital to see him for a final time starting at noon. Ai Wai after the visit revealed that Brother Tat was already intubated and started his morphine drip. Yesterday dopamine was used but he remained in a coma. Ai Wai described him as "like he was asleep". At the time Ai Wai wished that Brother Tat would be able to come out of it, but Brother Tat passed away at 5:16 PM at age 70.
Tin Kai Man in the afternoon appeared outside the hospital and informed reporters the news of Ng Man Tat's passing. He pointed out that Brother Tat passed away peacefully. Details of his funeral have yet to be discussed but one would definitely be held. The family granted him full rights to be the representative. Those in the business reached an agreement to hold a memorial for him and details would be announced later. He also said that Brother Tat had savings in recent years, financially he did not have any problem. Many in the business earlier already announced the news of Brother Tat's passing. Tin Kai Man said that he had no idea where their news came from, and he did not understand why they would do that. However announcing untrue information would affect the family. As for a reporter taking photos outside the room, Tin Kai Man pointed out that the matter will be handled later but he did not know who the person was. He hoped that the media would respect the family and not to disturb others just to get the story.
Before Brother Tat's passed, Tin Kai Man also spoke about Brother Tat's condition. He revealed that Brother Tat's wife, children and family were keeping him company. As for whether Chow Sing Chi knew about Brother Tat's condition, Tin Kai Man said that he notified him. Chow Sing Chi has been very concerned about Brother Tat's condition, and thought about ways to treat him. Unfortunately the condition deteriorated too fast. Tin Kai Man also revealed that Lord Sing's sister visited at the hospital, but he did not want everyone to put the focus on Lord Sing.
Reportedly, Chow Sing Chi upon learning Brother Tat's passing was very saddened. He pointed out, "Brother Tat's illness came fast and went fast. He was my partner and friend for so many years, right now I still can't accept it."
Ng Man Tat passed away yesterday. His former film co-star Cheung Man asked the press about Brother Tat's condition yesterday morning, never expecting that by the evening Brother Tat was already gone.
Cheung Man was very saddened by the news. She was choked up as she said, "Very sad, very sad, I only found out about Uncle Tat's illness several days ago and I kept notice. I knew that Tin Gai (Tin Kai Man) said that his hospitalization was not a big deal, but I asked brothers to pray for him. I never thought it would be so soon......" Cheung Man continued, "When I first started in the business I already worked with Uncle Tat and Sing Jai (Chow Sing Chi). Our relationship has always been great. I haven't made movies for so long, and I very rarely saw Uncle Tat. Last month I suddenly thought of Uncle Tat, so I texted him but he didn't reply. Maybe he was already in recovery." Cheung Man also thanked Brother Tat for his lessons. "When I started we worked together on many films. He really taught me a lot. I learned from him the attitude that a professional actor needs." Cheung Man said that she already prayed for Brother Tat, which was a little something that she was able to do for him.
Having worked with Brother Tat on A MOMENT OF ROMANCE, TRICKY BRAINS, LEE ROCK among other films, Andy Lau Tak Wa was saddened. "Brother Tat is gone. Where Brother Tat is there is no illness and no worry. Have a safe journey!"
Sandra Ng Kwan Yu said, "I am very heartbroken, it's too sudden. When I was working with him the most, he really was a great teacher to me, a friend I could talk to, a good co-star, I am very grateful to Brother Tat and I would miss him!"
Daniel Chan Hiu Tung played father and son with Ng Man Tat in THE LUCKY GUY (HUNG WON YUT TIU LUNG). They worked together again on a Mainland film two years ago. Tung Tung posted a photo with Brother Tat. "I would remember what you said, to never hand in poor work, to always cherish every expression in the performance. I respect you very much, deeply miss you, and am grateful to have met you!" Tung Tung revealed that earlier he and Brother Tat constantly had contact. Brother Tat really took care of the younger generation. During the shoot he would text everyone good morning. Tung Tung said about Brother Tat's passing, "Sad! I am very sad!"
Simon Yam Tat Wa knew Brother Tat for years. He remembered that the first time they worked together in the 1988 film TIGER CAGE (DUT GAING TOH LUNG). Brother Tat's performance method and attitude toward life taught him a lot. Thus while making movies he would always think of him. Brother Wa pointed out that Brother Tat brought the audience endless joy and a certain milestone on the film industry. "I really miss him. I wish Brother Tat a safe journey!"
Christy Chung Lai Tai posted a photo in remembrance. "Seeing this photo I remember when we made LOVE ON DELIVERY (POR WAI JI WONG), our big family was both professional and joyful. Now that Brother Tat is gone.....my condolences to your family. We need to cherish those in front of us and live everyday well! I miss you Brother Tat! Let's work together again in the next life!"
Nancy Sit Ka Yin sadly said that the first time she worked with Brother Tat was in the film that she and Michael Lai Siu Tin wrote and directed, DOG BITES DOG BONE (GAU AU GAU GWUT). She really thanked Brother Tat for giving a lot of suggestions while making the film. The second time they worked together was on the film GOD OF COOKERY. She felt that only Brother Tat was able to achieve many of the comedic spots. She then understood when he and Chow Sing Chi were so well matched. Working with Brother Tat also benefit her a lot. She said after making the movie she and Brother Tat had contact again. "Earlier I didn't know he was ill, I only knew that he was much thinner. So when I heard he was hospitalized for liver cancer, I was very upset. In March last year, Brother Tat originally agreed to appear on CANTOPOP AT 50, but at the time he was in Malaysia. He even said that after the pandemic he would come back and appear on the program." Brother Tat's TVB training class classmate, Tang Ying Man said that they met in 1973. He mentioned in the ENJOY YOURSELF TONIGHT group that he considered make a special for Brother Tat in his memory. He felt that birth, aging, illness and death were all arranged in Heaven. Earlier when he saw Brother Tat kept taking morphine shots he knew how much pain he was in. May he rest in peace. He hoped that Ng would met their late classmate, director Ringo Lam Lan Tung, in heaven. He also said that they used to have gathering once in awhile and Ng Man Tat fought to pay the bill every time. Another TVB training class classmate Chow Yun Fat responded, "Brother Tat, have a safe journey!"
Athena Chu Yan said, "He was a great actor, well worthy of other's respect. Back then when we worked together I was still new, and we were working overseas. He told me to eat with him at every meal. I really miss him."
Ng Chi Hung said, "A year ago we had dinner together. The most important is that he passed peacefully. I originally planned to return from the Mainland to visit him. (Any regret?) No, life and death is hard to say."
Wong Yat Shan said, "He was very easygoing. He made movies because he wanted to bring the audience joy. I hope that everyone would remember him."
Miriam Yeung Chin Wa said, "We grew up with his work. He was a very talented and humorous elder. I was very fortunate to have worked with him."
Jeana Ho Pui Yu said, "He was very kind. He would talk about how to study a character. He taught me a lot."
Always concerned with the Hong Kong cultural and show business scene, Kenneth Fok Kai Kong also expressed that Ng Man Tat's movie videos cured his homesickness while studying abroad. He thanked Brother Tat for growing up with him and wished him a safe journey. After working with Brother Tat for years, Kingdom Yuen King Tan and Lam Tsz Chung admitted that Brother Tat would often help young generations. His passing was a loss to show business, and they regretted that they would never work together again.
Lam Tsz Chung (Chubby Chung)'s first film in the business was SHAOLIN SOCCER with Brother Tat. About Brother Tat's passing, he sorrowfully said, "His illness came very suddenly. Although I was mentally prepared I would definitely miss him. The first time I worked with Brother Tat was SHAOLIN SOCCER. Then we on and off worked together on 7 or 8 movies. Brother Tat treated me like a nephew. He taught me a lot. Now when I make movies I would think if Brother Tat was in the role, how would he play it." Chubby Chung said that last week he would return to the quarantine in the Mainland to prepare for work, but he would try to make time to return to Hong Kong to attend Brother Tat's funeral.
As for being unable to visit Brother Tat at the hospital, Chubby Chung said that half a month ago he originally thought about visiting Brother Tat, but because he was not family the hospital did not permit the visit. In addition Brother Tat just had a major surgery and treatment that day, he was very tired. Thus he was unable to see Brother Tat.
Chubby Chung revealed that originally in December last year he had a chance to see Brother Tat, but unfortunately they never did. "Originally I wanted to ask Brother Tat make TEN BROTHERS, to play the ten brothers' Papa. Brother Tat as very interested. I was making a movie in Shenzhen a the time and thought about meeting him about the new film. I only had a few days left before the production wrap, then Brother Tat went to Macau. Because he was ailing he then went to Hong Kong. I never thought......" He said that for the new film he originally planned to have Brother Tat and Kingdom Yuen King Tan as its stars and start production in April or May in the Mainland. Now that Brother Tat passed, he would set aside the plan. Was the new film tailored for Brother Tat? Chubby Chung said, "Brother Tat said never ever tailor for him. He only performed because he loved acting. When I wrote the script I deliberately wrote the role differently from Brother Tat's previous ones. Brother Tat was very interested, so we were talking about scheduling issues."
Yuen King Tat worked with Brother Tat countless times. She responded that she really missed him. She praised Brother Tat as willing to help the younger generation and even teach them about life. She would always remember the life lessons he taught her. In the business everyone would raise their thumb when Brother Tat was mentioned. Thus she thought Brother Tat's passing was not just a film industry loss, but show business also lost a great teacher and friend.
Danny Chan Kwok Kwan was very sadden by the news of Brother Tat's passing. "Brother Tat's lessons will be useful to me for the rest of my life. He took great care of us younger folks. The last time I saw him was in October last year. I dined with Brother Tat in Beijing, at the time he was still in decent spirit."
As everyone knows, Ng Man Tat was Chow Sing Chi's "gold label green leaf". His credit in creating a "Mo Le Tau Dynasty" for Lord Sing could not be ignored.
They have already begun working together at TVB, on the series THE FINAL COMBAT and THE JUSTICE OF LIFE. Starting in 1990, Brother Tat also participated in many of Lord Sing's classic films -- TRICKY BRAINS, ALL FOR THE WINNER, GOD OF GAMBLERS 2 (DOH HUP), FIGHT BACK TO SCHOOL (TOH HOK WAI LUNG), FIGHT BACK TO SCHOOL 2, JUSTICE MY FOOT!, GOD OF COOKERY, KING OF COMEDY, SHAOLIN SOCCER and others.
However when Lord Sing started work on KUNG FU HUSTLE in 2004, they were rumored to be at odds. Brother Tat once publicly said, "The KUNG FU HUSTLE lead originally me." He also said, "Unless Chow Sing Chi let me star I wouldn't perform." Brother Tat later mentioned that they were not at odds, but actually they were drifting further and further apart and they never worked together again. Reportedly, Brother Tat in order to make this film for Lord Sing turned down all film offers and thus suffered serious losses.
Later Lord Sing again invited him to perform in MERMAID, but Brother Tat was ailing and declined. Later Brother Tat revealed that when he was hospitalized Lord Sing showed concerned, but perhaps because he turned down MERMAID due to his health, they went their separate ways. Brother Tat's THE WANDERING EARTH made 4.686 billion yuan RMB at the Mainland box office. Lord Sing's same period release NEW KING OF COMEDY only made over 600 million yuan RMB. Later when asked whether he and Lord Sing would work together again, Brother Tat laughed and said, "I am not dead yet, he hasn't retired yet. We would definitely have a chance." Unfortunately as Brother Tat passed away yesterday, this reunion wish became a regret.
Ng Man Tat in film and television for 45 years, making the jump from television to the big screen. Brother Tat had a wide range but few opportunities to play the lead. He received 4 Hong Kong Film Award nominations and 2 Golden Horse Award nominations, all for Best Supporting Actor. Finally with A MOMENT OF ROMANCE he won the Hong Kong Film Award Best Supporting Actor.
In 1973, Brother Tat applied for the TVB artist training class. Chow Yun Fat, the late director Ringo Lam Lan Tung, Lo Hoi Pang and others were his TVB third training class classmates. In the class he excelled and after graduating among the top five he signed a contract with the company. He and Lo Hoi Pang were seen as the future stars with comedy potential.
In 1975, Brother Tat started to perform on TVB countless times and almost all were supporting roles. His earlier performance was in the CHINESE FOLKLORE series; in 1979 with the role of "Wu Teet Fa" in CHOR LAU HEUNG he began to gain attention. Since then his career took off. The overnight success left him with an addiction to gambling. In 1980 he owed HK$ 300,000 in gambling debts but he had no role. At the time he asked Chow Yun Fat to lend him money but was turned down. He considered suicide. Later a director gave him an opportunity. Brother Tat learned his lesson and focused on work, in 3 years time he paid off the debt and successfully rose again. Since then he fell in love with acting.
In 1985 Brother Tat was assigned to perform in POLICE CADET with Tony Leung Chiu Wai. After that many producers used him as his series offers kept coming. In 1990, Brother Tat began to become active in the film industry. That year with the Stephen Chow Sing Chi starred ALL FOR THE WINNER (DOH SING) he received the Hong Kong Film Award Best Supporting Actor nomination. Next year he with A MOMENT OF ROMANCE finally won the Hong Kong Film Award Best Supporting Actor award. This was also Brother Tat's only acting award in his film career. At the time when Fat Gor congratulated him, Brother Tat hated Fat Gor for not being willing to lend him money and pretended not to see him. Later someone told Brother Tat that Fat Gor recommended him for A MOMENT OF ROMANCE, then Brother Tat finally made up with Fat Gor. Years later Brother Tat in an interview thanked Fat Gor for not lending him money back then, otherwise he would just keep relying on others and never stand up on his own.
Ng Man Tat's love life was just as exciting. In 1976, he and his first wife Mak Lei Lei wed and had twin daughters. Later he fell for TVB artist Lo Siu Chi, after years of living together they had a daughter. In 1993 while working on the film ALL'S WELL ENDS WELL, TOO (FA TIN HEI SI), he clicked with Miss Malaysia second runner up Hou Shan Yin. The next year he and Mak Lei Lei divorced. Two years later he married Hou Shan Yin in Malaysia and had a son and a daughter.
He also was a good father. Despite his poor health in recent years he still worked on movies in hopes of bearing the child support for his five children. His monthly expenses were rumored to be in 10 figures, but since he was hospitalized for heart failure in 2014 he began to reduce production. He also followed friend Lok Ying Kwan's advice and wrote a will to split his assets. Yesterday he was rumored to have left over 10 million in asset. His current wife would take half and the rest would be divided between his five children.