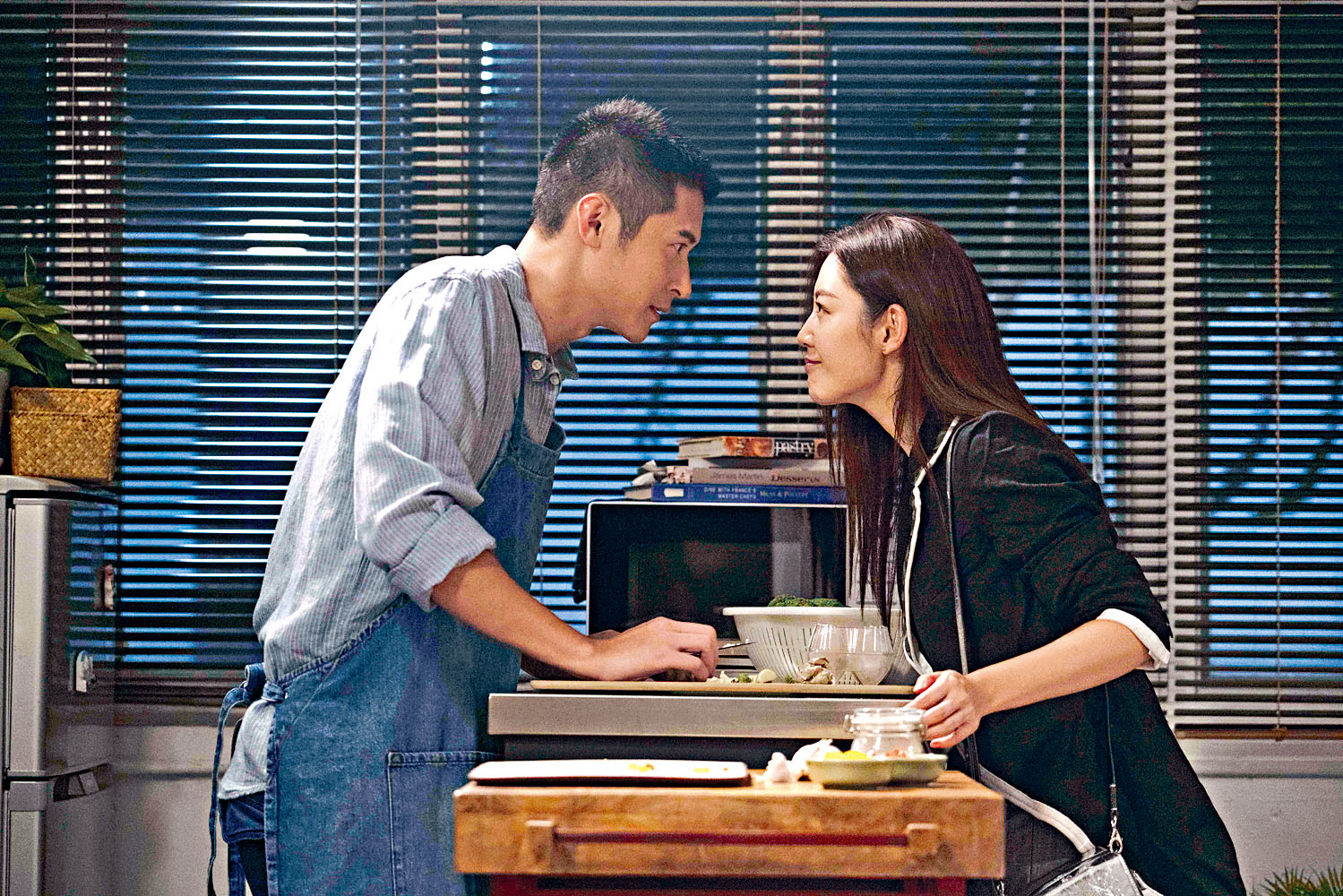 Carlos Chan and Michelle Wai in the romantic comedy READY OR KNOT
courtesy of singtao.com
Carlos Chan and Michelle Wai hope more people would be able to see READY OR KNOT
courtesy of on.cc
In the past year Hong Kong film was severely traumatized. With the pandemic under control, cinemas opened again with restrictions and already made the Hong Kong film industry want to play catch up. Many films scheduled their releases anew. Emperor Motion Pictures and One Cool Film worked together for first time to produce and distribute ten Hong Kong films that covered different genres from horror, suspense, romance, comedy and others in hopes of provide a variety of choices to the audience. The first shot would be the Anselm Chan Mau Yin directed, Carlos Chan Ka Lok, Michelle Wai Sze Nga, Hedwig Tam Sin Yin, Chu Pak Hong, Kaki Sham, Renci Yeung Si Wing starred romantic comedy READY OR KNOT (BUK YUT SING FUN) announced that it would open on April 1st for the Easter and the Ching Ming Festival golden slot. Several stars were very excited and looked forward to the audience to be able to shake off the shadow of the pandemic, relax and watch the movie! Hong Kong film finally showed some sign of life. The film READY OR KNOT earlier was set to be a Year of the Ox Lunar New Year film. Unfortunately due to the fourth wave of the pandemic, cinemas were required to close for 78 days. As the pandemic waned, earlier cinemas were finally open again. READY OR KNOT also confirmed its preview screenings in March and open on April 1st for the Easter and the Ching Ming Festival golden slot. Chan Ka Lok excitedly said, "First I thank everyone for caring about the READY OR KNOT release date, which finally has been set for Easter. I am of course very happy, because it is a very important long holiday. Under the current pandemic, whether the film would be released as scheduled still has a lot of room for change. I hope everyone can try to control the pandemic, maintain their physical and mental health so we can all go to the movies together!" Ka Lok was a typical cinephile. After learning the cinemas were open again, like countless starving cinephiles he vowed to take action immediately! "I haven't gone to the movies in a good several months, I really want to watch all the good movies that I want in one day!"
Michelle of course was very happy that READY OR KNOT would be released around Easter, and looked forward to the audience's reaction very much.
Chu Pak Hong said that READY OR KNOT's move to an Easter release to him had another level of special meaning. "The Easter release symbolizes the resurrection of the entire film industry, which feels pretty good!" He looked forward to the cheerful atmosphere after the audience enjoyed READY OR KNOT. "I hope this film would be able to bring back some sweet memories for the audience and people they loved, perhaps no matter what difficulty they would run into in their relationships, they would be able to remember the beauty in the beginning and gain all new strength to keep it going."
Under the pandemic, many movies were forced to change their schedule. READY OR KNOT finally was able to confirm the schedule. Hedwig Tam Sin Yin described the current feeling as "having her feet on the ground". "It seemed like we always had one foot raised, finally we are able to put in back on the ground. There is a feeling of having our feet firmly on the ground, I look forward to seeing this film very much." When cinemas were closed, Ah Tam always felt something was missing. "Now finally they are open again, everyone can go together and share the unique viewing experience that only belongs at the cinemas. I hope READY OR KNOT an bring joy and affection to the audience, and give Hong Kong people a little room to breathe."