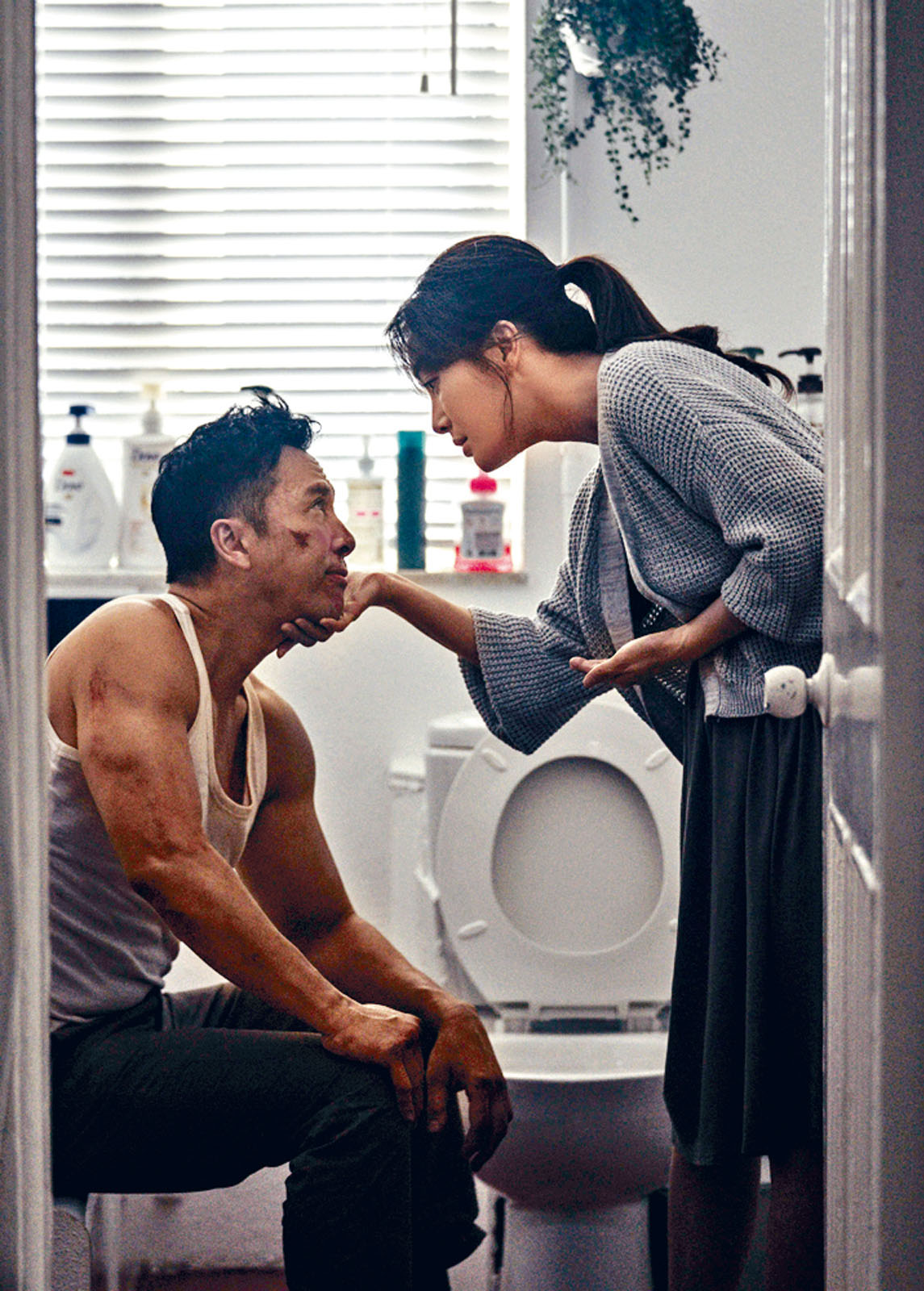 courtesy of singtao.com
Ben Yuen holds Qin Lan hostage
Donnie Yen plays Qin Lan's husband, who attentively takes care of his pregnant wife
courtesy of on.cc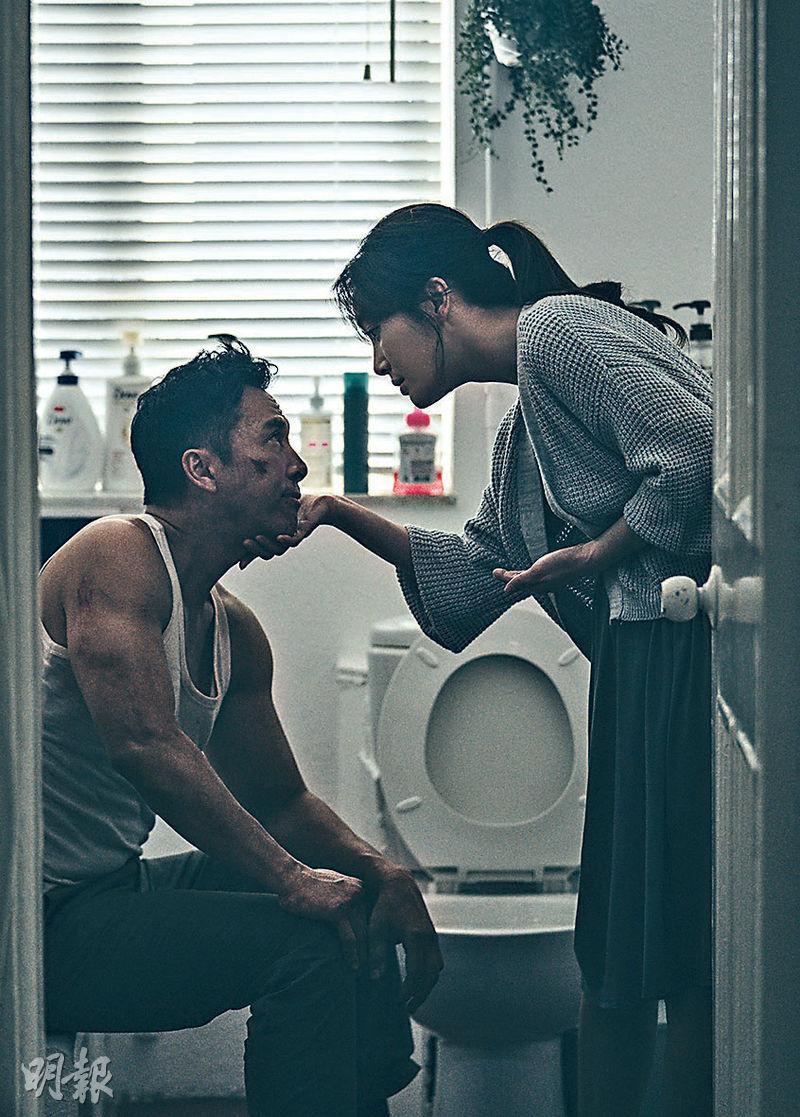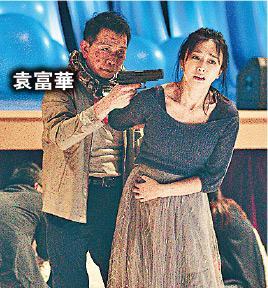 courtesy mingpao.com
The Benny Chan Muk Sing directed and produced RAGING FIRE (NO FOR) not only starred Donnie Yen Chi Tan and Nicholas Tse Ting Fung, but also Qin Lan, who Hong Kong viewers would recognize as the "Queen" in the popular costume series STORY OF YANXI PALACE. This time she played a couple with Yen Chi Tan. She was pregnant and being held hostage, waiting for her husband Yen Chi Tan to save her. Qin Lan described the "Strongest in the Universe" Yen Chi Tan as a Superman. He took great care of her, which made her gain a lot of confidence in working on action scenes.
The Mainland female star Qin Lan this time also took part and played a couple with Yen Chi Tan and a kindergarten teacher. In one scene she was pregnant and held captive by Ben Yuen Fu Wa. Waiting for husband Yen Chi Tan to save her, she was in handcuffs and dragged on the ground. Later due to an explosive she was blown to the ground. In her first explosion scene, Qin Lan said, "This was the first time I worked on such a large scale explosion scene. The most memorable was that Brother Chi Tan and the director took great care of me. I tried to play the pregnant woman's condition. Brother Chi Tan then told me how to run. (Did it feel hard?) Not really, I adapted pretty well. I have worked on action scenes before. In addition Brother Chi Tan was very professional, I was very relaxed." Qin Lan revealed that this scene originally was to be shot in the water. Now she did not have to she already felt very luckily and she breathed a sigh of relief. However this action scene was still very fierce. Fortunately she had a habit of exercising.
On the day of the shoot, many children were on the set. Because the gun fight scene was too realistic, some children thought that it was real and were frightened to tears; at the same time, some children recognized Qin Lan as the Queen in STORY OF YANXI PALACE, which surprised Qin Lan. She said, "I never thought that such young children would like me, even able to say my name in the show. I never thought that so many children have seen my work. It really was a great surprise. Children are very cute and naive. The gun fire was very scary. I really wanted to comfort them, but my Cantonese wasn't good enough."
As for this team of the "Queen" and the "Strongest in the Universe", Qin Lan said, "I really looked forward to set off some unique spark with a Superman like the Strongest in the Universe." She also joked that after working with Lord Tan this time, she gained a lot of confidence in making action films. Because she has worked with the Strongest in the Universe action actor, she believed that from now on she could make anything."
She also praised the late director Chan Muk Sing as a very well-learned person who really respected the profession. "Director Chan Muk Sing while ailing still insisted on directing his final film, and even made it so outstanding. I felt he was very noble! For my first time working with Hong Kong workers, everyone wasn't just very professional but also was like a big family. I was grateful that with this method to salute Director Chan Muk Sing for a final time!"
Co-star Yuen Fu Wa said that at first he thought he only had dramatic scenes. He never thought that even he had to open fire and fall to the ground. On the first day of work he was already covered in a sack and took a gang beating. He said, "Now I am already more than halfway to a hundred, luckily my previous stage background helped me. I was able to handle it. " He also pointed out that shooting a gun actually was a lot of fun. In reality unless he was gun club member, he would otherwise had no opportunity to fire a gun. He also thought that co-star Qin Lan was very professional.
RAGING FIRE is in release already in the Mainland and topped the box office for 10 days in a row. For now its cumulative box office passed 540 million yuan RMB and became the best reviewed action film in the Mainland this year. The film will open on August 19h in Hong Kong.
In addition, Team Hong Kong's badminton athlete Ng Ka Long after the Tokyo Olympics was instantly in quarantine after returning to Hong Kong. After his quarantine ended Ng Ka Long two days go accepted Director Jimmy Wan Chi Man's invitation to enjoy the Sandra Ng Kwan Yu and Leung Chung Hang starred, based on the Paralympic track gold medalist So Wa Wai's real life story ZERO TO HERO (MA MA DIK SUN KEI SIU JI) advanced screening. He thanked director Wan Chi Man's arrangement on social media so he would be able to enjoy the film first.
Ng Ka Long said, "This movie talked about many athletes' hardship and struggles off the field that many people don't see. As an athlete I couldn't help but put myself into Wai Jai's character. At the moment of him crossing the finishing end to win the gold, I couldn't help but want to cry."