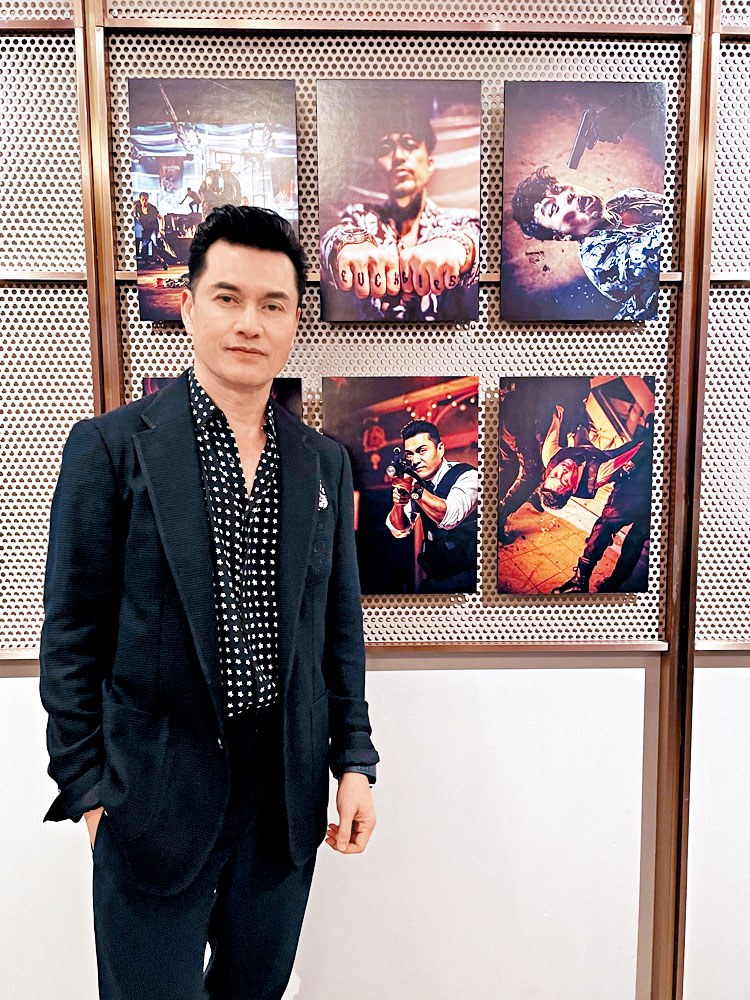 Ray Lui worked on the first television series as well as the final film of Benny Chan as a director
courtesy of singtao.com
Angus Yeung, Kenny Wong and German Cheung
courtesy of on.cc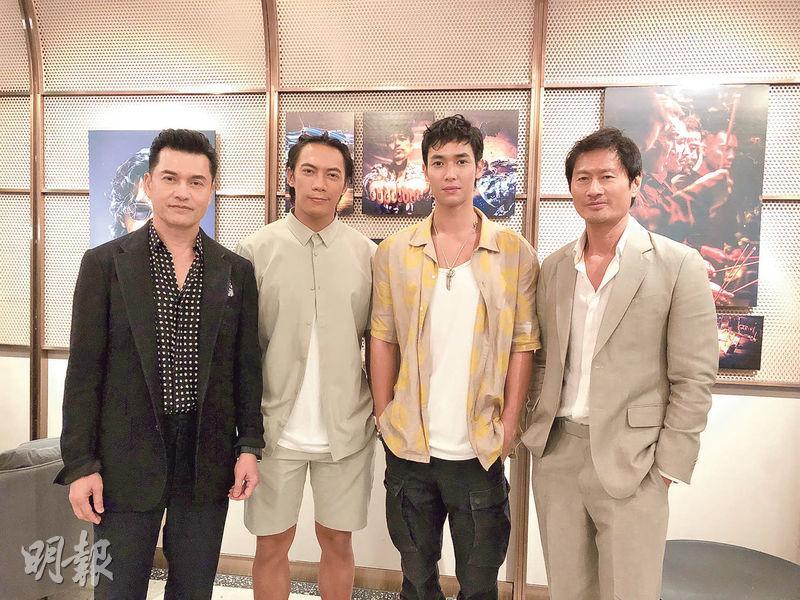 Ray Lui, German Cheung, Angus Yeung, Kenny Wong
courtesy of mingpao.com
The Emperor Motion Picture RAGING FIRE (No FOR) has topped the Mainland box office for 23 days in a row, passing 920 million yuan RMB to become this year's highest rated action film in the Mainland. The film opened in Hong Kong also won both word of mouth and box office; not only did it become the Hong Kong film with the highest opening and the most admission in 2021; but also firmly sat atop the box office for 3 days straight -- flashing past the HK$ 5 million mark.
To thank the Hong Kong audience for its passion, on the opening weekend the RAGING AGE actors Kenny Wong Tak Bun, Angus Yeung Tin Yu and German Cheung Man Kit attended a series of audience appreciation events and came in close contact with viewers. Even Ray Lui Leung Wai, who extremely rarely participated in audience appreciation events also personally came to the cinema and caused a stir. Viewers all praised Brother Lui for being in great shape.
Brother Lui revealed that he has already enjoyed RAGING FIRE 3 times and still has not grown tired of it. He said, "Nowadays it's already very hard to make such a seriously and strictly produced Hong Kong action blockbuster. As a Hong Konger, I should be proud!" He also took the chance to remember the talented director Benny Chan Muk Sing. "In 1985 he worked on the series THE FLYING FOX OF SNOWY MOUNTAIN, Chan Muk Sing originally was (Johnnie) To Kei Fung's assistant writer and director. This was the first series that he was promoted to director, and I was very fortunate to be able to work with him; I never expected that I would also take part in director Chan Muk Sing's final film RAGING FIRE. This was a wonderful destiny. The passing of director Chan Muk Sing absolutely was a enormous loss to the film industry!"
In the film Brother Lui's scenes was shot in an already abandoned shopping center, without water, electricity, air conditioning. In the high heat he had to work on a fight scene, anyone would be able to imagine the degree of difficulty that must have been. Fortunately his good friend Donnie Yen Chi Tan supported him with practical action. Brother Lui said, "Although Chi Tan didn't appear in this scene, he really was loyal. Before hand he already told me, 'For however many days you would work, I would be there with you!' Indeed when I worked for seven days, he really came all seven days!"
Also popular with the audience, Wong Tak Bun revealed his preparation for the shoot to the audience. "The team had someone instruct us on gun knowledge, like how to use a gun, load it, take it apart, during training we used real guns and bullets so we would perform even better on the set; at the same time foreign action directors with military background trained us on formation, how to attack an defend, which made us able to perform right away as soon as the action director gave the order." Speaking of the memorable action scene of the Peking Road gun fight, Tak Bun said that was shot both on location and on the set. That day they were already in make up before the sun rose, because the streets would be closed at 8 AM. We tried to get the take in one try and in the end we were able to, only the weather was very hot.
Yeung Tin Yu revealed that in the final physical combat on Peking Road, his elbow accidentally injured Cheung Man Kit's left brow. He felt guilty about it for a long time. When asked German had no idea. Instead he asked Angus, "Did this happen? I really don't remember it! It probably wasn't a big deal, minor injuries are inevitable in an action film!" Angus joked that perhaps he hit too hard and made German lose his memory.