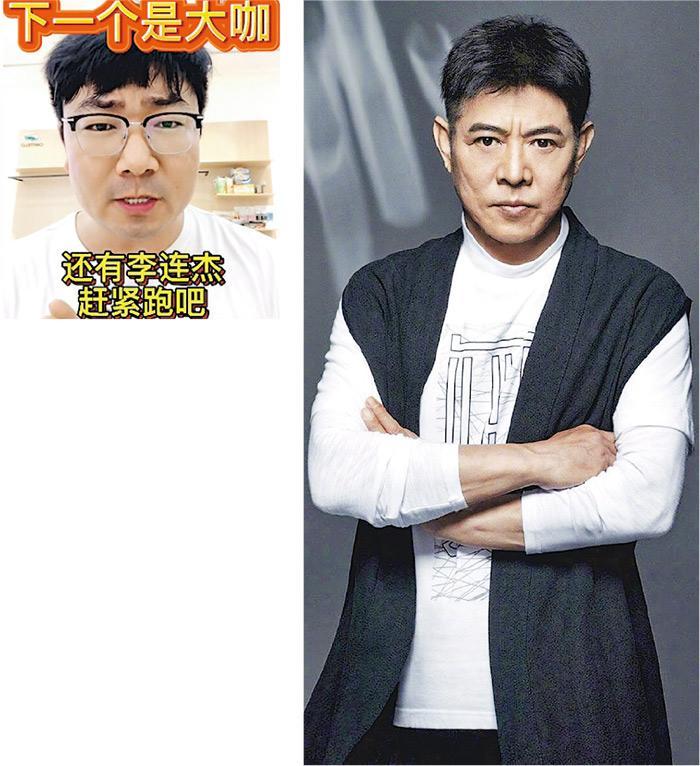 Mainland director Zhou Guogang (left) on TikTok urged Jet Li to "hurry up and run"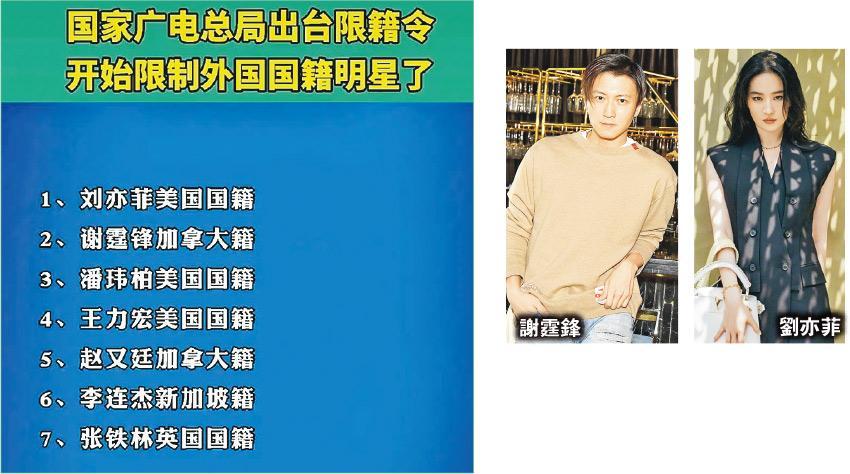 Yesterday a blacklist spread like mad online, including artists with foreign citizenships like Nicholas Tse and Crystal Liu
courtesy of mingpao.com
Negative news followed one after another for Mainland artists. Kris Wu was arrested for rape. Zheng Shuang was exposed for abandoning her surrogate's child and evading taxes. Vicki Zhao Wei suddenly was banned as all of her film and television work were either been removed or her name was removed from the credits. According to Mainland media reports the authorities wanted to clean up the show business on a large scale. Recently the latest blacklist spread like mad online. It had 7 artists included Jet Li (Lee Nin Kit), Crystal Liu Yifan, Nicholas Tse Ting Fung and others. Some said that they coincidentally were ll artists with foreign citizenships, which might affect their work in the Mainland. Often exposing show business secrets, Mainland director4 Zhou Guogang earlier on TikTok shot a video to tell Lee Nin Kit, "Hurry up and run!"
According to Mainland media reports, the Mainland lately wanted to clean up show business. After Best Actress Zhao Wei was suspected of being banned as her film and television work were removed and her award history blanked out, the latest blacklist with 7 famous artists spread like mad on Weibo. It included Liu Yifei, Zhang Tielin, Mark Chao, Lee Nin Kit, Will Pan, Tse Ting Fung, Wang Leehom, coincidentally they all had foreign citizenships: U.S. citizens Liu Yifei, Will Pan, Wang Leehom; U.K. citizen Zhang Tielin; Canadian citizens Tse Ting Fung and Mark Chao; Singapore citizen Lee Nin Kit.
Mainland director Zhou Guogang in the past often exposed secrets. Earlier he posted a video on Tiktok and publicly told Lee Nin Kit, "Hurry up and run! The next house to fall may very likely be yours!" Lee Nin Kit was born in Beijing, in 1997 he became an U.S. citizen. In 2009 he became a Singapore citizen. Online speculations claimed that he might be the next target.
The blacklist that spread online mentioned, "From now on those stars with foreign citizenship already would have difficulties with appearing on the stage in China again, and they would not be able to make the big bucks on the Chinese stage."
Actually in March last year the State Administration for Radio, Film and Television already issued a "citizenship restriction order", the detail of which became a hot topic online. For the "creative and on camera personnel selection problem", anyone whose speech or action ridicule, slander, defame, attack the socialist system with Chinese characteristics or national sovereignty, security and development interests would not be chosen; any artist whose behavior disrupts social order, has scandals and negative past, criminal violations would not be chosen.
Another point was, "selection of anyone with foreign, Hong Kong, Macao or Taiwan citizenship would be inappropriate." In other words artists with foreign, Hong Kong and Taiwan citizenships would be under the restriction. People online thus named U.S. citizen Liu Yifei, Canadian citizen Wu Yifan, Singapore citizen Lee Nin Kit and other well known artists.
Although because of this rule many Mainland artists with foreign citizenships were uncovered, according to the rule, without any negative history, criminal behavior and the like, in principle no one would be affected.