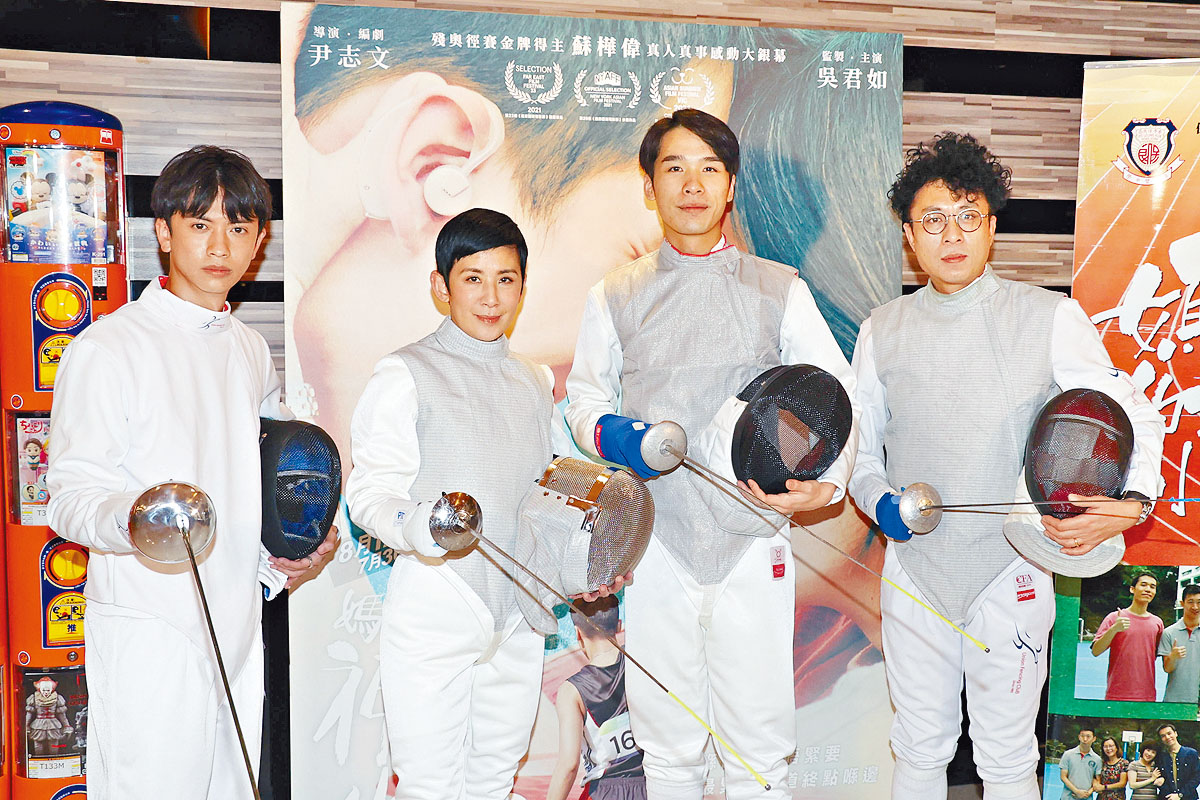 Locker Lam, Sandra Ng, Leung Chung Hang and Jimmy Wan
courtesy of singtao.com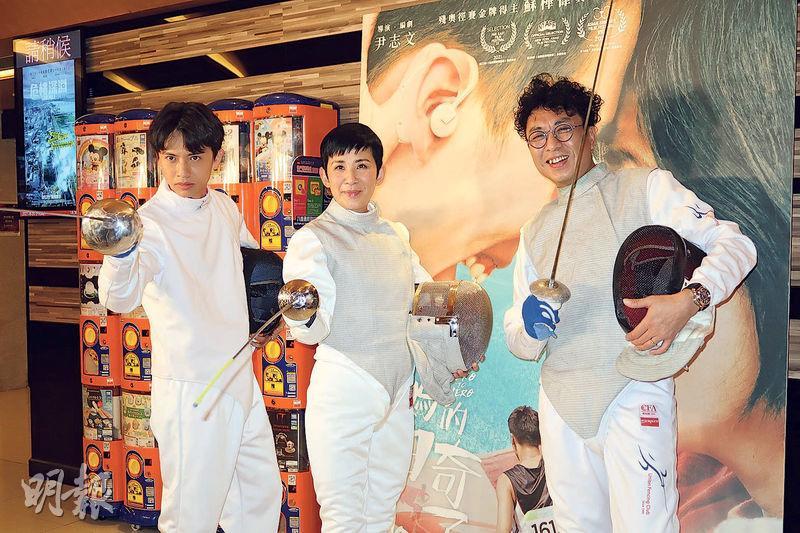 courtesy of mingpao.com
The film ZERO TO HERO (MAMA DIK SUN KEI SIU JI) since its opening accumulated over HK$ 8 million at the box office. Two nights ago producer and actor Sandra Ng Kwan Yu and director Jimmy Wan Chi Man, actors Leung Chung Hang and Locker Lam Ka Hei dressed up as fencing athletes to attend an audience appreciation event, shared their experience with and asked question from a group of student viewers.
Because the good word of mouth and thriving run for the film, Kwan Yu revealed in the future she would continue to attend audience appreciation event and thought about dressing as different types of athletes for each appearance as a salute to Team Hong Kong representatives at the Tokyo Olympics. At the same the Paralympic Games also opened on the 24th, she would also cheer for Team Hong Kong. When Edgar Cheung Ka Long won the gold medal at the Tokyo Games, Kwan Yu thought of dressing up as a fencing athlete for the first appearance. "However I realized that finding fencing gear wasn't easy at all, I had to ask a mother of my daughter's classmate for help to be able to find the right size. When I put it on I thought it didn't look good, the face guard was very heavy and I was sweating all over." As for upcoming audience appreciation events, Kwan Yu joked that she already thought of appearing as badminton, table tennis and karate athletes. She even promised that if the film would reach HK$ 12 million, she, the cast and the director would wear swimsuits, but they would wear swimming athlete's competition "shark" suits. Does her daughter have any athletic gene? Kwan Yu admitted that her daughter did not have the determination of an athlete, but she loved to dance. She tried to force her daughter to swim but in the end she still gave up!
In the past Andy Lau Tak Wa once donated HK$ 100,000 to sponsor Hong Kong para-athletes every year. Does Kwan Yu feel that the government assistance in this area was enough? Kwan Yu said, "It's a little better, now is better than before. Maybe with this movie ZERO TO HERO, lately private groups increased their donations. This is a good thing too!"
In addition, in memory of director Benny Chan Muk Sing, Siu Mei's First Strong Workshop and Entertaining Power held a special memorial screening of RAGING FIRE (NO FOR) on its opening day and supported this "special" work from Director Chan Muk Sing in action and in spirit. That day Aaron Kwok Fu Sing also enjoyed his "benefactor" Chan Muk Sing's final film. Sing Sing attended to show his support and shared his feelings with the audience afterward. Of course Sing Sing still missed this great mentor and friend, a good director with great character, talent and passion for film. After the screening, the entire audience applauded as the cinema was filled with respect and memories.