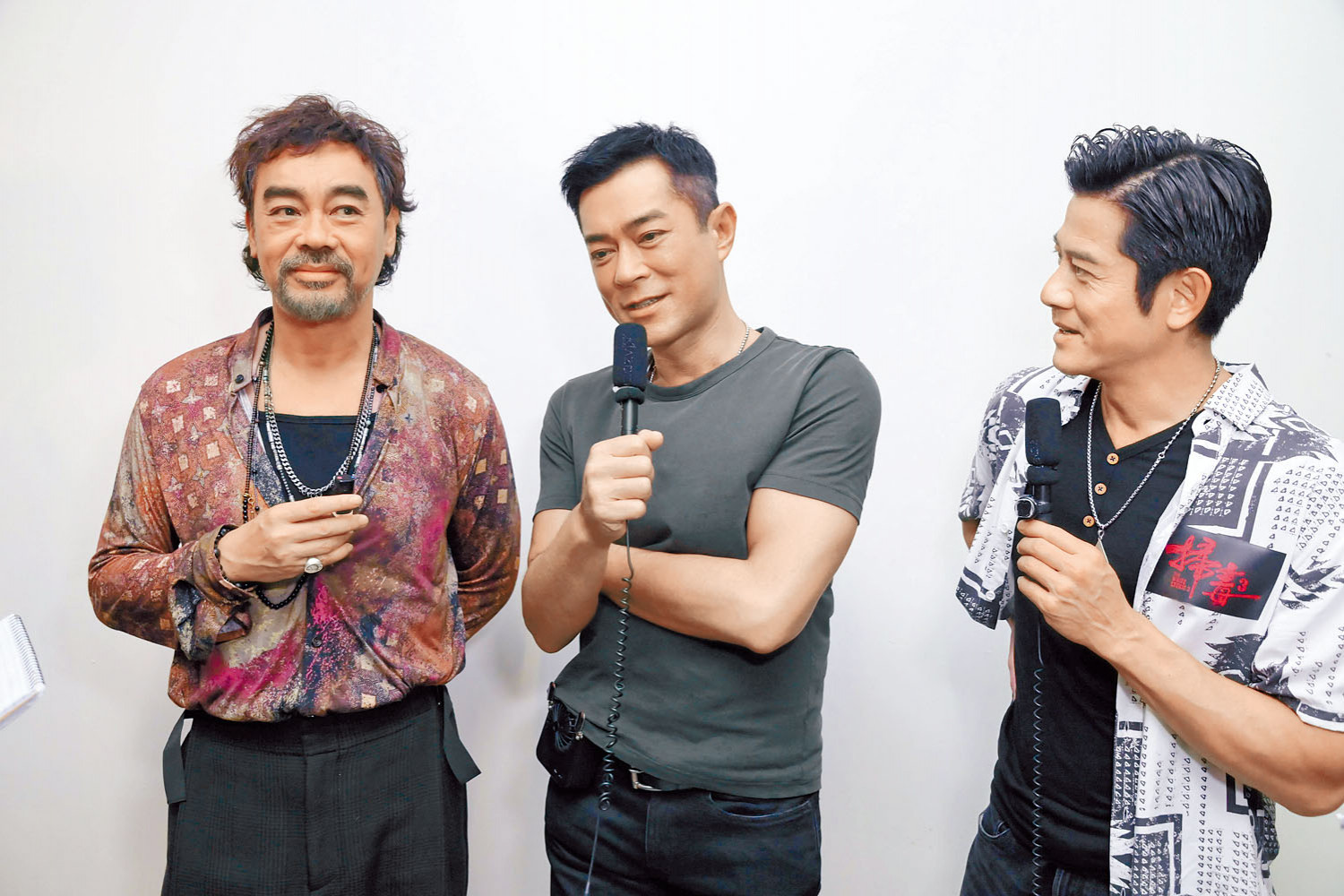 Three Best Actors get much more tan from shooting in Yunnan and Shanwei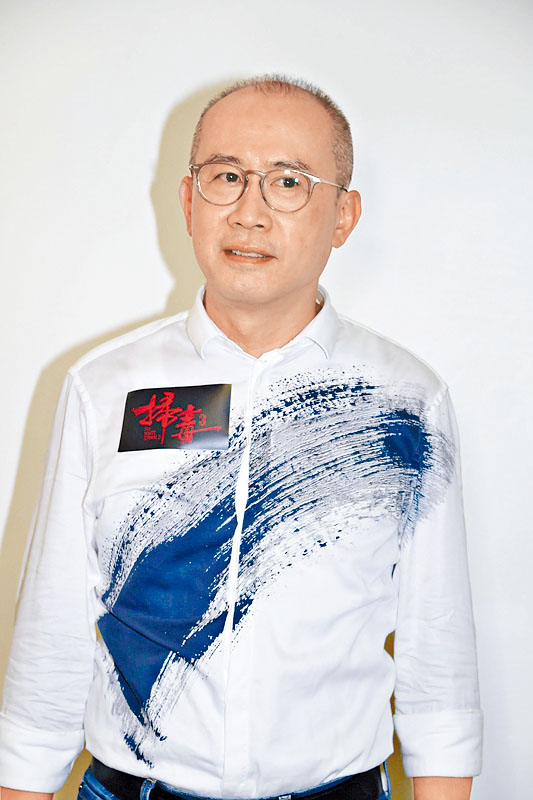 Daneil Lam stresses that THE WHITE STORM 2 is an original creation from Herman Yau and the creative team
courtesy of singtao.com
The three Best Actors' rare collaboration have breakthrough characters as well
The cast and the crew pray for a smooth production
courtesy of on.cc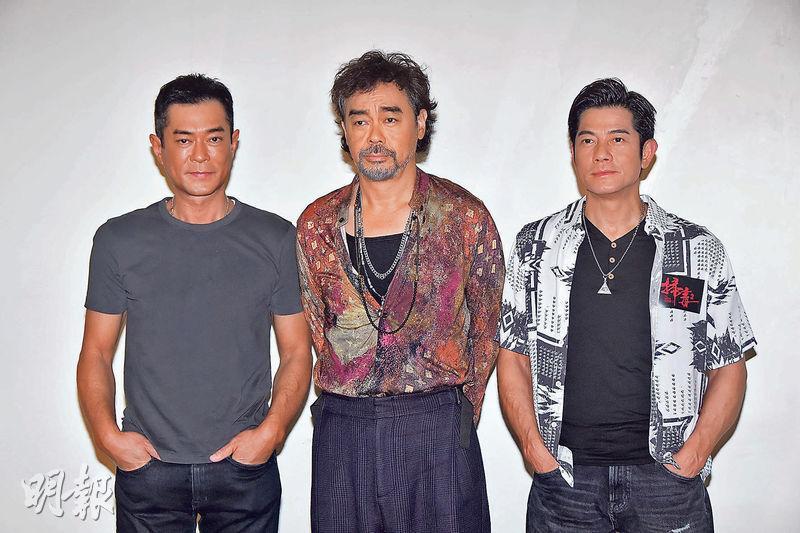 Three Best Actors team up again after 15 years
Rain arrives during the ceremony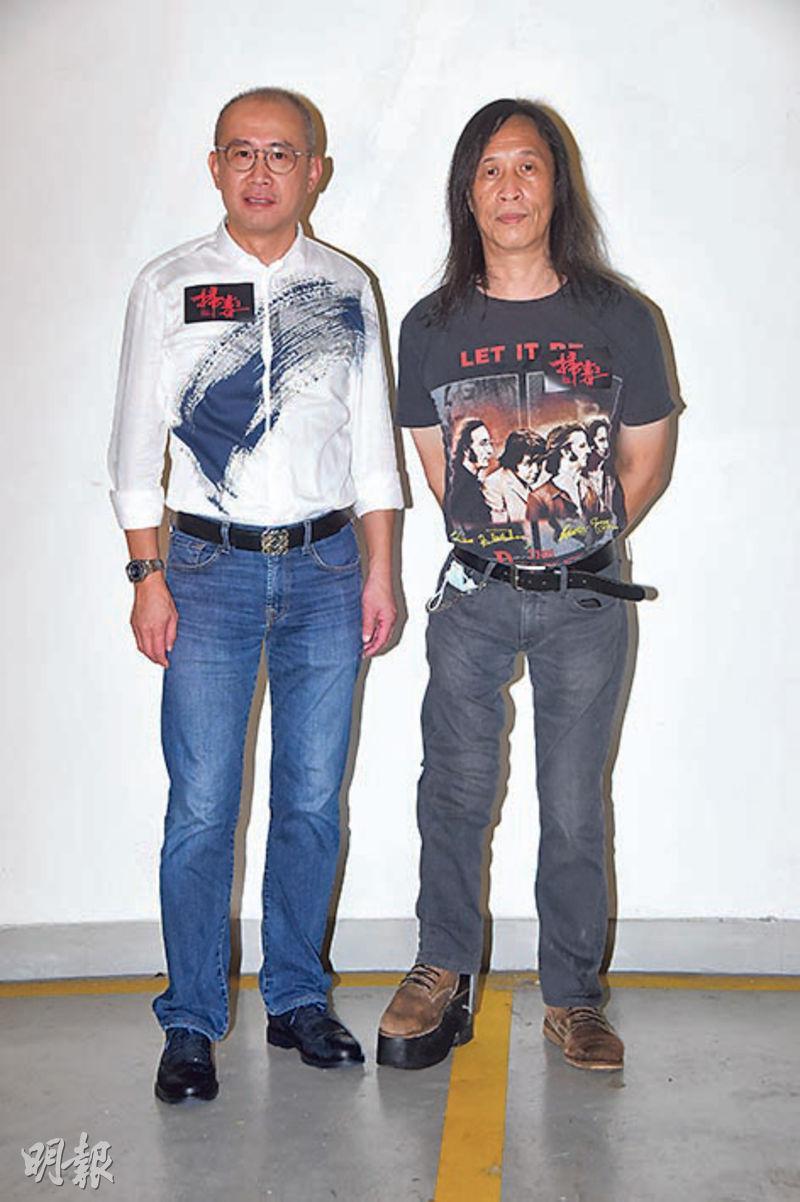 Boss Daneil Lam holds high expectation for director Herman Yau's new film THE WHITE STORM 3
courtesy of mingpao.com
The film THE WHITE STORM 3 (SO DUK 3 TIN DAI DEI DAI) yesterday held a production start worship ceremony. The film's investor Daneil Lam Siu Ming, three lead actors Aaron Kwok Fu Sing, Sean Lau Ching Wan, Louis Koo Tin Lok attended with Tse Kwan Ho, Alex Fong Chung Shun, Timmy Hung Tin Ming and others. However rain came before the ceremony, and everyone had to brave the rain under a tent for the roast pig cutting ceremony. Because the film cancelled its Thailand location shoot, it needed to construct a village anew in Hong Kong and went over budget to reach 8 figures. Sing Sing was obviously thinner from working in the heat, which has been tougher. He joked, "In front of Lam Suet, I feel like I could flow!"
Investor Lam Siu Ming revealed that the film originally planned to shoot on location in Thailand, but due to the severity of the pandemic there they moved the shoot to Hong Kong to build a village for the shoot anew. All the pre production construction the Thailand team has done has completely gone to waste. With the required quarantine for shooting in Yunnan, the extra accommodation arrangement added up as the budget went over by 8 figures. However Lam Siu Ming also pointed out that shooting in Hong Kong could be under control. Fortunately the actors were able to make time in their schedules, so he believed that the film would wrap up on time.
Speaking of a Chengdu film company's lawsuit that claimed the 2019 release THE WHITE STORM 2 (SO DUK 2 TIN DEI DUI KUET) was similar to the story of the Chengdu company's CEO and director's 2006 film LOVE FROM ANGEL, accused the film of screenplay copyright violation, and demanded almost 100 million yuan RMB in compensation, one of THE WHITE STORM 2's executive producer Daneil Lam Siu Ming said that the case baffled him. "I have yet to receive any court document. My company's creations are definitely original. Our directors and screenwriters wrote the script. Something like this happening is baffling to me!" Lam Siu Ming stressed that he did not know the plaintiff and was not interested in seeing his film. As for the case it is already in the hands of the lawyers, so he was not at liberty to respond.
This time the part of the film was originally set for Thailand location shoot was changed to shoot in Yunnan, Shanwei and Hong Kong. Earlier the Mainland portions have been completed. All three lead actors got darker tans. Koo Tin Lok joked that he still needed to continue to use tanning lights to maintain his tan, but Lau Ching Wan joked that his was original skin tone. While in Xishangbana rain kept coming, but in Shanwei they were tanned from the inside out. Kwok Fu Sing said that the heat indeed made things tougher. Yesterday under the 36 degree Celsius temperature, he still had to wear a leather jacket for his action scene. Ching Wan chimed in, "I am a little 'jacket-y' (a little mad) too, tightly following fashion trends I had to wear fur coat for the shoot!" Sing Sing looked slimmer, has the shoot be very tough? He said, "I am thinner all over, but for work I am used to it!" Would being thinner make the action scenes a little lighter? Sing Sing joked, "In front of Lam Suet, I feel like I could flow!" Goo Jai also made fun of Lam Suet, "Earlier he and I worked at a disco, we only went from the first floor to the second and he was already breathing hard!"
Ching Wan this time in the film would play the villain. He stated that he often played villains, only many characters traversed between good and evil and misdirected everyone. This time he would play the villain, a drug lord whose brutal ways have reached an inhuman level. However the dominating costume also helped him a lot. Later when he would go on the lam to the Golden Triangle, he would have to have a head full of white hair and facial hair. Would he need to dye everything white? He joked, "I dye it black (bad influence), very rarely dye it white!" He also stated that his wife Amy Kwok Oi Ming has yet to see his new look.
Since the film changed to shoot a village scene in Hong Kong instead of flying to Thailand for a location shoot, Goo Jai said that it was a good thing because his family would worry due to the pandemic. Goo Jai had a part in all three THE WHITE STORM. This time his character was between good and evil, also merciless but not as much as Ching Wan. He did not want to spoil too much of the story though, only saying that this time the script's character relationships would be very complicated! As for Sing Sing playing a cop again, this time would be the first time he played one undercover. He also thought that being in their own place for the production would be more convenient, at least they would not need to waste time on quarantine. In addition he, Ching Wan and Goo Jai have not worked together in over 15 years. He felt that everyone has matured and the collaboration has been very pleasant.
His wife Moka Fang just celebrated her birthday. Sing Sing said that because his wife brought their two daughters to Shanghai while he worked in Hong Kong, he could only celebrate with his wife over video chat. "I thank the team for letting me go home early. I rushed home to celebrate with my wife over video chat. The two girls were responsible for blowing out the candles, wasn't it very romantic? As a Papa, I should be good to my wife and family!" When asked when his family would return to Hong Kong, Sing Sing said that the children would have to start school. "I too want them to come back sooner, missing them though is very normal!"