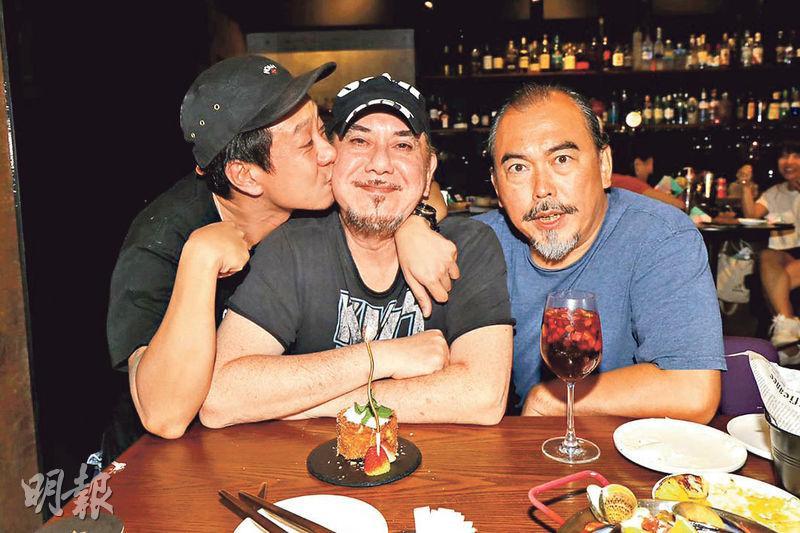 Chu Pak Hong, Anthony Wong, Chan Suk Yi
courtesy of mingpao.com
Anthony Wong Chau Sun, Chan Suk Yi and Chu Pak Hong starred in the play ART, which ended its 15 show run. During the curtain call of the last show, the cast, the crew and the audience celebrated Wong Chau Sun upcoming 60th birthday. Chau Sun once said that this year would be the farewell, next year would be the comeback, he on the stage talked about this performance experience. He enjoyed it but was reluctant for it to end. He sentimentally said, "With so many unstable and uncontrollable elements, this play couldn't be performed for two years due to a variety of reasons. In this environment would anyone watch a play? I really didn't have much confidence, but over this 15 show run, the audience told me that I could keep going. Thank you everyone!" Chu Sun immediately invited everyone to take a group photo with him.
They had Spanish cuisine for the celebration. Everyone sang the birthday song and presented a cake to wish Chau Sun a happy 60th birthday Thursday (September 2nd) in advance. Chu Pak Hong even passionately hug Wong Chau Sun and kissed him; Chau Sun's birthday wish was good health. Chu Pak Hong worked with two alumni for the first time, he said that it was a very important milestone in his performing art career. He hoped to have another chance to work with them again.