Aaron Kwok would play an irresponsible father, so he would need to add a little imagination
Natalie Hsu's role is less than mobile. She even went to acting classes for it.
courtesy of on.cc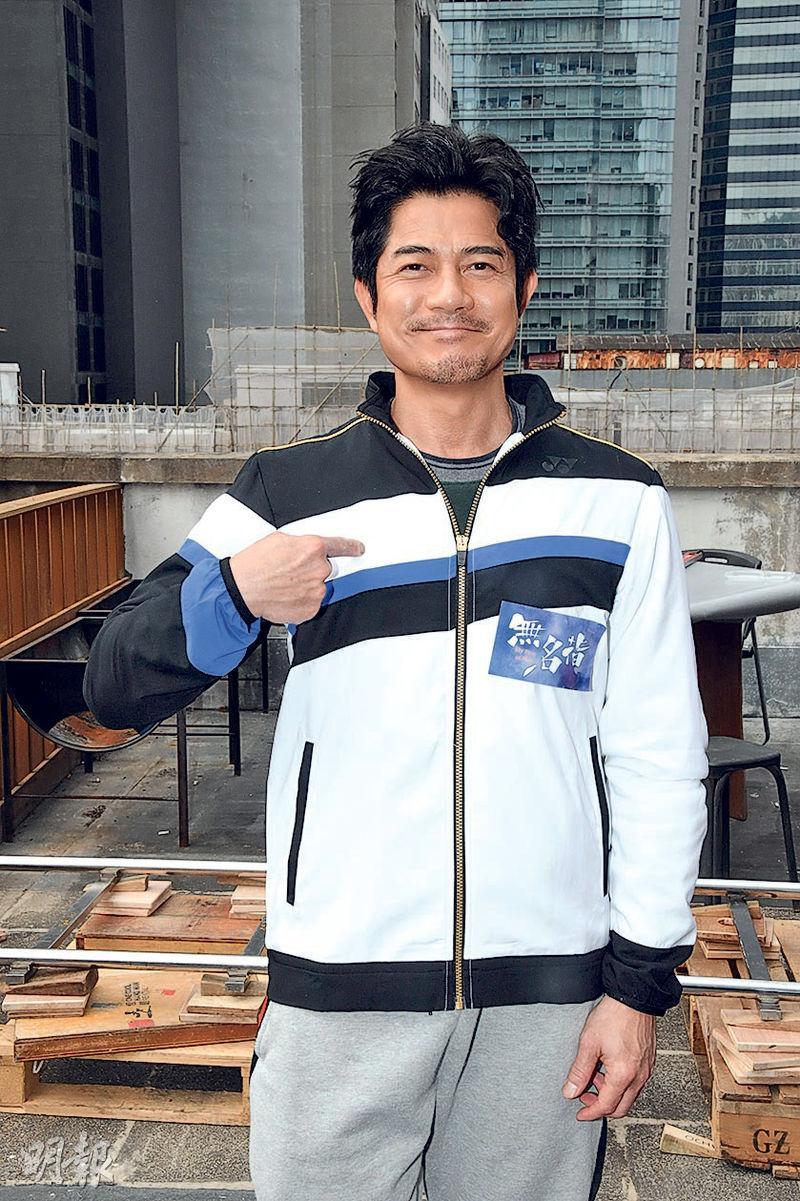 Aaron Kwok says that when he studied THE FIRST OF MAY script he already got into character, so he now looks worn down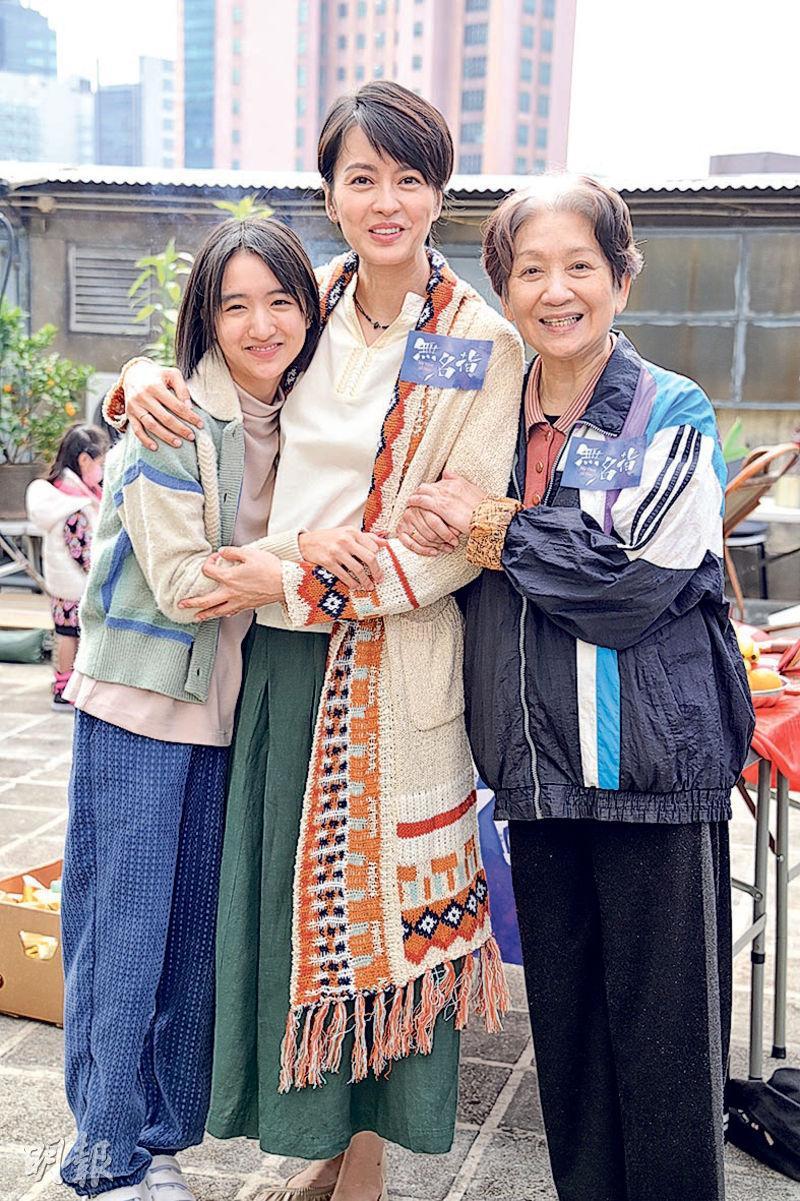 Natalie Hsu, Gigi Leung and Nina Paw would play Aaron Kwok's daughter, wife and mother respectively
courtesy of mingpao.com
The new film MY FIRST OF MAY (MO MING JI) yesterday held a production start ceremony. Producer Angus Chan Lo Chiu, Siu Mei, director and screen writer James Hung Ling Jing, actors Aaron Kwok Fu Sing, Nina Paw Hee Ching, Gigi Leung Wing Kei, Patrick Tam Yiu Man, Natalie Hsu (Hui Yun Yi), Lawrence Cheng Tan Shui and Kenji Fan Lun Chi participated in the worship and roast pig cutting ceremony. Kwok Fu Sing said that he has always supported Hong Kong film and new directors, thus this time he did not think about the issue of salary either.
Kwok Fu Sing appeared in an athletic look for the shoot. He revealed that in the film he would play a squash athlete. Since he had a tennis background, squash was very easy to pick up. The coach also praised his form. Yesterday Sing Sing's facial haired look carried a weary flavor. He said that when he read the script he was already very moved, even the words the director wrote were able to move him. He pointed out that the film would have a lot of emotional performance. Would he have a lot of crying scenes? Sing Sing said, "Would an emotional scene be required between character? Sometimes tears shed in the heart would be even more touching." He also pointed out that in the film he would play how an irresponsible Papa raised his daughter. A father of two girls in real life, would Sing Sing's performance be more convincing? Sing Sing responded, "As the real Papa, I of course don't hope to have something like this story happen. In addition now I am a very responsible Papa. So when I studied the script, I had to think for a very long time about how to design this character."
With a lot of potential in the film, he has been said to have a great chance at winning another Hong Kong Film Award Best Actor. Sing Sing said that on the set he has always been 100% in character and would do his part fully. "Whether I would win an award or not it is not up to me, I have been acting for years until I won an award but my state of mind has always been like this. Acting gives me the greatest joy, enables me to play different lives, makes my life in the world even richer. I would be 100% focused so I can answer to myself and my conscience."
This time Sing Sing's main co-star would be Hui Yun Yi, who would play his daughter, and Paw Hee Ching. He pointed out that earlier I watched Hui Yun Yi's performance in a musical film and felt that such a new generation of actors is needed to take the baton. In the film she would need to perform with a lot of body language. He believed that she would perform with a lot of effort. Having played mother and son with Sister Paw, Sing Sing pointed out that last time in I'M LIVIN' IT (MAK LO YUN) he did not have a chance to be in the same scene. This time they would have many scenes together, with this "mother" they would endlessly "argue" with both sadness and joy within.
Sing Sing even mentioned that he has always supported new directors. This time he gave special support to new director Hung Ling Jing. "The Hong Kong film industry needs even more talent, from which viewers would be benefit in the end. In the past ten years I have spent more time on film, aside from commercial films I also chose different subjects. Characters about human nature and real life are also a lot of fun." Would he charge a little less salary this time again? Sing Sing said, "Not a little less, it's I don't think about it at all. I know about the difficulties of film production, I am also a filmmaker who likes film. I won't think about salary. As long as they are comfortable I am fine. I do it purely for support. This time also has such good actors like Cheng Tan Shui and Tam Yiu Man, I truly got sentimental every time I read the script. I hope to be able to contribute a little effort to Hong Kong film!"
Leung Wing Kei in the film would work with Kwok Fu Sing for the first time and play a couple, but she joked that this couple would not have any sweet relationship. Instead their relationship would be very heavy. Gigi also pointed out that in the film she would play an unfit Mama who left home. Because she felt only a fragile person would be able to do something so vicious like abandoning her daughter, but she believed that the audience would sympathize with her experience in the film. She also said that she and Sing Sing have had discussions, this performance in the roles of parents would be the opposite of their own instinct. "I still haven't shot those scenes yet. Earlier at home I wouldn't be able to peacefully think about abandoning the daughter in the film until I went to sleep, it is very different from my family life. The contrast in instinct is enormous. Because as soon as I see children the mother in me would act up, it would be very hard to leave behind. This time when I got the script, I already felt that it would be the hardest character I would play. Even if my role wouldn't be much, mainly only three or four scenes with Kwok Fu Sing; they still would be very challenging." Gigi actually also would need to prepare for her concert rehearsals next month, she still did not feel like she was having a hard time despite working on two projects simultaneously.
Paw Hee Ching just returned from visiting her grandchildren in England, but earlier she fell ill while in England. She kept testing thinking that she caught COVID, but actually she caught the flu. "Now I have healed, but my voice is still a little hoarse. Everyone shouldn't underestimate the flu, actually it's even stronger than COVID. I had a fever and cough, and it took me two weeks to recover!" However Sister Paw was still happy to see her family. "We haven't seen each other in 3 years. The grandchildren grew a lot bigger, at first when we met again they were little shy. Earlier they held on to me tight. This time there was both joy and sorrow." Sister Paw already worked on several scenes with Sing Sing on MY FIRST OF MAY, earlier when they shot their argument scene she screamed herself hoarse. "I am very happy to be on the same page as Sing Sing, in previous films we didn't have too many scenes together. This time we shot two days and the feeling has been great."
In addition, speaking of Andrew Lam Man Chung saying that TVB has not notified him to attend the TVB Awards, Sister Paw joked that they probably have contacted him. However she would have to work so she would not have time to attend. "The game to us seniors is treated normally, I hope young people would win." Was she conceding her award? Sister Paw said, "No, I am guaranteed to lose! I really can't go!" Perhaps she would be the exception and win Best Actress? She smiled and said, "Then that really would be quite an exception, I actually pick (Elena) Kong Mei Yee and (Alice) Chan Wai. More or less I am a little biased, but they really performed very well. I hope it would be one of them!"
Ann Bridgewater (Pak On Nei)'s daughter Natalie Hsu in the film would play Kwok Fu Sing's daughter. She said that the first time she met "Papa" was not deliberate. We worked in two different levels of the studio, the art director Man Lim Chung introduced her to this "Papa". Earlier at the table read, she felt Kwok Fu Sing like her was someone who could not sit still. In make up Sing Sing would also chat with her and show her his daughter's dance videos.
Speaking of performing in a wheel chair this time and having a lot of body language performance, Hui Yun Yi admitted that this was a huge challenge and she needed to practice and get familiar with it. Because normally she was someone who likes to move, but during the performance she could not move too much. Thus earlier she went to performing art classes and would try to perform the role well. Would she have many crying scenes in the film? She said that she would not have too many crying scenes, but because she had to perform in a wheel chair in a narrow space she believed that her body and the physical location would help with her performance.
Has Mommy given her any advice? She said that she has. Because Mommy was not in Hong Kong and was in Malaysia, before she left she would put notes on her script like "good luck" and "sleep well" to cheer her on. She realized that her Chinese pronunciations were not accurate, so Mommy would record them for her to correct. She would also have to work on Nick Cheung Ka Fai's movie. Hui Yun Yi said that she would only have a few days left on Ka Fai's new film, so she would not need to rush between two sets. As for Mommy she would return to Hong Kong before the Lunar New Year to spend it with her.
Tam Yiu Man in MY FIRST OF MAY would play a squash champion athlete and had to compete with Sing Sing. He said that he played badminton, so during practice he picked it up very quickly. However earlier when he worked on a chase scene on another film he pulled his tendon. Because at the time he did not catch it, he still has not seen a doctor. He joked, "Let's see after this match, what other oddball cases would happen so I can get the doctor to checked them all out at once." His 16 year old son would have to choose a school soon, so now he needed to provide mental assistance and see if he would rather stay in Hong Kong and study abroad. He admitted that his son was in the rebellious age, as a father he would need to pay special attention and try to comfort and not argue with his son. Earlier Sing Sing gave him calligraphy of "friend" and "work hard" to him, which he in turn gave to his son.