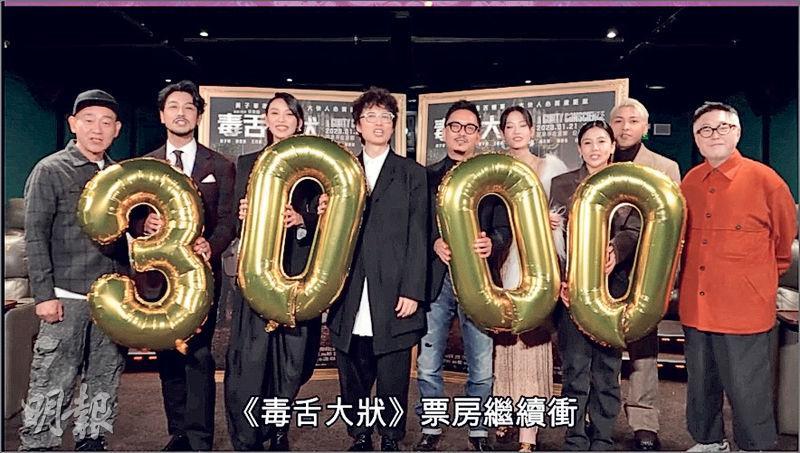 A GUILTY CONSCIENCE has become the fastest film to pass HK$ 30 million in Hong Kong box office history
Hins Cheung with EVERYTHING UNDER CONTROL has become a ten million box office actor
courtesy of mingpao.com
The Dayo Wong Tze Wa, Gardner Tse Kwan Ho, Louise Wong Dan Nei and others starred Lunar New Year film A GUILTY CONSCIENCE (DUK SIT DAI JONG) has been a runaway hit at the box office, broken records galore, and became the fast (5 days) film in Hong Kong history to pass HK$ 30 million at the box office; two days ago on the Lunar 3rd (24th) its single day box office was HK$ 7.04 million, the best single day box office of the past 5 years. Wong Tze Wa had to rehearse for his play with Jan Lamb Hoi Fung starting February 24th. Despite being unable to participate in audience appreciation events, he still did not forget to pay attention to the box office trend. Yesterday he learned that the record was broken again, he posted, "Completely because of you, madness has been recreated."
A GUILTY CONSCIENCE team has not relaxed due to its box office success. Director Ng Wai Lun on Saturday (28th) and Sunday (29th) would lead Adam Pak Tin Nam and Renci Yeung Si Wing to an audience appreciation event. Some online said that they have already seen the film 3 times.
Hins Cheung King Hin's first Lunar New Year film lead EVERYTHING UNDER CONTROL (CHIU SUN GAING HAI GIP ONG HA) made over HK$ 10 million; becoming the ten million box office actor, he today would lead Jeffrey Ngai Chun Sun, Ah Jeng (Wong Ching Yi), Kaho Hung and others for a surprise audience appreciation event to thank the viewers for their support.