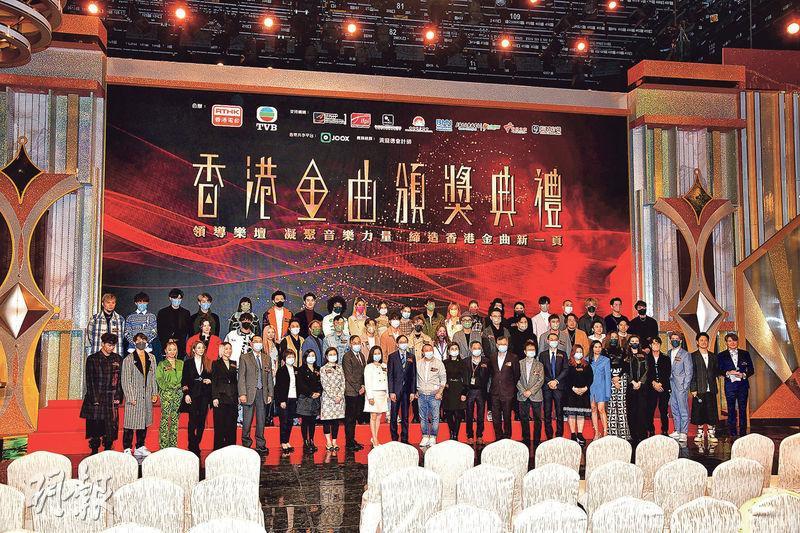 courtesy of mingpao.com
This year has been big for Vincy Chan
Joyce Cheng
Gin Lee sees award shows as parties for singers to get together
courtesy of on.cc
TVB and Radio and Television Hong Kong last year made a big deal about working together on the music event Hong Kong Gold Song Awards, which has already became the final shot. Reportedly the two stations while working together fought over the control rights. Each took its own stance and made life difficult for record companies. Finally after the show they split up. RTHK would resume the Top Ten Chinese Gold Songs Awards in April.
TVB and RTHK last year teamed up for the unprecedented Hong Kong Gold Song Awards 2021/2022, the principle of which was to lead the music scene with unity, bring together the power of music and write a new chapter for Hong Kong Gold Songs. Before hand a grand press conference was held at TVB's Television City in Tseung Kwan O, each record company and its singers were invited to attend. However, this year's Metro Radio Hit and Commercial Radio Ultimate Awards have already finished, but so far Hong Kong Gold Songs still has not made a sound. Actually it was already quietly "game over"!
Reportedly last year the two stations in the planning process constantly had differences of opinions and the collaboration was rather unpleasant. The award show's reviews were not ideal either so they ended up being at odds! This year they decided to return to the original form, as the two stations would resume their own award shows. Reportedly RTHK's Top Ten Chinese Gold Song Awards would still plan to take place in April. The date has yet to be confirmed; TVB wanted to try something new and consider to work with the Greater Bay Area. However everything would await planning and arrangements. The two stations have yet to respond as of the article deadline.
Winning the Hong Kong Gold Song Best Chinese Album last year, Hana Kuk Chi Kiu was asked about the rumor. She said, "Huh? I am not certain! Each unit, each organization would have their own way of holding award shows. I don't think there is any problem with that, the most important is to give the singers a report card and everyone is happy." She also said that every award would be just as important to her. "I am an obedient singer, if the company asks me to go I would definitely go, but for now I haven't heard when the TVB award show would be."
With good performance in the just passed Hit Awards and Ultimate Awards, Vincy Chan (Wing Yi) said, "Each medium has its own uniqueness and style. I feel an award show is the summation of a year, where a group of singer friends can gather. I wish for a full bloom for music." Winning the "Global Chinese Ultimate Gold Song" with Jacky Cheung Hok Yau, Gin Lee who just joined Emperor Entertainment said, "Every singer has worked very hard on music, the award show is like a big party for singer friends to gather and share the fruits of their labor. The award is a bonus, the most important for everyone to be happy, with good work to share with everyone."
Last year's Male Rookie gold prize winner Mike Tsang Pei Tat said that "splitting up" was a good thing. "This way singers would have the chance to attend two award shows, everyone would have another chance to be together. It's something to be happy about!" Jason Chan Pak Yu in order to support the music scene would attend whether he would win or not. He felt whether the two stations split up or not it would not matter. "If they do theirs separately, singers would have more chances to win! They did one year together, I feel that trying something new was a good thing. If they never tried it how would they know it wouldn't work? If they had a difference of opinions, that's good too! If everyone had no opinion or persistence, it wouldn't matter how the shows would be done and seeming take away the artistic element. If they want to split then split, if they want to be together then together!"
TVB replied to media inquiry and stressed that its relationship with RTHK has been good. "This station and RTHK's collaboration relationship has always been good. As for less than factual speculation, this station has no comment."